Can A.J. Green get loose against the Ravens again?
The 2-0 Bengals, the only team to beat head coach John Harbaugh and quarterback Joe Flacco in Baltimore during September, try to do it for a second straight year Sunday (1 p.m.-Cincinnati's Channel 12) when the fans lather up M&T Bank for the 0-2 Ravens in what has become a must win home opener.
In a game that has as many matchups favoring the Bengals as intangibles boosting the Ravens, the Bengals.com Media Roundtable can't decide how to call it and ends up in a split.
Former Bengals safety Solomon Wilcots, the gold standard of the 21st century TV football analyst, called the Ravens' loss in Oakland last week for CBS and gives the nod to Cincinnati because he doesn't think they can cover the Bengals receivers.
Richard Skinner, the digital sports columnist/web editor for Cincinnati's Local 12.com, doesn't see how the Ravens can make a game-turning play without their signature quarterback pressure and inability to challenge the Bengals red-hot secondary.
But Jay Morrison, the Bengals beat reporter for The Dayton Daily News, opts for the intangibles of the Ravens' desperation. Plus, he thinks the beleaguered Baltimore defense bounces backs and shuts down the Bengals in the red zone.
And Baltimore Sun sports columnist Mike Preston agrees when he usually doesn't. Preston, a Sun veteran of 32 years who has covered nearly every Ravens game in their 20 seasons including defensive coordinator Marvin Lewis' record-breaking run to the 2000 Super Bowl title, pronounced last week's loss in Oakland the worst defensive effort he'd seen. But he's convinced they're in the right mindset at home.
Let's go around The Table, where former Bengals go first.
I think the two critical areas where the Ravens are vulnerable are their lack of a pass rush and their inability to cover in the secondary. Which means the Bengals could have a field day if you look at their receivers and their skill sets.
A.J. Green, Marvin Jones, Tyler Eifert. Giovani Bernard out of the backfield. Rex Burkhead. I think the Ravens are really going to struggle to match up. I think they'll also struggle to put pressure on Bengals quarterback Andy Dalton, something they did not do last week. I think it will be a long day for Baltimore matching up with a chalk full of talented players on offense.
The Ravens feel vulnerable on the back end. Cornerback Jimmy Smith, who was developing into one of the elite cornerbacks in our league, injured his foot last year and that derailed his season. He's less than 100 percent.  You saw that when he got beaten by Raiders wide receiver Amari Cooper for a 68-yard TD. The other cornerback, Lardarius Webb, has tried to continue to battle back from injuries and he's not quite the same either. They're very vulnerable on the back end and you could see that when the Raiders went right down the field and scored that game-winning touchdown.
Without pass rusher Terrell Suggs, they could not generate pressure on Raiders quarterback Derek Carr at all. Elvis Dumervil is their only pass rusher. Linebacker Courtney Upshaw is not a pass rusher; he's more of a run guy. They tried to use inside linebacker C.J. Mosley a little bit, but he's not a natural player in that positon. I would expect to see a guy like Jason Babin in there. They've got to get a pass rush. They had none at all last week. Dumervil is a small, undersized guy. You shift the line to him, or give the tackle help, it's over.
The Ravens lack speed at the receiver position. As good as Steve Smith is, he's not the deep threat. They have to scheme him open.
It is the Ravens home opener. There is going to be energy in that place. They've got that on their side. Ravens head coach John Harbaugh has won over 70 percent of his home games. They don't lose at home. I remember Cincinnati going in there and winning the opener last year. That's going to be tough. And it's a common opponent that knows you well and you know them well.
THE EDGE: Bengals. Just from sheer talent.  The Bengals are playing better. And they're not dealing with a traumatic loss like losing Terrell Suggs.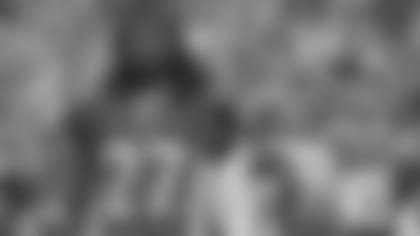 Cornerback Dre Kirkpatrick gets his chance at veteran Steve Smith.
It's going to be interesting to see how the Ravens match up with the Cincinnati offense. They had no energy last week in Oakland. They couldn't cover their receivers. You look at some of the receivers Cincinnati has and, how do you cover them? Defense has been the Ravens' calling card for years and they got embarrassed last week.
You saw how Oakland got rid of the ball quickly and the Ravens got no pressure on Derek Carr.  I know Marvin has watched the film and said, 'We've got 'em. We're going to copy this thing.'
The talent is there for the Ravens. They shut down an offense like Denver's two weeks ago and then went out and laid an egg after spending the week on the West Coast. I've seen almost every Ravens game since they moved here in 1996 and I've never seen them play so poorly. Defensively, it wasn't even close. Poor tackling. It got to the point where general manager Ozzie Newsome, who is usually very composed watching games in the press box, was shaking his head in disbelief as if, 'What has happened to our team?'
Over the offseason they brought in guys like free safety Kendrick Lewis and cornerback Kyle Arrington to upgrade the secondary because that's what hurt them in the playoffs against the Patriots. But they were also counting on their starting cornerbacks, Jimmy Smith and Lardarius Webb, to be healthy. But Webb hardly played in the preseason and actually failed his first conditioning test. Jimmy Smith is nowhere near where he was before he got hurt last year and I thought he was at a Pro Bowl level. I don't see the confidence there and he's not playing physical. I'm looking at the matchup with A.J. Green and you got that tight end Eifert playing so well and I wonder.
It's one of the best interior lines on both sides of the ball I've ever seen in Cincinnati. The offensive line is steady and the Ravens have a good defensive front that is young. Tackles Timmy Jernigan is in his second year, Brandon Williams is in his third year and rookie Carl Davis is going to be a stud. The Bengals can grind on you with those two running backs. Jeremy Hill might be good for seven points along the line, but he fumbles a lot.
I'm still not sure about Dalton. To me, he's always the X-factor in this game. He's made great progress since he's been in the NFL, but he needs a win in the playoffs. That stigma is going to stay with him until he wins that big game or he goes deep into the postseason.
THE EDGE: Ravens, 27-23. Strictly because of the sense of urgency. That's all they're talking about in Baltimore. Usually you only feel and hear it like this in the playoffs.  The Ravens are upbeat. They're at home. Our paper's staff picks every game and this week across the board they picked the Ravens. Which shocked me. Unusual because you know how there is always one cynic? Usually that's me. But it was a clean sweep. Early in the week, I thought no way. Cincinnati is playing too well. But the more I'm around this team, there are no signs of moping around, or crying in their beer, or in the fetal position. I could see it Tuesday and Wednesday. They're upbeat.
Their backs to the wall have to be driving them. They're 0-2 and look what they have next. Pittsburgh this Thursday night and then Cleveland. And Cleveland has struggled but that game is always tough and physical. If they lose one or two, they're really in a hole and they're already in one.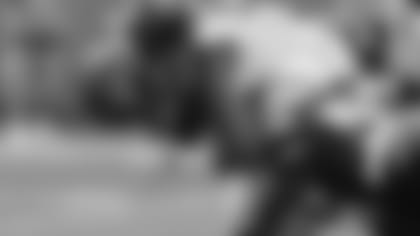 Nickel backer Emmanuel Lamur should see plenty of Ravens tight end Crockett Gilmore.
It's going to come down to Dalton taking care of the ball. He's done a good job so far because they've protected him so far. This season is so much a mirror of last year from a start perspective. Dalton didn't get sacked the first three games and they won all three pretty handily. He hasn't been sacked the first two games and while the Chargers game wasn't won handily, they still had control of the game.
This is a little different than last year. Opening in Baltimore is one thing. Going there with them 0-2 and you riding so high is a completely other thing. Marvin Lewis was asked that in his press conference. Do you think they're desperate? And he tried not to buy into that. But you have to think that they are. Ravens quarterback Joe Flacco even talked about this is almost a must win for them and it really is. Going 0-3 making the playoffs, as we know, history is not on your side.
The question is if this is the same Baltimore team we've been accustomed. I had them as an 8-8 team at best. Losing wide receiver Torrey Smith, nose tackle Haloti Ngata, they lost some key parts. And that was before the Suggs injury. Now you take Suggs out of the mix. They don't run it great, they don't have their No. 1 pick in Breshad Perriman at wide receiver so they're kind of smoke and mirroring there. I think we're all accustomed to the old Ravens in our minds and what a tough place it is to play. And, it is, it's an NFL game on the road for goodness sakes. But this isn't the Baltimore we're accustomed to that's been a consistent winner for a long time.
You've got Elvis Dumervil who was a good pass rusher and on a team that's winning games where you can turn him loose at the end of games, he's an effective guy. But he's still making that end to linebacker transition that hasn't completely worked out for him. When you've got a chance to feed off Suggs on one side and you're on the other side it's a pick your poison for offensive lines.
I give the edge to the Bengals offense there. I hate to buy into the clichés of all the web sites, but there really are all these weapons with a good offensive line. Center Russell Bodine has made great strides. It seems like left tackle Andrew Whitworth can play another five years in this league. When you see what any quarterback can do with the time Dalton has . . . not only has he not been sacked, he's been hit only three times in 60 pass attempts. Think about that for a minute in this league. The strange part to the whole start has been running back Jeremy Hill. He has not been effective running it. He has not been effective holding on to it. If he gets himself turned around, you really have a ton of weapons on this offense.
I don't know that Baltimore takes off the top of a defense and on this defense it's hard to take the top off anyway. Safety George Iloka is as good as any deep guy in the league. Cornerback Adam Jones in the first two games has played off the charts and not just in coverage, but coming up to stop the run or on check downs and being a sure tackler. Who on the Ravens do you say can run by that guy? There's no Torrey Smith there anymore. Steve Smith is still a competitive son of a gun, but it's not Steve Smith at age 33 for goodness sakes. They drafted Perriman for a reason. He was supposed to take the top off the defense. He's not there. Running back Justin Forsett is a journeyman for a reason that had a really good year last year. The young tight end Crockett Gilmore has done some good things in place of Dennis Pitta, but when you don't have anybody that can go deep and force double teams the tight end isn't nearly as effective.
THE EDGE: Bengals, 27-23. It sounds closer than I'm talking about, but the intangibles do play into it. It is their home opener. It is a desperate, desperate team that, to their credit, knows how to win. That's the one thing you can say. They've had ups and downs over the years with people questioning Flacco and they've still found ways to make the playoffs in years they had no business doing that. But I think the Bengals get to 3-0 and, honestly, I'd be very surprised if they don't.
The turnovers are so key in this rivalry. The Bengals are 8-0 when they win the turnover battle, 1-8 when they don't. The Bengals always do well when they run it and it will be interesting to see if it stays in Jeremy's head and who will be the first back out there Sunday. I expect it will be Jeremy.
The Ravens have the great home record and the great September record, but the Bengals went in there last year in the opener and won. They've won four out of five against the Ravens. You don't want to say they have their number, but it's kind of unusual in this rivalry where the Bengals have this run of success, so I don't know if you can say the intangibles are that much of a factor.
The one big matchup for the Bengals is slowing down Mosley if they can get left guard Clint Boling to the second level and open up that running game and eat the clock. I do think it will be low scoring even though both teams have had big scoring games. It will be typical Ravens-Bengals. If they can get out to a hot start like they did in Oakland and take that first drive down, that will quiet the crowd a little bit. Any time you've got a team that is performing below expectations, the crowd can turn, although they have a pretty loyal fan base. But anything the Bengals can do to quiet the crowd with a quick start.
You look at what the Bengals offensive line has done this year with not allowing sacks and running the ball and they've been really solid. They match up well there, especially with no Suggs. The Ravens defense is still trying to find itself.
I don't see why the Bengals can't get to Flacco. They had four sacks last week and they didn't have four sacks in a game all last year. With defensive tackle Geno Atkins back to his old self I don't see any reason why they can't get to him. They've had success in the past getting to Flacco. That will be a key, too. The Ravens don't have the weapons out wide that they've had in the past. They still have Steve Smith, but beyond that it's just a cast that doesn't scare you.
THE EDGE: Ravens, 20-16. Just because they're a desperate team. You never look ahead in the NFL, but I don't know how the Ravens can't look ahead and see that Pittsburgh game looming Thursday night and look at this even more as a must have game. I think the Bengals will have success running the ball, but not to the point of making long runs and this team hasn't been great in the red zone. That's why I'm going with three field goals.
Wallace Gilberry, who had a sack last week, will be working against a back-up tackle Sunday.
The intangibles are stacked against the Bengals, but it's not a towering obstacle. Lewis and Dalton are the only guys to beat Harbaugh and Flacco in September in Baltimore and Cincinnati usually does a good job against Flacco in both places, holding him to 13 TDs and 18 picks in 14 starts.
The other thing is these aren't the Ravens of 2000, 2012, 2014, or even the team that closes the 2015 season at Paul Brown Stadium on Jan. 3. Because their young defensive players will get better as the season goes. But the Bengals get them early as the Ravens try to figure out how to play without the great Terrell Suggs and struggling cornerbacks.
After Tom Brady lit them up in the playoffs, the Ravens went out and signed free safety Kendrick Lewis and cornerback Kyle Arrington. But Lewis was ranked 62nd last season by profootballfocus.com in coverage and Arrington, known as a blitzer, was ranked 40th in coverage among corners. That's not going to be enough to fend off A.J. Green and company.
And how do they put pressure on Dalton without Suggs? Yes, the 5-11 Dumervil has proven to be one of the more challenging matchups for the 6-7 Andrew Whitworth for obvious leverage reasons. But he's the only threat. Not only is Suggs out, but this week so is defensive end Chris Canty. Not that he was the answer with 2.5 sacks in the previous two seasons, but he does have a sack this season and the Ravens need all they can get.
So they'll probably activate 35-year-old outside linebacker Jason Babin for his first game with his eighth team. He has 64 career sacks and had 18 in a season as recently as the 2011 Eagles. But he's had 16.5 since. A tough assignment against an offensive line that has not only not allowed a sack, but, according to some web sites, has allowed only three hits on Dalton.
Mosley is a wonderful player and they've given him some pass-rush snaps. But that's not what he does and he'll get swallowed up at 235 pounds. He has to worry about the run, where the Bengals are No. 5 in the league and where the Ravens have done a good job at No. 11. But if the Bengals offensive line plays like it has the past two weeks, there should be plenty of time for Dalton to generate three or four big plays.
The big challenge for the Bengals is going to be defensive tackle Geno Atkins' assignment on two superb guards. Perennial Pro Bowl right guard  Marshal Yanda, rated the No. 1 guard last year by PFF, is teamed with left guard Kelechi Osemele, PFF's sixth-rated guard in 2014.  Plus, the Bengals will be without their backup defensive tackle from the past two games, Pat Sims (hip). But Brandon Thompson has provided quality snaps and is getting his first shot of the season.
The Bengals can counter with a deeper line rotation than they had last season and that should get a boost with news Ravens starting left tackle Eugene Monroe (concussion) won't play. That means the right-end crew of Michael Johnson, Wallace Gilberry, and Will Clarke gets their shot at second-year left tackle James Hurst making his seventh NFL start.
Staring at a tough defensive line and a secondary that has two corners in PFF's top 15 of coverage (Adam Jones and Leon Hall) with no deep threat of his own, Flacco is no doubt going to take his shots at the Bengals linebackers in the middle of the field with the tough Steve Smith and emerging tight end Crockett Gilmore. The Bengals are trying to hang on there until Vontaze Burfict gets. WILL backer Vincent Rey has played every snap this season and he and nickel backer Emmanuel Lamur are graded in the middle of the pack in coverage by PFF. The Ravens took the Bengals' game plan against the Raiders and continually hurt them with their tight end. Lamur gets his shot against Gilmore as Gilmore looks to have become Flacco's security blanket.
According to PFF, the Bengals backers missed 10 tackles in the first two weeks and they can't do that against crafty Ravens running back Justin Forsett. If the Chargers kept handing the ball to Melvin Gordon last week (88 yards on 16 carries), it might have been a different story. SAM backer A.J. Hawk figures to play more than he did last week (five snaps) against Baltimore' regular looks and he and middle linebacker Rey Maualuga have to provide some ballast.
It's a great special teams matchup because Bengals Pro Bowler Kevin Huber and Baltimore's Sam Koch are two of the league's best punters. Cincinnati's Adam Jones and Baltimore's Steve Smith are veteran game breakers and they're up to their old tricks. In the opener Jones' 18-yard punt return set up a TD and Smith has a 22-yarder this season. But Harbaugh, a special teams doctor, has Baltimore No. 8 in the league covering punts and No. 1 covering kicks.
The first quarter tells the tale. If the Bengals come out, hit the Ravens in the mouth, take the lead, and tee off on Flacco, the boo birds will beat Edgar Allen Poe to the dark side.
But if the Bengals come out on tired legs, let the Ravens to run the ball, control the clock, and allow Flacco to play-action them while the crowd gets into it, it's a completely different game.
Baltimore is operating on a razor thin margin of error with little big-play ability and even smaller pass rush pop. The only way, it seems, the Ravens can close the gap on paper is by Bengals mistakes, via either turnovers or coverage problems. It's going to be close. There is too much emotion for only a tight game. But a clean game should keep them clean at 3-0.