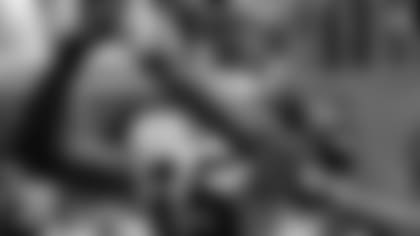 Chris Henry prepares to haul in a 43-yard reception from Carson Palmer. (Bengals photo)
With wide receiver Chris Henry racking up his first 100-yard game, quarterback Carson Palmer his sixth 300-yard game, running back Rudi Johnson rolling to his 14th 100-yard game along with the defense's second straight dominating stand, the Bengals controlled Sunday's Paul Brown Stadium opener from start to finish, 34-17, before 66,072 in the sun-splashed 21st straight sellout.
But they paid a price when they watched three starters leave the field with injuries given early indications that will put them out of next Sunday's AFC North showdown in Pittsburgh with strong-side linebacker David Pollack's injured neck apparently the most serious.
In the first half, center Rich Braham suffered a deep knee bruise that required the cart and strong safety Dexter Jackson rolled his ankle in spraining it, and head coach Marvin Lewis said they will "miss time."
Wide receiver Tab Perry got carted off in the last minute after a kick return, but he was walking around in the locker room and indicated he was OK.
And wide receiver Chad Johnson walked off the field at the two-minute warning with a bloody chin courtesy of a Cleveland helmet and was clearly disoriented because he was asking people in the locker room if they won and couldn't meet the media.
"Chad was a little loopy," Palmer said, "but he'll be all right."
And somewhere in there it became Steeler Week. But Palmer, who professed his hatred for the Steelers during the offseason, said he didn't think about it until he heard the late-game chant, "We want Pittsburgh."
"Regardless of what happens next week, we've got a lot of football games left to be played. And nobody knows that better than them," said Lewis of a Pittsburgh team that didn't lose a game on the way to the Super Bowl after they lost to the Bengals last December. "They proved that last year, late in the year."
Lewis is no doubt going to take some heat for having Palmer and Chad Johnson on the field so late in a blowout. But after free safety Brian Russell popped Johnson on cornerback Leigh Bodden's interception just before the two-minute warning, Lewis said he didn't think about taking Palmer out at any point.. But the most serious injury happened to Pollack, who suffered "a significant neck injury," which raised the possibility he could be lost for the season. Pollack left the field on a stretcher giving the thumbs-up. He could move his extremities and was conscious, and was taken to University Hospital after running back Reuben Droughns collided with him during a 10-yard run on the Browns' second offensive snap. He's expected to spend the night there.
"Everything is working; everything is stabilized," Lewis said. "It put a little damper on it for me and the guys."
Braham's absence looked to have the biggest impact, although Browns quarterback Charlie Frye and wide receiver Braylon Edwards did hook up on the longest plays of their careers with a 75-yard bomb early in the fourth quarter after Jackson left in the middle of the second quarter.
"I'm day-to-day," said Jackson with his lower leg in a walking boot.
But with Braham out and left tackle Levi Jones inactive, the vaunted Bengals offensive line allowed four sacks after a season they didn't allow more than three in a game.
But the line answered the Browns' big play with two Rudi Johnson-led fourth-quarter drives that began with his 20-yard sweep and finished with a vintage nine-yard burst behind right guard Bobbie Williams and right tackle Willie Anderson to give the Bengals a 34-10 lead with 7:08 left in the game.
That was the Bengals' 71st snap of the day (the Browns had just 43 at the time), and gave Johnson 142 yards on 24 carries for his fourth straight 100-yard game against Cleveland after he made safety Brian Russell miss at the 2-yard line. He finished with 145 on 26 carries, making the Bengals 13-0 when he carries at least 25 times.
In the Bengals' fifth straigth AFC North victory and eighth in the last nine division games, Johnson bruised the Browns for more than half his yards (73 on his last nine carries) in the fourth quarter.
"It's the theme we've been trying to get to around here," said right tackle Willie Anderson. "It's not about one player. It's not about one side; it's about team football. With this schedule, this team can't be a one-sided."
After Johnson spun one yard into the end zone standing up with 9:50 left in the game that made it 27-10, linebacker Landon Johnson came up with his first career interception and the Bengals' third turnover of the day when the ball bounced off the hands of Droughns at the Cleveland 26.
Palmer was at his point-guard best. In racking up the second best yardage of his career with 352 yards, he doled out five throws for 113 yards to Henry, six for 78 to wide receiver Chad Johnson, and five for 77 to wide receiver Kelley Washington.
After the game, Chad Johnson showed off his new cornerback checklist, but had to ask if Bodden got a 'Yes' or 'No.' When someone said scoring a touchdown should get a 'No,' he checked it.
Defense comes up big again
After last week's stand in Kansas City, the defense offered another stingy effort. Droughns got stifled for 32 yards on 14 carries and for the second straight week the Bengals kept their opponent out of the end zone until the fourth quarter while generating three more turnovers for six this season, putting them on pace to pass last year's NFL-leading 44. Plus, while their offense converted eight of 15 third-down tries, they stoned Cleveland on eight of it 10 tries even though the Browns' average drive start was its 35.
"We did a fine job on third down, which was basically the key to the football game," Lewis said. "They were winning the field position battle early in the game, but we kept making some first downs on offense and kept stopping them on defense, which was the biggest thing early on."
Shayne Graham's 100th career field goal from 37 yards at the halftime gun qualified him as the second most accurate kicker of all time, but the Bengals could have had a lot more than 17 points if it wasn't for some sloppy execution. Starting with Graham's miss from 44 yards earlier in the second quarter that snapped his string of a Bengals record 17 straight. The Bengals committed six penalties in the half (nine for the game) and turned the ball over and allowed Cleveland to get their only points when tight end Reggie Kelly let a pass tip off his hands for an interception.
The first half's obligatory turnover came from middle linebacker Brian Simmons on a pass that was tipped by defensive tackle John Thornton, and Droughns could manage just 20 yards on 10 carries with linemen Robinson, Thornton and Sam Adams combining for seven tackles in the half.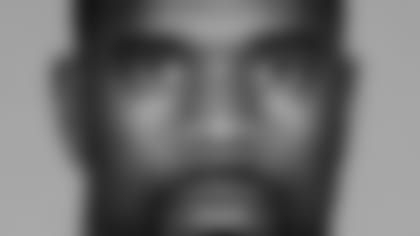 Simmons led the Bengals with six tackles, a forced fumble and an interception for the game on a balanced sheet featuring linebacker Landon Johnson's first career interception (he also defended two passes) and Thornton's three tackles, a tipped pass and fumble recovery.
Behind his reshuffled offensive line, Palmer sifted the Browns for 242 yards in just a half of work and with Rudi Johnson pounding away for 58 yards on 12 carriers, the Bengals could pretty much do what they wanted if it weren't for six penalties and two sacks. Palmer ran into one those sacks, and the Cleveland coverage chalked up another but that didn't happen too often because the Bengals converted six of nine times on third down and kept the ball 18:27 of the first 30 minutes.
Palmer wasted no time and no huddles in directing the Bengals to score just 2:23 into the game. But the offensive line took even another hit in the second quarter when Braham was carted off the field with a left knee injury.
Later in the first quarter, Palmer found Chad Johnson for his first touchdown of the season on an eight-yard pass and then Johnson celebrated with the Chicken Dance he did at Saturday's Oktoberfest in downtown Cincinnati. But since he bruised his right shoulder after the catch, the celebration was short and subdued, but he returned to the game.
Palmer threw his first touchdown pass of the season, a 22-yarder to Washington on a crossing route to the sideline that he took the final 10 yards behind Henry's seal block on defensive backs Gary Baxter and Brian Russell as the Bengals took a 7-0 lead.
But he needed his defense to keep the lead, 7-3, as the unit fought through the adversity of losing Pollack.
On the next snap, Robinson stoned Droughns for just one yard to force a punt, and it set the tone for the line on the next series that came right away. Kelly failed to hold on to a pass and linebacker Andra Davis caught the tip at the Bengals 17. But Droughns could get just four yards on two shots into the front and Browns quarterback Charlie Frye could only throw the ball away when the Bengals dropped seven into coverage. Phil Dawson kicked a 30-yard field goal to make it 7-3, with 8:50 left in the first quarter.
Palmer then took about six minutes to wheel the Bengals 92 yards, capping it with an eight-yard floater to Chad Johnson running past safety Sean Jones as the Browns' last defensive player in their Cover 2 pass defense. Johnson twisted his body to haul it in just before he bounced his right shoulder off the turf.
Palmer got a big third-down catch from wide receiver Tab Perry (his third already this season) as Palmer decided not to run for it on first down and waited for Perry to break free 26 yards downfield. Palmer hopped up and started the No Huddle after Browns rookie Kamerion Wimbley blew him up on the sidelines as he delivered the pass.
On the first two plays of the game, Kelly made his two longest catches as a Bengal, 17 and 18 yards, and Rudi Johnson hammered twice for 18 yards. Palmer finished the first quarter with a 110.6 passer rating, hitting eight of his first 12 passes for 124 yards. While Rudi Johnson went off for 49 yards on eight carries, Droughns could manage just 17 yards on seven carries in that first quarter.
The Bengals couldn't add to the lead in the middle of the second quarter when Graham pushed a 44-yard try to the right. But that was only after right tackle Willie Anderson had to hustle back on to the field with 10 seconds left on the play clock. It had been awhile. Graham's last miss came back on Nov. 6 of last year when he went right with a 48-yarder in Baltimore.
Braham's injury put even more stress on a battered Bengals offensive line as Eric Ghiaciuc got the call in his place. With left tackle Levi Jones sidelined, second-rounder Andrew Whitworth drew his first NFL start at left guard. Left guard Eric Steinbach moved from left guard to make his second career start at left tackle in replacing Jones and his bothersome sprained ankle.
The Bengals also scratched wide receiver T.J. Houshmandzadeh (heel). Henry got the start for the second straight week and came up with a 43-yard catch on a sideline bomb.
Also out for the Bengals were wide receiver Antonio Chatman, rookie linebackers A.J. Nicholson and Ahmad Brooks, and rookie defensive end Frostee Rucker. The 6-7, 340-pound Whitworth, the 55th pick in the draft, set an SEC record making 52 straight starts at LSU. When he arrived this spring, he became the first rookie in Bengals offensive line coach Paul Alexander's dozen seasons to move between guard and tackle.
Steinbach, who has started all but one of his 49 games out of a possible 50, also lined up at left tackle in last season's regular-season finale.
With Jones struggling last week with the tender ankle, Whitworth replaced him in the final minutes against the Chiefs. But the Bengals may have opted to put the more athletic Steinbach outside because of the speed of Wimbley, the Browns' rookie pass rusher from that side, their first-round pick.
Willie McGinest, the former Patriot linebacker who moved to Cleveland this year to play the left outside, suffered some kind of a mishap in pregame warmups. Matt Stewart moved from the right outside to take McGinest's spot in the starting lineup while Wimbley moved in for Stewart.
Henry, who pleaded guilty to a weapons charge Tuesday in Orlando, Fla., began his week by making one catch for minus five yards in Kansas City. Henry got got credit for serving a day in jail while also being sentenced to two years probation and 100 hours of community service.
Responding to Jones's injury, head coach Marvin Lewis activated two linemen who had been inactive last week in Ghiaciuc and guard-tackle Scott Kooistra.
Rookie linebacker Ahmad Brooks was inactive Sunday after he was active last week and didn't play.
The Bengals honored Hall of Fame Browns defensive lineman Bill Willis for his role in integrating pro football in 1946. Before he delivered the game ball, head coach Marvin Lewis gave him a hug.
Lewis sent out as captains cornerback Tory James, defensive end Justin Smith, right guard Bobbie Williams, fullback Jeremi Johnson, and safety Kevin Kaesviharn.