Darrin Simmons considers Cedric Peerman his Andy Dalton.
The Bengals went into Jacksonville with two goals Sunday night. Fine tune the passing game and avoid the major injury.
Thanks to Giovani Bernard and Jeremy Hill, one out of two has to suffice because Pro Bowl special teamer Cedric Peerman emerged with a fractured forearm that figures to have a trickle-down impact on Saturday's cut to 53.
And they still have to get their special teamers out of Thursday's pre-season finale (7:30 p.m.-Cincinnati's Channel 12) healthy when they play the Colts at Paul Brown Stadium.
In the world of special teams coordinator Darrin Simmons, this is akin to the injury quarterback Andy Dalton suffered because Peerman is the co-captain and quarterback of his unit. But his status is unclear.
Before Tuesday's cut to 75, the Bengals appeared to be mulling the severity of Peerman's injury because they cut to only 79 on Monday. They're hoping he'll be able to get back in six weeks. That way they can keep him and make him inactive until healthy. If not and they have to end his season on injured reserve, could they keep just three running backs and go heavy elsewhere where they are dinged, such as cornerback and the offensive line?
At the very least Simmons has to replace his best player for five to six games with a collective effort. Fellow running back Rex Burkhead is a great fit at personal protector on the punt team, but Peerman's biggest impact is as a fearless and lethal cover man on kickoffs and they don't grow on trees.
Simmons usually finds a way and they might have something in willing rookie safety Clayton Fejedelem. After having three teams tackles in Detroit, Fejedelem added another Sunday night. But he's unseasoned, he's on the roster bubble, and they'll have to develop other people as well.
Still, does the Peerman injury cement Fejedelem's spot on the 53? It probably doesn't hurt, but no one is going to know anything until the dust clears Thursday night.
Until then, here's a look at The Who Dey 79 before they get down to 75 Tuesday:
(Listed by years in the NFL)
Andy Dalton (6), Andy Dalton (2), Keith Wenning (1)
This is why quarterbacks coach Ken Zampese got promoted to offensive coordinator. How many teams roll out not one, but two quarterbacks that you can write down for triple digit passer ratings in the preseason?
Zampese has developed an AFC passing champion and a solid backup that will one day be an NFL starter in a league where nearly half the teams are desperate for one QB. Tip your hat to him in a preseason you also saw Chad Henne and Dan Orlovsky at No. 2.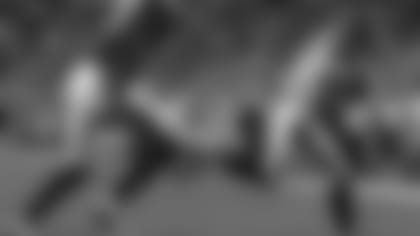 Like AJ McCarron says. Tough not to keep rookie Alex Erickson.
Brandon LaFell (7), Brandon Tate (7), A.J. Green (6), James Wright (3), Mario Alford (2), Jake Kumerow (1), Tyler Boyd (R), Cody Core (R), Alex Erickson (R), Alonzo Russell (R), Rashaun Simonise (R)
LaFell seemed pleased with how he played with his injured hand even though we didn't see much on two targets. He drew a pass interference penalty in the end zone and caught an eight-yard pass on the sidelines.  Is that enough to keep him in the starting lineup? For now. They're looking for his experience to carry the day early in the season and that did show up Sunday after not playing at all in the preseason.
It was hard not to watch the exploits of the draft picks Boyd (a fourth-down conversion) and Core (a 53-yard catch down the sidelines), as well as the undrafted Erickson (a 21-yard TD catch) and not think you had seen a glimpse of the future. Make that a wide screen shot. Plus, Erickson, with two more big punt returns, and Core, with aggressive blocking and tackling, were huge on special teams.
Could they actually keep three rookies? Hard to see them not. And Wright continued to give encouragement in his climb back from micro fracture knee surgery. He took a low shot from Jags cornerback Prince Amukamara after he made a tough catch and hopped right back up. Wright has also played well on teams and has been a factor in Erickson's returns as one of the outside blockers operating in "the vise." Their impeccable blocking has helped Erickson average an astounding 41.5 yards per return.
Adam Jones on Erickson's torrid returns: "When it comes to that, some guys got it and some guys don't and it looks like he's got it."
Cedric Peerman (7), Giovani Bernard (4), Rex Burkhead (4), Jeremy Hill (3), Bronson Hill (1), Tra Carson (1)
If Peerman is indeed done and they keep just three backs, can you imagine any team having three backs that had a better preseason as a group? In his one game, Burkhead was their leading rusher and receiver. Hill, who last year became the first back in 25 years to lead the NFL in rushing TDs at the end of his first two seasons (20), has scored two more. Bernard averaged nine yards per three carries Sunday while catching a 19-yard TD.
But this is why you love Bernard. He's a complete player. On the fourth-and-five where Dalton hit Boyd for nine yards, Bernard made it happen when he picked up blitzing cornerback Jalen Ramsey and wrestled him to the ground.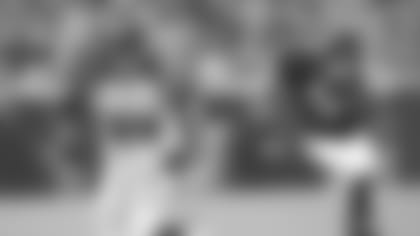 Giovani Bernard, complete player.
Tyler Eifert (4), Tyler Kroft (2), C.J. Uzomah (2), Matt Lengel (1)
They really think Uzomah can help them this year because he's complementing his ample receiving skills with physicalness at the point of attack. Note his wipe-out block on the perimeter that helped Gio on his 19-yard TD run and clearing out blockers on Hill's longest run of the night, an eight-yarder.
Ryan Hewitt (3), Andrew Bonnet (R)
It looks like Bonnet is getting an extra-long look to see if the North Dakota State star is practice squad ready.  
LT Andrew Whitworth (11) T Eric Winston (10), LG Clint Boling  (6), RG Kevin Zeitler (5), C Russell Bodine (3), C-G T.J. Johnson (3), RT Cedric Ogbuehi (2), G-T Jake Fisher (2), C-G-T Trey Hopkins (2), G Christian Westerman (R), C-G Alex Redmond (R), C-G Alex Cooper (R),  C-G Trip Thurman (R), T Aaron Epps (R), T John Weidenaar (R).
A superb effort Thursday night by a No. 1 group that looks quick, big and ready for the opener. Bodine speared the attack taking down two blockers on Hill's 28-yard screen. Boling and Zeitler dominated in the power game. Whitworth silenced the Jags' athletic top draft picks. Winston is a gamer who is going to allow them not to rush back Fisher and Ogbuehi.
The backups really struggled when Johnson went into concussion protocol and Westerman, a guy that looks to be a future starter, went to the bench. With Fisher and Ogbuehi tender, the question has to be if they keep 10 early on. Even if they keep four running backs.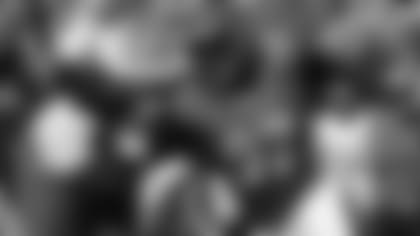 No. 97 (Geno Atkins) has been absolutely ridiculous so far this preseason. No one has blocked him.
NT Domata Peko (11), RE Michael Johnson (8), T Pat Sims (8), T Geno Atkins (7), LE Carlos Dunlap (7), T Brandon Thompson (5) E-T Margus Hunt (4), RE Will Clarke (3), E-T Marcus Hardison (1), T DeShawn Williams (1), T Andrew Billings (R), T David Dean (R), E Ryan Brown (R).
Atkins is simply a perennial Pro Bowl load who was so good this preseason he was more unblockable than usual. On Thursday night he made the Luke Joeckel guard experiment look like a mission to Pluto. His fellow No. 1 linemates have also been dominant. And aren't you glad they re-signed the old war horse Sims? Hunt and Clarke, readying for their year of vindication, both played much better Thursday,
 Look for Thompson, coming off an ACL, to land on PUP as soon as Tuesday, making him eligible to return for the Oct. 23 game against Cleveland. With Billings undergoing surgery for his meniscus with an eye to a long-range solution, he's an IR candidate that would be done for the season.
Karlos Dansby (13), Rey Maualuga (8), Vincent Rey (6), Vontaze Burfict (5), Marquis Flowers (3), P.J. Dawson (2), Trevor Roach (1), Nick Vigil (R).
After cutting veteran Jayson DiManche and rookie Darien Harris on Monday, they could go looking for help here at the end of the roster if a special teams maven surfaces elsewhere. Dawson was a mysterious scratch in Jacksonville with no indication of an injury. Doubtful they'd cut a third-round pick in his second year who can make plays, but they're looking to get more consistency out of him.
CB Adam Jones (10), S-CB Jimmy Wilson (6), S George Iloka (5), CB Dre Kirkpatrick (5), CB Chykie Brown(5), CB Chris Lewis-Harris (4), S Shawn Williams (4), CB Darqueze Dennard (3), CB-S Josh Shaw (2), S Derron Smith (2), CB William Jackson (R), S Clayton Fejedelem (R), CB Darius Hillary (R), CB Tony McRae (R).
Here's a spot where they'll have to keep at least 10 on Saturday (most likely six corners and four safeties) if they want to designate Jackson (pectoral) their player to return from injured reserve. Head coach Marvin Lewis indicated as much when Jackson had surgery.
The question is if they want to keep it at 10 after they send Jackson to IR Sunday if they do indeed think he can come back at some point after the halfway point of the season. Fejedelem has shown enough flashes that he looks like he's got a shot at being the special teams force they think he can be.  Smith has really emerged. Ten days after going 60 yards with a pick for a TD, he was all over Jags talented tight end Julius Thomas to knock away a TD pass Thursday night. Not only that, he's been another guy effective in the vise opening up punt returns.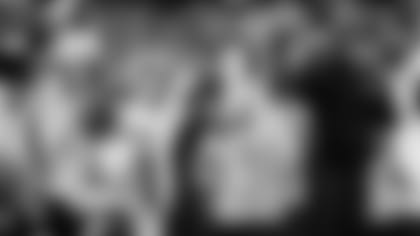 Derron Smith (31) has been a sophomore sensation.
K Mike Nugent (12), P Kevin Huber (8), LS Clark Harris (8).
Kicker Zach Hocker got back for one game Sunday night after injuring his plant foot early in camp. He's got plenty of promise but it simply wasn't enough to find out what he can do and they cut him Monday. When they passed on a 55-yard field-goal try in the first half they seemed to be saying they're comfortable heading into their seventh season with Nugent. Why not? Yes, he missed two field goals and an extra point this preseason. But he's also their second most accurate kicker of all-time behind Shayne Graham.
Cincinnati Bengals travel to take on the Jacksonville Jaguars in week 3 of the preseason 8/28/2016