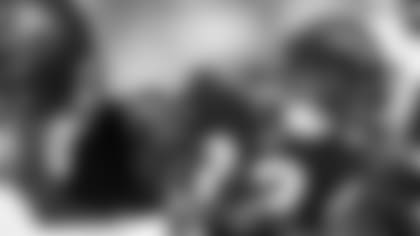 Rudi Johnson found the rushing yards few and far between Sunday. (AP photo)
TAMPA, Fla. - And now it looks like they may not have left tackle Levi Jones for awhile.
Such was the locker-room speculation Sunday after Jones left late in the first half with a left knee injury that has become the latest obstacle in the Bengals' effort to rediscover one of the NFL's best offenses. There was no sign of it here at Raymond James Stadium in a dreadful 14-13 loss to the winless Bucs, meaning that the 26 points the Bengals have scored in the last two games is their lowest two-game total since Games 3 and 4 of the Carson Palmer era.
(That would be the 23-9 and 28-17 losses to the Ravens and Steelers Sept. 26 and Oct. 3, 2004.)
"Very frustrating," said running back Rudi Johnson after an appalling three yards rushing in the first half. "A big part of what we do is running the football and giving Carson time to throw the ball down the field, and we haven't been able to do either, and that's what our offense is all about."
And that hinges on the offensive line, where injuries have taken it from one of the best in the NFL to the most watched rehab project in Cincinnati this side of Fountain Square.
The Bengals switch of left guard Eric Steinbach to center in place of the injured Rich Braham didn't even make it to halftime when Jones came up limping, forcing Steinbach to left tackle and the benched Eric Ghiaciuc off the bench to center. Both had false starts in the second half and Whitworth had a holding call in the first half.
Jones, already hobbled by a sore ankle this season, was walking around the sidelines, indicating that he doesn't have knee ligament damage. But there is a possibility he has damaged cartilage, and if he needs arthroscopic surgery he's looking at a one-to-two month rehab.
The good news is that it's not the same knee that underwent a scope late in the 2003 season and bothered Jones until nearly midway through the next season.
But it just doesn't get easier with Carolina's tag team pass rushers of Julius Peppers and Mike Rucker headed to Paul Brown Stadium next week.
At some point you just have to admit that the injuries and two-game suspension to wide receiver Chris Henry are going to have an impact on the field. Don't think the Bengals miss Henry and injured wide receiver Tab Perry? Without both the last two games, they are a brutal 5-for-25 on third down after going 3-for-14 Sunday.
And if a good Cover 2 defense like the one the Bengals played Sunday doesn't always give up wide receivers Chad Johnson and T.J. Houshmandzadeh, pickings are slim. The only other wide receiver to catch a ball Sunday was Antonio Chatman with two for 13 yards.
So Steinbach ended up playing three positions because after he went to left tackle at the end of the half, he switched with rookie Andrew Whitworth and moved into left guard in the second half.
Rudi Johnson got a little more room in the second half in finishing with 52 yards on 17 carries, but it's not nearly as much as the Bengals expected to run on a team that gave them the run with a Cover 2 zone in a defense ranked 30th against the rush.
Instead, more than half of Johnson's carries (nine) went for two yards or less even though Tampa focused on taking away the deep game. "Our inability to run the football consistently," said head coach Marvin Lewis of his biggest concerns on offense. "You know, I think that's the biggest thing. We had some good runs up in there, but consistently we're not getting on folks, we're not knocking them off the football or doing a good enough job."
The obvious place to look is the line. Last year, the same five starters lined up for 14 of the 16 games. This year, there have been four different combinations in the first five games.
"You don't want to make excuses and (say) the shuffling is the only reason we're not doing well," Steinbach said. "No matter what position you play or where you're going, you've got to get out there and learn how to communicate, play together and get it going and right now we're missing that. We have to find it out and we've got to get it straight for next week."
In one breath, the Bengals don't want to blame the loss of Braham. But in the next breath they do.
"Who do I say are the most important people on this offense?" asked Houshmandzadeh of an answer that is always Palmer and Braham. "Bottom line one of them isn't playing. Not having one of them may not be the reason we're not winning games, but we're not winning."
Steinbach: "It's continuity. Last year we played almost every game. This year we have a different lineup every week and that's going to affect the offense, bottom line."
Bottom line is the Bengals aren't scoring touchdowns at the rate they were last year. Palmer continues to insist that teams are taking away the long ball, but on Sunday wide receivers Chad Johnson (99 yards) and Houshmandzadeh (102) combined for more than 200 yards and Johnson finally caught a long one with his first catch of the season longer than 18 yards for a 51-yarder. That put the ball on the Bucs 29 with 11:31 left and an insurmountable 17-7 lead in sight.
But two incompletions and Rudi Johnson's gain of no yards meant a field goal instead of touchdown.
"We were saying, 'Let's run that play,' the whole game. We finally run it and what happens? A 60-yard completion, whatever it may be." Houshmandzadeh said. "But, we only got a field goal so it kept them in the game. A one possession game and they went down and scored."
No one knew if Chad Johnson felt he could have gone longer more often because when he started to talk to the media, he thought better of it, and said he had nothing to say.
But Houshmandzadeh seemed to indicate it wasn't all play calling.
"At the end of the day we had the ball, regardless of how the game was going, with five minutes left," Houshmandzadeh said. "You get a couple of first downs and with that one timeout, the game was over. We didn't."
Palmer looks to be out of sync with Johnson, although Johnson tied a season-high with six catches. But Palmer threw it his way 11 times. It was the kind of game that had no flow and Palmer couldn't really explain why the Bengals failed to score touchdowns when they got close.
Palmer looked like he was having a brutal day, yet look up and you realize he almost willed this win with his skeleton crew, carving a 94.5 passer rating on 24-of-37 passing for 261 yards and, the big thing, no turnovers in a game people were making a lot of mistakes.
When the Bengals settled for Shayne Graham's first field goal, a 37-yarder that made it 10-7 late in the third quarter, they got no yards when they had a first down from the Tampa Bay 20. When Graham hit the 47-yarder early in the fourth quarter, they got no yards after a first down at the Tampa 29. Rudi Johnson did roll for 42 yards on his first five carries of the second half before he got gummed up again. Usually when the Bengals went No Huddle, the Bucs matched Palmer's chess moves at the line of scrimmage.
"Rudi ran extremely hard coming out," Palmer said of the second half. "It wasn't consistent. I got greedy with it. We were moving the ball right away (in the second half) and they did a good job countering us and stopping us in the run game, and they did a good job making some adjustments."
Palmer did that in the first half on the touchdown drive, when he made two great reads on the safety in the box, hitting Chad Johnson on a quick 12-yard hitch and then going up top to Houshmandzadeh on the next play for a 33-yard touchdown when he was matched one-on-one with cornerback Ronde Barber.
But these weren't the 0-4 Bucs with an aging, no-tackling defense that had ditched its signature Cover 2 in the first four games.
"We didn't miss tackles; we gave up some big plays, but we buckled down when we had to," Barber said. "That is the Tampa of old. I give our offense a lot of credit. They dominated the time of possession in the first and second half. That always makes it easier to play good ball on defense."
These were the smart, disciplined, Cover 2 vets that had won a Super Bowl and fueled the league's No. 1 defense two of the past four years by keeping everything in front of them and tackling everything not nailed down.
"It's what they used to do; they used to play a ton of Cover 2 and this year they're been playing a lot of (man) and fire zones (blitzes)," Palmer said. Against us, they played a lot of Cover 2."
Which meant Rudi Johnson should still be running. But make that three straight games he's failed to carry 20 times and two out of the last three he averaged 3.1 yards or less a carry.
"We thought we could have our way with it," Johnson said of the Bucs Cover 2. "Coming off a bye week against a defense that seemed to be having trouble against the run, and it (hadn't) won a ball game.
"I guess they played a great game up front. Their front seven did a great job getting to the football."
Which is the only way a Cover 2 can stop the run and the long ball at the same time.