Two freeze-dried conference championship games wrapped in old school tin foil for your consumption.
A high of five degrees in Green Bay. A high of 16 degrees in Foxboro. And it is still global warming compared to the 9-below of Riverfront Stadium when Bengals quarterback Ken Anderson bare-handed the AFC title all those years ago.
"Maybe if they had them I would have worn them," Anderson says of the gloves Patriots quarterback Tom Brady has worn to pat down the postseason. "But they didn't make any back then that you could throw with."
Dave Lapham, his left guard and roommate, says it's the most amazing thing he saw Anderson do on the way to four NFL passing titles. Throwing what amounted to a medicine ball, Anderson hung a 123.4 passer rating on a Chargers defense that couldn't compute a minus-59 degree wind chill.
"When it gets cold like that, the ball expands and it becomes huge," says Lapham, the analyst from the warmth of the club's radio booth. "It's like gripping a big rock. But Kenny's got some pretty big muckers and no question that helped him. Somehow he was able to get the ball there."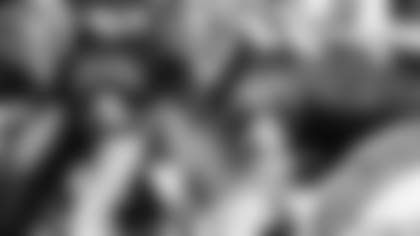 Anderson sets to take a snap during the 1982 Freezer Bowl. (AP photo)
Anderson, who just completed his first season as the Steelers quarterbacks coach, spent Friday in Florida sweating his short game. But even though Brady has never lost a postseason game in Foxboro and the Packers' Brett Favre is 43-5 in games played at or below 34 degrees, Anderson may be the greatest cold weather quarterback alive off that one game.
He hit 72.7 percent of his passes on 16-of-22 for 161 yards, two touchdowns, no interceptions, and a near concussion in that 27-7 classic ice sculpture.
"It was the first time we had heated benches and that helped," Anderson says. "You had to tuck your feet underneath the bench and I was sitting on my hands. Then I heard the crowd roar, and I thought it was a turnover and we're going back out.
"It's a good thing I had on my helmet. I jumped up and I fell and the first thing that hit the ground was my facemask. How would you explain your quarterback getting knocked out?"
Anderson doesn't remember any sweatshirts with pouches, which is now Favre's trademark. Just some mittens somebody would keep warm by wearing them while he was on the field.
"I pretty much just kept my hands down my pants and that was about it," Anderson says. "Dan Fouts tried to wrap his hands around the top part of his long underwear and that didn't work."
Anderson did deliver a knockout punch that day, flattening Fouts, his more celebrated counterpart even though Anderson won the passing title and MVP that season. Air Coryell's gears froze as Fouts completed 15 of 28 passes for 185 yards and one touchdown but two interceptions.
"Turnovers mean everything in a game like that where field position is so important and they had four of them and we had only one late in the game," Anderson says of tight end Dan Ross' meaningless fumble. "It's not so much the cold. You can deal with that. But it's the wind and that's what made our game so cold and what made passing the ball so tough."
Anderson's advice is pretty simple. Look at all his big plays from "The Freezer Bowl," and they were in the middle of the field on a day he didn't complete a pass of 20 yards.
Tight end M.L. Harris, wearing a pair of gloves you get for Christmas, scored the game's first touchdown on an eight-yard throw down the middle. Wide receiver Isaac Curtis' biggest catch, a 15-yarder, came across the middle. The longest catch came on Ross' dive 19 yards down the seam.
"Greatest catch of the day," Anderson says. "He just stretched out. Really sold out and caught it on his fingertips. With the wind like that, you had to stay away from the sidelines. We kept it in the middle."
Ross wore gloves, but he and Anderson were on the sidelines at one point laughing because one of them had a hole in it.
Not in this day of NFL ("I want that") Equipment. Carson Palmer, the Bengals' current quarterback, has been known to wear gloves. It wasn't cold enough this season, but in the past equipment manager Rob Recker has ordered Palmer his own gloves to fit uniquely long fingers.
"It's no problem with the stuff they've got today," Lapham says. "It's like an extra layer of skin."
Anderson's own quarterback, Pittsburgh's Ben Roethlisberger, uses gloves.
"It's something Ben does all the time," Anderson says. "I think that's the big thing. He practices in them, he plays games in them. He's used to them and that's what matters."
Anderson has no favorites this weekend. He just wants to see good games. He figures Brady and Favre have the edge because of the weather but, "At some point, and I don't know if they'll reach that, it could get so cold that it doesn't matter because no one is going to be used to it," he said.
It was tough for Lapham and his offensive line, even though they dealt the first blow of the day when they emerged for pregame in short sleeves and kept them for the game when they smeared their arms with Vaseline.
"But the toughest thing was going back out there after halftime," Lapham says. "It was nice and warm in the locker room. I'm thinking, 'Ah jeez, it's cold out there.' "
Lapham's advice to the linemen is to go au natural—bare arms—for the same reason he had in his matchup with Chargers defensive tackle Big Hands Johnson.
"You don't want them to be able to grab anything," he says. "The best way is not to give them anything they can use on you."
Brady made it look so simple, of course, in a pretty cold New England game last week against the Jaguars when he completed a record 26 of 28 passes for 92.9 percent. That now makes Anderson's 90.9 against the Steelers on Nov. 10, 1974 (20-for-22) the third-most accurate game of all-time behind Vinny Testaverde's 91.3.
But Brady still has a way to go to beat out Anderson as the NFL's most accurate postseason passer in history. At 66.3 percent (110-for-166 in six playoff games), Anderson has a pretty good edge on Brady's 62.5 percent in the postseason.
"Just 26 of 28? Why couldn't he have been 28-for-28?" Anderson joked. "No, really, he played great. Jacksonville took away Randy Moss. That was their game plan. And New England's other receivers are so good when they go four and five wides, you just run out of good players that can cover them."
As he got ready to pick up the driver instead of the medicine ball, Anderson had a final word of advice from the old school on this weekend's tundras.
"You just have to think that you're only going to be out there five to 10 minutes at a time," Anderson says, "and then you'll be able to get back to the sidelines."