Kevin Huber tees one up.

Never mind that Kevin Huber says he really didn't get into the details of the Bears' offer and assumes it was a little bit more because of the market size.
Heck, he's not even the highest-paid NFL player who grew up in Anderson Township on Cincinnati's eastern edge after he signed the Bengals' three-year offer to stay home yet again.
"Yeah, I was trying to get that," Huber laughed of the $30 million guarantee Giants guard Andrew Norwell took in Monday's $66 million deal. "I don't think we were going to get that done."
Not long ago Huber bumped into Norwell at Anderson's always bustling El Coyote restaurant and wished him good luck on the market. It's a place Huber has technically never been despite a decade in the NFL and he still wasn't comfortable with the idea up until the end of free agency's first day Wednesday when he agreed to what is believed to be a three-year deal for nearly $9 million.
"I tried not to pay too much attention," Huber admitted Thursday from his winter retreat in Charlotte, N.C. "First and foremost I wanted to stay in Cincinnati. I wanted to hear out Cincinnati until the very last minute and make sure I got a deal with them.  I think I'm in the best situation for me and I'm really happy how it ended."
It's not as easy as it sounds. When Huber heard on Monday that the Bengals had swung a trade for Bills left tackle Cordy Glenn, he knew the big man was getting a lot of money (try $11.25 million on this year's salary cap) and the Bengals' pot just got smaller.
"It's obviously a position of need for us this year and I'm well aware of it," Huber said. "The punting position is pretty low on the totem pole. I know my place. I know what the market should be for punters. I think what we agreed on is pretty good for both sides."
Pretty simple for Huber, 32, only one of two Bengals (cornerback Clem Turner) who grew up in Cincinnati and went to high school (McNicholas) and college (University of Cincinnati) to be drafted by the Bengals (fifth round in 2009).
"I'm from here. My wife is from here. Our families are here. We love all things Cincinnati," Huber said. "The coolest thing about it is I started my career here and I'd like to retire as a Bengal and say I played my whole career in Cincinnati. That would be a cool thing to talk about."
What's already cool is that Huber has played the 25th most games in Bengals history with 142 and if he punts out his contract he'll be at 190 tiptoeing through the icons on the club's all-time list. That would be just behind cornerback Ken Riley (207), linebacker Reggie Williams (206), quarterback Ken Anderson (192) and just ahead of nose tackle Tim Krumrie (188) and Anthony Munoz (185).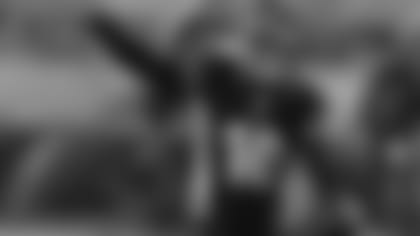 Huber leads the Bengals all-time punters.
Let's see. A Hall of Famer (Munoz). Two should-be Hall-of-Famers (Riley and Anderson). A city councilman (Williams). And a cult figure (Krumrie).
He's also the franchise leader in punts-inside-the-20 and career net and gross averages.
And he's also keeping on the blinders. He figures he got here from Beechmont Avenue four quarters at a time.
 "I don't get that into my head where I start doing things differently to try and reach a goal," Huber said. "I just want to go out and have the right kick for that game. Whether it's facing the No. 1 returner and they want me to go out of bounds or if they're struggling and they want me to kick the ball down field and we can try and flip field position. I want to go at it game by game. When all is said done, if I have some records then I have some records."
Huber turns 33 before the season and both he and special teams coordinator Darrin Simmons believe his leg strength is fine. Huber attributes last season's early rough patch to bad habits associated with form and technique.
"I'm as strong and as in shape as I've been my career," Huber said. "The last couple of years I've been trying to add on to my strength in the recovery. I feel good week to week and I want to get to the point my body isn't broken down. The last couple of years I've done a good job focusing on nutrition and seeing the chiropractor and doing extra stretching. Massages. Just to make sure I'm where I should be on an every-day basis."
Which is all Huber. He's just an every-day guy. Forget the records. Show him another day. He's moved around Cincinnati since he's been a Bengal. He and his wife have lived in Hyde Park and are now in Fort Thomas, Ky. But not for long. He's building a home in Anderson about two miles from where he grew up.
"Back on the old stomping grounds," Huber said.
Inside-the-20 and Route 275.