Bill Bergey: always in the middle of it.
The anniversary of The Trade came and went for the 43rd time, which turned out to be news to Bill Bergey when reached Monday in suburban Philadelphia. But he could tell you what he was doing the day he found out Paul Brown died 25 years ago.
"I was on a fishing trip with a bunch of guys in Quebec," Bergey says Monday morning. "One of the guys came up late so I said to him, 'What's new back in the States?' just being cute because we'd been up there a couple of weeks. He said, 'Nothing. Oh, there is one thing. Paul Brown just died.' I was absolutely devastated. If I had been back in the states, I would have gone to his funeral. That's how much he meant to me."
There was nothing cute about Bill Bergey, of course. "They said I was a cheap-shot artist. Who cares? So what?" he says. Even in the old school he drew top grades for intensity. His relentlessness was a Queen City treasure, an AFL Butkus. Back when, "The middle linebacker owned the middle of the field."
In the last game of 1970, the one the Bengals needed to win to become the youngest expansion team to ever make the playoffs in any sport, they built a 28-7 lead on the way to a 45-7 rout. It was about that time when Bergey drilled Boston quarterback Joe Kapp on the Patriots sidelines. As his coaches said, "Way to take a hit, Joe, way to take a shot, good job," Bergey smiled.   
Bengals president Mike Brown's face lights up. The WFL? The Lawsuit? The Trade?
"Time marches on. All the stuff that was acrimonious, that was contentious, you put it in perspective, you forget about it," Mike Brown says Monday morning.  "I'm fond of him. My memories are good ones."
The biggest Bergey memory of all for the son of Paul Brown is how they turned his name into a verb when it came to one of his signature all-out hits on Steelers quarterback Terry Bradshaw.
"They said he 'Bergeyized Bradshaw,''' Brown says. "He cracked him on a blitz or a running play, I forget which, but he looked like a steamroller going over the top of Bradshaw."
As the Bengals prepare to announce their top 50 players as voted by the fans and media next week during their season-long celebration of the 50th year of play, that may not always be the unanimous view. But for Brown and many guys like Bergey who left under less than ideal circumstances, the good times always seem to dwarf the tough good-byes.
"Time marches on," Bergey, 72, is also saying Monday morning, "I really enjoyed my five years in Cincinnati. I played (seven) years with the Eagles and I really remember more about my Bengals days. I had just got married. I had my first kid. Had my first paycheck .. The team was close. We were young and hungry.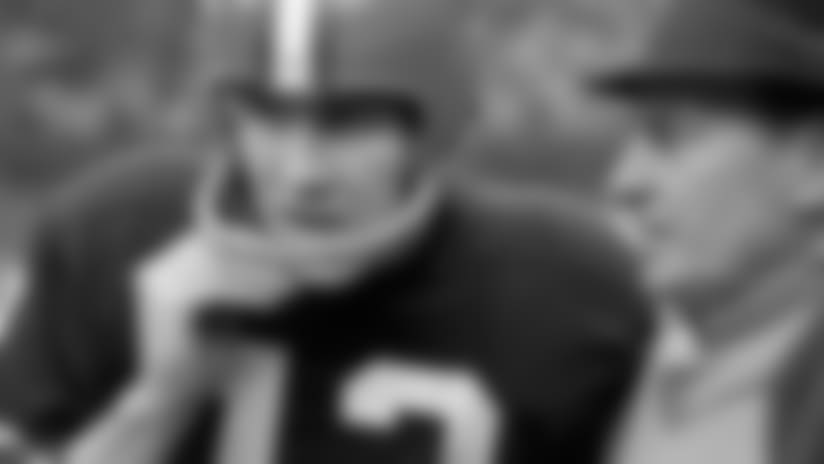 Paul Brown (right) feared the toll of Bergey's relentless play.
Bergey's not so sure Bengaldom is still Bergeyized.  What will the vote be next week? The Trade in that torrid summer of '74 sizzling with impeachment, 18-minute gaps, and a looming NFL players' strike clashing with the emergence a new league is ancient stuff. Dust to dust in the Astroturf era.
Bergey always gets plenty of fan mail and returns the requests signed. But each year fewer and fewer of his Bengals bubble-gum cards are in the envelopes. After all, he says, "Of the fans who saw me play, more than three-fourths of them are dead by now. Nobody can probably remember me unless they're historians of the Cincinnati Bengals."
Count Mike Brown as the chair of the history department. The only Bengals game he has ever missed is the Saturday pre-season game in Detroit before Paul Brown passed away Monday morning. He's waiting on the fans and media, too, but he says Bergey is a no-brainer.
"I judge him at the top. He was everything you want in a linebacker," Brown says. "Big. Fast. Tough. Competitive. He had the whole package. We've had great linebackers here but I don't know if we've had one better than he."
Bergey was a second-round pick of the Bengals in the last year of the AFL and the year before the merger and University of Cincinnati quarterback Greg Cook, their first-round pick in that 1969 draft, was later Bergey's best man at his Arkansas wedding. The 6-4, 243-pound Bergey played in the AFL's last all-star game, made a Pro Bowl, and centered the franchise's first two play-off defenses with a powerful pop of the pads.
Then came something called the World Football League and a three-year offer of $525,000 to take hold in 1976 for your Washington Admirals. To Bergey, who grew up tough near Buffalo and had to go far away to Arkansas State to get his shot, it was much too much to blow off.
"I'll make no bones about it," Bergey says. "It was triple what I was making for the Bengals. I did it for the financial security for my family and kids and all that. Paul Brown took exception to that and I ended up in a federal court. I thought I was doing the right thing for my family. Paul Brown thought he was doing the right thing for his franchise.
"He kind of said that it impairs the integrity of a professional athlete to play for one ball club while being paid by another, which is probably right. I had received a bonus from the World Football League. I said I'd play that year and play hard, but I'd crossed Paul Brown."
But in the end, they helped each other out. Mike Brown, then the Bengals assistant general manager, offered to trade Bergey to an NFL team. That would extract him from the WFL quagmire while the Bengals would also get something out of it more than court costs after Bergey beat Brown's lawsuit. Bergey's WFL franchise had already moved twice since he signed, so he gave back his $40,000 bonus and the Bengals stunningly dealt him to Philly for a first-rounder in 1977 and 1978 and a second-rounder in 1978.
"It was a lot, but I never got it shoved back in my face, so it worked out and it worked out well for the Bengals,"
says Bergey, who also got a trivia question out of it. "Name the player who played for five professional teams (one summer) without making a hit. The Bengals. Washington. Norfolk. Orlando. The Eagles."
But there is one trivia question he refuses to answer. The three guys traded for Bill Bergey?
"I never cared. People ask me who they were and I don't know," Bergey says.
But he saw them play in the Super Bowl at the end of the 1981 season. Defensive end Ross Browner, defensive tackle Wilson Whitley, cornerback Ray Griffin. Bergey, in his first year out of the league, was there in Detroit rooting for the Bengals against the 49ers. Maybe because Paul Brown was always his kind of guy.
Bergey can still see himself in the film room riveted to the soft-spoken Brown, sitting up and almost jerking his head around so he could hear him.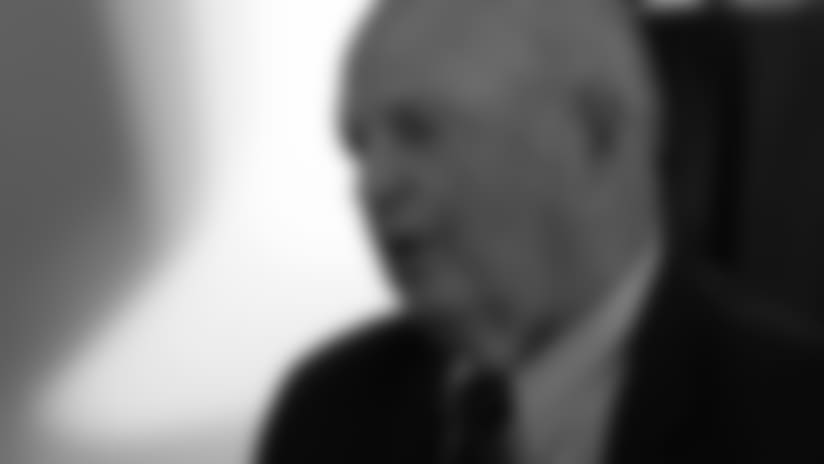 Mike Brown says Bill Bergey is right there with the best Bengals linebackers ever.
"You know something? Even though we had our problems at one time, I absolutely loved him," Bergey says. "He was the one that got me started in my life's work. He was the first guy to give me a check.
"He was a very scientific guy. He would run out on the practice field and tell a wide receiver to take a step-and-a-half a little farther out for whatever reason and he would tell you that. He was an unbelievable family man. That's what I really liked about him. He didn't like his guys to run around town, He preferred them to be married with children and all his values were very real. Right on the money. He was just a tremendous man."
Bergey was certainly Brown's kind of guy. More Bergeyized trivia? What club at Arkansas State was Bill Bergey the president? The square dancing club, of course. It was in a square dancing class that Bergey met his wife Micky.
Their first two children were born in Kentucky while they lived here and Bergey remembers one night they flew back in after a game, where the wives and girlfriends would meet them. Brown, always off the plane first, never spoke to the women. "First class," Bergey says. Except this one time. As Micky held their first-born, Brown cupped his hand around Jason as he said, "Mrs. Bergey, you have a fine looking son."
 "My wife and all the other women nearly fainted because he would never say anything to them," Bergey says.
Jason Bergey, now 46, has given them two fine-looking grandsons. There are also six other grandchildren. Life is good, he says. In Philly he's an icon. He's been a voice on Eagles radio and preseason TV and is one of the most high-profile former Eagles as a speaker for their alumni board. His four more Pro Bowls after The Trade was a nice business card for his post-season career in the hospitality industry.
He calls that spring and summer of 43 years ago "a whirlwind," and it has never really stopped.  But that doesn't mean he doesn't blitz a What If here and there.
"I do wonder, but as time goes on you don't dwell on it," Bergey says. "You just keep looking forward. I've often thought if I was in Cincinnati what would I be doing? I have no idea. The City of Brotherly Love has been very good to me. I have no regrets on anything that I did what so ever."
Especially at one Super Bowl about seven or eight years after The Trade. Bergey saw Paul Brown roped off in a section but he went in any way and sat down next to him.
"I said, 'Hi Paul, my name is Bill Bergey. I used to play for you.' Just trying to be cute," Bergey says. "He says, 'I know who you are.' He said, 'If I would have known you would have been that good of a player and you would have that longevity in you, you never would have been traded from me.'
 "He pretty much said with your reckless style of play I wasn't sure if it was going to be the next play when you were going to break an arm or a leg and that was going to be it," Bergey says.  "It was a great conversation. I have nothing but wonderful thoughts of Cincinnati." Time may march on, but it can also come to a parade rest fairly often