John Ross has his eyes on a turnaround season.

In a shot-gun wedding marrying the fastest wide receiver in Bengals' history (with apologies to Isaac Curtis) to the franchise's best route runner (with a bow to Dan Ross), John Ross and T.J. Houshmandzadeh are embarking on their own Who-Dey Cali minicamp this offseason.
The quick take is Ross can be "unstoppable," if he becomes as technically complete as Houshmandzadeh and his old running mate from the oughts, Chad Johnson. Technique, or lack of it, burns Houshmandzadeh. He can count on his hands the number of guys in the league that honest-to-God stick their foot in the ground at the top of a route like he and Ocho Cinco did and allowed them to separate from the turn of the century. He furiously knows he can teach it while he wonders why few can/do.
"Once he gets back from Cincy, if I can get a good two months with him I can guarantee you he'll be a different player in training camp," Houshmandzadeh says Thursday, on his way to meet Ross at Long Beach City College.
So far, so good. This is their third session. It was supposed to be their second. Tuesday and Thursday this week. Maybe a couple of days next week before Ross and his teammates report to Paul Brown Stadium April 16 for the start of off-season workouts.
"But he called me up Tuesday night after we met and asked me if we could meet again the next day," Houshmandzadeh says. "I told him I thought he was busy and he said, 'I'll find the time.' You've got to like that. We'll probably go tomorrow, too. And as much as we can do next week before he leaves for Cincy."
This is a marriage of more than convenience.  It's not the first time he's taken Ross aside. When Ross was at Long Beach's Jordan High School, Houshmandzadeh gave him some college advice. When Houshmandzadeh returned to Cincy for last year's 50th season celebration, Ross approached and asked if he remembered the talk. He did. When Ross texted him last week to see if he could work with him, Houshmandzadeh asked when.
He has a plan. Houshmandzadeh, the 204th pick of the 2001 draft, used deaf-dumb-and-blind self-confidence to will his way to 507 catches, the third most in Bengals history.  Now he wants to pass on that searing self-esteem to Ross, one year removed from the ninth pick and a rookie year that yielded no catches in three games and 17 snaps.
That's what they spent their first 45 minutes together discussing.
 "People overlook the mental part of it," Houshmandzadeh says. "Physically, he wouldn't have been drafted ninth if he didn't have it. He's got to understand that he was drafted ninth for a reason. The ninth out of every kid in college football.
"I don't care you didn't play well last year," he says. "The ninth pick and you're not playing, you're going to lose confidence ... I'm trying to bring that back to him."
Houshmandzadeh endured what Ross is living. After catching 61 balls for a TD in his first two seasons, he played just two games while jousting hamstring problems and very nearly getting cut. His 2003 line is the same as Ross' rookie line: 0 catches. Then in '04 he went off and added 73 catches to the line. But the confidence never wore down. And we're talking to the same guy even though he's 40. He's still talking trash running routes in what he calls "tennis shoes."
""I think with three months of work I could be a third wide receiver in the NFL," Houshmandzadeh says. "Maybe I'm wrong, but that's what I think and I believe it wholeheartedly. In my heart of hearts, I believe I can still play football."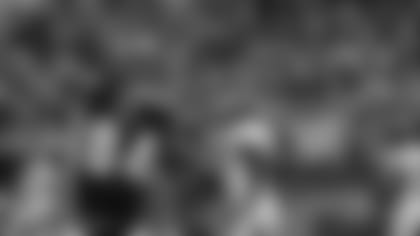 T.J. Houshmandzadeh always wanted the ball. Now he's giving back.
That's what he was thinking when he showed up 17 drafts ago from Oregon State. "I remember it like it was yesterday." Except the name of the guy he got in a fight with that first day. There was the walk through PBS to his physicals. There was the first practice. Then that fight. And the phone call home that night when he declared he was the best receiver on the team.
"I'm trying to get him to believe in himself unconditionally," Houshmandzadeh says.
Because he says the kid has it all. Yes. Ross, the fastest man ever to run the 40-yard dash at the NFL scouting, is as advertised, he says. Houshmandzadeh says his initial burst off the line is elite and reminds him of another Bengals seventh-round wide receiver, LSU's Bennie Brazell, an Olympic hurdler.
"The quarterback says, 'Set-hut,' and he's gone," Houshmandzadeh says. "He's not just fast. He's quick. He's got good lateral quickness. And he's got some size. He's bigger than you think. He's 5-11 and has to be 190 (pounds). He's short, but he's not small. He's got some thickness to him. "
Everything. Except Houshmandzadeh would love for Ross to add the footwork that allowed him and The Ocho to shoehorn more than 1,200 catches into eight seasons of Bengaldom.
"That took us years. It won't happen overnight," Houshmandzadeh says.  "He's been fast his whole life. Whoever worked with him has never really gone over the basics and the nuances of route running. You can't always run by you. You get to this level, everybody can run. Your technique and ability to separate has to come to the forefront because you can't beat everybody with speed. That's what I'm trying to get him to understand. He's got speed no one else has."
So far, so good. Ross not only reached out, he came back. Houshmandzadeh likes the sound of it. He has no doubts Ross can be a big-time player.
"If he's working with me, bet your house on him," says Houshmandzadeh, straight out of that 2001 odyssey of the mind that was good for 627 NFL catches.