By Friday, or the very latest Saturday, the Bengals will be down to 53 players and that means they have to lop 22 between now and then before bringing back nine of them to the practice squad.
Then they will have another day to scour the waiver wire and free agency to finalize the 53 for the Sept. 7 opener.
The overriding factor is the injured players they will have to carry and the uncertainty surrounding them.
Guys such as their two third-round picks, wide receiver Andre Caldwell and defensive tackle Pat Sims, have foot injuries that could take anywhere between a week and who knows because no one is saying. Wide receiver Chad Johnson's shoulder could be here today, gone tomorrow. Backup center Dan Santucci has an ankle problem that is iffy and how ready will right end Antwan Odom be after missing all but the first 40 minutes of training camp with a foot sprain?
Traditionally the Bengals have kept 25 on each side of the ball with the three specialists. By going off the recent past and experiences, figure they keep six wide receivers, four backs, three tight ends, nine offensive linemen, three quarterbacks, eight defensive linemen, seven linebackers and 10 defensive backs, of which five are cornerbacks and five are safeties.
Here are the hottest spots heading into Thursday's preseason finale in Indianapolis. HoushmandzadehWIDE RECEIVERS (6): If the depth chart from Saturday night's flip card holds, it would be Caldwell, Chad Johnson, T.J. Houshmandzadeh, Jerome Simpson, Glenn Holt and Antonio Chatman.
If Caldwell can't go for a couple of weeks and with the Bengals worried that Johnson could be gone on one shot or fall to the ground, do they have to go get somebody else and carry as many as seven receivers so they can dress six on gameday?
And what if Houshmandzadeh's hamstring tightens again when he returns to practice Monday?
But tight end Ben Utecht showed how valuable he is underneath and down the middle on third down Saturday night. Plus the ability to throw to running back Chris Perry should ease the hysteria around the lack of a third receiver and should allow the team to dress just five receivers if Caldwell can't go.
The pleasant surprise has been Simpson, the raw second-rounder from Coastal Carolina. He's still got a long way to go, but he's already come a long way after the spring camps, when it looked like he'd have to be inactive for the first couple of games or so. He's not ready to be the third receiver, yet he's played well enough in the games that the Bengals have to be thinking about playing him and developing him instead of picking up a veteran receiver.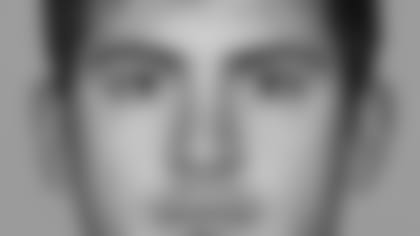 LynchSAFETIES (5 ): Still real murky here after the first four, which you have to believe are Marvin White, Dexter Jackson, Chinedum Ndukwe and rookie Corey Lynch. Ndukwe (knee) should be back for the opener or soon after.
Lynch, who had an interception Saturday, has been as advertised. Smart, tough, opportunistic.
That could mean three guys for one spot in Herana-Daze Jones, Kyries Hebert and John Busing. Hebert, listed ahead of Jones on the Saturday flip chart, has been impressive on special teams, which has been Jones' specialty the last two years. Same with Busing.
Although Jones is just coming back from injury, he does provide the option of playing some cornerback but he has to show the club he's healthy.
Corner, it seems, could be the first place the Bengals go to the waiver wire if they can find a guy better than rookie Simeon Castille. They like how Castille is physical and can cover, but there could be a fifth guy out there just like they got David Jones last year at Cutdown Day. Jones is now the third corner with starters Johnathan Joseph and Leon Hall and the other backup, Deltha O'Neal. PerryRUNNING BACKS/FULL BACKS (4): Count Chris Perry and Kenny Watson in there with Rudi Johnson, making his '08 debut Thursday, if you just go off pure playing time.
Running back DeDe Dorsey hasn't had very many snaps and now it looks like he's battling with fullback Jeremi Johnson for the last spot. And for a guy who had been sentenced to another training camp of getting rid of weight instead of practicing, Johnson looked pretty good Saturday night.
The fact the club has stuck with him this long suggests it doesn't want to pull the trigger on the guy.
If Johnson makes it, then Dan Coats can be the fifth back and third tight end behind Reggie Kelly and Utecht.
LINEBACKERS (7): If Saturday night's depth chart and playing time hold, it is starters Keith Rivers, Dhani Jones and Rashad Jeanty backed up by Brandon Johnson, Corey Mays and Darryl Blackstock.
Going off special teams work, wouldn't Jim Maxwell have to be the seventh guy? He had three tackles Saturday night after getting one from scrimmage Sunday against the Lions.
Jeanty hasn't practiced since early in camp and while head coach Marvin Lewis is mum on injuries, radio analyst Dave Lapham said on Saturday's broadcast that he's suffering from a previous injury in which a rod was placed in his leg. But indications are he could be back Thursday, or the opener for sure.
OFFENSIVE LINE (9): There are the five starters in Levi Jones, Andrew Whitworth, Eric Ghiaciuc, Bobbie Williams and Stacy Andrews. The three backups are Willie Anderson, Scott Kooistra and rookie Anthony Collins.
That would suggest that leaves one spot for a backup center and not knowing exactly what Santucci's situation is makes it tough because this guy has to be ready Opening Day. That could make Kyle Cook the ninth guy. But the Bengals like how Santucci is developing, so is this a spot they have to go heavy at 10 for a couple of weeks?