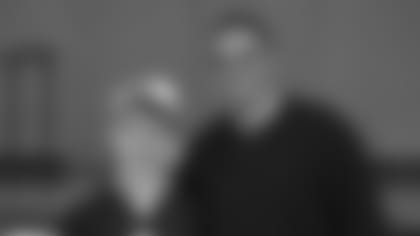 Matthew McCormick hosted David Pollack for a day at his school. (Ember Morr photo)
Matthew McCormick took David Pollack to school and then Pollack schooled the kids and teachers of St. Bernadette School in Amelia, Ohio, during a Tuesday morning filled with will, wonder, and Who Dey.
"A wonderful young man," said Tom Salerno, the principal out of school uniform because he was wearing Pollack's "99" jersey. "I was worried one of the kids might embarrass him with a question about his neck. But he handled it beautifully. He told them, 'I'm not hurt. I'm walking around and I might play again.' It was so good for the kids to hear that positive attitude."
As usual, Pollack, the perpetual rehabber who may or may not play this year, took the place by storm. High-fiving the big Bengals blowup doll. Jump roping with little girls at recess. Throwing footballs on short routes to the kids and teachers of the seventh and eighth grade wearing Chad and Carson jerseys. Cheerfully signing everything but the Magna Carta.
Note that he always had a ball in his hands. Cradling it. Throwing it. Handing it off. Grabbing it from Matt and nine-year-old brother Alex.
Much like he's holding on to the game since he broke his neck, which was seven months to the day Tuesday. He told the kids in the question-and-answer session what he tells everybody. He's still waiting to find out if he can play this year and if he can't, there's always next year.
"No one wants to retire," Pollack told them. "Everyone wants to play until they're 50."
With a six-to-nine month rehab starting at the first of the year, it's believed his earliest possible return could be late in the season after a stint on the physically unable to peform list (PUP) takes up at least the regular season's first six weeks, but no one is talking.
Later, after throwing a strike to a female teacher in heels, he said, "I'm talking about my rehab, not my future. This is about the kids, not me."
And this just doesn't happen very often on Lake Locust Road in Amelia, Ohio.
Not the Cincinnati version of "NFL Take a Player to School" led by the JCPenney Afterschool Program.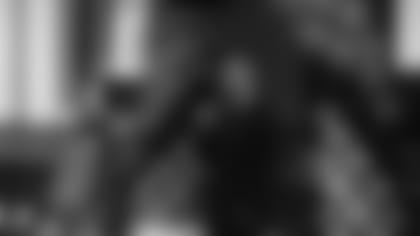 Pollack talks to the students at St. Bernadette School about the importance of in-school and after school education. (Ember Morr photo)
Brian McCormick, Matt's dad, ought to know. He went to the same school back before they built the gymnasium where the center of Bengaldom settled Tuesday.
"Let's see," said Brian when asked who the biggest visitor had ever been. "The priest."
You can forget during the offseason that the Bengals are a religion.
Joyce Ell, Salerno's secretary, has given over her office to the Reds now, with a Pete Rose picture under a cross, and a Ken Griffey Jr., poster on another wall.
When Ell was asked who had Rose's spot during football season, Pollack piped in, "Probably still Pete Rose," but Ell said that wall was blanketed with a "Bengals County" poster and another had Willie Anderson's No. 71 jersey.
"I love Willie Anderson," Pollack said, sounding an awful lot like his buddy Matt.
"I love sports," said Matt, the seventh-grader who won the day from a drawing sweepstakes at JC Penney in the Eastgate Mall. "My whole room is sports. I've got posters, autographs."
Matt had been waiting for this day since his 13th birthday back on Oct. 4, when his parents told him he won the drawing. Scheduling snagged the date until word came just before Easter that Pollack would show up with a limo this week, and when he walked into the house Tuesday morning for breakfast mom Linda was perfectly prepared with a helping of every kind of fruit.
"I looked up his stats and they were pretty good for a rookie," Matt said.
Pollack is the kind of guy who makes you feel like you've known him since high school even if you just met him.
"I saw you at training camp," said a girl who popped out of her room into a hallway. "My mom was the one who couldn't work the camera."
"That's OK," he told her. "A lot of moms can't work the camera. They didn't grow up with camera phones like we did."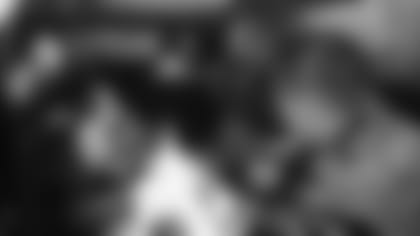 Pollack and Matt's family share a limo ride to school. (Ember Morr photo)
So 90 minutes after the two-minute limo drive ("It was cool. Two TVs") Matt felt close enough to bust Pollack with "He's a joke," when asked what he thought of the big kid.
Which got him another headlock from Pollack.
"He's very sociable. Very nice. He seems to have a very high standard of living," said Brian McCormick. "He seems excited about getting back into it and I hope he does.
"I'm just glad he was able to come out and how he stressed how important school is and studying, along with everything else."
Here's the best of the Q-and-A. (Complete with calling on the kids in their jerseys: "Chad," "Carson," and "I see you with the hand raised, Rudi. Quick as a cat."):
---
Q: What is the toughest team to beat?
(A voice said, "The Steelers.")
A: No, we beat Pittsburgh every year. Probably the Colts. We beat the Steelers every year. (Wild applause.)
Does a coach ever yell or get mad at you?
A: Oh yeah, all the time. I try to make amends. I try to do something better to make up for it. When teachers correct you, it's not (helpful) to get upset. Just look at what you did and try to correct it.
Q: What was your favorite subject in school?
A: I love history. I love to learn about the past.
Q: How long have you played football?
A: I've been playing since I was six years old. I've had a lot of practice. You really control what you want to do. If you want to play football, then you can go out there and play football, and I'm sure that your teachers feel that way, too.
Q: What was the score when you got hurt?
Q: If you grew up in Georgia, how did you end up in Cincinnati?
A: You don't have a say in which team you go to. Whoever picks you, you're there. I'm very, very glad that I came to Cincinnati.
Q: Who is your least favorite player?
A: I don't really have one. It looks like we don't like each other. We just want to win and they want to win and you be competitive. It's important not to not like your competitor."
---
Matt and a football were always near. Pollack signed a bunch of balls in the library for fundraisers and prizes. He carried one over to Matt's history class with Gene Fisher, about to teach a lesson on the Oregon Trail.
Fisher explained to Pollack that one of the most interesting things about the adventure is that many pioneers left what they thought they needed on the side of the trail, such as chests of drawers and furniture. Pollack, the historian, looks to be on a similar journey, adding and shedding as he goes along.
Last month, head coach Marvin Lewis said when he returns that Pollack wants to play defensive end instead of linebacker.
"When I play on Madden, I take myself out (at linebacker) or put me at end," he told Matt's class.
He is still grabbing the football, working out at least six hours per day. Which meant he missed his 7-9 a.m. racquetball game, which starts his six hours of daily workouts. But he'll be able to get in his swimming and running.
"I'm starting to get a little toned up. That halo fat is starting to come off a little bit," said Pollack of the brace he wore for three months.
He spent the day feeding off the kids. It's not hard to see a historian's future.
"This is my passion. This is the most fun you could do today," Pollack said. "Anything to work with kids."
Matt came out in the hallway to thank Pollack for coming to school and after he went back in, Pollack called, "Hey Matt," and chucked him the ball.
"I don't know whose it is," he said. "But it's his now."
The sweepstakes Matt won is sponsored by the JCPenney Afterschool Fund, a non-profit organization committed to giving children access to high-quality after school programs.
According to the media packet, studies indicate that 14.3 million children in the U.S. are unsupervised between the hours of 3 and 6 p.m. each day. Research shows that after school programs benefit students by raising math and reading performance, improving school attendance, decreasing involvement in crime and reducing dropout rates.*