Jordan Evans' speed has the Bengals banking on a break-out sophomore season.
 Hi Geoff. Writing in from cold and gloomy England. As always great to read your thoughts on the team and keep up the good work. I've seen that you've hinted at the possibility of taking a defensive player at 12 in the draft this year. What do you think the chances are that the Bengals pull the trigger on a LB like Tremaine Edmunds, Roquan Smith or Raashan Evans?
They would greatly upgrade our LB corps and would add a quality starter to play next to Tez immediately. Our D is so much weaker when Tez is inevitably injured or suspended, so it would be great to have someone capable of filling in as the 'Alpha Dog' when he's unable to play.
Also what are the chances of the team trading for or signing a veteran LT like Cordy Glenn or Nate Solder to come in and immediately plug in at that LT spot? If not Orlando Brown should definitely be considered at 12 too. He's an absolute man mountain and moves people in the run game. Appreciate your thoughts. Thanks! Paris Pinney, Exeter, Devon
PARIS: What a great day to hear from both England and Paris in the same missive. Thank you for reading and taking the time to take off the gloves and tap out a note.
I can't seem taking a linebacker that high even if they needed one. It's just not in their DNA. Since they took Takeo Spikes and Brian Simmons both in the first round in 1998, the only backer they've taken that high is Keith Rivers in 2008. David Pollack was a college defensive end moved to linebacker in 2005. I think for them in this day and age a spot that high is reserved for corners, pass rushers and D-tackles. I think with Vontaze Burfict, Nick Vigil, and Jordan Evans, they feel very good. But you're right about depth and I think they'll take a backer on the third day.
Left tackle is the one spot where I wish they would make an exception in their free-agent philosophy and go get an unrestricted guy early. And maybe they will. But I think at the moment they're thinking those guys are so valued there won't be anyone available that's worthy by the time free agency rolls around March 14. And you have to think of those Carlos Dunlap and Geno Atkins contracts. I would think that precludes a deal like Solder would command, if he's even available. I do agree with them. Geno and Carlos have to be the priorities and if that means a guy like Orlando Brown at No. 12, that's good, too. I think by the time Draft Day gets here, the tackles are going to be in the mix up there with the defensive players.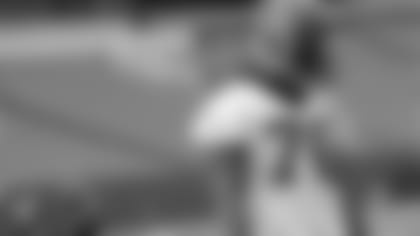 Current left tackle Cedric Ogbuehi was a late first-rounder in 2015.
Hey Hobs, Can't wait for your column to start being weekly. Now that we know we lose out on McCarron, both his services and picks or trade, does it not bring up draft questions?
1. Many football gurus say Andy can win a Super bowl but can't do it without a pro bowl team around him. We all know with Lewis at the helm there is no way another QB will have a shot at starting but if one of the 4 or 5 top QBs fall to 12 do we pass it up?
2. If we don't reach for a QB do we spend a #12 on another O-Linemen? I mean the league is full of good and great O-linemen taken late in the first or later rounds. Is there a Munoz or Whitworth at 12?
3. If we are not going to take the best available why wouldn't we trade down?
4. Lastly whoever we take and no matter what position will Lewis give them a shot to see game time? Keep the insider info coming? Lou Petrofes, Jupiter, FL
LOU: Thanks for getting one in before the start of spring training down your way.
There's no question if they think a worthy QB is there at No. 12 they will at least talk about it. Just like if there's a corner or wide receiver or whatever else is there. They would talk about it seriously. But unless they think the guy is an absolute lock and is an upgrade over Andy Dalton, it's a short conversation. I mean, if he hangs around until 12, that's enough reason not to draft him since you've already got a guy up and going.
The team has a much higher opinion of Dalton than certain elements of the fan base as we all know so the last thing they're going to do at that position is reach. I do think they'll draft a QB and it's going to be a name we know. But it's going to be in the bottom of the third at the earliest as Dalton's backup.
As for a Munoz or Whitworth, no one knew Munoz was Munoz or that Whitworth was Whitworth when they drafted them, so I hate to pull a Marv on you, but I'll have to say, "We'll see." Initially, I would say no because if they were projected as such, the pundits would have them rated a lot higher than these tackles are currently rated on various web sites.
No doubt the Bengals are in the process of evaluating if any of those tackles are good enough to take at 12. The CW is it's a fairly deep draft at tackle, so they'll have to decide if they can get a comparable one later and take care of another spot at 12 that, again, more than likely isn't a QB.
And that's part of the conversation about any trade down. Can you get a similarly ranked guy later? That was an internal debate last year. The elite pass rushers (Myles Garrett and Solomon Thomas) were long gone. So was the elite running back (Leonard Fournette) and elite safety (Jamal Adams) as they went to make the ninth pick. One school of thought was approach Kansas City at 10 or Houston at 12 in their efforts to trade up to get QBs, slide into the 20s, and take a pass rusher like Missouri defensive end Charles Harris or UCLA outside linebacker Takkarist McKinley.
But Washington wide receiver John Ross had an elite top ten trait. A combine-record 4.22-second 40-yard dash. Tough to pass up. Especially when speed across from A.J. Green is a glaring absence. The way this thing is breaking this year, it may be a lot tougher getting out of 12, especially if the top four QBs are gone by ten. But, if one of them is there at No. 12 and somebody wants him, he'll probably be more valuable to the Bengals in a trade than taking him.
I think it's always a good sign when the No. 1 pick doesn't have to play on Opening Day. The problem is if they don't put him on the field in years two or three. So I'll take that question next year.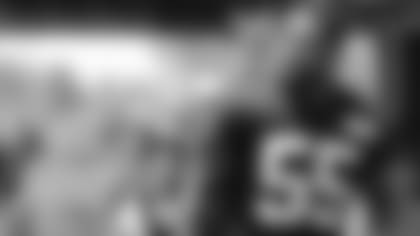 Vontaze Burfict is schooling two speedsters.
With New DC Teryl Austin Is There Any Chance Of Vontaze Burfict Being Switched To MLB In Order To Get Jordan Evans On The Field More At WILL An If Not Will The Bengals Make A Move In FA For A MLB Like Local Boy Preston Brown Also Lifetime Bengals Fan Been Going To Games All My Life An Been A Season Ticket Member For Years I Just Want to Say I'm Excited About This Year And The New Coaching Staff #WhoDey4Life #WhoDeyNation Josh Mason, Cincinnati, OH
JOSH: Thank you for writing in and for calling The Paul home. New defensive coordinator Teryl Austin hasn't said anything about where he's going to line up these guys, so it's all a guess. But I won't be surprised if Tez starts the spring in the middle just because their best lineup would seem to be flanking their defensive nerve center with the speed of Jordan Evans at WILL and Nick Vigil at SAM. Burfict admitted last season that he wasn't all that comfortable at MIKE when they moved him in there for a couple of games and he turned out to be more productive when he went back to his old spot at WILL.
But if he starts the spring in the middle, he'd have more mastery of the position instead of trying to pick it up in the middle of the season. And he does play it about the half the time, anyway, because he's the middle backer in nickel. But let's wait to see what Austin decides during this period of evaluation.
You're right. Buffalo's Preston Brown is a Cincy kid and they figure to be looking at him on tape as they sketch out their free-agent plans. I think they like how they set up at backer and they don't go after UFAs. But I could also see them having an interest in a home town guy like Brown, an extremely productive player.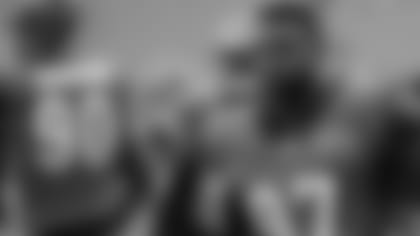 Geno Atkins: another big payday ahead.
Geoff, Hope all is well. Bengals have three quality players entering the last year of contracts. Atkins, Dunlap and Dennard will all want premium money. I just don't see this team signing all to big contracts. Shouldn't they attempt to trade Dennard or maybe Dunlap for some quality picks?
Don't get me wrong, I hope they all stay, but I've seen this movie before. It won't happen. Also with AJ MAC becoming a UFA, the Bengals could receive a high comp pick in 2019. Will this alter their approach in 2018s FA? Bengals won't sign players that might offset that potential comp pick?  Maan Aboulhosn, Titusville, FL
MAAN: Good to hear from you again. I understand the frustration with losing left tackle Andrew Whitworth and right guard Kevin Zeitler last season, but I think that obscured what has been a pretty solid track record of keeping their own guys. Starting with the 2011 lockout, I can only think of three guys they wanted to retain and didn't: Whit, wide receiver Marvin Jones, and cornerback Johnathan Joseph.
All tough losses and it hurt them, no question. But their batting average is good. They usually get their guys if they want them and they really want Geno and Dunlap, and Dennard is headed that way, too. That's why you're not going to see the big free-agent splash in March. It's coming later at an extension near you. Now, if the trading deadline nears in October and they still don't have a deal with Dunlap or Atkins and they were 2-6, I guess that's always a possibility but it's long-shot stuff  because they will more than likely still be in the play-off chase.
The whole idea behind keeping Lewis as head coach is because Mike believes they're close. This isn't 2003. It's not a re-building job. If you trade one of your two best pass rushers or your best slot corner, you're killing yourself for this year. Can't see them doing that after keeping Lewis. They want to win now with the head coach and QB in place.
I hear you on free agency. I also don't see them straying very far from their philosophy of not signing unrestricted free agents (UFAs) so they can get draft compensation for losing their own UFAs. I would think that's especially true with Andy Dalton. If they didn't get that second- and third-rounder from Cleveland, they can at least get a compensatory third in 2019 for him.
Mike Brown's assertion that "winning football is interesting football", while true on its face proves Art Modell made the right decision many years ago. Our team has ownership that is highly intelligent but also highly selective in engaging with the media. The coaching staff treats the media with disdain and keeps comments highly disciplined and rarely interesting. Players are trained to speak in phrases that mean almost nothing. Local media coverage is thin.
That leaves you, Geoff. You are our lifeline to truly understanding what makes this team run well or poorly. Don't play it safe, don't simply trot out the "company line". The current formula gives us a boring team and resultant poor fan support. Get nasty, get tough, get edgy. We can take it. The team can take it. Who Dey! John Campbell, Cincinnati, OH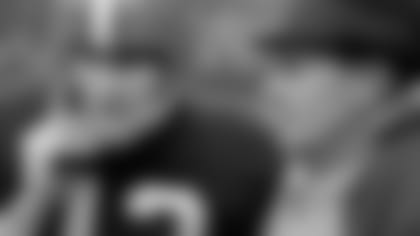 Paul Brown got the upper hand on the Browns when he formed the Bengals.
JOHN:  You started me off with a changeup. Art Modell? You mean the guy that fired Paul Brown and moved the Browns out of Cleveland?
I'm not sure how well canning Paul worked out for Modell. Paul was a hell of a lot more "interesting," than Modell. Yeah, the Browns won the 1964 NFL championship two years after Modell did the deed, but it was with basically Brown's team.
Modell didn't win another one until the town (Baltimore) and the century (2000) changed. Before then, Brown coached against Modell's Browns with his expansion Bengals head-to-head from 1970-75 in the AFC Central and went 48-36 with three play-off berths while Cleveland went 40-42-2 and went to the postseason once. Then when Brown retired and spent the '80s as GM, he led the Bengals to two Super Bowls while Cleveland went to none. What "right decision," are we talking about?
 I'm sorry if I missed it, but I'm not sure what your point is with Modell. I think what Mike Brown meant by "interesting football," is creative football and I think that's a major reason Mike and Marvin made the coaching changes they did after last season. The Bengals' recent offensive vintage has been not only crushingly bad but also vanilla. (In part because of the poor line play.) So when new offensive coordinator Bill Lazor told Bengals.com last month, "I'm not afraid to blow the whole thing up," if that's what it takes, Mike had to like the sounds of that.
 I thank you for visiting our site because I have to disagree with you on local media coverage being thin. The Bengals have always been blanketed. Back in the day The Cincinnati Enquirer, The Cincinnati Post, the Dayton Daily News, and The Columbus Dispatch were there every day. Now it's a different look but The Enquirer always has two reporters here and during the season the Daily News often has two. Throw in ESPN.com, NFL Network, and Bengals.com and thin isn't the word in this day and age of local media cutbacks.
Maybe you're talking about 'thin,' on substance, but I dispute that, too. From what I see at the other outlets Bengals reporters are smart, good, and engaged and they use analytics and other forms of analysis to help overcome the challenges that face covering the modern, close-to-the-vest NFL. The Enquirer is particularly good with salary cap stuff.
For the most part nowadays all across the league, coaches and players say nothing.  I hear you on that. If it was this no-comment-numbing in the '60s and '70s, the NFL would still be less popular than boxing.
But I can also see where they're coming from. Even if they just exhale about something as a mere afterthought, they're tried, convicted, and sentenced to death on social media in the seconds it takes to commit a game-changing turnover. I'm amazed they even say hello. But that's the media's problem, not yours. Mike only talks a couple of times a year, but that's more than a lot of owners.
What do you mean by nasty? Don't we have enough nasty? That's all we hear 24/7. Angry, bitter people berating everything that moves. Frankly, I'm looking for a little civility and even try to provide some.
Maybe I'm stuck in 1967 ("Looped toward shortstop, Petrocelli's back") but I think you can still be civil and be informative.  There are two sides to all issues, calls, decisions. I try to present both of them. This past season, at one time or another, I had coaches and players mad at me for being too critical, as well as fans for wanting nasty, tough, and edgy. If I'm getting ripped by both, both must be reading and for that, John, I thank you and I thank you for taking the time to write and hope you do again soon.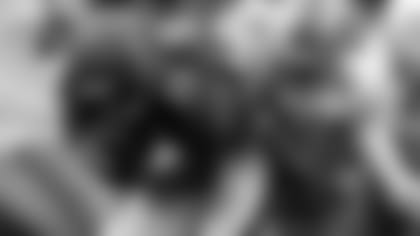 Brian Hill dragged some people in his first Bengals' carries last season.
I understand that with Mixon and Gio, running back in this year's draft might not be a priority; but as a longtime Bengal fan and remembering the days of Boobie Clark, Pete Johnson, Larry Kinnebrew, Icky Woods and others; I can't help but wonder if the Alabama back Bo Scarborough might be a good fit in a later round? Over the years, the Bengals have been good when they have a thumper between the tackles. Thoughts? Patrick Lanman. Vevay, IN
PATRICK: It's a good question because while Mixon is a thumper they figure to lose the other pounder when Jeremy Hill leaves in free agency and they need a backup that's big enough to bang. They look to be in pretty good shape there, though, without going into the draft with 220-pound Brian Hill, a late-round pick of the Falcons last year who looked good when they picked him up off waivers late in the year, and Tra Carson, an undrafted 230-pounder who had a promising rookie training camp and practice squad stint in 2016 before missing all last season with a pre-season injury. Both guys put their heads down and are move-the-chain guys.
 Much chat about the Bengals 1st pick in the Draft. I may be in the minority but Billy Price or Jeff Daniels would begin addressing a significant need at Centre. So the question is does anyone within the organization think that this mad Scotsman has a point  Tony Torrance, Inverness, Scotland
TONY: Thank you for dropping the 9-iron in from the land of Russell Knox and you're not so mad. I think they like both of those guys but I can't imagine them using the first pick on a center. But, hey, I didn't think they'd pick a wide receiver under six feet at No. 9 last year, either, so maybe I'm mad. But they'll get a center not too long after if center Russell Bodine leaves via free agency. The early returns on that seem to be the new offensive regime likes Bodine's experience. That's going to anger some people, but if they feel like they can get Bodine to play more consistently with a fresh start, they ought to re-sign him. He's a tough guy that has never missed a start in his four seasons and it's a difficult spot to start from scratch on a line that's going to undergo change with a new line coach in Frank Pollack.
If the Bengals draft a quarterback, what do u think about Quinton Flowers out of USF? I think he would bring a look to the offense that would be hard to match Jeffery Moore, Madison, AL
JEFFERY: Interesting guy. But even though he set 34 (34, not a typo) records at South Florida, school seems to be out if scouts think he can play NFL QB. Some list him as a running back and others as a wide receiver. I just saw a report where Hall of Fame GM Bill Polian thinks he should play receiver. If you want him, draft him in the sixth round and see what he can do.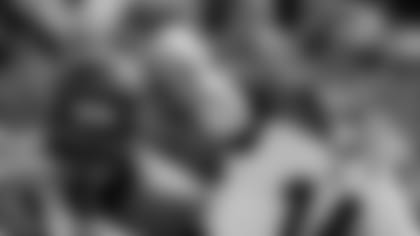 Andy Dalton heads into his eighth season as the Bengals' starting QB.
I am a fan of both Andy Dalton and AJ McCarron but I know we can't keep both quarterbacks. Andy is very good when he spreads it around the field but when in trouble he likes to force it to AJ Green and that equals too many interceptions. Wouldn't it be cheaper for us to start new with McCarron and to see what we can get for Dalton? Tim Lyons, Brockway, PA
TIM: All I can tell you on the Dalton-McCarron question is that these guys watched both of them in practice for three years and never came close to pulling the trigger. And when they had a shot to keep him with money and trade Dalton, they didn't. I guess you sent this in before the arbitrator made his decision, so it's moot now. McCarron is gone and it would probably cost them more in 2018 dollars than Dalton in 2014 extension money to keep him.
No. Not a guy with four NFL starts.
And, look, I think McCarron is going to be a good quarterback in this league who wins some games. But is he going to be better than Dalton? My only answer is these guys made their call after three years of watching both of them side-by-side. What's that say?
We forget that's not always an easy transition and how much it can set you back. I still think the most underrated aspect of Dalton and Carson Palmer moving into starting quarterback so seamlessly in 2011 and 2004, respectively, is that they were playing behind a very solid offensive line anchored by high quality tackles. They just don't have that at the moment and it would be very tough for a young guy behind this current line.
And here's the other thing, and it goes back to why they won't trade Dunlap or Atkins. They think they can win now and Dalton's experience and past success gives them their best shot of the two.
Who's a better receiver Chad Johnson, or AJ Green? Jonah Williamson, Buffalo, NY
JONAH: I asked Chad Johnson the same thing on Nov. 1, 2016. Here's what he said:  "To me (Green is) the greatest (Bengals receiver) of all time because he can do things I wasn't able to do … High-point the ball. And he's a much more consistent pass catcher than I was."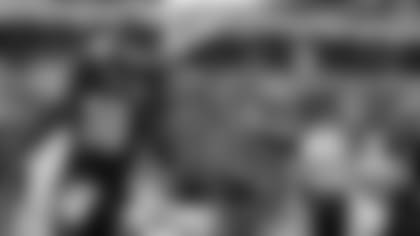 A.J. Green: Chad says he's the best.
Hi Geoff. Thanks for taking the time to do this. So, I am hoping the Bengals grab Mcglinchey with their first pick. I have been watching film of him and he seems like the best Tackle coming out of this draft. He won't be the best available player which is generally what I'm in favor of but they are in such need reaching a bit is necessity.
That said, why is Vita Vea not mentioned in any Bengals mock drafts? He may actually be the best available when they are on the clock. Is he seen as strictly a 3-4 guy? I just feel like he could play in any alignment and we need another dominant inside force. Also am wondering if I am the only one who thinks that the linebacking corps is not in such need. If I remember correctly Vigil was awesome early on.
Granted he fell off some before the injury but it was his first season starting and the guys talented. I also happen to think that Jordan Evans was a steal. He did struggle in his brief playing time but were talking a blazing fast backer who can do anything they ask. They could use some depth obviously but I just don't feel like they are in as bad of shape as everyone else seems to think. I would love to know what you think or if you have any insider insights into these issues.
Oh, also I was really disappointed with Billings this season. I was expecting so much more as a run stuffer. Was it the injury comeback that hampered him? So often he was out of position. Do they expect more from him going into his second healthy season? Jonathan Lee, New York, NY
JONATHAN: Always good to hear from you in the city, like Bengaldom, that never sleeps.
I'm with you on Vea. He's got that size (6-5, 340) they've really been missing up front. He can play in a 1-10 for all I care. That's the thing about Billings. Love the guy and he's amazingly strong, but he's a little undersized. Still, I think he can be a top-rung level. My sense is they think he's going to be better two years after his knee injury. Kind of like Geno when he came out roaring in 2015 after the 2013 ACL.
I thought it was a timing issue for Billings. It looked like he had no problems penetrating, but he had trouble finishing. I think he'll be better in what is basically his second season and the biggest jump comes between that first and second year. But I would think they're also looking for another tackle at some point in the draft.
And you're dead on about how they feel about the backers. They love their trio of Tez, Vigil, and Evans and Vincent Rey as a jack-of-all trades backup. Now on that third day they can upgrade their depth.