This time around, Michael Johnson figures to get a few breathers from Will Clarke.
Geoff, I've been hearing good things about Will Clarke. I'm pretty fair when it comes to not overreacting to things, but there were times last season where I thought it would've been beneficial for him to be on the field and aid the struggling pass rush. Any chances we see him get a fair number of snaps this season, even with the FA-strengthened D-Line? Elijah Annis, Cincinnati, OH
ELIJAH: Agreed with you on that one. One of last year's mysteries is that Clarke, a guy they valued so much in the draft that they considered him in the second round before taking him in the third, only got on the field for 64 snaps, according to profootballfocus.com, as they tried to replace Michael Johnson. Compare that to another third-round defensive end and Johnson took 365 snaps as a rookie in 2009.
But it sounds like that's all out the window. With Johnson's return, there is a big push to get back to the defensive line's seven- and eight-man rotations of 2012 and 2013. A big part of Johnson's value is his ability to play all three downs and bang it out relentlessly. In '12 and '13 he averaged 900 snaps, according to PFF, but now Clarke can give Johnson a breather and it frees up right end Wallace Gilberry to do his damage with his quickness as a nickel rusher inside against guards.
If Gilberry is going to be more effective playing fewer snaps (he had 1.5 sacks in 840 plays last season compared to 14 in 836 combined in '12 and '13), how much better can Johnson be getting breathers from Clarke?
(Gilberry, by the way, is quietly a big part of the glue that holds the D-line together. He's tough, resilient, savvy, and is great for a locker room.)
Defensive line coach Jay Hayes does a nice job rotating guys and now that Clarke has been in the system for a  year, it sounds like it's time for his role to expand. Physically, he's done what they've asked, bulking up from 275 or so to 290 over the offseason and the early signs are he's kept his speed. That falls in line with a work-ethic they liked when they scouted him at West Virginia and it has carried into the pros. The game, they believe, is important to him.
Plus, right end Margus Hunt wasn't on the field the first day of OTAs this week and there's a sense his status for training camp is up in the air so that means even more snaps for Clarke.
Based on just 64 plays, you don't know what he'll give you with 264, but the early returns off last year are good.
There were rumblings of a possible expansion to 55 players and ridding of the active/inactive gameday roster. It was supposed to be discussed at the last owner meetings but there hasn't been any talk of it lately. Is that still a possibility? Beau Christopher, Los Angeles, CA
BEAU: It's not a possibility this year, but it will probably come up again next year. It hasn't got enough support and, as we've said, abolishing the game day inactives doesn't seem feasible when you get into competitive balance issues. There are some games a team has five injured guys that can't play and the other team has everybody healthy. They should have the same number of guys available.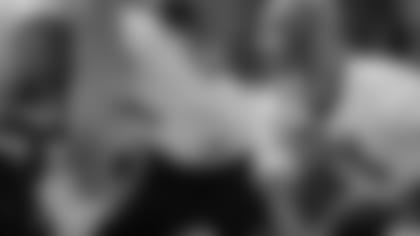 The Bengals aren't looking to trade their tackle depth that improved when they drafted Jake Fisher.
 Any chance we trade an OT to the Broncos in light of the Clady injury? Greg Baur, Oklahoma City, OK
GREG: Denver's not the only club that needs a left tackle. The Giants lost Will Beatty until November with a torn pectoral last week. It's been discussed internally in general terms, but only as a pie-in-the-sky-what-if exercise. The sense is they won't make that trade for a couple of reasons and stick with developing their top two picks in this year's draft, tackles Cedric Ogbuehi and Jake Fisher.
The injuries show exactly why you can never have enough tackles. If you look at the Bengals starters, Andrew Whitworth is in the best shape of his life and Andre Smith, at 28, is heading into his prime. But Whitworth is 33 and two years removed from a knee injury and half of Smith's six seasons have been limited by injury. Nothing alarming, but it's nice to have insurance.
And while the Bengals covet draft picks, they're also speculative and having the bodies is not.
If it were me, I might see what it would take to get Broncos wide receiver Emmanuel Sanders, but I probably wouldn't like the price. A lot of mock drafts had the Broncos taking Fisher in the first round and now they probably wish they did.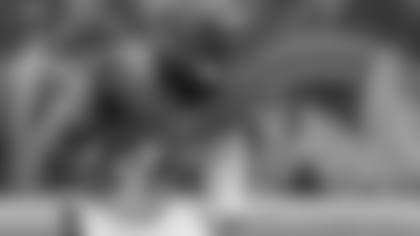 The Bengals have a lot of young starters they'd like to re-sign, like safety George Iloka.
Hey Mr. Hobson, Much love from Naval station Mayport! Huge Bengals fan! Huge. I love reading the articles you write on bengals.com. Being this far from my Bengals and missing games while in the World's Greatest Navy is tough. It's nice to have good information passed to me!
My question is this who of our free agents are we going to keep after this coming season? All of them are very important to this team and at the same positions. I also really didn't like keeping Brandon Tate. I think we should have just groomed his replacement this off season. We have more talented receivers that need paid. I think he is just a one trick pony. I would love to see Gio back there to accent Adam Jones! Thank you for all of the insight. ET3 Kairn USN
SEAMAN KAIRN: Thank you for reading and for your service in the planet's best Navy that has given it all everywhere, starting with John Paul Jones' rushing attack against the Serapis with the play call, "I have not yet begun to fight!"
If we go by the Bengals history, they'll target their young starters looking for their first second contracts, so I think we're looking at them making a bid to keep wide receivers A.J. Green, Marvin Jones, and Mohamad Sanu, safety George Iloka, and defensive tackle Brandon Thompson. They'd also love to keep some of their vets who are up after this season, and there are a bunch (Whitworth, Andre Smith, Gilberry, cornerbacks Leon Hall and Adam Jones, safety Reggie Nelson), but the guess is they'll try to get deals with them after they get some of the kids locked up.  
I know it's fashionable to want to get rid of wide receiver/returner Brandon Tate, but until seventh-rounder Mario Alford or Giovani Bernard prove they can catch punts consistently, Tate is going nowhere. Say what you will about him, but one of the reasons the Bengals have been ranked 1, 12, and 2, when combining the NFL's ten most important special teams categories the past three seasons is they don't screw up punt returns. (And I'm not sure they want Gio getting blown up like that.)
*Geoff, There doesn't appear to be a great deal of chatter about many of the rookie free agents other than the tight ends; what are the prospects for a RB like Terrell Watson to sneak on the roster as Jeremy Hill's backup and a special team staple? Lawrence Brooks, Woodbridge, VA  *
LAWRENCE: Watson had a great career at Azusa Pacific in the Div. II mold of Abilene Christian running back Bernard Scott, a sixth-round pick of the Bengals in 2009.
But it's tough sledding with the five running back roster spots seemingly already spoken for in Hill and Bernard as rotating backs, Rex Burkhead as a solid backup for both, Cedric Peerman as the special teams co-captain, and Ryan Hewitt as the lone fullback.
If one guy is going to bust in, I think it's going to be James Wilder Jr., the undrafted Florida State back who spent all last season on the practice squad. At 6-3, 235 pounds, they're also looking at him as a fullback and could force them to make a tough cut or keep six backs and go light at tight end with only two instead of three. Watson is a big guy, too, 6-1, 242 pounds, but Wilder would seem to be ahead in the numbers game with his big-school pedigree and year of experience in the NFL.
But let's see how everyone plays in pads.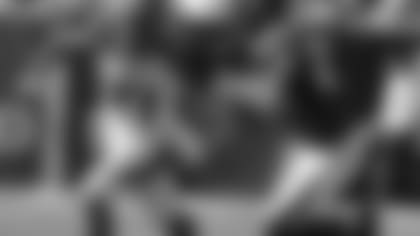 Look for cornerback Darqueze Dennard to have a break-out year.
Hey Geoff, hope life in Bengal land is treating you well. Who are your breakout Bengals on both sides of the ball in 2015 2015? I'm taking Alford and Dre K. I feel like the situation with Whitworth was odd because lately the Bengals would have resigned guys like him by now, he has gotten better and better over time. I understand his frustration. Finally Margus Hunt was a second round pick, what has he done to improve this off-season? Thanks for your Bengal wisdom, -Shawn B., Austin, TX
SHAWN: Life in Bengaldom is always good, thank you. Give me wide receiver James Wright and cornerback Darqueze Dennard. Wright seems to be one of these guys who is a late bloomer, thrives in the pro game because he's tough, fast, physical and is getting better in his second year. He only had five catches as a rookie, but look at how big they were. He may be this decade's T.J. Houshmandzadeh when it comes to third-down reliability.
As for Dennard, he may be this decade's Leon Hall. He's physical, he can run and can cover and is savvy in the slot. This guy will come up and hit you, he's a great guy, and the coaches love him. But this doesn't mean he's going to diminish the value of the veterans Hall and Adam Jones. Jones, remember, was their best corner last year and has shown no signs of slowing down.
I hear you on Whit. I'd love to sign him back. But if you look at it from the team's perspective, they've extended him twice before he was up and they've got younger guys that they have to get done before they hit free agency. Tough to make everybody happy there. Hunt wasn't out at practice Tuesday and his camp status is unknown.
The Bengals covet Wallace Gilberry's versatility across the defensive front.
Hey Geoff, after seeing the team out on the grass fields today I began to do some premature rosterology. The guys that can play multiple positions such as Shaw, Gilberry, Burkhead help the number crunching quite a bit, but on my drive home I kept having to cut or trade one of my favorite players. My question is, do you think our roster can support all of the "project" players that are entering their second or third year? Joseph Hand, Greendale, IN
JOSEPH: A little early. I love rosterology as much as the next, but at this point it's a little like playing darts in a dimly-lit Happy Hour.  Let's see what they can do in pads, but if you consider fourth-round pick Marcus Hardiston a project, the defensive tackle from Arizona State, he makes it.
I don't know who your favorite players are, but I guess by projects you mean guys like Clarke and Hunt on the defensive line, Emmanuel Lamur at linebacker, and Wright at wide receiver. At the moment, I don't see them going anywhere and Wright is solid. But, you are right, there are some big skirmishes coming up.  They like linebacker Marquis Flowers, but does he get pushed out if Vontaze Burfict is healthy? Who gets that fourth and final safety spot, the rookie, sixth-rounder Derron Smith, or veteran Shiloh Keo? Do they keep five cornerbacks or six? Does Wilder push Peerman for the final running back spot? Probably not with what Peerman gives them on special teams. Does Wilder make them think about keeping six backs. Maybe. But it all comes down to practice and the pre-season games.
Geoff you missed the ultimate headline for your Dr. Tom House' visit/article. You had "Think Tank" I say...."Dr. in the House." Ken Schneider, Louisville, KY
KEN: Thanks for reading. Oh, it was debated. One colleague said I wasn't allowed to write that headline because it was too obvious, which never stops me. But, in the end, it never made it because it was too close to a headline I wrote on Dalton's first trip to see House in April of 2014: "Dalton's House call."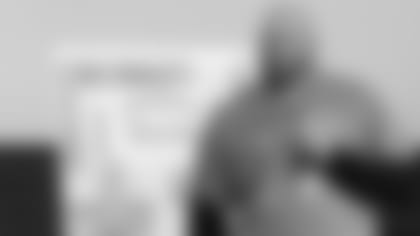 Many of Andrew Whitworth's teammates have followed his lead in the community.
Geoff, Forgive me if you've heard this before, but why do the Bengals continually have the stigma of taking character risk guys in the draft and signing them in Free Agency? This isn't 2005-2010. I mean just take a look at the high character guys in this locker room today. Vinny Rey, Whitworth, Peko, Michael Johnson just to name a few. I read it again when they drafted PJ Dawson this year and shook my head. We need to hear about the great things these men are doing like what AJ Green did just the other day. I think some members of the media are just lazy and don't take the time to really assess what they are talking about. Anyways, let me get off my soapbox and thank you and Bengals.com for sharing the great things these men do off the field. Sean Walls, Buckeye, AZ
SEAN:** Thank you for taking the time to listen to those stories and read them. Couldn't agree with you more and you said it a lot better than I ever could.
One word I'm really tired of is "Narrative." The definition seems to be 'This is the story as best as I can recollect. But I don't have time to update it because the news cycle is spinning too fast."
That's because there's no time to look up anything. The emphasis is on writing and not reporting. Media outlets are so immersed in instant stats, instant analysis, instant hits, research and fact checks have almost become afterthoughts.  That's how you get the same tired narratives. People are leaning on the headlines they can remember. They've got to write three graphs to get a hit and they better be juicy.
I think we said in the middle of the Bengals' off-field mess in 2005-2007 that it would take a decade for them to lose the outlaw tag. Guys like Whitworth and Domata Peko and Michael Johnson and Carlos Dunlap and Dalton and Adam Jones and Leon Hall and Giovani Bernard and so many others have been so prominent in community endeavors that they've erased the stigma locally and built it from scratch. But people nationally can't get out of the spin cycle to see it. The ultimate irony is that Bengals head coach Marvin Lewis is arguably the most influential pro sports figure in his community.
And I can't say I blame the media. They have to feed the beast and 21st century technology is unforgiving.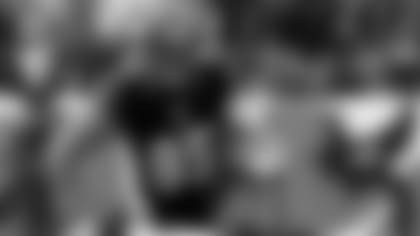 If Tyler Eifert stays healthy, he should be able to catch 60 balls at about 13 yards per pop for about 780 yards.
Hob's, long time fan of your work and a proud Bengals fan for over 25 years (even in the dark days of the 1990's). Do you think the Bengals should plan to move Leon Hall to safety IF he is re-signed? I assumed that was the plan a few years ago with the thought that he could extend his career and be a potential long term starter at the position. Also, is there any reason why Eifert cannot take the next step as a TE and be the superstar we have always wanted Gresham to be? Justin C. Little River, SC
JUSTIN: Thank you for reading. A few years ago they would brainstorm with that idea because Hall is so smart and physical and the way he could run seemed to make him a fit at safety. But they were always, too, a little bit leery of his size (5-11, 195 pounds) and there was some concern about how the pounding might do the opposite and shorten his career.  If they were going to make that move now, he'd have to show them he can run better than he did last year coming off a second torn Achilles in three years.
The injuries seem to have altered the dynamic a bit, but let's see what kind of year Hall has and how he's moving. Although defensive coordinator Paul Guenther doesn't plan to play rookie cornerback Josh Shaw at safety, he's always a possibility because of his size (6-0, 201).
As for Eifert, the only question about him seems to be durability. If he plays 14-16 games, I would think he would give Gresham's best season a run, which is 64 catches for 737 yards and five TDs in 2012. With so many weapons around (Green, Jones, Hill, Bernard), it's going be tough to have superstar Jimmy Graham-Rob Gronkowski numbers. But Eifert is a big part of potentially making them a top five offense.
Think more of a 2015 version of a 1988 Rodney Holman, when he was the second-leading receiver on the AFC champs with a 13.5-yard average.