Gene "Geno," Atkins had his nickname given to him by an NFL GM.
Geoff, Andy Dalton as the "Red Rifle" aside, who has the most interesting and/or the best nickname you've come across on this Bengals team. Also, if you could give a deserving player a new one who would it be and what's the nickname? Lawrence Brooks, Woodbridge, VA
LAWRENCE:  You have to go with an oldie but goodie in Adam "Pacman," Jones.
I know, I know. The day Jones arrived five years ago, head coach Marvin Lewis asked that he now be called "Adam,' and Jones himself has said things like
, 'That was Pacman, I'm, Adam," referring to his comeback from a checkered history.
But even though he has turned it around on and off the field (some observers believe he still looks like the club's best cornerback in the first six workouts of the spring), the name "Pacman Jones,' is a mainstay. His mother gave him the nickname for his energy and he still plays the game with a joyful rage that is a pleasure to watch. The man is a football player through and through.
But the most interesting nickname is the one that became a first name. Defensive tackle Geno Atkins' real name is Gene, named after his father, a 10-year NFL safety with stints with the Saints and Dolphins.
His dad says when Atkins was a little kid running around the Saints locker room, New Orleans general manager Jim Finks started calling him "Geno,' and it stuck.
Jeremy Hill, a 1,000-yard rookie rusher, needs a good nickname and "Thrill," might be a little old-fashioned. But it suits his play late in the fourth quarter. Thrill Hill.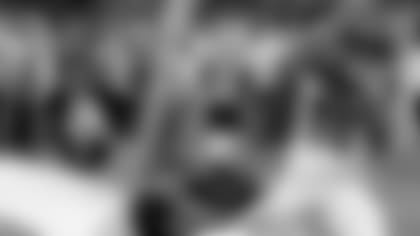 The word is A.J. Green has looked as good as ever this spring.
Hey Hobson, love your insight of the Bengals and it really helps me keep up with them (this may be too much to ask, but if you ever find a chance to speak to Andy Dalton. Can you tell him that the Bengals fans and I are confident in him to have a breakout season this year. Thanks in advance) now to my question. I've been watching all the videos on the OTAs and Marvin Jones and Aj Green may be one of the best reciever duos in the NFL. What's your take on that? Thanks. Drew Zimmerer, Middletown, OH
ZIM: Thanks for the kind words and I'll pass yours on. If Green and Jones play like they've looked the last two weeks, Dalton should have a break-out year. One observer who has seen all six workouts believes Green is having the best spring of his career and it looks like last year's nagging injuries (inflamed big toe, bicep bruise, concussion) are well past him. Jones also looks like he's shelved last season's foot surgeries and the word is he and Green are putting on tight footraces.
If Jones can come close to repeating 2013's 10 TDs, you would think they'd be there among the league's best duos, such as Jordy Nelson-Randall Cobb in Green Bay, Demaryius Thomas-Emmanuel Sanders in Denver, and Calvin Johnson-Golden Tait in Detroit.
In '13, Green and Jones combined for 149 catches, 2,138 yards and 21 TDs. Last year Thomas-Sanders went for 212 catches, 3,028 yards and 20 TDs. Nelson and Cobb had 189 catches for 2,806 yards and 25 TDs. Johnson-Tait went for 170 balls, 2,408 yards, and 12 TDs.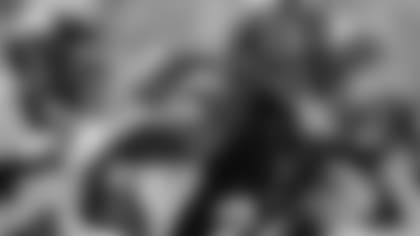 Adam Jones should have gone to the Pro Bowl as a returner last year. Maybe he will this year.
Geoff, If you had to pick one Bengals player to have an all-pro type of season this year who would it be?(besides AJ Green) Sean Walls, Buckeye, AZ.
SEAN: It's hard to confine it to one because of the talent on this roster and playing like a Pro Bowler, like left tackle Andrew Whitworth did last season, doesn't always mean you make the Pro Bowl. Whitworth has to lead the non-Green list with what looks to be another terrific spring. A guy who has a shot to make his first Pro Bowl is right guard Kevin Zeitler after profootballfocus.com rated him the ninth best guard in the league. With Hill getting a lot of the carries right away, he's got a shot, too.
On defense, Atkins is a lock because of his rep and because, by all indications, he's starting to look closer to the beast of 2012 and 2013. Left end Carlos Dunlap always seems like he's ready to stake his claim with his enormous talent. And never bet against Adam Jones, flat out, one of the best returners who ever lived. Plus, at age 30, punter Kevin Huber has to be a favorite to repeat his first Pro Bowl berth as he works into his prime.
Hi Geoff, a Cincy fan from Scotland who just loves keeping up with Bengaldom via the website. With talent at tight end will we see the potential of the 2TE formation this season and can we use it effectively whilst keeping rb and wr happy? Mark Burgess, Edinburgh, Scotland
MARK: Greetings to the birthplace of perhaps the world's greatest biographer, James Boswell. As one of the Bengals' Boswells, I'll try to answer.
 There's no question that offensive coordinator Hue Jackson wants to go with two tight ends more than he did last season, but he's also not looking to take weapons like running backs Giovani Bernard and Rex Burkhead and wide receivers Mohamed Sanu and James Wright completely off the field.
The double tight formation is going to be a work in progress because of the experience factor. Whether it's been Reggie Kelly or Jermaine Gresham or Donald Lee or Alex Smith, they've always seemed to have a veteran with a lot of snaps at that spot. Not now. Tyler Eifert and Ryan Hewitt, with one year under their belts each, are the most experienced guys ahead of five first-year players. So while they'll definitely employ more two tight ends than they did in '14, I doubt it would approach the number of snaps like it did in '13, when Gresham and Eifert combined for more than 1,500 plays.
I have been reading about all of the versatility on offense and how we have RB's that can play WR and FB's that can play TE and TE's that can play WR and..... (well you get the point) But with the drafting of two very athletic tackles and the versatility of the skill positions does this mean Hue is going to run a more up tempo no huddle style attack in the future? We could run an infinite number of formations without switching personnel so wouldn't that make sense? PS..... Other than the local scribes why does every writer/reporter have to mention Dalton's red hair? Nothing to do with football, but yet it is used every time. Weird, right? I don't see them talking about that brown headed Brady constantly when mentioning him. Anthony Douglass, Hamilton, OH
ANTHONY:  Wouldn't surprise me if they go more no huddle. We know whenever he can, Hue loves to attack. He showed last year if he can, he'll rarely huddle up for segments of games. We saw it in the opener last year in Baltimore when Eifert was healthy for those first nine minutes and the Ravens had trouble with the up tempo.
But the Eifert and Jones injuries, along with Green's problems, shattered all ability to use it. I'd imagine that would change now the way they're talking about using Burkhead at both back and receiver and Eifert's return to both tight end and wide receiver.
But this is where the youth of the rest of the tight ends could hurt them. Trying to get them into the offense is already tough and then throwing the no-huddle stuff at them is daunting for young players. I don't think the young tackles have much to do with it because on paper they shouldn't even play this year and Hue still goes no huddle with Whitworth and Andre Smith.
PS. You got me on the red-head stuff. Other than a few headlines (Red Dawn, Red Alert), I'm not sure I've mentioned it, so I'm a bad one to ask. I can' think of anything less interesting than hair and you can tell by my haircuts. Never had a good one in about 1,085 of them. I'm going to catch Ripken. You can only do so much with a bowl as a barber.
How goes it Hobson? My question is about mainly the offense with a little bit of defense sprinkled in. With the return of Eifert and M-Jones and the 6th leading rushing attack, should we be thinking finishing in the top 10 side of offense this year? Not to mention how valuable Sanu is and the emergence of James Wright. Can the defense finally stop carrying this team? Also, do you think the rotation on the D-line is finally back? My only concern with this team this year is injuries (as always) and players bouncing back from injury, but I really don't see a weak position group on this team for once. Thoughts? Jacob Knapp, Williamsburg, VA
JACOB: Your question made me go to the record book to find out the last time the Bengals offense finished in the top ten and I was stunned to find out it was 2013 at No. 10. But maybe I shouldn't have been surprised because Eifert and Jones were healthy. So I guess we answered our question. Yes, no question they should invade the top ten, particularly with Hill in the mix and the scheme in the second year with Jackson.
The D-Line rotation has to be back with the re-singing of right end Michael Johnson. They have to get Wallace Gilberry and Brandon Thompson on the field, which gives them six, and they must find out what 2014 third-round pick Will Clarke can do at right end. That's seven.
You're right. It's a solid club. They're a little young at tight end. They could be a little deeper at receiver. You'd like to see a returner behind Adam Jones emerge. But we're nit-picking now.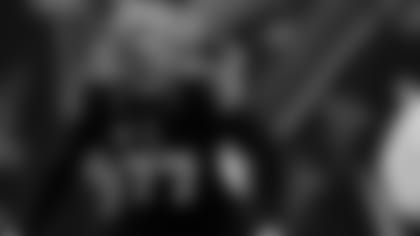 Big Whit is having another big spring.
Marvin Jones looks good in the OTA videos, anyone else stand out from the vets to be ready to go? Joseph Kirby, Temple, TX
JOSEPH:  The media only sees one practice a week, but from what I've seen the best news is that Atkins seems to be moving a lot better than he did last spring and that bodes well. Green and Jones have looked terrific and Burkhead may be the most impressive guy in camp. The Bengals have been talking about how he seems to have even changed his body over the winter from a bulked up running back to a more fluid athlete. Whitworth is having another fine spring. Michael Johnson looks like he never left and seems to have put last year's disappointment in Tampa Bay in the rear view mirror.