You want to trade a fourth-round pick to move up in the first round? Pro Bowl defensive tackle Geno Atkins went No. 4 in 2010.
Lifelong Bengals fan, and a fan of your work for years. I'd like to start by saying I'm very happy with our draft class, as I saw Tyler Boyd as 1B with Doctson being 1A in this receiver class. Watch Boyd's tape, and his game is in the mold of Larry Fitzgerald and Jerry Rice...still wish we would've offered a 4th and a 6th next year to move up for Doctson, instead of using compensatory picks on guys there may not be a spot for.
Which brings me to the first of two questions. I love the way we draft, it builds great talent and makes rebuilding a non-issue. But at what point do we understand that we're a piece or two away from getting over the hump? This playoff drought is disturbing to me because it seems like we're always just a guy or two away.
I'm not an Andy Dalton, but even I have to admit that last year with the collection of weapons he had at his disposal, he looked great and I now believe we can win a Super Bowl with him and he wouldn't have to Trent Dilfer it. Losing Jones and Mo hurts. Doctson and Boyd 1&2 would've softened it and actually been an upgrade by year 3. Drafting "project players" in round 1 isn't going to get us over the hump (unless it's the perfect storm like it was with Ogbuehi.)**
My second question is, since we didn't trade up to draft Doctson, why LaFell over Anquan Boldin? I understand the youth thing, but again...we're only a few pieces away. Boldin is proven. He may not be as fast as he once was, and he was never really that fast...but he's big, gets open and makes plays. And he's durable. LaFell had one decent year, and more injury plagued years.  A one or two year stop gap in Boldin could be invaluable to the young guys, and give you the over the hump production. IMO, LaFell feels like Antonio Bryant, Boldin feels like T.O. (yes, I wrote you about that decision and felt the same way I feel now. T.O. had a good year for a bad team and would've had a few more if he didn't slam Mike Brown on that T.Ocho show.)
I guess my point in all of this is, it's not always a bad thing to have an old guy around a bunch of younger guys, so long as that old guy has enough to make plays still, and has something to teach the young guys. Boldin's resume speaks for itself, and I hope he's still available if/when LaFell goes down to injury...and the front office has the good sense to bring him in for the season. Keep up the good work, Geoff. WHO DEY!!!!!! Scott Grubbs, Fort Wright, KY
SCOTT:  Thanks for the kind words and the time you took to state your case, is which is very well informed and researched. I just don't agree with much of it.
I mean, it's not even July yet and Brandon LaFell already has practiced more than Antonio Bryant ever did as a Bengal. And in five of his six NFL seasons, he's played at least 14 games.
Look, I'm not going to run down Boldin as a player because he's been an amazingly productive pro and if you want to make an argument for him, there's one to be made. But the better argument is for LaFell, I think.
Both are big, physical guys that aren't very fast but make plays. Boldin turns 36 in October and looks to be on the down side after a season he had the fewest yards per catch (11.4) since he was hurt in 2004, posted his second fewest yards per game of his career (56.4), and is still unsigned. How old is Boldin? He teamed with old friend Jeff Blake to beat the Bengals in Marvin Lewis' first season. That's old.
LaFell turns 30 in November and I know teams can exaggerate the downside of age, but six years is a significant difference. And their trending lines look to be going in opposite directions. Yeah, LaFell was among the league leaders in drops after coming back from a broken foot last season, but he's only a year removed from his best season and he's not fragile. Plus, Boldin does his best work in the slot, where he took most of his snaps last season, and the Bengals need a proven No. 2 on the outside opposite A.J. Green to replace Marvin Jones.
And they've got their slot guy in second-rounder Tyler Boyd, a rookie, yes, but a guy that runs a heck of a lot better than Boldin ever did. LaFell over Boldin makes sense to me.
And I think it all gets back to this argument I just don't buy in football: they're one or two players away. That's nice to get clicks on a headline. But it's not reality in the NFL. It means more in baseball and basketball and not in football where so much relies on chemistry and fit. It's a downright dangerous philosophy in football, the ultimate young man's game.
Sure, a franchise quarterback or Pro Bowl pass rusher puts a team over the top. But with the Bengals, they're one or two plays away, not one or two players.
Yeah, the Bengals were one player away last year. But they already had him and he was hurt.  Andy Dalton. James Harrison was supposed to put them over the hump in 2013, but a niche pass rusher (who wasn't a fit in the defense) had no impact what so ever in them losing to San Diego in the playoffs.
To me, the decision not to trade up to draft Texas Christian wide receiver Josh Doctson in the first round is emblematic of why they've been successful.  If you like the way they draft, then you like this draft. Trading up to get Doctson is the move they would have done 10 years ago. Panicked at the loss of a starter, they would have passed on a higher-rated player at another position to fill a need they replaced in free agency.
Doctson is a nice player, but he's not A.J. Green or Julio Jones. He's not going to be the difference. Particularly as a rookie.
Instead, they stayed at No. 24 and picked a guy that plays a more valuable position and is eventually going to start in Houston cornerback William Jackson. Since they've started drafting corners in the first round in 2006 with Johnathan Joseph, they've won a lot of games with a defense that relies on those unique bump-and-run cover guys and fits what Mike Zimmer and now Paul Guenther coach on defense.
There is simply more access to wide receivers. And to give up late picks flies in the face of a philosophy that has been good to them. You said it yourself. Economically and talent-wise, the draft is the way you prevent massive overhauls to the roster.
And the last day of the draft is when you build the guts of your team with guys like George Iloka, Andy Dalton, and Kevin Huber, not to mention Geno Atkins and Domata Peko. Those productive late-round picks allow you to spend the money on keeping the core of the club.
I think in the end you'll rather have Andrew Billings than Doctson to go along with Boyd. Or the 2017 version of Billings in the fourth round. Of course, who knows? But staying put at No. 24 with the selection of Jackson and resisting the temptation to trade up is exactly why they've drafted so well lately. And it's proven. If you have the QB, the game-breaking receiver, the two Pro Bowl pass rushers, the one player that puts you over the hump isn't going to be a veteran free agent or a rookie receiver. 
As for Owens, I doubt very seriously Mike Brown has ever watched a snippet of reality TV and never knew and could have cared less what T.O. said about him. Hell, Brown made Boomer Esiason the highest paid player in football a year after Boomer eviscerated him daily during the strike. No, T.O. was gone the minute he signed the one-year deal. With Carson Palmer leading the charge, T.O. was simply a desperate get with Bryant injured. They weren't ever bringing him in for more than a year.
But the Owens signing is proof the Bengals have a track record of bringing in those veterans of which you speak. Just this year they added the seven years of LaFell and the 13 seasons of linebacker Karlos Dansby while kicking the tires on another 13-year veteran in defensive end Dwight Freeney. And since 2012 the list includes 30 somethings like Harrison and Terence Newman. They've done a nice job mixing vets and rookies.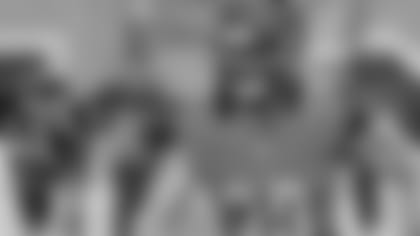 Margus Hunt (99) is looking to break out in his fourth season.
Hi Geoff, First of all I would like to thank you for the stellar job you do covering our Bengals. Though I am a NC native, I've been a Cincy fan from the day I chose to follow the Reds and Bengals as a kid (around '71) due to my mother's ties to Ohio. As you can imagine, Bengals coverage in NC leaves a lot to be desired so I am supremely grateful for the insight provided through Bengals.com.
I've got two purely speculative questions (with apologies in advance for redundancy): 1. Like a lot of fans, I've been anxiously awaiting the emergence of Margus Hunt as his physical prowess is so promising. Other than the boilerplate responses from Marvin (for which I fully acknowledge the validity) to "wait and see in pre-season," are there any early indications that this will be the year he breaks through and plays to the potential that landed him in Cincy? 2. With Eifert out for an undetermined time at the start of the season, do you think we will see some 2 back sets with Jeremy and Gio? I'd love to see us create more opportunities for Gio to get into open space and create havoc. (Ask any NC State fan about that 74 yard punt return in 2012 - I LOVE that that they hate Gio) Go Heels and WHO DEY! Clint Chesson, Cary, N.C.
CLINT: Thank you for the kind note from the Gio-Sphere. Let's start there. I think there's a distinct possibility you'll see more of Giovani Bernard and Jeremy Hill in the same backfield as they try to make up for the loss of Pro Bowl tight end Tyler Eifert. But I don't think offensive coordinator Ken Zampese is going to tip his hand on that much during the preseason and I don't think backup Tyler Kroft should be underestimated as a solid down-field threat that can get them through a couple of games without Eifert.
As for Hunt, no. I have to go with Marvin on this one. At that defensive end position and given Hunt's journey to master the fundamentals in his new sport, you don't know until the pads come on. But with new defensive line coach Jacob Burney's vow to extend the rotation, I think Hunt gets more snaps than he ever has. And Margus has shown a tremendous resolve. His decision to work for a few days this offseason with Hall-of-Fame pass rusher Kevin Greene shows his commitment.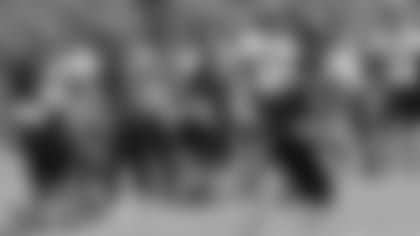 Tyler Boyd gets a shot to take over the slot as rookie.
Hey Geoff, Thanks for taking the time to answer questions during the slow point of yearlong NFL season. Curious, could you see Tate as the starting slot receiver to start the year with Boyd returning kicks and punts? Tate seems quicker and is obviously moreknowledgeable about the offense, which to me seem to be the top 2 requirements to play in the slot, thoughts?  Chris Smith, Denver, CO
CHRIS: Thanks for taking the time to write. Tate isn't going to start. If he sticks it's because Boyd, Mario Alford, and everybody else showed they can't back up Adam Jones as the No. 1 punt returner. That's why they drafted Boyd. To be their slot receiver this season and he looked excellent during the spring.
How is Andy progressing with his recovery, any trouble or pain gripping the football? Are the coaches and personnel meshing well with each other? Did Marvin want to throw down with Zimmer for stealing our picks? Which Bengal do you see surprising us this year?  Doug Drybrough, Venice, Fla.
DOUG: Dalton looked fine and had some really good days delivering the ball during the spring. What thumb injury?
To me the underreported story (yeah, I should have written it) of the spring is how well Guenther put together a new staff. He brought in three respected NFL veterans with former head coach Jim Haslett at linebacker, former coordinator Kevin Coyle in the secondary, and a three-decade coach in Burney, a Bill Belichick and Mike Shanahan disciple. Despite the coaching turnover, the defense appeared to operate in the spring smoothly with the same personnel and scheme.
While the Bengals and Vikings were looking for wide receivers, I don't think they were looking at the same ones. And Marv and Zim must be just fine with it because Lewis invited the Vikes to scrimmage before the pre-season opener.
I'll give you two big surprises. One on offense and one on defense. Rookie wide receiver Cody Core may have lasted until the sixth round, but he's big and can run. I think he contributes before people think he will and he'll be one of the surprises who dresses Opening Day because of his ability to cover kicks. And on defense we give you Josh Shaw, a fourth-round pick in 2015 who has added safety to his slot corner duties. His versatility is a key to Guenther's flexibility in matchups.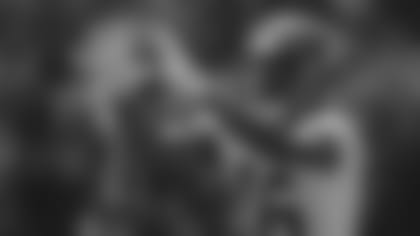 Look for rookie wide receiver Cody Core to make an impact.
What new team member (FA & Draft this offseason or rookies from last draft that didn't see much time) do you think will make the biggest impact this season? Who of the above group needs to make the biggest impact for the team to be successful? Jay Wahlbrink, Cincinnati, OH
JAY: You've got my picks there in Core and Shaw. But the new guy who must make the biggest impact to help keep them a contender is Boyd, the second-rounder from Pitt. He is their slot receiver no matter what, it seems, and he did have a good spring. He's a legit 6-2 and plays with awareness, vision and an uncommon ability to wriggle free in space.
I think Boyd becomes a hell of a player. But at a position where rookies traditionally have a slow start, can he give them the production a fourth-year slot receiver like Mohamed Sanu gave them last season right away in that tough opening stretch?
I generally like the idea of hiring from within for continuity's sake. Are there any indications that new OC Ken Zampese is a "mad scientist" like his predecessor Hue Jackson? Jeff Christmas, New Carlisle, OH
JEFF: Yes. Plenty. Given that Zampese has been the quarterbacks coach for both Jackson and Jay Gruden, two guys that didn't back down from the edge. Plus, Zampese has been a regular contributor to the game plan for 13 years, so his stamp is all over this offense.
Look, we really won't know until he calls plays himself. But the two biggest influences on his career, father Ernie Zampese and former Rams head coach Mike Martz , were two of the more innovative offensive minds in the NFL during the last two decades of the 20th century and look for more of the same from Zampese.
.Geoff, Just wondered if there is any chance of doing a segment with Dave Lapham like twice a month between now and the first game to get some of his insights. He is always so good to listen to and he gets the Bengaldom fired up fir some Jungle ball. Your columns are quite enjoyable too, but nobody beats Lap. THX! Jim Skeldon, West Chester, OH
JIM: I too would rather listen to Lap and he's been all over Bengals.com this spring with various updates during the workouts with radio partner Dan Hoard. They'll again be a major presence in training camp with several updates during the week. And their "Radio Guys," segment during the season wrapping up the previous week's game is gold.
 Hobson, the latest ESPN article I saw on the Bengals showed some analyst predicting the Bengals 53 man roster. I believe two dark horses that will make the roster come September are safety, Fejedelem and the WR Alonso Russell out of Toledo. Do you think either or both have a legitimate shot? ESPN had them both cut. Thx, Jim Skeldon, West Chester, OH
JIM: OK, we'll give you two this week. I don't think Illinois safety Clayton Fejedelem is a dark horse to be on the Opening Day roster. The Bengals haven't cut draft picks during their first season lately (since 2013 a seventh-round pick has made it through camp in T.J. Johnson, James Wright, and Mario Alford)  and Fejedelem is expected to bring an excellent special teams element. I guess there could be a pitched battle between him and second-year man Derron Smith to be the last safety on the club, but they very well could both make it with Taylor Mays suspended for the first four games of the season.
Alonzo Russell, a big, physical presence who has some skills, opened up some eyes in the spring, but he is truly a dark horse with Green, LaFell, Boyd, and Core figuring to get four of the six roster spots at receiver. At that point Brandon Tate, Jake Kumerow, Mario Alford, and maybe fellow college free agent Alex Erickson have the edge on him. But, you're right, Russell is a guy to watch and at the very least it looks like he and Erickson are headed to the practice squad.
If you're looking for an undrafted guy to make the roster out of training camp, I still think versatile Houston offensive lineman Alex Cooper has the best shot.