Brandon LaFell, 29, is as old as they're going to go for a wide receiver.
Always happy you answer questions that we as fans ask you. What are the chances the Bengals make a play for Free Agents such as Anquan Boldin and Dwight Freeney? Both would be great additions. What do you think? Greg Luther, Cincinnati, OH
GREG:  Thanks for the note. I wouldn't be surprised to see Freeney get a look here at some point in the spring. Under Marvin Lewis the Bengals have made it a habit of looking at aging pass rushers of all kinds. That's a thread that stretches all the way back to former Steeler sack ace Jason Gildon in Lewis's second spring of 2004.
The Bengals looked at Gildon and talked to him about a deal but didn't sign him, instead opting to extend defensive end Duane Clemons.
But in 2013 they did sign for a year the next generation Steeler sack ace, James Harrison. They didn't use him the way the Steelers use him and it wasn't a fit. Neither was a former No. 1 pick who was working on his third team, Aaron Maybin.
But since Maybin had the traits of an elite pass rusher, they checked it out. Freeney is 36 and going to the Hall of Fame, but he fits their script so it wouldn't be a surprise if they bring him in for at least a physical.
But wide receiver is a lot different than pass rusher. They've been out of the aging receiver department since '09 and '10 for a variety of reasons. Laveranues Coles couldn't run, Terrell Owens had solid numbers but they weren't bringing him back in a million years, and they got good fast with young guys. I think they'll continue to stick with their own at this position and not go with Boldin, a slot receiver turning 36 early in the season.
That's the problem when you go with a vet. The guy that gets robbed of the snaps in the slot with Boldin is second-rounder Tyler Boyd, a guy that has to get out on the field to develop. And he's got more quickness and YAC potential than the elder statesman. Let him play. But, there's the rub between developing players and winning games early with experience.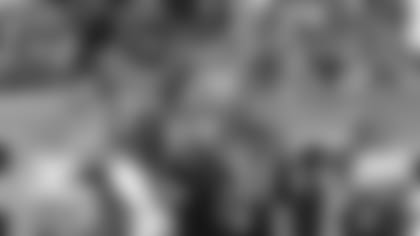 The two Tylers (Kroft above) figure to be working in tandem more this year.
With the loss of Jones and Sanu would you see more two tight end sets? Kroft showed great promise and of course Tyler E. is a beast. It would I think offset the loss and allow Boyd time to acclimate to NFL. Doug Pritchard, Dayton, OH
DOUG: I would agree with you and I'm sure we will see more sets of two tight ends. Not just because Sanu and Jones are gone, but also because Kroft is a good player and now has a year under his belt. Plus, you have to feel they're going turn to the running game to offset some of that loss.
Geoff, It goes without saying that I, like everyone else here, love your work. Thanks for the platform. However, I am disturbed by the delusional assumption by some Bengal bloggers that suggest the offense won't suffer with the loss of Hue Jackson. How could it not. Not only did he bring a level of creativity that hadn't been seen since Sam Wyche, but he had the most toys at his disposal in all the NFL. I for one think the success of this year's offense resides solely on the shoulders of a greatly improved Andy Dalton. Your thoughts?  Lawrence Brooks, Woodbridge, VA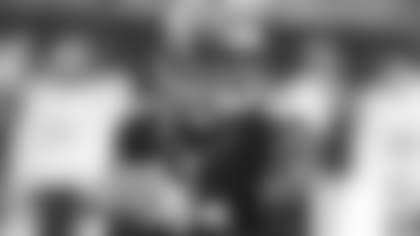 Andy Dalton and Ken Zampese have worked hand in glove for five years.
LAWRENCE: Thank you for taking this platform.
I would suggest that if Dalton has to put it all on his shoulders, they're in trouble. Like most teams and most quarterbacks. Yes, Dalton is greatly improved. But it's because he knows how to take advantage of one of the league's most diverse offenses. The guy's a tough and proven winner while gifted with brains and accuracy. Now that Peyton is gone, there may be no one in the league better than him pre snap. And if I've said it once I've said 2,016 times. He's best as a point guard dishing to diversity and not trying to do it all himself firing it up from beyond the arc.
And he again has options. Look, there's no question that losing a guy like Jackson as offensive coordinator is a tough blow. You said it very well. Not since the days of Sam Wyche have we seen a guy so creative week in and week out.
But while Jones and Sanu are gone, weapons are still here. A Pro Bowl receiver. A Pro Bowl tight end. A 1,000-yard runner teamed with a 50-catch back. And I think it's a mistake to underestimate new offensive coordinator Ken Zampese.
Yeah, it's his first coordinator gig. But he's been in the league nearly 20 years and worked with guys like Jackson and Mike Martz and grew up in the league with his father, the highly-regarded Ernie Zampese who was Don Coryell's triggerman in San Diego. He's no neophyte and he's been with Dalton every step of the way. If there is any guy that knows just what he's going to get from Dalton in every situation, it is Zampese.
The way I see it is that Jackson is a terrific loss. But they've also got enough in the bank with both coaching and personnel to not fall very far, if at all. Hi Geoff, Love the column, thanks for providing great content throughout the year. Can you see the Bengals only using their prevent defense in blow out wins this year? Seems like every time they need to protect the entire field against a competent QB, they get torched in this d. Ala Carson Palmer in Arizona last year. Maybe it's just me...thoughts? Chris Smith, Denver, CO
CHRIS:  Thank you for the kind note. Yeah, if it's one thing that has plagued a very good defense the last six or seven years it has been its struggles late in games and first halves.
I think some of it is that it's an offensive league and any defense is going to give up some yards against elite quarterbacks in two-minute situations, like a Palmer. But to have an inexperienced quarterback like Brock Osweiler go from the Denver 35 to the Bengals 5 in the last 2:26 of the first half to get a field goal I'm sure is something that defensive coordinator Paul Guenther is taking a long look at this offseason.
Geoff, Love the re-signing of Shawn Williams. He's always impressed me. Both his demeanor on and off the field and his play in limited action on the field. That being said, what do you think happens with Derron Smith? Is it possible he sees the field more in nickel and dime situations if Shawn Williams drops down as a coverage LB? Sean Walls, Glendale, AZ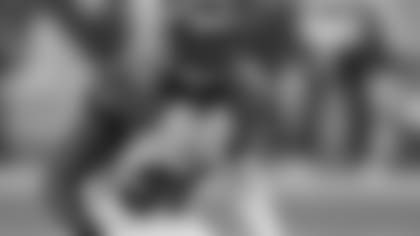 The signing of Shawn Williams gets a salute.
SEAN: I have to agree with you. The Williams' deal is the kind of contract that wins titles. Not a super star. But an ascending and excellent player who fits the system and the salary cap and is heading into his prime instead of out of it.
I was surprised to hear some questioning Williams for taking the deal. How could he not? He's got just four NFL starts and in the first two years of the deal he'll walk away with what Reggie Nelson basically got off a Pro Bowl season. Why would Williams risk playing it out with that in hand?
If anybody's taking the risk here, it's the Bengals because he's got just four NFL starts. But obviously they've seen enough to feel good about the deal.
Nothing changes for a guy like Smith at the back of the roster. Every training camp is a bubble battle and this one is no different. I'd imagine if they go three safeties, they'll be Williams, George Iloka and Josh Shaw. I think there's a shot that both Smith and seventh-rounder Clayton Fejedelem could make the Opening Day roster with Taylor Mays suspended for the first month.
But only if they keep ten DBs. That would be five corners and five safeties with Shaw the swing guy that can play both. As usual, this stuff all plays out in the preseason. The questions, like who do you keep, the seventh backer or 10th DB? can only be answered in games.
Jeff, good job as always, it's a rough time of year to find a good story yet your still knocking it out of the park. Remember, more "Hobson's Choice" is a good thing. Tow part question: How much of the Jackson selection do you think was blocking the Steelers from getting him? Did the Steelers bait the Bengals into Picking Jackson so they could draft Burns, the guy they really wanted? Pre-draft the where openly praising Jackson, & as you well know if they really wanted him they would have played there cards "close to the vest". Please put this to rest with some of your "inside skinny" Troy Chapman, Prospect, OH
TROY: Thanks for the kind words, but you always pop up a few, too.
All I know is the Pittsburgh media reported the Steelers were all over Jackson and "settled," for Artie Burns while a lot of the media draft boards I saw had Burns in the late first or early second.  I don't know how the Steelers could have "baited," the Bengals since they were picking behind them.
The Bengals create their board in a vacuum and it's not affected by other team's needs or tastes. The Bengals had Jackson rated very highly (defensive coordinator Paul Guenther rated him the second best corner in the draft), so once the receivers were off the table, they got their best man on their board. It was pretty clear they were going receiver or corner in the first round because, as advertised before the draft, it was deep with linebackers and defensive lineman and they were able to get them in the third and fourth, respectively.
Hey Geoff! Love your updates from camp. My cousin John Weidenaar (OT) was signed as an UDFA and is currently in rookie camp. I was wondering if you could give an update on him, and any of the other rookies/UDFA's that haven't signed yet. How's he looking out there? Any positives? –Todd Hoogland, South Bend, IN
TODD: It sounds like this note might be from the Michigan part of South Bend. Hope all is well in your neck of the woods.
Other than the brief rookie minicamp, there's nothing much to go on. Weidenaar is here because they really like his athleticism for a guy 6-7, 295 pounds and they think he'll be able to grow into that rangy frame. He'll make a serious run for the practice squad. Because the roster is so deep, those undrafted guys have a long road to hoe this year. I would think Alonzo Russell of Toledo has the best chance of the college free agents to make the 53 because the receiver spot is so murky after the top three of A.J. Green, Brandon LaFell, and Tyler Boyd. And even that's a long shot. But relatively speaking, Weidenaar is an interesting guy to watch.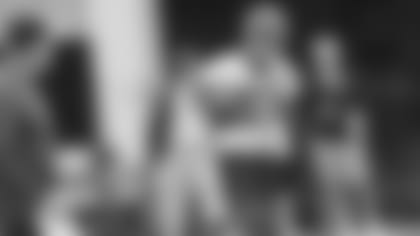 The drafting of Pitt's Tyler Boyd (83) in the second round took the Bengals out of free agency.
I have been a Bengals fan in Baltimore for a while now and I am beginning to think we should pick up another receiver like Marlin brown who the Ravens released his size along with Eifert and Green would be great in the red zone do you know if the Bengals are still looking to add the the wide receiver group they have and with who? Jerome Mckoy, Baltimore, MD
JEROME: It looked like Brown kind of tailed off after an exciting rookie season in 2013. At the end of his third season last year he couldn't get on the field in front of fellow undrafted free agent wide receivers Jeremy Butler and Kamar Aiken so he'd probably have trouble making it here.
Greeting from GA home of many players on the roster. Any way we could hear the radio guys more often during the off-season? Thanks! Joe Thomas, Atlanta, GA
JOE: With OTAs starting next week and mandatory minicamp set for June 14-16, I think you will.
Geoff, how long must we endure watching the worst MLB in the NFL? I have never seen a poorer tackler at a LB spot. Could Vigil take the reigns and kick Rey to the curb?  Jesse Jaggers, Olympia, WA
JESSE: I'm sure you already know Rey Maualuga's coaches don't agree with you. In the coaching confabs of Paul Brown Stadium, they would grade that statement as quite erroneous. Rey is going nowhere. I know what the web sites say and all that, but that's not the view at all at PBS and the overall numbers and success of his defense say he's been quite productive.
The coaches view him as a rare player nowadays, a big linebacker who just dominates in the run game. A really positive physical presence, a guy who sets a battering ram tone.  OK, he's not a three-down player, but he's unique against the run.
Look, I'm not a video vicar or anything like that, but I know this. Since they drafted Maualuga in 2009, he's started 98 games and in those seven seasons they've finished in the top 11 of overall defense five times and in the top 12 against the run five times. To me that sounds like they've got a hell of a middle backer.
You've seen the stuff on how much they regard Vigil and maybe he's the middle backer of the future. But that's certainly not now.
Hi Geoff what happened to D Line coach Jay Hayes? After a year where the D Line was responsible for 37.5 of the teams 42 sacks and Carlos Dunlop and Geno Atkins made the pro bowl, I was really surprised he didn't come back for a 14th season. I thought I read that his contract wasn't renewed. Not sure if that is true or if he was just looking for some better weather down in Tampa. Either way coach Burney has some big shoes to fill. Brian Hogarth, Springboro, OH
BRIAN: I'm sure they wanted him back. It sounded like it evolved into a mutual parting of the ways. Jay had a great career here and is a fine coach and they did well to find Burney. This is not Burney's first rodeo. Nor his second.
He comes highly respected and is one of the few guys who has been coaching NFL defensive lines longer than Jay. It is Burney's 21st season and he's worked for guys like Bill Belichick and Mike Shanahan, not to mention Marvin Lewis when Lewis was the defensive coordinator in Baltimore. Hayes is a loss, but Burney is a very good get.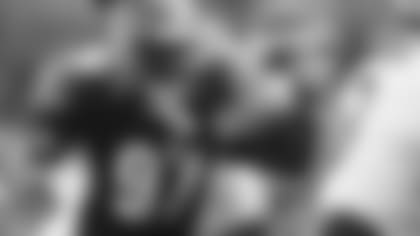 Geno Atkins helped the Bengals get over the Steeler hump when he was AFC Defensive Player of the Week in the AFC Wild Card Game that knocked Pittsburgh out of the 2012 playoffs.
Geoff, I have been a Bengals fan since I sold beer in the stadium in 1988/89 and love your column. What do we need to do to beat Pittsburgh? How can the coaching staff get emotions under control and insure the team is working together instead of losing their cool? I think those guys are in our heads, and we HAVE to get over that hump if we are going to win in the post season. My opinion. What does Marvin need to do to win these critical games? Dave Peddemors,  Anaheim, CA
DAVE: A toast to you for all the support.
They have beaten Pittsburgh. They have beaten the Steelers in games to go to the postseason (2012) and win a division (2015). And yes, the Green-Dalton Bengals have lost some of those games, too, like the 2014 season finale but this isn't some kind of Curse of Dick LeBeau going on or anything like that.
I mean, I know how bad the thing looked at the end of the Wild Card Game. But you have to step back a second. Before The Fumble, the Bengals had the Steelers beat in a play-off game with their backup quarterback erasing a 15-0 deficit in the fourth quarter. That's 58 and a half minutes of poise and control if you ask me.
OK, they lost their cool in the last 90 seconds and it's too bad because it has defined them. And, yes, I agree. It shouldn't have happened. All I'm saying is it was under such extraordinary circumstances that I think people are making a mistake drawing such huge, sweeping, and moral conclusions off a bizarre, once-in-a-lifetime finish.
And, I actually think they got over the hump against the Steelers when they won in Pittsburgh in Week 16 of 2012 in what was an elimination game.
Tyler Boyd's highlights from Pitt look amazing both as a receiver and return specialist. How does it look like he'll be utilized this first season? Jeff Christmas, New Carlisle, OH
JEFF: Boyd is their Opening Day slot receiver. At least I think it's his to lose. Eventually they hope they can move him to the outside, but I think right now they envision Green and LaFell holding down the outside while Boyd is spends his rookie year in the slot.
As for returning punts, I don't think they were looking at Boyd doing that when they drafted him, but things could change if he's good at it in the preseason.