Remember Jeremy Hill's MVPish season as a rookie.
We know the Bengals draft in 2017 will be filled with 3rd and 4th round comp picks. Have the Bengals considered using that knowledge to trade picks from 2017 to improve the 2016 draft? Scott Conrad, Cincinnati, OH
SCOTT: According to the web sites, the Bengals won't get a third-rounder, but there should be a fourth (for Marvin Jones) and one or two fifths (for Mohamed Sanu and Reggie Nelson), and maybe a seventh for Andre Smith and Emmanuel Lamur.
But, yes, I think the Bengals have figured that into this year's equation, given 2017 is the first year compensatory picks can be traded. The problem is, the 2017 comp picks aren't awarded until about six weeks before the '17 draft.  So I think you'll see some conditional deals this year that go something like, "We'll give you our fifth-round comp pick in '17 and if we don't have one we'll give you our own fifth-round pick."
Do you think the Bengals should and or will trade Jeremy Hill? Thanks Anthony Kartye, Cincinnati, OH
ANTHONY: Well, except maybe for A.J. Green and Andy Dalton, no one is untouchable. It all depends on the price. But I don't think they're looking to trade Hill nor do I think they should.
Yeah, I get it. Hill had a bad year. He looked indecisive, tentative and had four fumbles, including the most horrific turnover in franchise history. But he's also a year removed from a rookie season he was arguably their MVP with 1,124 yards on more than five yards per carry, a dynamo that can take them to the next level with another effort like that. He obviously can do it on this level. I wouldn't be surprised to see him learn a lot from what happened to him and channel that into another big year.
Bengal Bob here Geoff. Thanks for keeping us updated in the off season. Doesn't look like anyone is expecting us to take a RB in the upcoming draft, but given the fact the Bengals cut ties with Cedric Benson and Green-Ellis partially due to their inability to hold onto the rock don't we at least get a mid round or higher insurance policy for Jeremy Hill in case his he continues to cough up the ball? Bob Perdue, Richmond, IN
BENGAL BOB: Thanks for writing. I think they'll take a running back in this draft, but it will be later. And not because Hill is on the way out but because two practice squad guys (James Wilder and Terrelle Watson) are gone and three of them (Giovani Bernard, Rex Burkhead, and Cedric Peerman) are going into the final year of their deals. Hill is the only back signed for '17.
Which is another reason why dealing Hill just doesn't make much sense. You've got no one that can replace him and you won't get a guy with his experience and talent without giving up something you might as well keep. He's your big back. You don't want to pound Bernard and, plus, Hill was very good on goal line, where he scored 11 TDs. Where are those coming from?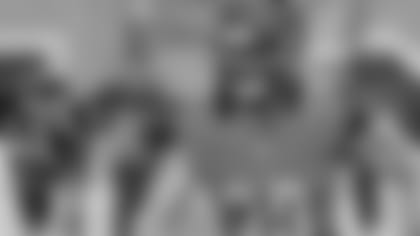 Let's see what Margus Hunt does with more snaps.
Geoff, Thanks for taking the time to answer some questions from us die-hard fans. Before I get into the question part, let me just say that I'm pretty upset about the recent news on Hue Jackson and Mike Brown... A member of the Brown family, deciding not to go with a young, innovative, offensive minded coach who thinks outside of the box. Only for that coach to leave, and coach somewhere else...... The parallels, although not exact, are eerily similar. Let's hope that narrative stays with the late Bill Walsh and his many Lombardi's.
On to my question... Now, some may disagree. But I don't think the bengals got any worse this offseason. I think that Dansby offers more that Hawk. And that Shaun Williams is ready to start.. Darqueze needs to play. He's got too much talent to just be sitting on the bench. There's no better way to learn the game, than actually playing in the game (Bradly Roby for example). Having said that, our defence looks primed for another great year. The only hole I'd like to see us fill is DT/DE. I don't think Margus Hunt has what it takes, and Domata is solid, but I'd like to see more speed/ explosiveness in the middle. Lots of talent to fill those needs in the second/ third round. Your thoughts?
The only real issue as everyone knows, is the WR2 & WR3 positions. I know that the Bengals aren't too high on trading up in the draft. But, if Treadwell or Coleman fall between 20-22, do you think the bengals would trade up to get one of them? The Vikings are my only concern for taking one of them at 23. I think both guys are ready to play now. I'd be happy with Docston, but I do think his game could use some developing for the next level.
PS: when am I going to get some love from the team?! I've been to a bunch of games ( which involved long and cold road trips from Canada) and I've tried to tweet the team, but get nothing. I had a real nice sign in Buffalo this year, Canadian Flag but replace the red with orange, and of course, some stripes! I'll tweet you a picture haha Thanks again!! Anthony Moussignac, Ottawa, Canada
ANTHONY: You never know what goes on behind closed doors, but multiple reports indicate that Mike Brown worked hard to keep Hue Jackson.  In fact, some reports suggest that Mike and Marvin had worked through a plan to keep Hue for the future. But some things in this league you will never ever know, yet all the evidence suggests that the Bengals worked hard to retain Hue.
What we do know is that the Bengals were coming off a 12-win season in which they had lost their starting quarterback down the stretch but continued to play at a level inches from a play-off bye. It's hard to make a coaching change in that situation, and Hue will tell you – and he has given NFL Network interviews on this subject – that no one in the league has supported him more than Mike Brown.
Mike recommended him not once but twice to Raiders owner Al Davis and Davis hired him both times, as offensive coordinator and head coach. After Hue was fired in his only year as the Raiders head coach and no one else in the NFL brought him on as an offensive coach, Mike was OK with Marvin putting him on the defensive side of the ball because he knows how good of a coach Hue Jackson is. Believe me, Mike Brown knows how Hue can coach. If there is anyone who wanted him to stay around longer not named Marvin Lewis, it is Mike Brown. But he also wouldn't and couldn't stand in the way of a guy taking a head coaching job right now.
We're pretty much agreed on the kids in the secondary. A lot of talent, toughness, and brains. Turn them loose. (Remember, they took Dennard over Roby at No. 24 in 2014). But I want to see more from Hunt, though, as heads into the last year of his contract. The guy is a physical specimen and I just don't know how anyone can make a judgment on him after just 408 snaps in three years. And only 56 last year. I put Will Clarke in the same boat. They should be like Dennard and Williams. Let's see what they've got.
And it wouldn't be surprising to see them scoop up a young nose tackle at some point in the draft and it could even be in the first round since this is the last year of Peko's deal and it's unclear what's next. 
Not only are they not inclined to trade up (they've done it just three times in history), but there is no way they're going to do it for a wide receiver. At least not in the first round. They were in an even tighter crunch with wideouts in 2012 and they waited until the third (Mohamed Sanu) and fifth (Marvin Jones) rounds to draft them. So, no way in the first.
Keep tweeting and thanks for the support. I'm sure my man Steven Hudy will catch up to you at some point. Steve and Darius Howard are the best in the NFL at what they do.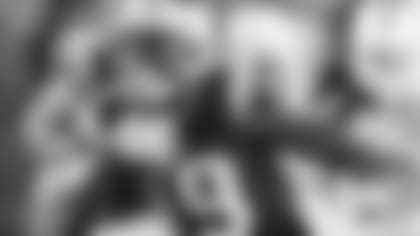 The signing of Brandon LaFell eases the rush for players and lets them focus on draft picks.
Have the Bengals thought about doing any trades with the San Francisco 49ers since it seems like they're willing to give up good players for 4th to 7th round draft picks. Wasn't sure since we still have some areas where we could improve and didn't do much in free agency if they have thought about grabbing a bargain from the 49ers. Chris Spyker, Albany, NY
CHRIS: Greetings to the Leatherstocking Region.
Usually the Bengals would like their own draft picks instead of a player. Why, after all, are the 49ers trading these guys? You're right they have some spots to shore up, but my sense is they think they can do it in the draft after making sure they signed a veteran wide receiver in Brandon LaFell and a veteran linebacker in Karlos Dansby.
Quick question about the WR needs. Everyone seems to be in a panic over the loss of Jones and Sanu, but wouldn't the answer already be on the roster in Gio Bernard? If they could find a way to get him more involved in the pass game, you could end up having a better version of 2005 Rudi/Perry. On a team with Green and Eifert, I'd take 2100 yards from scrimmage from my RBs any day! Thank you sir! Troy Roach, Fishers, IN
TROY: It's a good point and Gio is a significant piece. He's that piece they have now that they didn't have in 2012 when they lost wide receivers Jerome Simpson and Andre Caldwell in free agency and their running backs combined for just 42 catches for 256 yards.
But I think another key guy us going to be another running back in Rex Burkhead. They didn't put him in the slot very much last season even though he practiced with both the backs and wide outs. But he has shown he can make some Welkerish plays. He's a guy to keep an eye on, too, because I would imagine they'd use him more as a receiver now.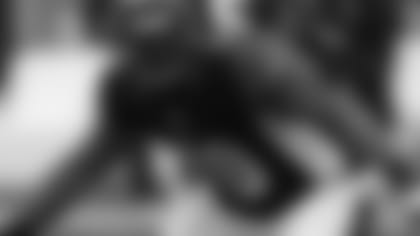 Look for Cedric Ogbuehi to break out.
hey Geoff, given darqueze dennards late season injury do you expect him to be the starting slot corner by the time opening day comes? who do you expect to have a breakout year on the team that hasn't yet? my guess is darqueze if he's healthy. thanks! Andrew Todd, Medford, OR
ANDREW: Before he got hurt, Dennard was pretty much the starter in the slot when Leon Hall was here last season and with Hall unsigned that looks to be the plan. You're right. Dennard is my break-out guy on defense. He's got everything you want in a corner. Brains, toughness, and the ability to press and the fearlessness to stop the run.
On offense, I'm going with Cedric Ogbuehi, the second-year tackle who figures to be the starter at right tackle now that Andre Smith is in Zimmesota with the Vikings. When Ogbuehi got on the practice field in November after his ACL healed, coaches and teammates raved about him. His athleticism is off the charts. They just may have grabbed a decade-long elite player all the way at No. 21.
Thanks for the great writing. It is always a joy to dissect our Bengals through your perspectives. Before we officially "bury that game", I'm hoping you can shed some light on how/why Mike Munchak was absolved from his guilt in the Reggie Nelson hair pulling fiasco. Rob Campbell, Lexington, KY
ROB: Thanks for the kind note and for writing in. I wish I had an answer for you on the Munchak-Nelson thing.  I got blown off on a conference call when I asked league officials about it before the league meetings and I'm still hearing the same thing a few weeks later from the league office.  They don't comment on on-field discipline appeals for players or coaches.
I guess I'm in good company. From what I understand the NFL Players Association is trying to get an answer, too.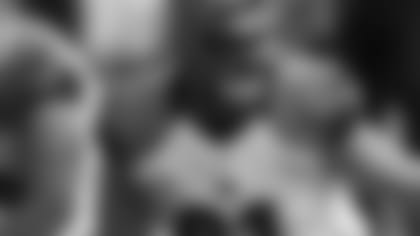 The last (and only third time ever) the Bengals traded up in the draft was in the fourth round of 2014 to get center Russell Bodine.
Good day sir, thanks for all that you do. Die-hard Bengals fans like myself wait impatiently (lol) for posts/articles/updates from the mother ship. My friends and I have a running joke that we don't believe anything until you confirm it. My question to you is could you see the FO trade up to 21 to grab a receiver i.e. Doctson/Coleman? I know it's not modus operandi but this year more than any other it seems like the Bengals are "going for broke". Thanks again and WHO DEY!!!!! Marc Smith, Cincinnati, OH
MARC: Thank you and your buddies for checking in at all times. And you're exactly right. Their M.O. is just about never trade up in the first round. They've only done it once. And, remember, this is a franchise where of the top four leading receivers of all time, three are second-rounders and one is a seventh-rounder. So, they'll get the receiver when they get him.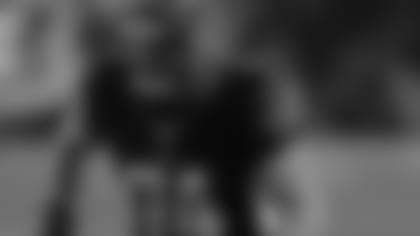 Right tackle Jake Fisher is the most recent and best example of BPA in the 2015 second round.
Big fan of the column! So my question is: There's been a lot of debate over what the Bengals should do with pick 24, whether they should take a receiver, an impact defensive guy, trade down, or just stick to their BPA formula. What do you think would be the best use of their first round pick? Jackson Paregien, Exeter, CA
JACKSON: Thank you for reading. All I know is since they've stopped reaching for need and been content on taking the highest-rated player first and then looking at need, they've assembled one of the finest, if not the finest, rosters in the NFL. So I would suggest BPA all the way. Especially in the first round. 
Long time Bengals fan and the last 6 years have been great so in my mind what will push us over the top is 1 health and 2 another good wide receiver. I believe that Braxton Miller is raw but very coachable. If he is there at 24 and i am sure he will be should we take him? John Mitcheltree, Cape Coral, FL
JOHN: One of the principles of a Paul Brown-Mike Brown draft room is (usually): never take a projection in the first round.
Good idea. I give you Reinard Wilson (1997), a great college pass rusher not a fit in the NFL as 3-4 outside linebacker. And I think David Pollack (2005) may have ended up back at his dominant college spot of defensive end instead of a 4-3 SAM linebacker if he didn't suffer a career-ending neck injury. Maybe. Maybe not. But Miller? Just too high to take a guy that has only played the position for a year.
Hi Geoff, Hope you are having a good offseason. I know the notion of an offseason is becoming less and less relevant in today's NFL annual cycle. Thanks so much for answering fans' questions. Which receivers do you see the Bengals targeting out of this year's draft class? Do you think they take a flier on Hakeem Nicks. Also, what is your perspective on the report that claims there was a head coaching succession plan agreed upon by Marvin and Hue that was denied by the Bengals' front office? Rich Hidy, Cincinnati, OH
RICH: Thanks for reading. I just don't see a guy like Nicks in their plans. Not after he disappeared last year. They've been out of the slowed-down-veteran-receiver mode for a while. Maybe a guy like Mike Williams or Nicks gets a shot if something unexpected happens in the draft, but I see them going with youth rather than recycling somebody.
I'm sure we're looking at all the same suspects. They like them big and fast. Since the 21st century began they've drafted three receivers under 6 feet. So, does a guy like Notre Dame's Will Fuller (just 180 pounds) fit? The draft board is under lock and key, but I do think they'll take two receivers and it could be in any round.
And you've already got my take on the Hue stuff.
Assuming there is medical progress going on with the next exam re-check, is there a chance that the Bengals do a repeat of the 2015 draft and take Jaylon Smith of ND this year, like they did Ogbuehi last year, and let him rehab? Landon Patrick, Madison, IN
LANDON: I doubt they take a rehabbing linebacker in the first round. The reason they took Ogbuehi in such an unorthodox move was he played a premium position and probably would have gone in the top five if healthy. Smith is a hell of a player, but I don't think you can say the same thing.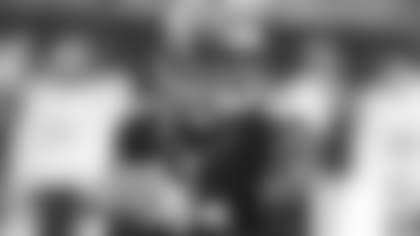 Continuity, a Pro Bowl tight end, and an accomplished NFL running mate for A.J. Green should keep things rolling for Andy Dalton.
Dalton seemed to have had his breakout year last year. Do you expect his level of play to continue to increase even with a new receiving core this year? (assuming that we draft our WR2 in the first round) Rohan Nawani, Hamilton, OH
ROHAN:  It's a good question. But as long as wide receiver A.J. Green and tight end Tyler Eifert are back, I think he amps it up.
 Sure, on the surface it looks like he's got a tough road. He's got a new offensive coordinator and he's got to get used to a bunch of new receivers after throwing to Marvin Jones and Mohamed Sanu for four years.
Yet look under the surface.
That new offensive coordinator, Ken Zampese, has been Dalton's quarterbacks coach his entire NFL career and he's using the same system that produced a career year last season.
Plus, the year Dalton was entrusted with the rookies Jones and Sanu in 2012, he improved in every major statistical passing category off his rookie year. And that's when he didn't have Eifert and running back Giovani Bernard as targets, not to mention a veteran NFL receiver like Brandon LaFell opposite Green.
And this is Dalton's sixth season, a long way from his sophomore year. He's simply better.
Certainly, he's got to find a new deep threat to replace Jones and he'll have to make some adjustments for his new targets. But there is enough of Dalton's 2015 framework in place that he can paint a different kind of picture that is still a masterpiece.