Tyler Boyd's routes look smooth and instinctive.
Hey Geoff, back in April I was asking about Tyler Boyd and how you liked him, you seemed to have mixed feelings about his route running. Is he starting to pick things up from that stand point? Andrew Todd, Medford, OR
ANDREW:  After talking to guys like offensive coordinator Ken Zampese and cornerback Adam Jones that seems to be strength. The thing they keep talking about is how smooth and instinctive Boyd is, which are hallmarks of route running.
 Zampese really likes his feel in space and how decisively and well he's able to read and react to zones. It's early, but he sure looks like a starter, doesn't he?
Hello Geoff...always great to get your insights...; and I thought I'd submit a question for the first time! I'm curious to get your thoughts on why the Bengals, so far, haven't given most of the "roster bubble" players time early in a game to test them against the other teams' #1's.
I get that our 1st teamers need time to gel against real competition....but I'd like to see how receivers Core, Erickson, and Wright would fare...but only Tate has really gotten any time against the 1's. Same for the D...where I'd like to see how Flowers (who's looked pretty solid to me), C Brown, D Hillary, and Fejedelem would do. While I know most of these players impact (if they make it) will be special teams....they are only an injury or two from playing....we have to know how they hold up against starters.....no?? Your thoughts? Kevin Crawford, Cincinnati, OH
KEVIN: Thank you for taking the time to write. It's a good question and I hope the first of many you'll send in.
Preseason is such a mish-mash. When it comes to the 1s, games one and four are worthless because they hardly play or not at all. Game two is a little better, but not much so I think we'll see a little bit of that this Sunday (8 p.m.-Cincinnati's Channel 5) in Jacksonville in the third game.
It's a thin line to walk. You have to give your 1s some snaps against the other 1s or else they've got no timing. Take a guy like safety Josh Shaw, who has now been promoted to nickel corner with Darqueze Dennard's injury. Or Chris Lewis-Harris, who is suddenly the fourth cornerback on the depth chart with the injuries to Dennard and William Jackson. Those guys need every rep they can get against the 1s to get ready.
What helps the evaluation of those bubble guys is the coaches and scouts have seen them all spring and summer against their own 1s, so they've got a pretty good idea who can play.
That said, I imagine rookie free agent wide receiver Alex Erickson is going to return a punt early Sunday against the Jags and maybe get a shot or two in the slot against the first team. And maybe Cody Core can take a few of Green's snaps.
But Brandon LaFell needs every rep he can get and they need to see every one because he has yet to play in a game. And even though Boyd is a No. 1 slot guy, he's got to play a lot so he can get as much experience as he can before the opener.
Like I said, it's a mish-mash and hard to figure. In my perfect world there is no football from minicamp until the Bengals gather to practice in a parking lot next to the new Meadowlands on Sept. 10, the day before the game. No sprained ankles or torn ligaments that way.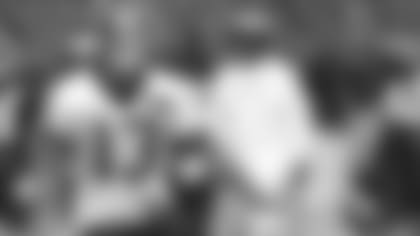 Rashaun Simonise brings some raw talent.
 Rashaun Simonise, WR I love his talent & skills, I think he can help Boyd & Green light the offense up!!! Do you think he can help replace our key losses in our WR group? Tyler Wells, New Port Richey, FL
TYLER: The top seven spots are spoken for and Simonise is on the outside looking in trying to hook on with the practice squad, where the Bengals have traditionally kept two wide receivers.  And he's got a good shot. The 6-5, 200-pounder is a rail and his body and game both need time to mature into the NFL. The nice thing is Simonise has got a lot of raw potential at a position the Bengals are looking for help now and later. He figures to have a shot at the squad with Toledo's Alonzo Russell.
Have the Bengals found a remedy for covering the tight ends? Tom Brooks, Huntington, WVA
TOM:  If you look at last year's numbers you'd have to say yes. Overall, the Bengals pass defense has been one of the best in the league the past few years. Last year they allowed the second fewest TD passes and posted the fifth lowest passer rating, so no receiver is really killing them with any regularity.
Steelers' tight end Heath Miller had 20 catches in two games against them, but that's where they wanted the ball to go instead of to wide receivers Antonio Brown and Martavis Bryant and in the Wild Card Game they held Miller to two catches for nine yards.
Owen Daniels nicked them in some big moments in the overtimes loss in Denver, but they held Jimmy Graham to 30 yards, Travis Kelce to 49 yards and Browns Pro Bowler Gary Barnidge to 94 yards in two games.
Defensive coordinator Paul Guenther has done a nice job finding that matchup with big safeties or little linebackers. Emmanuel Lamur, now with the Vikings, was a big backer that could run but the Bengals seem to have more success with big safeties on tight ends with Guenther putting guys like Shawn Williams and Josh Shaw out there.
But it's not easy. Think how Tyler Eifert has frustrated opposing defenses with the inability to find the right matchup.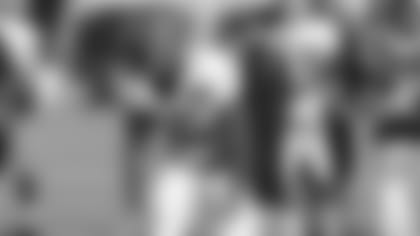 By Sept. 3, Cody Core should be on the roster.
What are Cody Core's chances of making the final roster? Brandon Winston, Parkville, MD
BRANDON: A lock. It helps he's a sixth-round pick, but he's proven he's belonged over the last 12 days with nice yards after catch, the ability to catch in traffic, and if he got a better ball in the opener he would have had a 40-yard catch. He's 6-3, 215 pounds and he can run. Watch out for this guy. He's a rising star. The only question is when will he be active on game day. It may not be right away, but soon.
Geoff, I think it is good Jeremy Hill has given up the touch down celebrations to show people just how focused he is on this season and protecting the ball all the way to handing it to the referee. What do you think? Thanks for all your work on keeping Who Dey Nation up to date! Steve Shroder, Bellbrook, OH
STEVE: Thanks for the kind words. I agree with you. I think it shows a great deal of maturity and is a great sign for what is to come. A great response. It matches his team's persona, which after five straight post-season runs is a Paul Brown act-like-you've-been-there-before air.  
Geoff, Hello again from NE Ohio. Your contribution to the Bengals landscape continues to reinvent itself. My question is upon observation Of the Bengals roster of young talent. Andy Dalton has developed into that QB you can build a franchise around. A.J Green has become an elite NFL WR. Andrew Whitworth still plays at a high level. Vontaze Burfict is as good as there is In the NFL. Carlos Dunlap has evolved into what The Bengals thought he could be. Up and down the roster players are playing at very high levels.
Very few draft picks are trending down. So what is keeping this franchise from getting to the next level? It is something that is there but yet Not clearly seen? The coaching staff has collective resumes as good as any staff in the league. Duke Tobin has a scouting crew envied by many other teams. What's that invisible roadblock in front of this franchise? Wayne Milliken, Streetsboro, OH
WAYNE: Thanks for the kind, well-written note because when you put it like that, well, what the heck is the answer? Better yet, whoever has the answer, give him a five-year deal right now.
I think you have to isolate it and look at the five Wild Card losses and determine if there are any common denominators and I just don't see any.
In 2011, you can't expect a rookie quarterback to win a play-off game on the road.
In 2012 their stars on both sides of the ball melted.
In 2013 their preparation was poor. They ran themselves out of a home playoff win when they threw the ball 51 times and failed to take advantage of killing the clock with the NFL's third best defense.
In 2014 they were so banged up they had no right to make the post-season, never mind winning a post-season game.
And in 2015, well, you know the stat. The last time a quarterback with as little experience as Andy Dalton won a play-off game was the Carter Administration. It really was a shame because their best players showed up when they needed it in the fourth quarter and, forget everything else, it was the crushing turnover (Jeremy Hill's fumble) that killed them. That's what seems to decide every big game whether it's the stately Patriots or the relentless Broncos or whomever.
So if you look at it, they faced historically bad odds in three of the five games. And the guys that folded in 2012 came back to win it for them in 2015 until the fumble.
I know, I know, you're looking for that common thread, but I'll be damned if I can find it.  It's a heck of a question. I'm not sure there's an answer. Like a great old Bengal once said, "There's no such thing as invisible pills." Maybe if it's invisible, it doesn't exist.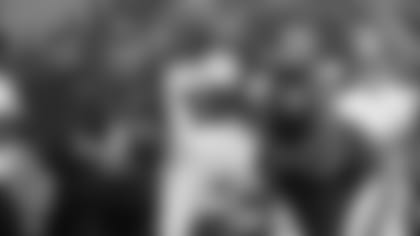 A.J. Green came up big in the Wild Card Game.
Geoff, Excited about this team and the upcoming season. Bengals have done an excellent job retaining its homegrown talent. Kevin Zeitler is one of the top Guards in football. In my opinion losing him would be the equivalent of letting Max Montoya walk years ago. The Bengals paid dearly for it. Will he be a Bengal next year? Maan Aboulhosn, Titusville, FL
MAAN: Good to hear from you again and appreciate the reference. My first year covering the club was 1990, their first year without Max and, you're right, it was the beginning of the end because it all starts up front.
But I disagree with you on a few things, starting with that Zeitler is a hell of a player, but Max is the greatest guard in team history. A three-time Pro Bowler who is the only Bengals guard to ever go to Hawaii.
And the reason Max's departure was the beginning of the end is because injuries and age hit that line at the same time. This offensive line doesn't have a Hall-of-Famer and hasn't dominated the stats like Montoya's line. But this line is younger and, seems to me, is deeper, and has been built to survive the give-and-take of free agency as well as the 21st century emphasis on perimeter play with highly-paid tackles.
Plus, Max's last Bengals were going through the pre-salary cap act of aging together and transitioning into rebuilding. Zeitler's Bengals have younger core players, not to mention a better defense.
Two years after Max left, Hall-of-Fame left tackle Anthony Munoz, NFL MVP Boomer Esiason, and Pro Bowl running back James Brooks were all gone. A.J. Green, Andy Dalton, Giovani Bernard, and two highly drafted tackles aren't leaving if Zeitler leaves. The team is in a different place and era.
They'd love to re-sign Zeitler and are going to try. Great kid. Nice player. But traditionally in the salary cap era they've broken the bank for the perimeter player and note that cornerback Dre Kirkpatrick is also looking for a long-term deal.
I see where you coming from. They would hate to lose Zeitler, but I'm not sure it would be on the same level as losing Max.
Geoff, I go to the Bengals site to get away from the political crap. Could you refrain from your political digs? You're a member of the media so everyone knows you're a Democrat. We as fans are willing to overlook your leanings if you stick to football. Let's stay on the topic of Bengals without your little digs. Thanks Rick Nelson, New Richmond, OH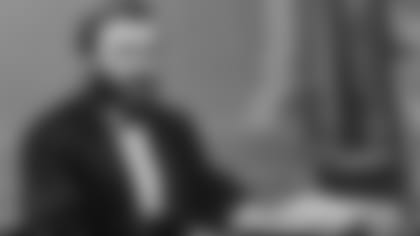 General U.S. Grant. Hero of the Civil War. 18th President of the United States. Great scribe whose memoir is one of the greatest books in American history.
RICK: Thanks for reading. Since we both live near the birthplace of the great General U.S. Grant, I figured I'd roll out one of his favorite quotes: "I don't know anything of party politics, and I don't want to."
Look up 17 seasons of Bengals.com and politics is hardly ever mentioned and when it is, it's very benign stuff on both sides of the aisle poking fun at current headlines rather than any ideology. If you can tell how I vote from about 25 one-liners since 2000, you ought to have your own national polling web site.
But I appreciate you reading and I can assure you that Darius Hillary and how the Bengals must trump the Steelers to win the AFC North are going to continue to get far more mentions this season than the two major presidential candidates. Not to mention more Michael Johnson than Gary Johnson. And the Green Party that will draw the most attention is the one around a No. 18 touchdown.