Not only were his teammates and coaches impressed with Vontaze Burfict's return, but so were his fans.
Hey Hobs, Love the column!! Been reading Bengals news remotely since the early 90s after my family moved away. I can't remember the weekly newspaper that used to come out, but I got it mailed to New Hampshire after we moved away from my beloved Bengals and have been an ardent fan of the way you have taken questions for years. I wondered if you cared to revisit the preseason prediction that you put together and reforecast the end of the season? I see a 5-3 finish and 13-3 at this point. What's in your crystal ball at the halfway point, Hobs? Adam Ellis, Seattle, WA
ADAM: Thank you for the kind note and no doubt you are referring to Bengals Report. In our very midst we have the man who was the blood and guts of that very paper at the creation in Bengals assistant public relations director P.J. Combs.
I called 11-5 and really whiffed on the first half of the season at 5-3. But I did predict they'd go unbeaten at home and I'm going to stick with it. There are tough road games left at Arizona and Denver, and Cleveland won't be a day at the beach because I imagine they'll have back all the guys that were hurt on Thursday and the Bengals haven't swept them since 2011. Plus, the Steelers are going to be loaded for bear at Paul Brown Stadium on Dec. 13.
All that said, I like the 13-3 call, although I've got a hard time seeing them losing three on the road and any at home. But it's a funky finish with back-to-back out-of-time-zone games in San Francisco and Denver before the finale at home against Baltimore.  So put me down for 13-3 just because the league gets very weird in December. But 14-2 sounds about right, too.
Hi Geoff, Am seeking your unique insight and access to relieve an area of concern that keeps me from feeling more comfortable as we head down the stretch; namely our linebacking. I was very worried when I saw Vontez limp off the field Thursday night; is there any chance he re-injured his knee seriously? And I'm still wondering about the (near) total absence of P.J. Dawson. I know the other LB vets have much more experience than he, but I would love to see Dawson and Burfict in tandem! Any chance of this happening this season. Thanks. Dave Christman, Oxford, OH
DAVE: Since Tez came back after he got hurt in the first quarter and ended up playing four more snaps (40) than he did last Sunday in Pittsburgh, the hunch is he's OK.
Dawson, the third-rounder out of TCU, plays the WILL, the same position as Burfict and Vincent Rey, two extremely reliable guys. Dawson not playing tells me the coaches don't think he's ready yet to handle all that is entailed in the positon so that he can give those guys a breather on a consistent basis.
They knew when they drafted Dawson that he was a little raw when it came to practice and preparation but that he played like hell on Saturdays. My sense is once they're comfortable that he can execute his assignments, he'll be out there but I don't know when.
Mr. Hobson, Always a pleasure to read the words of a future Hall of Fame Writer! My question - How in heavens name did Tez come back after all that time off and not miss a beat -- and is he the x-factor that will takes us to an undefeated season and a Super Bowl victory! George Hiotis, Zanesville, OH
GEORGE: Thank you for the kind words. It's enough of an honor just to vote for the Hall-of-Famers.  
Tez certainly does make a difference, doesn't he? You are certainly on the right page. We've been asking his coaches and teammates the same thing for the last week. They keep coming back to his superior football intellect. And, from what I can see from four years of watching him, his helmet is like Superman's cape. Once he puts it on he's a different guy and he plays with out-of-this world passion and heart. And you obviously have to give props to the training staff, anchored by Nick Cosgray in rehab and head trainer Paul Sparling.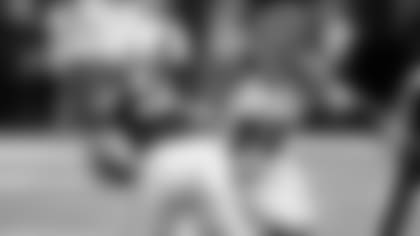 The Bengals have the luxury of turning to a veteran backup like Eric Winston (73) in the heat of a play-off chase.
Hey there Mr. Hobson, as much as I respect the play of veteran tackle Eric Winston, why didn't Jake Fisher get the start as he is part of the future? Also I know it is a little early to ask, but in the first round of this coming years draft do you think the Bengals will hit D-Line or something else? Thank you for letting us ask questions! Brandon E., Springfield, OH
BRANDON: Thank you for writing.
The Bengals have a tremendous luxury of being able to turn to a guy like Winston on the bench and keep their title hopes alive without putting the burden on a rookie. This is a great spot for Fisher. He doesn't have to be force fed before he's ready and the transition from Oregon's spread to the NFL has been quite an adjustment. Yet Fisher has received good work and shown a lot of improvement as the extra tackle in the six-man offensive line sets while being slowly worked into the mix. I think it's a sign of how championship-deep they are.
The recent past indicates they'll take the best player at that spot and we'll have to see where they're picking. They've targeted premium first-round positions such as D-tackles, O-tackles, and cornerbacks. But if they're picking, say after No. 25, that's basically a high second-round pick and I'd imagine that would open up their options.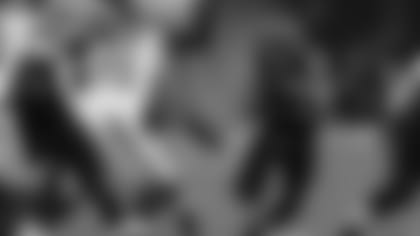 Running back Jeremy Hill, here on Thursday night, has shown signs of busting out the last two games.
Who Dey Mr. Hobson! & thanks for the great info through the years. As the Bengals march toward playoffs and prepare for cold weather games, I suspect we will see more emphasis on the running game. Geo looks great in runs and catches, but what is wrong with Jeremy Hill? He simply isn't the same as last year. JH looks very tentative in what he wants to do and direction he wants to run. JH seems as if he wants to run more like Geo shifting and zig zagging instead of plowing into people. Is he afraid of fumbling? Is he hurt? He just seems to want to avoid contact. We need JHill for the stretch run. How does he get back on track? Larry Plumb, Union, KY
LARRY: Thanks for the note. I think we began to see the emphasis Thursday night, when they ran it a season-high 37 times. But it is going to be dictated by weather and defenses because they seem pretty set on taking what defenses give them. For instance, Cleveland was ranked last against the run and Houston comes in here with a defensive coordinator, Romeo Crennel, known for playing the Bengals with a tough Cover 2 that they have dented in the past with the run. But, if they think they can spread people out (Pittsburgh and Baltimore), they obviously have shown much more confidence in the pass game than they have in the past.
But with two December games in Cincinnati (Pittsburgh and Baltimore) and one in Cleveland, yeah, they've got to run it.  Hill sounds healthy, looks healthy, and hasn't fumbled since Week Two. There is some thought that he's trying to get it all back with one big run instead of banging for it in chunks. And, I think with his three longest runs of the season there have been signs the last two games he's about to have a break-out game.
Hello! Always enjoy reading your articles, thank you so much for keeping us up to date on the Bengals. Keep up the amazing work as always. It's so great to be a Bengal fan right now obviously being undefeated at 8-0 (3 divisional game wins too!). It seems like a broken record, but this team seems to just ooze with that "It" factor in overcoming past weakness and playing up to their potential (being down in the 4th quarter, beating division rivals, primetime games etc.). Looking over the schedule there presents a few challenges, but my question is in route to competing with New England and Denver for a first round bye, which games do you personally look to be a true test for this team, and when talking to the players how confident does this group feel? The big showdown looks to be at Denver December 28th (Monday night game to top it all off) but at Arizona is going to be a test for sure. I love the confidence this team has shown so far. Who Dey!  Isaac Coffman, Columbus, OH
ISAAC: Thank you for your kind note. You're right. It would have to be Denver in Denver on Dec. 28 in the next to last game of the year with that terrific defense. You have to feel Sunday's game in Indy is a lot different if that's a Mile High. But it's also a very winnable game for the Bengals. Pass protection is one of their strengths and they know they can beat Peyton Manning after they picked him four times here last December.
And, you're right, Arizona is a bear out there and it's a short week that includes Friday travel to Phoenix. That's a tough one on many fronts. Plus, they've got PBS games with the Rams (Nov. 29) and Steelers (Dec. 13) that are going to be a handful. You know Ben will be back and no doubt they'll be playing to survive. And as old friend Mike Zimmer reminded us after his win over St. Louis Sunday, the Rams have an extremely physical and aggressive defense.
But, no question, these guys are playing with tremendous confidence.  It is apparent late in games when they trail. And those come-from-behind wins in Baltimore and Pittsburgh should help their mind frame in Arizona and Denver.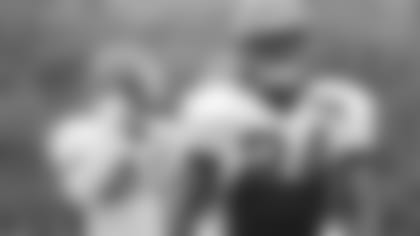 Adam Jones (above) and Brandon Tate form one of the NFL's top punt-return tandems, so don't look for a switch.
Hey Hob! How do you see the roll of returner changing over the second half of the season? With the speed that Marvin J is showing is it an option to ever see him returning a punt? Dusty Kehoe, Washington D.C.
DUSTY: No. They're never going to use one of their starting wide receivers in that role. I think they'll keep it going with what they've got with Adam Jones and Brandon Tate. Since they've been using that tandem, they've been a top 10 punt return team.  
Who Dey! Thinking about the beginning of the year when Marvin Lewis said he would walk away if the Bengals win the super bowl and hand Mike Brown the trophy. That would be a perfect spot for Hue Jackson if that happened. Hue will certainly be a hot commodity based on what he has done in this year and his impact on Andy Dalton. I would hate to lose Hue to another team. Do you think Marvin is serious with the early season statement? Mark Reif, Urbana, OH
MARK:  Everyone here is focused on Houston and not off-season planning, but they know the better the team plays, the closer scrutiny the coaching staff gets. That's what happened two years ago when the Bengals lost both coordinators to head coaching positions.
But I do know this: the Bengals think very highly of Hue Jackson and have jumped to add him to the staff twice while also hiring him to do three different jobs on both sides of the ball in his latest stint here.
As for Marvin, it's hard to know exactly what he had in mind when he made what he thought was a light-hearted comment at the equally informal training camp news conference. And it is equally hard to know what will be in his mind come next February.  Marvin is a grinder and he enjoys the day-to-day work with the coaches, the players, and the organization.  Your question is a fair one, but probably better suited for a later day. Hopefully late February.
Cincinnati Bengals host Cleveland Browns in week 9 of the regular season.