Tyler Eifert: best player on the board.
MOBILE, Ala. - A little break from the Senior Bowl with a few questions.
Geoff, I don't know if you will get this but I'd love for you to write something about this subject (pattern) it involves the upcoming 2017 draft. It seems that every time the Bengals actually have a "need" entering the draft, and not simply the "best player available strategy" ....no matter what number we pick, the position we need will be the same position most desired by a number of teems ahead of us. It never fails.....
We need a receiver, 5 teams ahead of us need a receiver....we need a corner back.....4 teams ahead of us need a corner. This year is no different. It seems the consensus is that our highest need is defensive end....a pass rusher to complement Carlos Dunlap. As luck would have it, many draft predictions have 3 (yes three) of the top 8 teams ahead of us picking a defensive end. Even so, some sites (Nfl.com) have us STILL picking a defensive end in the first round!
Please tell me the Bengals would not consider taking the fourth best defensive end in this draft when we could draft the #1 wide receiver, the #1 center or guard, the #1 linebacker (inside or outside) or #1 running back? (Wide receiver, linebacker, center, running back, defensive end, and kicker are all positions the Bengals need help with) I believe you can get a high quality running back, center, or kicker in round 2 or 3...especially with our position at 41and 73.
Why would a team pass on a Luke Kuechly or AJ Green at #9 to get the 4th best defensive end? Love to hear your comments.....even better.....see a write up on Bengals.com. Thanks, Gary Kuyper, Loveland, OH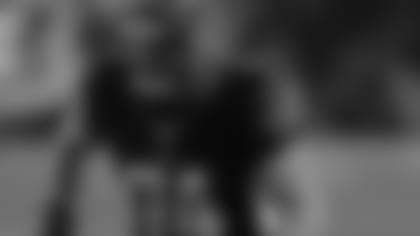 Jake Fisher: best player on the board.
GARY: I hear you and judging from the last several drafts, I don't think you have to worry.
At the risk of ticking off all my good friends that detest the term "draftnick," most draftnicks would tell you the Bengals have drafted as solidly as any team during the last decade. And the major reason why is they haven't done what they did at No. 9 in 2008 and took Keith Rivers because they needed a linebacker. It's hard to find a reach since.
(But they do need their last two drafts to play out. The 2015 draft is dangerously approaching the blow-out range if they can't get more from their top two picks, tackles Cedric Ogbuehi and Jake Fisher. And if the injured William Jackson and Andrew Billings play like they think, they team with Tyler Boyd and Nick Vigil to make 2016 quite good.)
Let's start with Fisher at No. 53 in 2015. This may be the classic example of going for the best player and not need. The Bengals got ripped (and are still getting ripped) for taking the right tackle because they had already taken left tackle Cedric Ogbuehi at No. 21.
But they took the best player up there even though tight end Tyler Eifert had played just nine snaps the year before and Maxx Williams would go to Baltimore at No. 55. And they could always use a pass rusher and talented but troubled Randy Gregory wouldn't go until Dallas at No. 60.
And the biggest second guess is Kansas State wide receiver Tyler Lockett staying on the board until Seattle at No. 69. But you have to live with sticking with your highest graded player and you'd have to say the way Fisher improved the last three games at right tackle they're glad they've got him trying to take the next step they think he can take.
Go back to the 2013 first round. In years past the Bengals would have reached here with right tackle Andre Smith unsigned. But the Bengals still let the board come to them.   The top four tackles were gone. The other big needs were safety and running back. But the top two safeties, Kenny Vaccaro and Eric Reid, were gone. And there wasn't a running back with a first-round grade.
But no reach. And even though they were set at tight end with Jermaine Gresham, they eschewed reaching for Florida State tackle Menelik Watson at No. 21 and took their top player left in Eifert.
You can even go back later in later rounds and even though it didn't pan out; the best player philosophy is there. The Bengals went into the 2012 draft seeking running backs and wide receivers and were set at defensive tackle with Pro Bowler Geno Atkins, long-time starter
Domata Peko, and veteran backup Pat Sims.
But after University of Cincinnati running back Isaiah Pead went to the Rams at 50, the Bengals stuck to their board at No. 53 and took Big Ten Defensive Player of the YearDevon Still at tackle. Oklahoma wide receiver Ryan Broyles went the next pick to the Lions at 54 and Oregon running back LaMichael James went to the 49ers at 61. The Bengals ended up getting the receiver where they graded him (the guy that ended up being their Rookie of the Year in Mohamed Sanu of Rutgers at No. 83 in the third round) when they could have had Temple running back Bernard Pierce, gone a pick later to the Ravens.
Probably the closest they've come to reaching lately is this past draft when they desperately needed a slot receiver to play right away and Boyd was the last shot at No. 55. Still, it worked out. They hope he's better with yards after catch
and has more explosive plays, but next to A.J. Green he had the most productive year by a Bengals rookie wideout in 35 years.
So if there's no pass rusher qualified at No. 9, expect them to go elsewhere.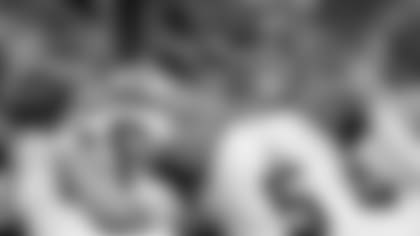 The price has to be right for Andy Dalton.
Hi Geoff. Love your work and thanks for taking the time to interact with us Bengals Faithful! So here's what I would love to see. Since there are several QB needy teams at the top of this draft and no real can't miss QB prospects, I'm thinking A.J. should be a pretty attractive trade piece. Plus we have like 11 picks coming. So why not use A.J. and a couple aforementioned picks and get a real difference maker in Jonathan Allen guy is a beast and to my eyes the safest player to take in round 1. Could you imagine 3rd down with Allen, Dunlap and Atkins breathing down your neck. It would give opposing Offensive Coordinators nightmares! I know it's not the Bengals style to make such moves but they don't usually have an attractive QB to trade and 11 or so picks to work with either. I just feel like this is the type of move to make to really get over the proverbial hump. Thoughts? Jon Lee Reynoldsville, PAJON: Thanks very much for reading. Great question. If there ever seems to be a moment to make a bold move at pass rusher, this is certainly it. You can't second-guess them for taking Ogbuehi at No. 21 in 2015 because he was clearly their highest-rated player. But who can forget that the Steelers took Kentucky pass rusher Bud Dupree with the next pick at No. 22?
Your question puts a couple of the Bengals' basic tenants in play. As we know, they simply don't trade up in any round. They've only done it three times in their history and the only time they did it in the first round was 22 years ago with Ki-Jana Carter. They treat draft picks like gold and, when free agency comes around, they are. If anything, they'd like to get more than 11 draft choices.
Now we come to McCarron. Barring a too-good-to-refuse offer, I just don't see them trading him before the end of training camp and probably not at all. Another tenant is don't give up anybody unless you can replace him. Andy Dalton is one hard Dodge Ball throw away from McCarron getting them through a big game.
 They could delve into free agency to pick up a veteran and replace McCarron if they deal him, but that's another basic tenant. Don't give up a compensatory pick if it means picking up an unrestricted free agent. Plus, McCarron knows the offense while the rookie they like, Jeff Driskel, has yet to take a practice snap in the offense.
It leaves them open to the criticism that they're too interested in building for the future and never willing to make the big move for right now. But then you look at a year like 2016 when they were so close in 2015 and still they made sure they had veterans like Andrew Whitworth and Adam Jones and went out and signed starters in free agency in 34-year-old linebacker Karlos Dansby and 29-year-old wide receiver Brandon LaFell. It's pretty clear looking at the last few years Bengals president Mike Brown is looking to win now.
And most folks around the league believe the Bengals have used this philosophy to craft one of the better rosters in the NFL. Big picture? Four teams have made the postseason at least six times since 2009 and the Bengals are one of them so it's hard to quibble with the approach.
You're right, though. The X factor is McCarron. If they get an offer flush with some picks, it may be too good to pass up. A first-rounder would seem out of the question, but there could be some multiple picks out there that would get them intrigued.
Yes, even if Hue Jackson in Cleveland dangled a few of his many picks. But it would have to be ridiculous and Hue's probably not there after giving Mike a first and second for Carson Palmer in his Oakland days in 2011.Hi, Geoff. Thanks for keeping us up to date on all things Bengals as we wait out the Super Bowl, free agency, and the draft. Since you're around the team quite a bit, have you gotten any sort of feel for which free agents the team is leaning towards bringing back? Thanks for your time. Mike Mizer, Independence, KYMIKE: Thanks for taking the time to read and to write in. It's early enough for head coach Marvin Lewis to say, 'We want all out guys back," but clearly there are priorities.
Certainly the way the year panned out for Ogbuehi, they know bringing back Whitworth at left tackle is of key importance. If you ask me, the three top priorities are Whitworth, Whitworth, Whitworth. I think the fact the Bengals and agent Pat Dye Jr., have already traded e-mails to set up talks reflect the urgency.
After that the sense is they're going to be making a big run at keeping starting cornerback Dre Kirkpatrick. How much they're willing to go is anyone's guess but they know how valuable corners are.
They'd love to keep running back Rex Burkhead and I think they'll be active there, particularly since he was their best running back at the end of the year and Giovani Bernard is coming off an ACL that probably takes him out of the first few weeks of training camp.
The biggest obstacle to re-signing Burkhead is the depth chart. With Bernard and Jeremy Hill around, would Burkhead stick if he gets similar money from a team that has fewer options?