Good vibes with John Ross.
Hey Geoff, back again cause the rookies are in town! My question doesn't revolve around a rookie but you could say he might as well be. Basically, John Ross was a red-shirt last season. I asked your opinion on his upcoming season not too long ago, but I can't help but be intrigued by the kid. Now that we have the explanation of his shoulder being nicked and trying to play thru it and not disclosing he was injured last year, the whole healthy scratch situation and his struggles to even be active on game day are starting to make sense.
Ross obviously became overwhelmed and lost confidence. I've heard that some rookies entering the league can experience a very big shock if they are not properly prepared or do not come in with the right mind state. The point I'm trying to make is that I am getting positive vibes from everything I've read about him as of late. It seems that he has the drive and wants to put in the effort to get his feet on the ground.
Do you think he can regain that confidence? Someone's mind can be a tricky thing to deal with when they have gotten down on their self. The mental aspect of things can seriously hinder someone's ability to perform at a high level. They say confidence is key! I love hearing that AJ and JoJo Lafell are trying to lift him up and give him the advice he needs. Telling him to be himself and to not overthink things. This type of locker room chemistry and players lifting other players' morale, even players in their same position group, is exactly what a team needs to mesh together and build something. There is a lot more to that than people give credit.
Do you think Ross can shake off all the negative attention and negative fans who seem like they want to see him fail because they didn't like him as the no.9 overall selection? I'm behind him! Let's prove em wrong and show them that lights out speed is just your best attribute and not your only attribute Ross! When you hit that first go route and blow past that corner straight to the end zone then you'll blow right past all the naysayers also! LET'S GO. Who Dey! Cale Smith Shelbyville, IN
CALE: Welcome back. I just think the big things with Ross are that he's healthy and he now knows what the NFL is like. As he said the other day, he had no idea what he was in for. That will happen at a position that next to quarterback is the toughest for rookies in the NFL. At least for the Bengals looking at this chart of the rookie seasons of each wide receiver they've drafted in this century. Not being able to practice at that spot until the week of the pre-season opener is bad karma for a rookie wide out. Throw in a knee injury in the pre-season finale that wiped out another ten days, and you can see why Ross struggled.
But, as you suggest, his comeback hinges on his confidence and we may get a glimpse when the voluntary practices start Tuesday. Although let's temper that right away. You have to see how he plays in games. I'm with you, though. I like what I see and hear. Ross is a serious, committed guy who has reached out to all the right people to get better. He's a guy that proved his college naysayers wrong so he's been there, done that. You talk to the guys on offense and they say it's obvious he's done the work this offseason. I think he's showing he's got the mental mettle.
But I think what is really in Ross' favor is that he's basically getting a breath-of-fresh air new start with Bill Lazor in his own right as offensive coordinator and a new set of eyes in receivers coach Bob Bicknell. And look, James Urban, the receivers coach Ross had last season before he moved on to be the quarterbacks coach in Baltimore, is a hell of a young coach, is as accomplished as any receivers coach that has come through here and is a future successful NFL offensive coordinator. They wanted him back. But, hey, there already has been a former Bengals wide receivers coach that got an OC job after being the Ravens quarterback coach. (Right, Hue Jackson.)
But you know how it is. Sometimes just a different look can help you and Bicknell is a very solid NFL presence himself who has coached three different 1,000-yard receivers.
Yeah, I get a good vibe, too. But as Marv would say, "We'll see."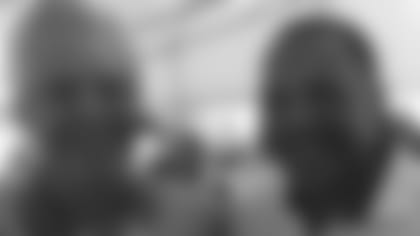 Kenny Anderson and Isaac Curtis. They'd be on the field for Wes' last drive.
Mr. Hobson, It's been awhile sense I emailed any questions to you. Hope all is well for you and your family. I'm still Loving the articles. Keep up the great work. I got a few questions.
1.) Will Lawson continue to be labeled as a LB or finally as a DE this season? 2.) Following the rookie mini-camp, what veterans do you see potentially on the roster bubble? 3.) Has WJ3 overtaken Dre for the #1 CB spot? 4.) Any chance of a vet returning (Peerman, Winston, Sims, Jones)? 5.) Following the rookie mini-camp, what low round or Undrafted FA do you see surprising this year by making a big impact during the season? 6.) Which rookie scares you with bust potential?
LAST QUESTION & IT'S A FUN ONE... Which Bengals players (current &/or past) would you want on you starting Offense in the Super Bowl with under 2:00 minutes to go, you're down by 5, you just got the ball back, and are on your own 15 yard line? Wes Machesney, Frankfort, OH
WES: Everyone is well. Thank you for asking and for your generous support. Let's get right to your thoughtful takes:
Let's face it, Carl Lawson is a rush 4-3 defensive end. Now, new defensive coordinator Teryl Austin may line him up at linebacker more than Paul Guenther did, but he's not going to be a full-time backer by any stretch. Lawson is a pass rusher, pure and simple. They may designate him LB, but he's a DE.
You can't tell anything from a veteran rookie minicamp, so if there is such a thing as less than nothing then that's what you can tell at a rookie minicamp. Certainly not enough to know if a vet is going to lose his job, although I think second-round safety Jessie Bates III vies for a starting job, first-round center Billy Price is a captain in the making and don't pencil in your offensive line in pen.
There's no question the three cornerbacks are William Jackson and Dre Kirkpatrick outside and Darqueze Dennard in the slot. On those rare snaps you have just two, any combination of those three as long as Jackson is on the field.
The only guy of those four who has any kind of a shot at returning is cornerback Adam Jones. Bengals president Mike Brown is the most loyal entity in the NFL. But I think the Adam Jones Era ended when they took two corners in the fifth round. Except if there are injuries before the bye.
Three interesting guys are the seventh-round guard out of Ole Miss, Rod Taylor, college free agent Chris Worley, the Ohio State linebacker and South Florida running back Quinton Flowers.
Taylor is a big man who has played both guard and tackle in the SEC and maybe he'll turn into a swing guy. Worley showed up last weekend and looks like he's been around already, as you would expect a Buckeye who has played in 50 games. With Vontaze Burfict missing the first month, the Opening Day linebackers could very well be Vincent Rey, Preston Brown, Nick Vigil, Jordan Evans, Malik Jefferson and Worley. Flowers is a long-shot, but they've got him playing enough positions (RB, QB, PR personal punt protector) that you have to keep an eye on him as potentially the 46th active guy.
None of these guys scare me as a bust, but there are some positions they need the draft picks to come through again. Last season Jordan Willis and Carl Lawson ended a tough five-year stretch of drafting on the D-line (Still, Thompson, Hunt, Clarke, Hardison) and you'd like to see Hubbard solidify it like the 09-10 drafts did with Michael Johnson, Carlos Dunlap and Geno Atkins.
I really appreciate the last question. Since we're looking to score, I'm putting two two-minute backs out there with Bengals all-time passing leader Kenny Anderson in James Brooks and Giovani Bernard. At wide receiver give me Isaac Curtis, the forerunner of the 21st century receiver, and A.J. Green, the personification of the 21st century receiver. Then at tight end I'll take Dan Ross, who'll catch everything those two can't.
Up front give me Hall-of-Famer Anthony Munoz at left tackle and should-be-Hall-of-Famer Willie Anderson at right tackle. We'll kick left tackle Andrew Whitworth into left guard and at right guard we'll tap the greatest guard in club history in Max Montoya. At center, I'll take the guy that Paul Brown took to start it all. You can't miss with Bob Johnson. That's 11, right? (With apologies to Chad Johnson, Bob Trumpy, Corey Dillon, Dave Lapham. Dillon isn't out there because we've to go 85 in two minutes.)
But I'll take my chances with those guys pounding it in from the 1 in Detroit in '82, running out the clock in Miami in '89, and holding on to the ball in '16 at Paul Brown Stadium vs the Steelers.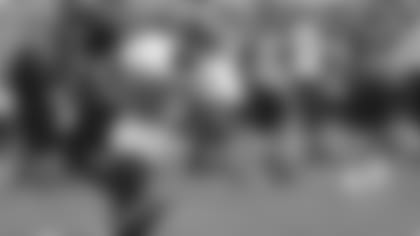 Tyler Boyd is a tough guy over the middle.
Hey Mr. Hobson! Are you ready for another year of Bengals football?! It seems the dead zone until training camp starts is never ending! Anyway, a quick few questions based on the rookies the Bengals drafted. Do you see Tate being moved to TE one day? We all know he's not going to outrun anyone but could make a living running across the middle if he were to gain 20-30 more pounds or possibly be used similar to the way Houshmanzadeh was? Housh could take a pounding and still get up and go!
Also, since for some strange reason we kept all 11 picks it obviously means people will be cut. What's your take on what veteran is shown the door and will the new and improved Marvin Lewis actually let these guys (rookies) play? Thanks again for relaying us news about Bengaldom, Who Dey! Jonathan Harmon, Scottsdale, AZ
JONATHAN: Thanks for checking in with the great note. No such thing as a dead zone in the NFL. It's always Game 11 down here.
I guess the 6-5, 228-pound Tate could get switched down the road to some type of move back, but I don't see it any time soon. That's a project because of the blocking involved and is a major transition. And tight ends have to run, too.
No question Tate is an intriguing guy. That's a lot of talent to get in the seventh round. I like the pick. But I sense a belief out there that they need a guy that big to play wide receiver and I'm not sure that's the case.
Yes, they need a physical presence opposite A.J. Green at wide receiver that they last had with Mohamed Sanu, but doesn't Tyler Boyd offer that? He's 6-2, 197 pounds and Sanu is 6-2, 210. Boyd is actually about dead even with the 6-1, 197-pound T.J. Houshmandzadeh, the maven of the middle. In the Marvin Lewis Era the Bengals have pretty much had just two receivers over 6-3 that have contributed in the 6-4 A.J. Green and 6-4 Chris Henry and the biggest weight-wise probably the 6-3, 226-pound Terrell Owens in the last year of his Hall-of-Fame run.
But they've lived on guys like Houshmandzadeh, the 6-2, 206-pound Pickens and even the 6-1, 207-pound Andre Caldwell in the '09 and '11 play-off runs being the tough guys. I think they think the 6-3, 210-pound Cody Core can be that guy but he needs to be more consistent. The 6-3, 208-pound Josh Malone fits the specifications but his strength is his speed. Still, they've already got guys who have the size they've been successful with down through the years. Same answer here it's always been. Those receivers drafted in '16 and '17 have to produce. Boyd is the one guy that has.
Marv is having a tough time living down the veteran guy tag. Cut him a little slack. He's trying to make 53 egos happy. But, after these last three drafts there are no more Pats Simses, Eric Winstons, Cedric Peermans and Adam Joneses. You'll probably see close to a record number of draft picks get cut. (When's the last time a fifth-rounder had to grind to make the 53 out of camp? OK, OK, J.J. Dielman and Jake Elliott last year but before that it was guard Otis Hudson in 2010 who was the last fifth-rounder cut out of camp. Not all three are going to make it.) He'll be playing a lot guys 25 and younger.
Hey Hobs, Can't wait for Hobson's Choice to be a weekly thing. We fans are dying for news and insights and the media doesn't give the Bengals much air time. I think we had a good draft but see only 1 starter, in Price. The Glenn trade is a definite plus for the OL. Unless there are some rookies that can battle for spots, I see the big upside for O having to come form Mixon and Ross.
Do you see other rookies making a significant contribution on O. On the D, Bates should be a contender for playing time and Hubbard should vie for being in the rotation. The big question on D is how many games Burflict will play. Who do you see as starters at LB and what battles to you see for playing time on D? Thanks, Let's hope this is a Who Dey year. Lou Petrofes, Jupiter, FL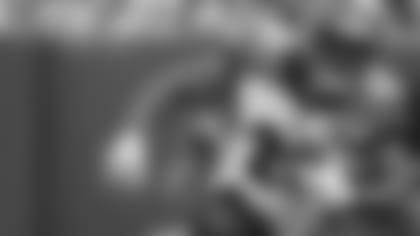 Joe Mixon is one of the kids they're banking on.
Lou: Thanks for checking in. We're always trying to feed the beast.
I think that's a pretty good call that first-round pick Billy Price is the only rookie starter when he snaps the ball to Andy Dalton Opening Day. Which shows you how much they're relying on the two previous drafts. You're right, Bates should contend for starting job this season, but other than that they're grooming guys to be at least solid role players in years two and three. Jefferson is talented enough to be able to start, but not now. Defensive end Sam Hubbard is going to develop this season and will get some snaps, too. One or both of the fifth-round corners should be special teams regulars.
I think Price is the only offensive rookie that makes a dent, but running back Mark Walton figures to be a solid special teamer and you could see him emerging as a spot player to spell Bernard and Joe Mixon.
The Opening Day backers figure to be Preston Brown in the middle flanked by Nick Vigil at SAM and Jordan Evans at WILL. When Tez returns in Week Five to Will, they'll have to cut someone, but will it be at backer or another position?
Bates is probably in a pitched battle with either starting safety. Jordan Willis looks ready to be the starting right end with Michael Johnson kicking inside on passing downs. Veteran defensive tackle Chris Baker has two fans in his former Washington coaches (D-line coach Jacob Burney and backers coach Jim Haslett) and can challenge Andrew Billings at nose tackle.
This year feels like such a breath of fresh air giving all the coaching changes and new faces. i smell major competition brewing this summer.Looking forward to hearing your take on all the rookies. Vegas has us at 5.5 over/under and I the only one who thinks this is free money Hobs what u think #hobsonschoice #bestQ&A #whodey Brandon Wright, Middletown, OH
BRANDON: Thanks for the tag. I agree with you. In all this drive-by-national reporting, what's been missing is the impact of the massive coaching changes on offense. I sniff a little '09. Nobody picked them to do anything after winning four games and they swept the division. That's because nobody saw the defense rising to No. 4 in Mike Zimmer's second season or that the total revamping of the offensive line would be helped along by a consistent running game or that quarterback Carson Palmer had enough left to engineer five game-winning drives. I sense Andy Dalton, off two losing seasons, is being just as underestimated at age 30 as Palmer was at 29 and coming off his second major injury.
Although it is the first year of OC Bill Lazor's scheme, it's basically his second year as coordinator. But not only is the line getting re-done, so is the scheme and the coaching. I think most everyone agrees the Bengals' talent is better than 7-9. It is certainly better than that '09 offense. And doesn't the '18 defense have more firepower than the '09 defense that didn't have Dunlap and Atkins? So if the coaching tweaks bring that out now like it did nine years ago, there it is. The defense may not be No. 4 but it's a good one. They've got a fresh, new coaching look balanced with a veteran staff of regular s that has only one newcomer in defending NFL tackling champion Preston Brown.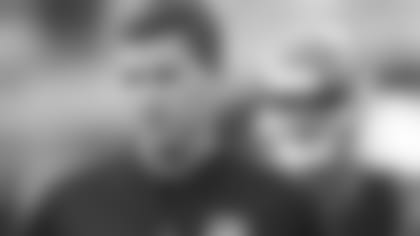 OC Bill Lazor is changing it up.
Hey Geoff! How u doing man!? I am super excited about the upcoming season! I have heard that my guy Sam Hubbard was impressive at rookie camp! That excites me! Do you think he can be a factor on our D Line this year? Danny McCullah, Huber Heights, OH
DANNY: All good here and for Sam, although he's got some pretty formidable guys in front of him, such as Carlos Dunlap, Carl Lawson and Jordan Willis. He'll be in the rotation, but probably won't be a consistent factor until '19 and '20. But it's seen as a solid pick and if he develops that way, he'll be more than a factor.
You've got to love the hometown thing. I think two of my local favorites that made the bigs are Mount Healthy's Rodney Heath with the Bengals and Withrow High School's Ron Oester with the Reds.
Heath got the most out of his abilities as a cornerback at the turn of the century and earned every penny of a second contract. Oester was a much underrated second baseman for 13 seasons with the Reds. If you remember, he was one of the first guys to come back from a massive ACL injury in '88 and became a key bench player for the '90 Wire-to-Wire Reds. I had a chance to cover the Reds for a season when he was a coach in '93 and he was a very decent man in a game that can be, at times, very indecent. Hubbard has some great models to follow in his hometown.
It seems the last CRUCIAL piece to this year is Right Tackle. While we obtained a veteran from Giants who wasn't terribly good or bad we didn't draft someone for that position. Who does your Crystal ball see wearing those cleats? Doug Pritchard, Dayton, OH
DOUG: Either former Giant Bobby Hart or former second-rounder Jake Fisher ends up there. And they could give former incumbent left tackle Cedric Ogbuehi a shot over there but that didn't work out well the last time. But I do think you have to look at guys like Ogbuehi and Fisher with an open mind now that they are in a different scheme and remember that when they were drafted they were consensus top prospects. Perhaps they can benefit from a new set of eyes like Ross may.
After the 2017-18 campaign Marvin Lewis vowed that he had to do better and also the players had to also carry their weight. As the rookies join the fray for 2018-19, how does this locker room atmosphere compare to the start of the Dalton-Green years? What leaders are already making sure the mentality is different to start off their offseason work? Many players have expressed their excitement to be back, but is there a real feeling that this year is not just a bounce back season, but a team that has its sights set on reclaiming the AFC North? Thank you again for your pulse of the Jungle as we tip-toe closer to September. Matthew Chaney, Cincinnati, OH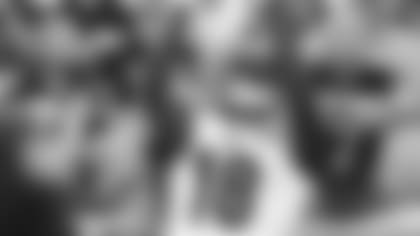 A.J. Green: counseling Ross.
MATTHEW: Thank you for checking in on our class, Mr. Chaney. Sometimes we delve into history, but you've given me a current events quiz. And you are quite correct in observing the leadership roles have been in transition as we head into the second season without Andrew Whitworth and Domata Peko.
Offensively it is pretty clear that this is a line belonging to Clint Boling and Billy Price. If his prodding of John Ross is any indication, Green has graduated from leader by example to just plain leader. With Dalton now running a new offense, he'll lead more than he's ever had to, so it truly is a Green-Dalton locker room even though it belies their under-the-radar personalities. With an assist from running back Giovani Bernard who leads by the enormous respect he commands in the locker room.
The defense, which for so long had Burfict, Peko and Adam Jones setting the tone, also has a different texture. Now Burfict is joined by Preston Brown, a proven leader in Buffalo. Michael Johnson has always been solid and respected in the room and has been an obvious heir to Peko up front. Gone is Jones's swagger in the back, but it is replaced by a different feel with December-tested veterans like Dre Kirkpatrick, Darqueze Dennard, George Iloka and Shawn Williams. Different, but all those guys have the respect of their mates because of their excellent knowledge of the defense and blue-collar style of play.
So I think they've got a nice brew of guys from the runs of '11-15 mixing with the kids that haven't been in a play-off game. Those vets know how uneasy the AFC North crown lies and that they can easily win it (like they did in '13 and '15) or struggle (like they did the last two seasons when they didn't win the close ones.) Plus, management sent a pretty strong win now message when they spent a lot of money on veteran coaches and pulled the Cordy Glenn trade. Re-builders don't do that.
Hello Hobs! I don't know about you but I loved the draft for the Bengals this year. My question is this, do you think we could see multiple rookies Starting on defense for the Bengals this upcoming season? I don't mean forced by injuries but actually winning the position battle in camp. I think Bates, Jefferson and Hubbard have a shot. Thank you for your time and hard work in bringing us Bengals news. Chris Percell, Portsmouth, OH
CHRIS: Thank you for checking in. I think that's an interesting thing about this defense. They don't need a rookie to come in and take over. Everybody that played the most snaps at their position last season is back and the only addition is not only a veteran but the league tackling champion in middle linebacker Preston Brown.
Now, I think Bates gives it a run because it seems to me they are undergoing a change in philosophy at safety and are looking to make the free and strong more defined. I think they see him as a more traditional free safety, so we'll see how that plays out. But other than that I don't see the rookies ready to challenge for a starting spot until maybe later in the year or next year.
They're banking on Hubbard to be a rotational player and Jefferson being a special teams standout. It's going to be tough for fifth-rounder Andrew Brown to get some defensive tackle snaps. A good talent, but there's a lot of traffic in front of him with Billings, Baker, Geno Atkins and Ryan Glasgow. The fifth-round corners, Davontae Harris and Darius Phillips, find themselves behind the solid four of Kirkpatrick, Jackson, Dennard, and KeiVarae Russell, so they'll have to show they play special teams and they have that pedigree.