Jeremy Hill is looking for room vs. the Broncos.
**Geoff: I am a new reader to the Choice and have enjoyed all your insight. In regards to the broncos I have two concerns. 1. The Texans(on a Monday night) neutralized the Bengals offense and held them to 6 points. That was with Andy Dalton as quarterback. Assuming Denver has a similar strategy how can the Bengals with AJ score points? Second how can the Bengals overcome their Monday night flatness? The Bengals looked uptight and flat during the Texans game. I believe they should go out loose. How can this be achieved when so much is on the line? Thanks Gail Lewin, Cincinnati, OH
GAIL:  Thank you for reading and welcome aboard. As for your first question, the best answer is they have to be able to run the ball if the Broncos take a page out of Texans defensive coordinator Romeo Crennel's game plan. What Crennel did back in the 10-6 loss on Nov. 16 is play his cornerbacks soft so they wouldn't get beat deep, and keep his linebackers alert for the shallow crossers. They should have been able to make hay in the running game against it and force Crennel out of what was basically Cover Two concepts.
But this is a whole new game. Broncos defensive coordinator Wade Phillips strikes me as more aggressive. He likes to send five rushers a lot of time and he's got faith in Pro Bowl corners Aqib Talib and Chris Harris. I would imagine they'll crowd the box and make the new QB beat them, the opposite of what Houston did.
Phillips will heat up McCarron, so he'll need his receivers to make plays for him. The other thing different from Texans is that the Broncos are ranked No. 1 vs the run and pass, so Denver can basically do what it wants. What the Bengals have to do is stayed dogged with the run and they'll have to break a long one, which they can do against eight- and nine-man fronts.
The Bengals should have no problem coming out loose and I think they will because of what happened Sunday. While sitting around the hotel, they watched the league as they secured a home play-off game and the house of cards kept expanding for the Peyton-less Broncos to possibly fold out of the playoffs. The Bengals know no one expects them to go into Denver and win with a QB making his second NFL start vs. the league's best defense. So the pressure is all on Denver at home. They don't want to make next week's game vs. the Chargers at home a must to make it. And, remember, they've got a backup QB, too. Geoff I thoroughly enjoy your articles and insight on the Bengals. The Bengals have had a very nice year and with the injury to Andy it seems everyone has kind of written them off. I see this as a time to prove everyone wrong and finally make a statement. What are your thoughts on this? Richard Hauenstein, Independence, KY
RICHARD: Thank you for the kind words. It's a kick-in-the-gut injury, no question about it. Cruel, really. As cruel as the ACL injury to Bengals quarterback Carson Palmer in 2005 on his second post-season snap. The '05 and '15 teams were Marvin Lewis' best shots to win it all.
But I think they've still got a shot to win a Super Bowl this trip even if Dalton doesn't make it back. Simply because everyone is talking about the Bengals having one of the most talented rosters in the NFL, if not the most talented. A Super Bowl run would certainly prove that. A longshot as long as they have a backup quarterback. But talent across the board can get them close if they're as talented as the pundits say.
Hello Jeff good job as always. Can I be the first one on A.J. Mac's band wagon? I think this is just the spark this team needs to maintain their focus down the stretch to the playoffs, its just a shame Dalton got hurt on a league MVP campaign type year. Do you think AJ could be the Bengals "Cordell Jones" & come in & win it all? Troy Chapman, Prospect, OH
TROY: Thank you for the nice note. The entire state of Alabama has beaten you to it, but welcome. What we don't know is when Andy Dalton's fractured thumb is going to heal. If it doesn't heal in time, I think McCarron, at this point in his career, and this team are a perfect match and, on paper, can go all the way.
 I think AJ is going to have a long career in this league, but the one thing that's holding him back right now is his inexperience. But he's got a good defense and solid special teams in the two other phases.  On offense he's surrounded by an experienced, big offensive line that has a history of pass protecting well, as well as dangerous receivers and backs. Mix in McCarron' brains, toughness and big-game pedigree, and it's a blueprint that can work. Although a guy winning a Super Bowl title with three regular-season starts would be unheard of, the recipe is there if Dalton can't go.
Why has the Offensive Line struggled most of the season to open up holes for Hill and Gio? It's beginning to appear that the organization had a reason to draft two tackles with their first two picks! TJ Ross, Cincinnati, OH
TJ: I think it's tough to go solely off of last week's game in San Francisco because the Niners sold out against the run on a new QB. Maybe not in the first half, but certainly in the second and they didn't use Hill in the first quarter.
Don't forget how well this line payed the first two months. They played well against some good fronts (Buffalo, Kansas City, St. Louis), but they've lacked consistency lately.
Some of that comes from Hill. It didn't appear early as if he was running decisively as he did last year, but he's looked better the last month. Some of it comes from playing teams that plugged up the run and dared Dalton to beat them, such as Baltimore. Or they just haven't played well, as offensive coordinator Hue Jackson suggested when he challenged everyone on offense last week after Frisco. Some have suggested the Bengals are so versatile in their run game that they don't have one or two signature plays a la Pittsburgh that they run over and over again and really master.
I don't know all about that. Jackson has pieced together one of the top offenses in the league with versatility and unpredictability and has done a great job keeping defenses off balance. In the wake of the Frisco game and Dalton still out, I think you'll see them get back to how well they played earlier in the year.
Geoff, Hope all is well and Merry Christmas. Worried about the offensive line. What has happened to the physicality? They are getting pushed around way to easy. Maan Aboulhosn, Titusville, FL
MAAN: Thank you and Happy New Year. I probably addressed it in the previous answer. We forget how well they played earlier in the year and now there's an adjustment with McCarron back there. But it's a veteran group and I think it responds down the stretch. The 49ers defense came out blazing vs. the Bengals after Cleveland ripped them the week before and I wouldn't be surprised to see the Bengals offensive line respond the same way Monday. There are a lot of leaders on that line.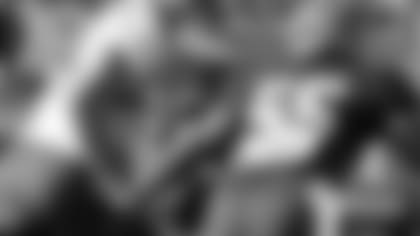 The return of Vontaze Burifct has made the run defense stingy.
Hey Geoff, questions about the defense. If a few weeks back when we lost to Arizona it became apparent to me that the team isn't really built to dominate games. usually the defense is playing with a lead and all they have to worry about is the pass, but when the games are close and other teams can still run the ball I see a vulnerability...the rush defense is ranked high but that's because teams can't run the ball when they're down in the game. My question is do you think the defense is just a compliment to our offense? we gave up thirty points to Pittsburgh and Arizona so do you think our offense can win a shootout in the playoffs regardless of who's playing QB? Like I said I think this team is built to manage games not dominate them.  Andrew Todd, Medford, OR
ANDREW:  I think you need Dalton to win a shootout just because of experience.  The Bengals have too many good players on defense to be considered a compleiment. They have been in all kinds of games since Nov. 5 and yet they have not given up 100 yards rushing and are allowing 3.6 yards per carry. I think that's a little more than managing the game. I think that's the way it is for every defense. You play better with the lead. Before Tez came back, they weren't good against the run and that was a big concern. But the only thing you can really get on them about in the last two months is the third-down percentage (8-14) in the Pittsburgh loss and if Dalton didn't get hurt the Steelers wouldn't have had as many chances. I think the defense should be strength the rest of the way.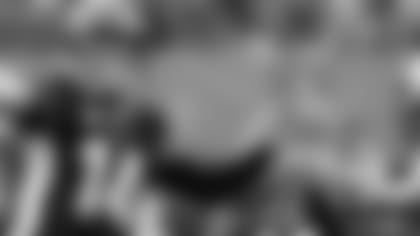 How soon can Andy Dalton do this? No one knows.
Really love that you take the time to do this. We are really lucky fans. Anyhow, here's my question. Say McCarron gets really hot over these last two games. We get the by we asked Santa so nicely for and everything is on track. But then Dalton takes most of that extra time to get out of his cast to be able to practice. Yes he's healthy enough to go in the divisional round but has barely practiced. Do you think they trust his command of the offense and let him play or go with the hot hand even though he's only got a handful of starts? Seems almost unfair to play Andy in that scenario. A rusty QB with tons of pressure to get a playoff W. I mean can you imagine what if talk if he comes in and loses. I would almost rather they let AJ keep playing and hope he can somehow pull out another win and then let Dalton play after getting the reps all week. I know it's all hypothetical but I feel like it's a real likely scenario and would like to read your opinion. Thanks Jon Lee, New York, NY
JON: Thanks for the nice note. They're not going to let Dalton go out there rusty. He'd have to be fully rehabbed, plus have a solid week under his belt and satisfy the coaches he's got enough zip on his throws. That's why I think it's going to be a tough call for the divisional game the weekend of Jan. 16-17.
So let's play it out. AJ McCarron leads them over the Broncos for the bye and Dalton can come back. This is no shot against McCarron because he's done well and he'll play a long time in the league. But he just doesn't have Andy's experience. Dalton's major strength is pre-snap, getting them in and out of the call, and making the proper checks. His second major strength is right after the snap, when he gets rid of it so quickly and to the open guy.
At some point AJ is going to be able to do this. But in his fourth NFL start in the playoffs? I think if Andy's healthy, he's the guy. If he's not healthy, I think McCarron has proven he can get them a win. But if they're both healthy, I would think you have to go with the guy who has the most experience.
A.J. Green got an extension before the season and the Bengals will try to sign others after the season.
Solomon Wilcots and the announcing team yesterday made the point that this was an "All In" year for the Bengals because of the number of quality Free Agents exiting at year end. Something like 10 and maybe more than half being starters. First question being are the Bengals going to renew any of these guys... like A.Jones, Zeitler, M. Jones, etc. and don't they typically do this in December? Last question being the 3rd QB option, for a team suspposedly being "All In", it just doesn't seem we're protected here. There has to be better options than PS guys. Seems like a poor risk to me IF you are really planning to make a run especially for games in Foxboro, Pitt, or Denver. Your thoughts? Doug Lottes, Knoxville, TN
DOUG:  They very rarely do extensions of contracts in December, particularly during a play-off run. The only one I can remember of note was 10 years ago with Carson Palmer, but none lately. They typically do it in the days leading up to free agency in March or in August leading up the regular season.
They can't sign as many as they want because of the salary cap, but they'll make their priority list and go after them  in February and I'd imagine some will come back if they don't get the money they expected on the market. They've done a nice job keeping this team together in the face of free agency (five post-season berths and two division titles since 2011) and I would expect another aggressive effort to keep it together. I don't see them being all I in '15 and then blowing off '16.
The Bengals tried to get an experienced QB and it didn't happen. Ryan Mallett wanted to go someplace where he could back up next season and that wasn't in Cincy. It sounds like Christian Ponder wasn't interested after Denver cut him last month when they couldn't afford four QBs with all their injured safeties.
(The Bengals aren't a spot for a two-year deal with Dalton and McCarron in place.)
So there aren't a lot of options out there at this point and the Bengals' Keith Wenning has a leg up on those guys in the sense that he's been in the system all year.
Options? Look at what Denver has behind Osweiler with a separated left shoulder and an inactive Peyton Manning: the guy listed on the depth chart is Trevor Siemian, a seventh-round rookie from Northwestern who has mere kneel down this season while Osweiler was getting his shoulder checked last week. Manning is back next week and who knows when Dalton is back, but there just aren't a lot of options.