A.J. Green and Co., have a big assignment Sunday.
Geoff, thank you for giving us all great coverage and analysis of the Cincinnati Bengals. You do a wonderful job! My question is what do you think it's going to take for the Bengals to have a chance to win against the Seahawks and further more, to make another playoff appearance this season? I imagine the one game at a time is the politically correct answer, but I think this roster has the potential not only to make the playoffs, but to go deep into the playoffs, just as long as their key players can stay relatively healthy and that they limit the self inflicted mistakes (penalties).
If this team continues to grow, become more disciplined in their play I have a real good feeling that the post-season could be a very good one for Bengal fans. Yes I know I'm getting ahead of myself, but I'm just trying to see what obstacle would keep them from advancing. Your thoughts? Jeff Holmes, Elkville, IL
JEFF: Thank you for the kind words and I agree with you. Knock on wood. This club has a chance to go places if this is the team they have in January. Knock on wood.
If they can beat the Seahawks, that would bode well for the rest of the way because that means they run the ball for between 110-120 yards, don't turn it over, and have a handle on the running game defensively so it opens it up for their fine pass rushers. To beat Seattle, they have to both run it and defend the run because the Hawks are just as formidable up front as the Bengals and if the Bengals struggle at something like 3.0 yards per in the run game, it's a long day.
Of course, the Hawks have to be thinking the same thing and they have to have more of a concern because their offensive line is last in the NFL when it comes to giving up sacks per pass and the Bengals pass rush that has 11 sacks has to be foaming at the mouth. But only if they stop running back Marshawn Lynch and it sounds like he'll play Sunday after head coach Pete Carroll said he looked good in the Monday Night warmups.
The other key thing is how the Bengals receivers perform against Seattle's Legion of Boom secondary. What has separated the Bengals early is how other teams have failed to cover their plethora of weapons in the secondary. But Seattle is loaded back there. According to profootballfocus.com, the Hawks' two safeties are ranked in the top 12, Richard Sherman is the fifth best cornerback and Walter Thurmond the 33rd best corner.
If A.J. Green and Co., can make plays against this group, they should win a lot more than Sunday. And they'll have to.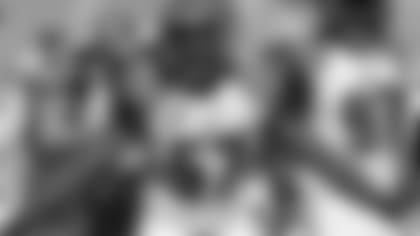 A reader casts an MVP vote for Vincent Rey.
Geoff I'm a Bengal fan in Colt Country. Great start for the team! Go Bengals. Curious about the contribution of A.J. Hawk and P.J. Dawson. neither seems to be making a difference. What happens when Burfict comes back? Even less playing time for someone. Vincent Rey is MVP at the quarter mile post. B Perdue, New Castle, IN
B: My guess is when Burfict comes back that Vinny moves over to SAM. Hawk isn't going to be much of a factor in a passing game, which it has become in three of the games either because of the style or the score. Dawson probably gets more time as the season goes on, but he's not going to see the field all that much as a rookie because he's playing WILL backing up their two best backers, Rey and Burfict.
As for Hawk, it depends on the game. He played a ton against Baltimore and helped stop the Ravens on two yards a carry. But with the Chiefs trying to get running back Jamaal Charles and tight end Travis Kelce in space   with 48 passes, Hawk only played seven snaps. Not his game. But he should get plenty of snaps against Lynch this Sunday.
I'd say you got a lot of MVPs on defense and Rey is certainly one, but how about Geno Atkins and Adam Jones? And the team MVP has to be Dalton, right?
Geoff, great start to the season obviously. No one can deny AD is playing is playing at a high level and that has made all the difference. So, how do you see the roster shaking out when Tez and the rookie Ced are ready to return in a few weeks? Who do you see on the bubble at this point? Mike Pantano, Cincinnati, OH
MIKE: Still four weeks to go, so it's a little early because injuries we don't know about yet are going to play into it. I don't think you can necessarily say those two spots are going to come at linebacker and offensive line. When left tackle Cedric Ogbuehi becomes the ninth offensive lineman, I think they want to keep nine because that's the usual complement. And at backer, it probably depends on how far along Tez is because they may want to keep seven until he gets settled. I have to believe they also want to stick with nine defensive linemen even though three have been inactive each week. They seem to be pretty deep at receiver even though they're not dressing Greg Little and Mario Alford, but they won't cut Alford.  You're right, tough call. But injuries usually make the moves for you that late in the season.
Love reading your take on the questions presented. My question has probably been asked since he went down with the knee injury. Any word on Vontaze Burfict's progress? Can we expect to see him active for the Pittsburgh game? Phil Hays, Fort Wright, KY
PHIL: Thank you, Phil, and I wish I could answer that for you. But we don't see him in enough in rehab to get any kind of sense of where's he at in the time line. And even if we did, it would be just a guess. From what I have been told he hasn't had a setback and if he's seen around the locker room wearing a brace, it's normal at this stage.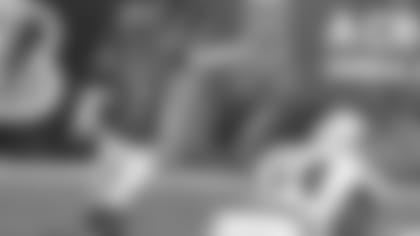 Mike Nugent looking to get back on track.
I realize we haven't really needed him yet with this amazing start we are off to, but- how much rope are they going to give Nugent? There's a big league wide trend now with moving kickers in and out. Thank you. Tim Kilmer, New Bremen
TIM:  I heard my man Paul Dehner Jr., of The Cincinnati Enquirer  on the Mo Egger Show today and when Mo asked him on a scale of one to ten how safe Nugent is, Paul said five. I'd disagree and say 7. Maybe 7.5. He's hit a lot of big kicks in the five previous years and he's proven he can come out of early-season slumps. Last year they gave him 17 tries (when he hit 11) before he hit 15 straight. So since he's only got five attempts so far, a lot of rope. Unless, of course he pulls a Scobee or something with a major implosion, but that's not his M.O.
**The Bengals are 4-0 and I can't be happier but I am worried about the run game. Did the team lose confidence in Hill after his two fumbles because Gio was the back on the field versus KC when the team was running out the clock and maybe it's just me but it seems that Hill runs better with a FB in front of him? Kenny Moore, Bluefield, WVA
KENNY: Well, they had Hill on the field enough in crucial situations that he scored three touchdowns inside the 10. And they entrusted the ball to him on the biggest play of the day when he ran in the two-point conversion to make it a two-score game with 11 seconds left in the third quarter. If they didn't have faith in him, they'd have somebody else on goal line.
I have two questions and love your input! People talk about Andy Dalton I have my issues at times with him but he is playing great and I seen flashes before but will it hold up in the colder months against mother nature and the cold and will chill factor in that's when arm strength gets expose and velocity ? Are you telling me Dennard can't beat out old man Leon Hall Dennards a play marker and shut down corner type Hall is a senior but it's time to see what he can do I that's that Marvin Lewis always sits guys only way to learn is on the job training? Sandy Cravens, Cincinnati, OH
SANDY: Thanks for the note. I think Dalton has held up just fine in the cold. He won one of the biggest games of his career in 35-degree weather in Pittsburgh in 2012 and has a 12-6 record in December with an 85.6 passer rating almost dead on his 87.1 career mark with 26 TDs and 15 interceptions. That old man you're talking about is having a nice year. Yeah, Hall is a different player now. He's a slot guy/safety type and they're not looking to get him matched up on down field guys. But here's a guy who is tremendous in run support, is physical in the slot, can mix it up with tight ends, and knows what everyone is doing. You're right. The coaches love Dennard and his time is coming. But you don't throw away guys like Leon Hall just because he's 30. I asked Lewis on Monday what makes Hall so valuable:
"He's such a productive guy, whatever spot he's in. He's also very intellectual with it. He can help the other guys with communication and if he ever makes an error, he's quick to correct it and move on to the next time. Those are things that when something presents itself the same way, he's going to be in the right spot and win that down."
Dennard will get there. But this stuff matters to the coaches and I think it shows up in games. I daresay he's had the two biggest tackles of the year, on the two-point conversion vs. San Diego and his third-down tackle in Baltimore at the 3 that forced a field goal.
Hey Geoff. Keep up the great work. Do you ever get the vibe that the Bengals commitment to the run sometimes makes them forget that they're loaded with playmakers elsewhere? I get the whole "we're in the AFC North.. got to be tough..weather is coming", but the Ravens game is a perfect example. After 1 1/2 quarters of nothing, they find themselves down and start opening it up again. Green bomb, Gio down the sideline, Jones one handed grab, Green again. It kills me that when it's finally crunch time, they magically start looking like the Greatest Show on Turf. Thanks! Troy Roach, Indianapolis, IN
TROY: Thank you to Market Square.
You're talking to the wrong guy. You know me, I want them to run the Wishbone. The reason Dalton is better, the reason he's hitting those playmakers is because they're running the ball and taking the heat off them.
He's better when this team runs at least half the time and he's not chucking it all the time. He's on pace to have his greatest year with his fewest pass attempts. Against Baltimore, the Ravens dared Dalton to pass and they stacked the run, so when they gave him the pass, he took it. But that's not always the defense or the answer.
Thanks for the opportunity. Appreciate your coverage of all things Bengal. With fan intensity increasing by the hour over our outstanding squad, what are chances the gates to PBS can open earlier than 1.5 hours before games? When the stadium first opened it was 2 hours. Most other NFL venues are at least 2 hours and some more. Would give opportunity to see pregame workouts and be more involved with the team. Always a line at opening now. Thanks. John Vincent, Ashland, KY
JOHN: Thanks for writing and for your interest.  I took your question to some folks down here and they said the number of fans that are looking to get into the game that early is not large enough to warrant opening up the gates. But it is something they always keep in mind for prime-time games. Again, thanks for taking the time to write.