Andy Dalton can't get sacked 41 times again.
Geoff, 41 sacks. 41 sacks. 41 sacks. I feel like that's all I've heard when discussing the Bengals this offseason. I love stats, but they can be misleading. 7 of these 41 were in an Opening Day Win!!! Call me an optimist, but I'm not worried about the O-line this season. I think the defense was much improved in the second half last year, and the offense, if healthy, is as dangerous as any in the league. With one of the worst schedules in the league I see us finally breaking through with at least 1 playoff win! Play devil's advocate for me and tell me why we won't. Keep up the good work! Mark Grayson, Anderson Township, Cincinnati, OH
MARK: Thanks for the note from Beechmont Avenue, Old Five Mile, and all things good. Love the optimism and I'm with you. I'm on record saying this offensive line is more talented than the one that underwent the last massive overhaul in 2009 and is surrounded by many more weapons than that crew that went 10-6.
But you can't lose a left tackle like Andrew Whitworth, replace him with an unproven guy, and not worry about it. I don't think this thing has been overplayed at all. OK, seven sacks in the opener, but the three sacks in the Monday night loss to the Giants in New York, the three in the loss in Baltimore, and the three in the tie to Washington in London were huge plays in games they were outscored by a combined six points and didn't get a win.
Huge plays. Three sacks is a key number. When they gave up at least that many, they were 3-5-1 last season. They gave up three sacks just three times in 2014, and were 0-3 in those games. In 2015 they allowed at least three sacks seven times and they occurred in three of their four losses. No, it's not the reason they lost but, as you know because you love stats, they don't lie. Sacks cut into your margin of error.   
All that said, I think Cedric Ogbuehi is going to play well enough to win and so is Jake Fisher. They're too talented and rookies like running back Joe Mixon and wide receiver John Ross give them another speed gear that should help.
But we can't stress it enough. Making sure Andy Dalton is sacked 21 times and not 41, 41, 41, is the difference between 10-6 or 11-5 and 7-9 or 6-10. Yes, he did get sacked 46 times in a 10-win season in 2012. But that's the only time in the last 26 seasons they've allowed at least 30 sacks and had a winning record.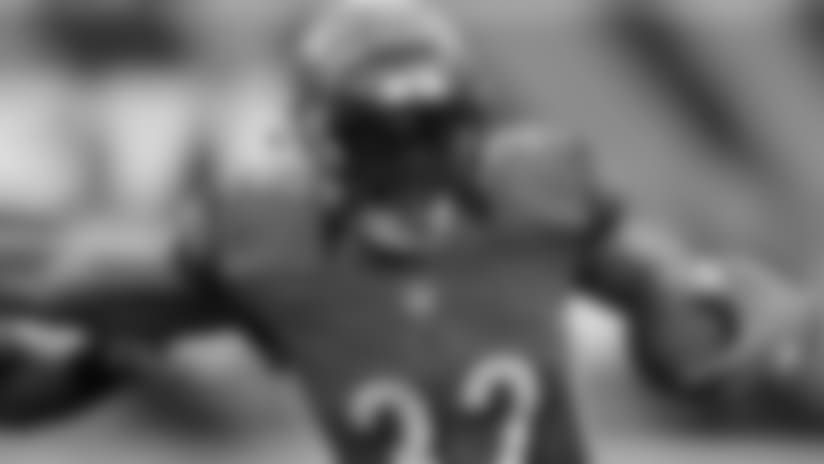 Jeremy Hill is still going to be a factor.
Hello Geoff, As always, thanks for all the info on the team! During the abyss that happens between the last workouts and training camp, one has time to wonder about how some situations will shake out with the team. My biggest question is what will happen with Jeremy Hill?
He has been invisible since Mixon was drafted, not seen or heard from and no one is writing about him, does he stick with the team for this season and what do you see his role being? As always, I appreciate you taking our questions and, if you want answers, you have to go to the best source! WhoDey soon! Jeep Wilson Landen, Ohio
JEEP: Thank you very much for your kind words. It's a good question, but I don't see Hill going anywhere in this the last year of his deal after head coach Marvin Lewis' fiery defense of him during the offseason. They could have got a late-round pick for him on Draft Day if they had anything afoot.
There's just too much talent there. Hill is going to be far from invisible, at least at the start of things with Giovani Bernard coming off of ACL surgery and second-rounder Joe Mixon learning the ropes. So he'll be busy early and with 29 TDs in 47 career games, Hill figures to always be a presence inside the 5.
Hill is in his contract year and big things are projected for Mixon, but the best guy plays. If it's Mixon I don't see Lewis waiting ten games to play Mixon like Corey Dillon had to wait behind Ki-Jana Carter 20 years ago. But I also see Hill being more of a factor than not one. After all, he's the only 1,000-yard rusher on the roster.
Greetings to my favorite Bengals sports writer. My question is in regards to playing time for the young Bengals secondary. The organization has invested a lot into the CB position (3 1st round picks in last half decade), but I feel as though their preference for starting (declining, league average) veterans has led to a significant stunting of their development.
Kirkpatrick almost never came along after sitting behind a trio of 30-somethings. Now, I feel as though Dennard and William Jackson III are going to rot on the bench behind a declining Pacman, and may never reach their fullest potential. Even, if Pacman manages to give passable coverage this year, he still doesn't represent the future of this team, and we still will be starting over in 1-2 years without knowing whether we have any long term options at the CB position or not.
So, will the youth movement this year, extend to the secondary? And why does Marvin and company believe it to be in the best interest of so many first round draft picks to sit out for 2 years upon joining the league? Jeff Jeffries, Dayton, OH
Look for William Jackson to get a bunch of snaps this year.
JEFF: Thank you for the note. So you're the one guy.
I'm going to play devil's advocate here and argue that Adam Jones isn't declining sharply. He may have been beaten on a few more plays last season, but profootballfocus.com still had him for allowing just two TDs all last season and, like the rest of the secondary, he played much better over the course of the second half of the season.
Now, yes, he turns 34 the day they travel to Cleveland this year and Jackson showed oodles of talent in the spring. So you could see a scenario where Jones gets more rest while they spot Jackson Jones' snaps as they ease him into a position that eventually is his opposite Kirkpatrick. And there's no question that Darqueze Dennard -Josh Shaw is a battle in the slot. The fact they've decided to exercise the fifth-year option on Dennard shows they believe he can be the guy. But I also don't think Jones and Shaw are going to be relegated to back-up duty. I just think you'll see more guys in more situations as they look to play the youngsters more.
I don't think Lewis and his coaches are much different than the rest of the league. They like those steady vets because they know what they're going to get. And I think you have to cut them a break in the sense that injuries to Dennard and Jackson have been a big factor in them not playing as much as they would have and with the way Kirkpatrick and Jones were playing in 2015 it was just flat-out hard to play anyone else.  Think back to 2015 and Dennard was finally playing in the slot in place of everyone's favorite, vet Leon Hall, until he suffered a season-ending shoulder injury.
You make an interesting point, though. To me the most challenging coaching task for a contending roster is deciding when to go with the kids and finding out if they can play, or to stick with the vets.  You could argue they never figured out how to do it at left tackle and now they really don't know what they've got with Ogbuehi.
But how soon they forget.
Do you remember what it was like around here when they were throwing rookies like Artrell Hawkins and Charles Fisher and Mark Roman out on the corner and they just weren't ready? And how many rookie corners have we seen A.J. Green and Chad Johnson just destroy down through the years. At corner? You're in good shape when they don't have to play that first year. In my mind this club started turning it around in 2006 when it started drafting corners in the first round. I hope they draft one in the first round every other year.
With the addition of Mixon and Hill on a contact year do we see a battle of three down backs? Also I believe Gio comes back just as good like in college, he bounce back right away. Which leads to my question can we have three starting level running backs? In the past we had Hill, Bernard, Peerman, and Burkhead, but this could be the best group of backs in history here in Cincinnati. Thanks for your time and always love your articles. Mike Hogel, Lebanon, Ohio
MIKE: Thanks very much for reading and checking in. Sure, you can have three starting-caliber guys but they're not going to all get a starting number of snaps. This thing is going to evolve with a lot of factors. Gio is coming off the ACL, so Mixon probably starts off as the third-down back. But Mixon is also learning the offense and the pro game, so Hill is going to get some carries.
Then things are going to develop as Gio gets healthy and Mixon gets more comfortable. What does that mean for playing time? Let's see. But on paper I see a lot of split time until someone emerges between Hill and Mixon. Certainly you'd think Jeremy is going to be a factor on the goal line and short yardage all year, so I think all three can flash in their niches.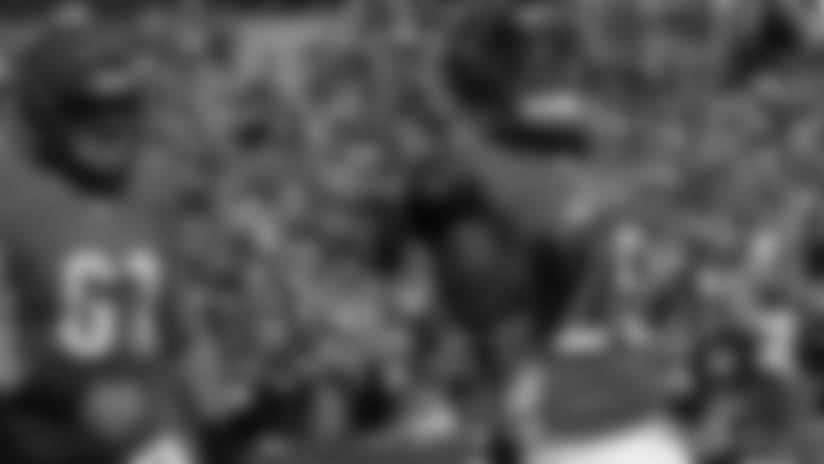 Giovani Bernard looks like he'll be fine, but they'll ease him in.
Geoff, Hope you're having a great summer. With all the talk about the top 50 all-time Bengals. I think Duke Tobins needs to be on this list. He has been a key figure in turning this franchise around. Looking ahead have the Bengals and the city looked into extending the current stadium contract? It does expire in 10 years. I want the Bengals to have another 50 years in southern Ohio. Maan Aboulhosn, Titusville, FL
MAAN: The summer (and JBJ, Mookie, Bogarts, Sale and all the Bosox) has been good. Thank you and back at you in the native land of Cris Collinsworth. You're right about Duke, although the top 50 is reserved for players.  He's definitely a guy for The Cincinnati Enquirer's list of top 50 influential figures in Bengals history.
 The run from 2009 to the present represents their winningest decade ever and it coincides with Bengals president Mike Brown's decision to put Tobin in charge of the draft room, and that's about when they started drafting by talent instead of by position.
It also helped that coaches like Lewis, Mike Zimmer, Paul Guenther, Bob Bratkowski and Hue Jackson were here long enough with the same systems and player prototypes that they were able to draft pieces for a scheme instead of scheming with pieces that didn't always fit.
Appreciate the stadium question, but it's just too early to even think about that. I mean, I'm sure the Brown family is more immersed right now in getting a Super Bowl title out of the Green-Dalton era than anything else and according to A.J., that's got seven years left. All indications are the Bengals are going to be here for the 75th anniversary, but let's get through Green-Dalton first.
Do you expect the defense to dominate like in years before and or be more improved, or will there be spots the team will struggle in? Christian Parker, Urbana, OH
CHRISTIAN:  I do think you'll see the Bengals defense return to make a run at the top ten, where they finished four times in the five years between 2009 and 2013. Under Guenther they've been very stingy when it comes to allowing points and this is the fastest and most athletic they've been under his watch.  The defense is going to have a big year for them.
 I don't see them getting shredded like they did in Dallas when they looked old, or not being able to run with people like the Patriots caught them flat-footed in Foxboro.  And I don't see them getting mixed up in the secondary like they did early last year against Pittsburgh, Miami, and Denver with coaches and players in at least their second seasons in the same spots.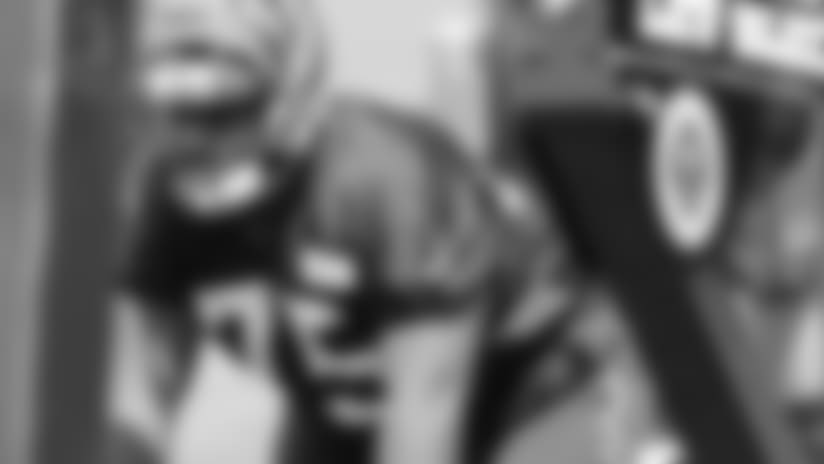 Andrew Billings says he's ready to go.
Do you have an update on Andrew Billings? What are the expectations for him going into camp? It seems between him, Lawson, Willis and WJ3...their defense just got younger and much faster. Chris Troutman, Richmond, KY
CHRIS: You've got that right. That was the goal for this season and you'd have to say the computer would say they are. Too bad you can't line up stop watches against the scoreboard. But, yes, they're younger, faster, more athletic. Billings, who suffered a season-ending knee injury in last year's training camp, pronounced himself 100 percent back in the spring and he'll get every chance to replace Domata Peko at nose tackle.
Hi Geoff. Hobson's Choice is something I refuse to miss. I'm interested in Christian Westerman. Are the Bengals still high on him? Coming out of college they said he was a physical beast but he was also good in space with quick feet. But he never made the field. Is there some part of his game they want to improvement at? John Belanger, Fairfield, OH
JOHN: Thank you for your diligence. Yes sir, they're still fans of Westerman and I think he's a guy to watch in camp this year simply because NFL coaches believe the biggest improvement comes between year one and two. Like you say, he moves well, but I like his mindset. He plays with a nice mean streak and he's got a rep for taking no guff in practice.
Geoff always enjoy your opinions on everything Bengals. I would like you to analyze Marvin's and the coordinators Zampese and Guenther's coaching styles. Are they system coaches that coach their players to fit into their offensive and defensive schemes in their play books? Do you think these three coaches every year/game adapt their offensive and defensive schemes to best utilize their player's unique strengths and skills?
Or do you think Marvin, Zampese, and Guenther coaching styles are a combo of both? My opinion is they focus a lot more on coaching players to adapt to their schemes. I think the main difference is the great coaches like Belichick (McDaniel and Patricia) are more flexible and are constantly making adjustments to their schemes to take advantage of their players' strengths and unique skills every week. Unfortunately this just isn't the coaching style of Marvin, Ken, and Pauley! T.J. Ross Cincinnati, OH
T.J.: Thanks for checking in and for the interesting question. It's unfair, I think, to discuss offensive coordinator Ken Zampese in that forum because after one year as a coordinator he really doesn't have a track record and the one year he had is such an outlier because of injuries to the quarterback's top three targets: A.J. Green, Tyler Eifert, and Giovani Bernard.
I think nowadays, in large part because of Bill Belichick, system coaches are a dying breed. Talking about Belichick, by the way, is like talking about Paul Brown in 1952. Both coaches were decades ahead of their peers.
Everything now is about matchups and versatility. The dawning of the new age came in the Pats-Rams Super Bowl, the third one played in this century where Belichick used cornerbacks like safeties and linebackers like safeties and rushers in helping transform systems into a mix of niche players plugged into situations.
Bengals defensive coordinator Paul Guenther broke into the NFL about the same time and cut his teeth on NFL defense under Bengals defensive coordinator Mike Zimmer, a guy that introduced versatility into Bengaldom with nickel corner- safety Chris Crocker, outside and slot corner Leon Hall, end-tackle Wallace Gilberry, and cover linebacker Brandon Johnson.
Guenther and Duke Tobin have taken the next step in the last three drafts when they've chosen such versatile players as corner-safety Josh Shaw, linebacker-rush end Carl Lawson, cover linebackers Nick Vigil and Jordan Evans, and end-tackle Marcus Hardison. Guenther has also tinkered with three safeties with Shawn Williams' size and mobility in use against tight ends.
So that seems to be the system for defenses in the age of multiple pass offenses where running backs and tight ends and receivers are all damn near interchangeable. Finding niches for situations. Guenther has been able to fit some guys and other guys, like Hardison, are blank slates because of injury.
Lewis has adjusted in his 15 seasons from a managerial standpoint. In the post-Chad era he's put up with less histrionics. Think about it. Whenever there was a controversy in the league in Lewis' first few seasons, the Bengals were leading the parade.
But in the last several years they've been submerged under the radar while other locker rooms have been expounding on everything from Colin Kaepernick to contracts and holdouts to frustration over play calling. When's the last time a Bengal publicly moaned about not getting the ball? About a decade ago that used to be a weekly staple. You knew it was 4 p.m. Sunday if someone was ripping the play calling. But no more.
 Lewis has also let his veterans have a bigger sway in policing the locker room compared to the early days when he urged the players to stay out of it. He's also done a terrific job of evaluating in each offseason how to get a particular team ready because every year each team is different. The 14-7 record in September in the Green-Dalton Era reflects that Lewis has been quite effective in his planning and preparation.
There was a time, too, early on when Lewis tried to keep on his defensive coordinator hat and why not? He was an excellent one. But he's evolved into more of an overseer there and it's working pretty well because this has been a team led by defense for the last nine seasons.
He's a different coach than he was ten years ago and most of this stuff has translated into wins considering that six of his last eight teams have made the postseason.