The readers wage concern after 43-17: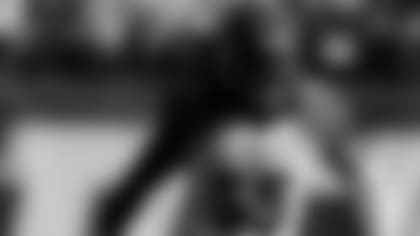 The return of Vontaze Burfict will help solve some run-game issues.
I have 2 questions. 1. How can we be considered contenders when we have not beaten the Broncos, patriots, or any other contender consistently? 2. What do feel are our chances going forward to be a top seed, and what are our biggest internal and external problems? Cory Vandeloo, Sheboygan, WI
CORY: You'll have to ask the pundits that one. Everyone's power rankings pretty much had the Bengals ranked over everyone in the AFC until Monday night and if you looked at it on paper, they were right.  A team that has made the playoffs three straight years with so little change in its roster should be considered a contender.
The Bengals challenge continues to be to translate their talent on paper into performance on the big stages. So they won't have to worry about the power rankings for a while, but there is a vacuum on top of the AFC that they have a chance to fill if they play every game like it's at 1 p.m. at Paul Brown Stadium.
I'm not sure I'd break them into external and internal problems, but here are the major issues facing them:
They've got to become stingier against the run, where the injuries to linebacker Vontaze Burfict and defensive tackle Brandon Thompson have hurt them. Pro Bowl defensive tackle Geno Atkins is not yet back to his dominating form in the pass rush off ACL surgery and they'll have to find a way to get more pressure inside.
Offensively, losing two of their four top pass-catching weapons in wide receiver Marvin Jones and tight end Tyler Eifert has caught up to them. That's a tough thing to weather for a long stretch. You're losing 10 touchdowns per game without Jones and the level apparently drops off after A.J. Green and Mohamed Sanu because they don't look for the guys behind them. Just look at third down, where they are dead last in the NFL after going 0-for-7 in New England. Although the sense is rookie James Wright will grow into a solid contributor at some point, he's not ready now.
The other thing they have to get figured out is how to use the running backs because they've got to be more consistent running the ball. Their 3.7 yards per just isn't going to cut it.
 It looks like they're at their best when rookie Jeremy Hill goes between the tackles and Giovani Bernard hits the perimeter or gets loose on screens and short passes. At the moment, they're using Bernard for the bulk of the carries, but they may be better off making the 6-1, 230-pound Hill the bell cow with 15-20 carries while getting Bernard all kinds of touches around him in the run game and pass game. Gio was terrific Sunday night. He is all out all the time. I actually think he may be even more dangerous with fewer snaps and touches, but in more space.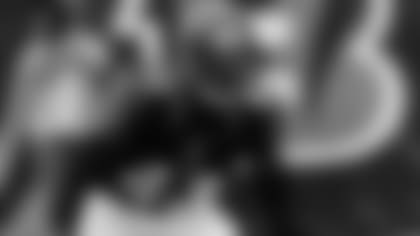 Safety George Iloka has made some plays this season.
Butch, Seems to me like the defense has a rising star in George Iloka. What is your take on his season so far, and do you get the feeling that the coaches feel the same way? Also, I notice a lot of writers talking about Emmanuel Lamur wearing the QB helmet on defense during the Patriots game. I saw Vinny Rey wearing it for the majority of the game after that first drive. Did you notice the same thing. I can't wait to see Vontaze Burfict play again. He brings an attitude to this defense and the team overall. I'm sure 100% of Bengals fans feel the same way. Thanks for keeping us informed and love your writing. Sean Walls, Huber Heights, OH
SEAN: Thank you for the kind words and I do get the sense the coaches think they've got a fine player in Iloka.  He didn't play all that well Sunday, but, really, only a couple of defenders did, like Carlos Dunlap, Wallace Gilberry, and Robert Geathers.
Lewis always defended Iloka in the offseason when questioned about his inability to generate turnovers and his confidence has been rewarded this year already with two picks and four passes defensed in the first quarter of the season after last year he had no picks and eight passes defensed in 16 games. Certainly profootballfocus.com would agree with you. Going into the New England game they had him as the highest graded player in the secondary, ahead of some fine corner play.
Two players are allowed to have the radio helmet, but only one can wear it on the field and it appeared that Lamur had it in the first quarter and then Rey got it the rest of the way. Both wore it the game before against the Titans and as we noted Monday, Lamur used it to quarterback the 33-7 win over Tennessee.
But Tom Brady's no huddle set isn't exactly Jake Locker looking at you. It looked to me like they thought Rey was going to end up playing more in the nickel than they thought so they gave it to the veteran Rey. It's not so much an indictment of Lamur, but the circumstances he faced.
Hey so after another prime time collapse, do you see us doing anything in the playoffs this year? Also, why is Brandon Tate still on the team? What value does he give us? I feel he never gives us good returns, always making bad decisions on returns, fumbles the football and does not do anything for us as a receiver. I just feel he is a wasted roster spot. Thank You.  Spencer Adams, Columbus, OH
SPENCER: Right now, they're just trying to get to the playoffs. When you play in the AFC North, every game is a playoff game. That's why all the fuss about the Patriots was ridiculous. They can win the AFC East in an ambulance, get a home playoff game, and, as Bengals fans can certainly attest, anything can happen in the postseason and usually does. Let's wait a month, please, before we start talking playoffs. The Bengals don't get on a plane again until the week after the Nov. 6 Thursday night game against Cleveland. Let's see the landscape then.
I'll keep saying it. They are built to win in the playoffs. But when they play some of their biggest games, they look like their re-building.  
Tate is back there because of his reliability and not because of his explosion. He's supposed to make good decisions and not supposed to fumble. When you don't light it up, that's what you have to do.
In his fourth season with the Bengals, Sunday night's was just the third fumble Tate has lost while handling more than 220 punts and kicks. And while it seemed strange, head coach Marvin Lewis defended his decision to run out the one Sunday night that ended up in a New England touchdown.
To be fair, Tate has won more games than he's lost and he usually makes decisions to keep them out of harm's way. And he does have a 50-yard catch this season (from Sanu), so I wouldn't say he's a waste.
The one thing they do have to look at is not kicks, but punts. They have to consider making Adam Jones the full-time punt returner and if that means running rookie cornerback Darqueze Dennard into more third-down snaps, so be it. They think Dennard is going to be an excellent player and that may be the perfect way to get him more snaps. I mean, Jones is a weapon with the ball in his hands.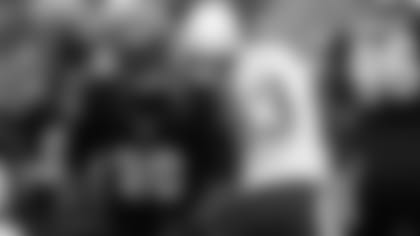 Brandon Thompson played hurt in last year's Wild Card Game.
After such a frustrating game, it's hard to choose one question to ask. How about the run defense? Over the last 5 years, it seems the run defense disappears in big games. Notably, all of the playoff losses and of course this game, fresh in our minds. Do we need personnel changes? Will Burfict and Thompson fix this? Is Pat Sims still in the league? Hoping we don't see our D line get pushed around like that again anytime soon. Thanks. Blake A. West Carrollton, OH
BLAKE: Nice call on the run defense imploding in big games. From the 2009 Wild Card Game, when the same Shonn Greene they held to 33 yards on 10 carries two weeks ago ran for 135 yards, to last year's Wild Card game when the Chargers put up 196, it's been a problem. On Sunday night the Pats went for 220, one fewer than what the Bengals gave up in the last game of 2011 to the Ravens, which was a must game until the last few seconds when Denver lost to Kansas City to put the Bengals in the playoffs.
It's a heck of a question. But what personnel changes can you make at this late date beyond a waiver wire pickup? Looking at Sunday night, it's pretty clear the injuries to Burfict and defensive tackle Brandon Thompson were a factor. Burfict makes sure they get lined up and that was clearly a problem early. There was also some stuff that was inexplicable, such as Leon Hall, one of the best tackling cornerbacks in the league, missing three tackles, according to profootballfocus.com. That never happens. He had four missed tackles in all of 2012, his last full season.
But the answer can't be Sims. Alas, he played 39 percent of the snaps for Oakland in the last game before the Raiders bye last week, a 38-14 loss in which the Dolphins rushed for 4.5 yards on the way to 157 on the ground.
And Sims is a good player, but they drafted Thompson in the third round to replace him and he's proven to be very good and very tough. Part of the reason San Diego ran the ball so well in last year's Wild Card Game is that Thompson played 75 percent of the snaps despite an ankle problem. And now, two-time Pro Bowl defensive tackle Geno Atkins is still trying to find himself off ACL surgery.
Buy why in the playoffs and on the big stage and they're the Steel Curtain at PBS? Defensive coordinator Paul Guenther is aware and, like you, he's searching. Here was his answer when he was asked Monday if he was surprised how the defense responded to adversity.
"It's something I think we need to work on, for sure. Something I think since I've been here in these types of scenarios, how are we going to handle adversity?" Guenther said. "Are we going to step up and are we going to continue to make mistakes whether on the front or the back end. It's something as a team, at least as a defense on our end, we have to work on that. There's no question. Look over the course of our history here at least over the last five years we haven't handled it real good. That's something I got to figure out around here." 
Why do the Bengals continue to defer after winning the coin toss when since 2011 they score points 33% of the time starting the 3rd quarter with the ball vs. scoring 56% of the time when they start the game with the ball? It can't be that windy out there. Karl Wietlisbach, Cincinnati, OH
KARL: I'm not sure numbers come into it. I think it's more of philosophical mindset. Since '11, this team's centerpiece is defense. They have so much confidence in their defense that it will start off the game big and get them in good field position. Then you get a great chance to set the tone in the last 30 minutes when you get the ball at the start of the second half. I appreciate the numbers, but except in the major cases of weather or injury, the coin-toss decision is more intangible than tangible.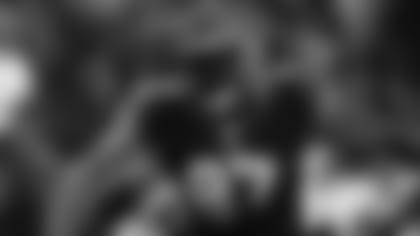 Geno Atkins is looking to regain his Pro Bowl form.
Please evaluate where Gino Adkins is in his recovery from injury and how long it will be before we see him back to the explosiveness he had pre-injury. Jay Issler, Cincinnati, OH
JAY: The numbers and the tape would say Geno Atkins is not his dominant self yet and I don't think anyone knows when he will. The trainers always say it takes a guy two seasons to be fully recovered from an ACL. Both Lewis and Guenther were asked about him Monday and they think he's improving every week. But he's not the Pro Bowl Geno yet.
Now that the team has two really good running backs. I feel like they need to put more effort into running the ball. When the game started out the way it did if they could have slowed things down and used both backs in the backfield maybe the game would have been different. I like starting with Hill and then using Bennard, what is your thoughts on this? Steve Bowlin, Galion, OH
STEVE: These are two good backs and both of them have to get their touches. Don't worry, offensive coordinator Hue Jackson is going to make sure they run. But there is no better defense against your run game than being down 14-0 in the first 12 minutes.
 They still ran it 13 times (quarterback Andy Dalton had a scramble) compared to 11 passes in the first half despite the 20-3 half-time deficit and that's the right idea. But they had to throw it in the second half.
I like your idea of using Hill more, I'm just not sure when matters. He seems to be the ideal fourth-quarter closer after Gio helps get you the lead, but I think they're more effective in a tandem.
 Hi Mr. Hobson, I love reading your articles and have been for the last 6 years...I have 2 questions. The 1st is bengals coaching...do you think although they do a great job they are overmatched when it comes to elite teams especially in prime time/playoff games? The second is I feel if the bengals don't win a playoff game this year or make the playoffs what happens to marvin lewis? Kevin Bradshaw, Brooklyn, NY
KEVIN: Thank you to the land of Jackie Robinson and the Happy Days Diner.
It's hard to tell when you get outcoached or when you just get your butt kicked. I know the Green-Dalton Bengals have a 2-8 record on prime time and in postseason, but I also know their coaches have won enough big games to get to three straight postseasons in one of the NFL's toughest divisions. I also know the fans' frustration when they see a team caught flat-footed in the big moment. How many times have they been so jacked up for a prime-time game and by the second quarter they're watching "Pawn Stars?"
 Everyone has to have a hand in the criticism. Coaches and players. This is the same staff that held Tom Brady to one of 12 on third down and no TD passes last season. (Guenther was Mike Zimmer's third-down specialist.) It's the same staff that dialed up a touchdown bomb in the last five minutes to win this season's opener in Baltimore, a place where no one had won in six Septembers, for one of the biggest wins in the Green-Dalton era. Last year they were one of only two teams that finished in the top ten in offense and defense, so I'm not sure you'd call them overmatched.
Lewis is signed for next year and that has always meant he's coming back. But then, this is a different landscape than his previous 11 seasons. The expectations have never been higher and the roster has never been riper as Green and Dalton play their fourth seasons. Overall he's done a good job getting them to 3-1 at the quarter pole and the sense is they'll be in the hunt all the way. You really don't know until it ends, but as long as it doesn't end ugly, he should be OK.
It's like Supreme Court justice Potter Stewart, Cincinnati's own, said about hard-core pornography. It's hard to define, but "I know it when I see it."