Will wide receiver Greg Little see a roster spot?
Hi Geoff . Greetings from the desert! Always enjoy your insights into the inner workings of our beloved team. I see from today's cuts that Denarious Moore is no longer with us. Kind of bums me out I was hoping he would stick. But now since it has happened do you see Greg Little getting onto the 53 or do you see a young kid like Jake Kumerow sliding in? Or is this just smoke and mirrors and neither make it? Your thoughts? ( by the way, my oldest son and I will see you guys in Glendale sporting our best bengals gear when we play the cardinals!)  Bob Monbeck, Tucson, AZ
BOB: Thanks for the kind words. We'll be looking for you and maybe Carson will, too.
I think the receiver position could be the most volatile on Cutdown Day in the sense they may get a guy off waivers or they could go with just five receivers.  After all, you've got wide receivers in running backs Rex Burkhead and Giovani Bernard, as well as tight end Tyler Eifert.
But I still think they go with six. If last year proved anything, you can lose wideouts fast.
I guess we're trying to figure out who they keep beyond The Big Three and rookie Mario Alford. My sense is that Brandon Tate lives.
No one has emerged yet behind Adam Jones to return punts and Tate does all the proper things. They like Kumerow and would love to develop him, but I can't see them keeping two rookie receivers. Little has shown his inconsistency this preseason and you'd think they might be looking for someone more effective on special teams. But he does have experience.
Interesting. Let's see what happens in Indy and then on the waiver wire.
It's time for cuts, and like you say, many of the first cuts are quite obvious. That leads me to ask about the motivation of players who almost certainly must know that they are "camp bodies". I can imagine that the coaching they get would look good as they pursue their own coaching jobs. But what else motivates them to endure the grind of practice in the summer heat? BTW, I greatly enjoy reading your perspective on the many issues that arise before, during and after the season. Joe Ross, Eugene, OR
JOE: Thanks for the note. We all have that same drive. It might not be in pads or August, but it's the idea of pursuing a life-long dream. Plus, this is the league of you-never-know. The idea is to get on tape during the pre-season games and if you're a camp body in Cincinnati, maybe you're a practice squad player somewhere else. The lure of the practice squad is big, too. About 6,000 bucks a week. We'd take that coming out of college, right? And the guys on this team just have to look at Vincent Rey and Emmanuel Lamur to know the practice squad can lead to a roster spot. You never know.
Hi Geoff, my question has to do with Terrell Watson. How can they not keep this guy? He looks like Jeremy Hill Jr. If Hill goes down we don't have a back that can carry it 280-340 times. Geo isn't durable enough for those kind of carries and not sure if Burkhead is either. That leaves Pearman who shows flahes of being a decent back up but seems to lack something the other three have. I know he is a special teams captain and very valuable to the team. So my question is do they keep Watson and carry one less receiver with Burkhead playing both or try and trade him because there is no way he doesn't get picked up off waivers. Thanks for your time and keep up the good work. Brian Hogarth, Springboro, OH
BRIAN: Thanks for reading. You're right about them not having a bell cow behind Hill, but they could certainly piece together enough carries among Burkhead, Bernard, and Peerman to get those carries. But I guess it would come down to how long you didn't have Hill. You could do it for a month, but beyond that? I don't see James Wilder, Jr., or Terrell Watson making the club, but I could also see them getting claimed if they try to get them to the practice squad. I would imagine they'd like to get both on the squad. It's virtually impossible to make a trade with a guy like Watson, an undrafted rookie that figures to get cut. The sense is they think Peerman is too valuable to lose on teams.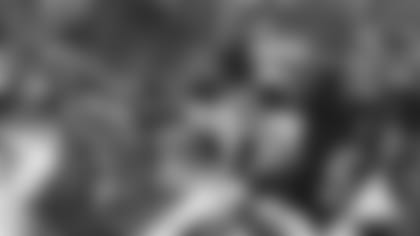 AJ McCarron is flashing all the right moves at backup QB.
Geoff, Good to see the Bengals bounce back. I bet you're gonna get real sick of AJ McCarron fans wanting to dethrone Dalton. I wasn't a believer until the Bears game. I noticed two things he has over Dalton. He seems to have a more fluid trajectory on deep passes allowing him to get the ball over the defenders and into tight windows. He also has a calmer pocket presence. Dalton has better wheels and more experience. (hated the QB sneak call by the way, whatever happened to the easy fade to Green??). I would imagine you and I could agree that the receiver depth looks good all the sudden. I actually like Little a lot this year I think Hue's system just clicked for him. What do you think is the biggest position concern for depth now that we've seen some action. LB is my main concern, all our guys look like they really struggle to cover receivers. They don't look fast enough. Shawn Bosse, Austin, TX
SHAWN: I've got a lot of admiration for McCarron and I think he has responded in his first training camp as well as they could have hoped. But I think we've got to be careful here. McCarron is developing and Dalton is in his fifth year and the training camp practices showed that every day. Don't forget Dalton's throws from the other night. He threw two seeds to Burkhead, the last one a great deep ball where only Burkhead could catch it. No question, McCarron hung in the pocket and took some hits making some nice throws. But Dalton has taken his shots, too, and he will come the regular season. You're right, though. McCarron looks like a guy that belongs in his current role and, eventually, maybe more if he keeps developing.
I didn't like the sneak just because it puts the QB at risk in a game that means squat, but I like it better than the fade. Maybe the fade on first, second, and third, but not fourth. But, it's preseason. I'm sure they're saving some stuff and don't want to show everything.
They're in pretty good shape, although they seem to be a little thin depth-wise on the offensive line and receiver, but the line gets a lift when first-rounder Cedric Ogbuehi comes back Oct. 19. Hate to disagree, but I think that's the one thing they can do at backer is cover with fast guys like Vincent Rey and Emmanuel Lamur. The one thing they don't have is beef and if you add 240-pounder Chris Carter as a pass rusher, that's another fast guy for the nickel package. Rey Maualuga and A.J. Hawk have proven they can stand up to the run on first and second down, but there's not a lot of depth vs. the run.
But if we're talking about issues like this, yeah, they're in pretty good shape.
 I've heard Dalton is not good enough to win any big games or the super bowl. Do you think the Bengals game plan would be to run hill and gio 25-30 times a game,and keep Dalton to under 25 passes ? I think Dalton is good enough to win the big ones but he can't take a game on his shoulder and win. Josh Redman, Erlanger, KY
JOSH: I think you've described most of the starting quarterbacks in the NFL. There are only a handful in the league that can carry you and win with their arm: Tom Brady, Aaron Rodgers, Andrew Luck, Drew Brees,  Ben Roethlisberger and Joe Flacco. Carson Palmer could do it 10 years ago, not now. The Mannings now look like they need plenty of help.
So, I agree with you. I think Dalton can win it using the people around him. People are sick of hearing it here. But, I repeat, Dalton is at his best when he's a point guard throwing out of different formations to different receivers and handing it off to Jeremy Hill and Giovani Bernard. Not sitting back there in seven-step drops gunning it off his back leg. You only have to look at his two series at PBS in the preseason, when he was 12-for-12 on two TD drives and one of the balls went to A.J. Green.
Russell Wilson is more athletic, obviously, than Dalton. But Seattle has the same concept. Run the ball, don't turn it over, and don't put too much on the quarterback. And they should have won the last two Super Bowls with their running game and defense. Sound familiar?
Mr Hobson I'm a life long Bengal fan and I have not missed a game over the past 30 years. With that being said do you think the fans of the Greater Cincinnati area appreciate the team more now than they do back when they weren't winning? The reason why I ask is that they show little class at booing their QB at public events. Or they trash his yard until he ask for a trade. I think they have short term memory loss and need to support the team no matter what happens. I would like to know your thoughts on this as well? Scott Norris, Fort Myers, FL
SCOTT: There are no better fans in the NFL than Bengals fans. The good people of Bengaldom have survived the toughest of times to pass on Who Dey to the next generation. You can see it in the stands with the Chad Johnson jerseys mingling with the A.J. Greens and the Jeremy Hills. Their perseverance shows the hard core are as committed and as appreciative as ever. You just have to look in the mirror. There are more of you than you think.
There's no question we live in a different time than the one 30 years ago. Snark and downright rudeness are now celebrated and you can get it on your phone or iPad in the click of an instant. Go to any city and somebody is getting booed. If George Washington was covered by cable news, he would have been impeached after the Whiskey Rebellion. It is just the times.
Love reading your articles and your answers to all of us fans questions keep doing what you do and thanks my question is With all these receivers like Dez, Thomas and Julio getting contracts for around 70 million how long until we see AJ get his extension since we know what the going rate seems to be. Curtis Carpenter, Middletown, OH
CURTIS: Thank you and good to hear from you again. We're in that annual weekly window when the Bengals dole out a handful of extensions and it would be a surprise if they couldn't eke out one for Green. There are more issues at play than the total money, which looks to be set at $14 million per year. There is the guarantee and how it is paid, but you would think with three comparable receivers (Bryant, Jones, and Demaryius Thomas) there are enough blueprints to get something done. The question. Will the sides keep talking if it's not done before the season?
I hadn't seen much about Burfict, how has he been coming along? Joe Kirby, Temple, TX
JOE: Bengals head coach Marvin Lewis promised he wouldn't deliver daily updates about Tez, which meant he wasn't going to talk about him at all.  And he has gone through the entire preseason succeeding.  Since Tez has yet to practice, the belief is he'll start the season on the physically unable to perform list (PUP) and not be eligible to practice until the Bengals' bye week Oct. 19.
All the media has seen him do is jump through a few hoops on the rehab field and that's it. I don't think anybody is going to know how he is until Nov. 1 against the Steelers.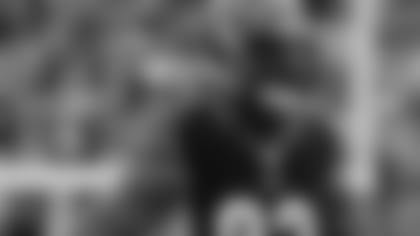 Michael Johnson should make his return some time in September.
Geoff, As always, loving the literature & the insight into the Bengals. I've tribes all over & love (even now, sojourning in the south of Steeler country) that I can get such great Bengals info. Anyway, with the emergence of talent on the DL, including LB Chris Carter, what do you think the chances are ML uses the Injury-designated to return on Michael Johnson, in the same way they look to be using the PUP for Burfict & Ogbuehi? What a luxury it would be to have 2 fresh, high-caliber defenders inserted into the mix halfway through the season! And a better hedge against any significant injury than a practice squad guy they "hope" can fill the role, right? I'd love to hear your thoughts! Don Coleman, Canonsburg, PA
DON: Thank you for the kind words from the heart of Steelers country and, I believe, the birthplace of Marvin Lewis and the Hayes brothers.
In order for the Bengals to use the IR-return designation, the injury has to be on the order of eight weeks and Michael Johnson suffered his MCL sprain more than a month ago on Aug. 2 and that is typically classified as a four- to-eight-week injury depending on the severity. So he's close to being ready. It's questionable if he'll be ready for the Sept. 13 opener, but if he's not he will be soon after that. So he won't get the IR designation. But, you're right, it will be nice to get Burfict's fresh legs for the stretch run.
Hey Geoff, love your passion and care for this team, it shows in your writing and interviews, My questions are, Any closer on the Aj Green deal? And how come every year the bengals are picked last to win there division no matter what they do? And FINALLY, just so excited for this season, how as a fan do I not let the fear of how talented we were in 2010 and missed the playoffs , to how talented we are now, with no injuries and not missing them this year going to the playoffs the last 4 years has been electrifying I want another birth WHO DEY!!! Thanks! Vinny Chimato, Miami,  FL
VINNY: Thanks for reading. Like I say, they are trying to get something with Green before the season starts.
I don't think they're picked to finish behind Cleveland but, yes, I can understand your frustration at always being picked behind Pittsburgh and Baltimore. Particularly after the Bengals had such a placid and productive offseason compared to the trauma in Pittsburgh (losing long-time defensive coordinator Dick LeBeau) and Baltimore (losing deep threat Torrey Smith and negotiating a decimated secondary).
But, to be fair to the pundits, they're going off the last thing they saw. And that was a December where the Steelers beat the Bengals twice. Then the Ravens beat the Steelers in the playoffs and the next week they should have beaten the eventual Super Bowl champion Patriots. The Bengals have to show that December and the playoff loss in Indy have been addressed.