George Iloka and everyone else making tackles is now under scrutiny.
Dear Mr. Hobson: Kinda concerned about the new targeting rule. It's most definitely going to effect George Iloka. How many times have we seen him dive in head first on tackles? Is that a bad habit that can be corrected this late in his football life? Definitely something to consider for the immediate future pending his salary status. Harold Mintz Las Vegas, NV
HAROLD: Everyone should be concerned. It seems like the NFL has acted before it thought out this issue. Listen, I applaud the league's initiative for player safety and everyone knows you shouldn't lead with your head. The Ryan Shazier tragedy is all you need to know. Player safety has to be the priority.
But how are they going to legislate it?  Is it a penalty, a fine, an ejection? Videos are hard to find about what the league is exactly talking about.
The officials are already faced with an infinite number of bang-bang plays that are impossible to call even when you freeze-frame it. And the game simply isn't meant to be called that way. What's more bang-bang than a tackle? How many replays is that going to take? Are we now looking at games of three hours and 20 minutes long?
It's a great idea. Using the head should be outlawed. But they've already put so much gray in a black-and-white rulebook that it has made it virtually impossible to officiate. I don't think you have to be worried about one guy and certainly not safety George Iloka. Here's a guy that has been penalized three times in the past two seasons and just once each in 2016 and 2017 for unnecessary roughness in more than 1,500 snaps. But every player, coach and fan has to be concerned because no one knows what or how they're going to call it. Is a player going to be ejected when his head inadvertently ducks during a play that is whirring in the blink of an eye?
 Hello Mr.Hobson,I really appreciate the great insight you give all of us on our Bengals! My question is I think there is a great chance that the Bengals can get Will Hernandez at guard with our 21st pick or even trade back a few more spots and still get him. I think we could put Big Will at right guard and forget about him for ten years its a solid pick and still get a left tackle or center in the second round.Big Will is a huge upgrade at guard to go with the left side of our line.Your thoughts Thank you. George Bailey Las Vegas, NV
GEORGE: My best to Uncle Billy. I appreciate you taking the time to write and for knowing your history. In 2012 the Bengals had the 21st pick, traded down to No. 27 with the Patriots and they selected right guard Kevin Zeitler. Certainly Hernandez is a worthy player. I'm not even sure he'll be there at No. 21.
But I wouldn't say they'll put him in there for ten years and forget about it. The Bengals' track record is not extending guards on mega deals with the most recent example Zeitler. Fine player. Solid. Great pick. But they've shown they're going to drop the big money on perimeter players. Which makes me think if there's a comparable tackle, cornerback, or defensive lineman available at No. 21, they'd grab him and get the guard and/or center later in a draft that is reportedly full of good ones.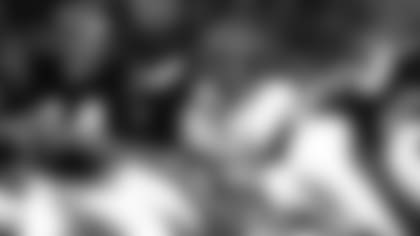 Ken Anderson won four NFL passing titles.
Why is Ken Anderson not in the hall of fame? Leo Ott, Eureka, UT
LEO: Where to begin? Start with this. The Pro Football Hall of Fame simply has too many good players on great teams enshrined and not enough great players from good or mediocre teams. For the sake of transparency, I'm one of the Hall of Fame voters as the Cincinnati representative.
But I'm not a member of the nine-person senior committee, which is where Anderson's candidacy now rests because he's been retired more than 25 years. And he is very well regarded among that committee, but it's a hard process. Only one or two senior candidates are nominated as finalists each year and since the committee has been formed to right wrongs, they're trying to fix an imbalance of offensive players compared to defensive players, as well as recognize players that have been ignored the longest. So Anderson has been sitting in what they call "the que."
But there are signs that wait is ending. One of them is the induction of Ken Stabler two years ago, a quarterback from Anderson's era. Stabler deserves to be in the Hall and when the voters stack up what Anderson did in that same decade and a half of work, they'll see that Anderson compares favorably.
Anderson is the best quarterback not in the Hall. He's the only one with at least three NFL passing titles not in Canton  and when he retired he was the NFL record-holder for completion percentage in a game and a season as well as the all-time leader for post-season completion percentage.
So why isn't he in? A few reasons. Anderson is wrongly perceived as a dinker-and-dunker because of his great completion percentages. But his 7.3 yards per attempt is the same as Hall-of-Famers from all eras: Dan Marino, Fran Tarkenton, Bob Griese, Bob Waterfield, and Slingin' Sammy Baugh.  It's also a longer YPA than the supposed Hall Mad Bombers like Terry Bradshaw, Warren Moon, and Bobby Layne. Dinker-and-dunker? Simply not a fact.
Plus, Anderson didn't win a Super Bowl and got overshadowed in the '70s by quarterbacks that did, like Bradshaw in his division and Stabler in his conference. Too much emphasis is placed on winning the big one for QBs when determining their legacy. Look at the number of Hall-of-Famers around Bradshaw and Stabler. The only one Anderson played with was left tackle Anthony Munoz, although cornerbacks Ken Riley and Lemar Parrish should be in and wide receiver Isaac Curtis and right guard Max Montoya could be.
And that's another discussion. All these guys have been hurt, unfairly I think, for not winning the Super Bowl. That simply can't be the defining requirement for the Hall in the greatest of all team sports.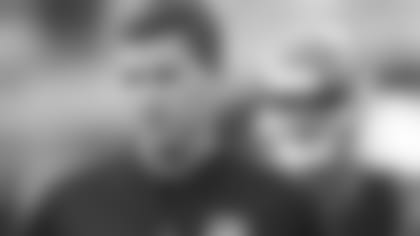 New OC Bill Lazor is changing it up.
Hi Geoff...I am loyal reader and Bengal fan since its inception. I have fond memories of waking to the roar of the crowd while living on Calhoun St. after a nite of partying...(I mean studying) :)
The new coordinators and new ideas, even philosophies on both sides of the ball are exciting changes. I look forward to seeing how these changes translate to the field. However, my question and great frustration is that with Marvin Lewis still being here. Has he looked at changing some of his philosophies and game management decisions? I couldn't help but lament while watching the playoffs this year, how Coach Lewis would never be as aggressive or make decisions to win. The Bengals seem to play not to lose rather than play to win.
Example: The Patriots always try to score regardless of the time remaining. The Bengals will take a knee with 75 secs left at halftime. They seem to always play it safe rarely going on fourth down or trying to score a TD. It's so frustrating and it seems to demoralize the players at times. I know Marvin conducts exit interviews with players. He just seems really stubborn about clock management and in-games passivity. Keep up the good work...Thanks! Ed Walker, Dayton, OH
ED: Thank you for your loyalty and for the Calhoun reminisces. Sounds like Marshall Street at the 'Cuse. (Slices!)
If you're going to criticize Marvin, I think you've also got to give him credit for ripping up the schemes on both sides of the ball. Like he says, he had to. The past two years at 13-18-1 doesn't get it. I mean, he's exactly right about the running game. The thing has deteriorated for years. You just don't come out and have the worst running game in franchise history without warning signs and leakage. So I give him credit for ripping it up and for having the vision to fix it with the staff he has brought in.
There's no question that clock management has been a thorn in their side. He'd be the first to tell you that. But to me, he's got reasons to be conservative. For much of his tenure his defenses have struggled to stop people when it matters, either at the end of halves or the end of games.
Now, whether that's a scheme thing, or a clock management issue or whatever, it certainly has to impact what Lewis decides to do on offense. Who can blame him for trying to sit on the ball late in the half? This past season was ridiculous. They gave up 44 points in the last 1:52 of the first half and 27 points in the final 1:56 of games. That's 71 points, or 20 percent of their total points allowed. No question. The Bengals treat the clock like it's a hand grenade. You wonder how many wins have slipped through the sands of time. But let's make it basic. Stop them from scoring and go from there.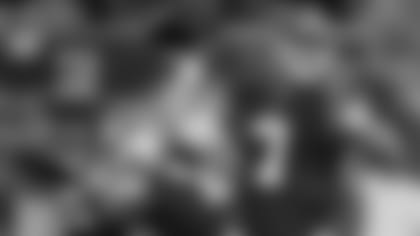 Could Matt Barkley (above) and Jeff Driskel be vying with a draft pick to back up Andy Dalton?
Why dont we consider drafting Lamar Jackson? Talent and potential upside is through the roof and he can escape our sad offensive line. Seems like a no brainer to me. Im not completely down on Dalton but if it doesnt work out for him this year it may be time to move on. Chad Zanger, Louisville, KY
CHAD: It's going to take them more than a year to move on from quarterback Andy Dalton and don't count this one. He's proven he can get them to playoffs and they've got him reasonably signed through 2020. Maybe then, but not before then. Let's see how he does without the pocket in his face every other snap.
Jackson is an intriguing guy. He's a terrific athlete and he was so productive at Louisville. I doubt the Bengals pursue him because I think the problem is his skill set is so unique that it doesn't fit many offenses, certainly not what the Bengals do with Dalton. If you put Jackson in the game, you'd have to rip up so much of what you do and there would just be no continuity. And my sense is there's a split in the league on what people think he can do. Some think he's Michael Vick, some think he's a Kordell Stewart-slash-receiver type, some just flat out don't know. Very exciting, but not exactly a safe pick. But maybe they'll surprise me.
Do you see the Bengals going after someone like Eric Reid or another safety after the draft or before if they are still available? Scott Webb, Hamilton, OH
SCOTT: It's a good question and my gut reaction is no. They went after Panthers safety Kurt Coleman with some big money earlier this month, but when that didn't come through they dropped at least $5 million on three guys in free agency and they're tapped out on any mid-size deals and up. I would imagine they'll get a safety that can pick the ball off in the draft and reserve the big and mid-size signings for their own guys becoming free agents after this season.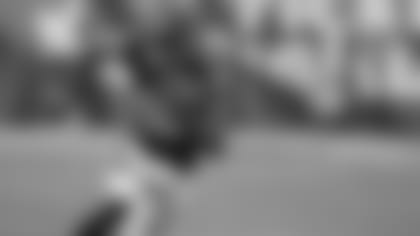 A.J. Green, turning 30 in July, looks like he'll be just one of four projected Opening Day starters that old.
Hey Geoff, Love your interaction with Who Dey Nation. Question: do you think Marvin is ready to play young talent in an attempt to put the best players on the field versus his inclination to play Veterans? Len Cox, Palmyra, VA
LEN: Thank you for adding to the interaction and I hope you continue. I don't think Marv has a choice after stacking up the 2016-18 drafts. The kids are going to be the only ones left. It looks like they'll draft at least one offensive lineman that is going to play right away and at least one defensive lineman.
 The only projected starters 30 and older are three guys that are only 30 on Opening Day (Dalton, A.J. Green, Geno Atkins) who are pretty good and their oldest starter, wide receiver Brandon LaFell, is just 31. Long snapper Clark Harris, at 34, would be their oldest player on Opening Day, followed a year and a week later by punter Kevin Huber at 33.
The biggest roster question besides how the interior of the offensive line shakes out is if LaFell can fend off sophomores John Ross and Josh Malone in training camp. The coaches love LaFell. They also love the speed of Ross and Malone. I think all will get their day in court. But The Kids are clearly winning the numbers game on the roster.
Hi Geoff, Big time Bengals fan from the Mile High City. I've read your articles for a while, but this is my first time writing in. I have two questions...
1) What do you think the chances are that Adam Jones will re-sign with the Bengals to a team-friendly deal as a backup? 2) I realize that most of our remaining cap space is now dedicated to the draft and resigning Geno and Carlos. That being said, I'm a big fan of the Preston Brown signing, and I'm wondering if the team will try to reserve some funds to resign him to a longer deal partway through the season, assuming he plays up to expectations. Thoughts? Rex Vining, Denver, CO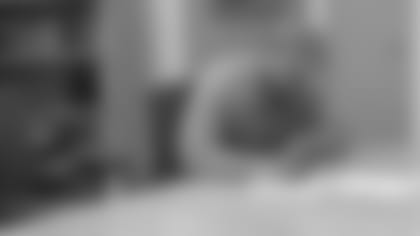 Will Preston Brown end up signing another deal?
REX: If this was Alex Marvez on Late Hits on Sirius NFL Radio, we'd give you the musical crescendo accompanying a first call. Please write in again.
I would never rule out Jones coming back to the Bengals, but I'm not sure he wants to get that friendly. They're pretty well spent and are looking to pare down the cap after the draft rather than expand it.
It was a bit of a surprise that old friend Leon Hall beat Jones out to Oakland to join just-departed Bengals defensive coordinator Paul Guenther. That may mean Jones still thinks he's going to get a pretty good deal somewhere. I wouldn't be surprised if he ended up with Hall in Oakland because Guenther desperately needs corners. Jones wants to be more than a fourth corner, which is what he's looking at here.
I hear you on Preston Brown and I'm with you. I could see an extension sometime late in the season. Say an early X-Mas gift. Makes sense.
Mr. Hobson I just have a quick question that hopefully you have some insight on. The big question on the O line right now seems to be the center position. It is likely we will draft someone to fill the void however, will guys like Trey Hopkins and Westerman be given a good look at filling this hole as well? Tim Williams, Vandalia, OH
* TIM:*  Yes they will and I think you have to put T.J. Johnson high in that mix. They like the way Johnson played center at South Carolina and drafted him in the seventh round five years ago. That's three guys that can get a pretty good look and why they may not draft a center right away. Oh, they'll draft one, no question. But it can be the third day and doesn't have to be the first day.