Is Ryan Glasgow another fourth-round find?
With all of the excitement around the draft picks at the top of this year's draft for the Bengals, I am convinced that we will look back in a couple of years and what will really stand out are the 3 fourth rounders: Lawson, Malone, and Glasgow. Add Willis in the 3rd; and in my opinion, you've solidified the core of this team for years to come. It seems, as always, Bengals scouts find the gold and the gems in the mid rounds. Thoughts? Landon Patrick, Madison, IN
LANDON: As director of player personnel Duke Tobin said in a Hobson's Choice podcast a few days after the draft, they were delighted to get the extra fourth round pick when they traded down in the second round because, "We do good business,"  in that neck of the woods.
Go down the list the last 10 years. Frostee Rucker, Pat Sims, Michael Johnson, Mohamed Sanu, and Shawn Williams in the third round. Domata Peko, Robert Geathers, Geno Atkins, Clint Boling, Russell Bodine, and Josh Shaw in the fourth. That's a lot of starts, a lot of games, a lot of production for play-off teams.
Have they done it again? Who knows? But they were thrilled to come out of there with those four guys. No reaching there. In fact, some were rated higher than they went. Which is how they got many of those guys in past years like Johnson and Shaw. So maybe that bodes well.
They love the workman-like Willis, who has all the makings of a no-nonsense starter eventually for several years at defensive end. They talked about taking him in the second. They coveted Auburn pass rusher Carl Lawson so much that they put him No. 1 on their board for the last day and tried to trade up to get him. They think Willis and Lawson were not only big-time college producers, but that they're also try-hard practice guys that bring a great mentality up front.
Don't look for the 6-3, 209-pound Josh Malone to be a big contributor right away at wide receiver as he develops his sheer 4.4 speed with his routes, but the coaches fell in love with him during his pro day and as A.J. Green says Malone reminds him of a young Marvin Jones. In fact, some here think he's ahead of Jones coming out of Cal. That would be a nice find in the fourth since Jones averaged 13 yards per catch and had 15 TDs in 43 games as a Bengal.
Defensive tackle Ryan Glasgow projects as being a productive guy and he'll get plenty of post-Peko snaps as they tool the nose tackle spot. Last year's fourth-round pick, Andrew Billings, figures to get the bulk of the work. But as Ourlads Scouting Services says of Glasgow, "He is a blue-collar, dirty work guy who will play to his assignment and make a lot of hustle plays. May be a little short on talent, but he can be part of the rotation in most schemes." Which sounds like a nice fit with the mindset of Willis and Lawson.
The picks are an object lesson on why they don't pursue unrestricted free agents. Glasgow, who looks to be capable of getting a decent amount of time, came via the comp pick for Marvin Jones. A fifth-round comp pick yielded J.J. Dielman, one of the top offensive linemen in the Pac-12 who can play a couple of different positions in the middle. The seventh-round comp helped them trade up in the sixth round to get safety Brandon Wilson, looking like he'll be a core special teamer as a rookie. So they get four guys who are at least going to contribute the next few years and probably much more than that, and the thinking is they'll use the money they saved in free agency to extend their top players. That's the philosophy we see employed in March played out in April.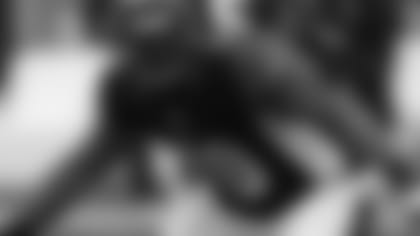 Cedric Ogbuehi worked on his strength in the offseason.
Hi Geoff, I feel that we killed it in the draft and the scribes outside Bengaldom are going to be surprised by the rookies this year. But I still feel underwhelmed about our O-line and feel that's our main weakness.
Even though Ced played last year, was he not 100%? I thought he said something to the effect that a lot of sacks he gave up were because he got bull-rushed and wasnt strong enough for it. Now that he's 100%, is that why the coaches are confident he'll perform well? How do you feel about our O-line? Hope we can fill the vacuum left behind by Whit and Zietler! Guha Srivatsa, Leesburg, VA
GUHA: They're banking on left tackle being Cedric Ogbuehi's natural position after his struggles at right tackle last season got him benched. Already he's one of the most athletic tackles in the league but, you're right, he got beat up pretty good on the bull and his shoulders took the brunt of it and that's why he worked on  strength and building up his shoulders in the offseason.
Sure. The line is the big question. If the new tackles protect quarterback Andy Dalton, they'll go to the playoffs. If they don't, they won't. As simple as that. When you give up 41 sacks and then lose two of your best linemen in left tackle Andrew Whitworth and right guard Kevin Zeitler, sure. It makes for an uneasy offseason.
But there's talent here. I mean, Ogbuehi and Fisher were two of the top 53 players in their draft. It's not like they're playing with a raft of college free agents up there. One of the best gets in the offseason has been the return of right tackle Andre Smith and putting him at right guard should really help Fisher. Plus, Smith can move to right tackle and probably left if really needed.
I do think they have to realize they'll have to adjust a little. It wouldn't seem like they can come out of the box and play like they used to, when Whitworth and Smith could block most anyone one-on-one in pass protection. They may be able to eventually, but they'll need some help early. They have to craft around the strengths of Ogbuehi and Fisher, which is their athleticism and movement. So they may look a little different.
And the best way to protect your passer is to run the ball, so I look at the second round like this: if they couldn't beef up their offensive at that point, they got the next best thing to help it with Oklahoma running back Joe Mixon. A three-headed running attack of Mixon, Jeremy Hill, and Giovani Bernard may just be what the young tackles need.
I look back at '09, their last major offensive line overhaul, and this one has more talent and more weapons around it and that team ended up winning 10 games. So I think there are encouraging signs. You can't replace Whitworth as a leader, but they are still in good hands with Andre, Clint Boling, and Eric Winston.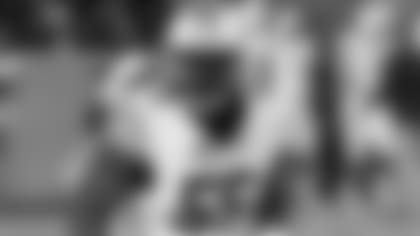 Carl Lawson is a pass rusher, No. 1.
Hi Geoff! What I don't understand is Marvin's and Guenther's insistence on switching Edge Rusher Carl Lawson to SAM LB. Why aren't they letting Lawson play to his skill strength at Edge Rusher/DE and potentially make an impact this year. Switching Lawson to SAM will result in this year being a development and learning year which severely limits his impact potential this year. The Bengals haven't had much success with this strategy with Ahmad Brooks, Dantay Mach, and Micheal Johnson his first year with the team. Quit trying to out think yourself and let Lawson play the position that best aligns with his strengths! TJ Ross, Cincinnati, OH
TJ: And don't forget James Harrison. In the one year Harrison was here, he was an absolute beast against the run when they played him at SAM linebacker.  But they didn't use him as much as the Steelers did rushing the passer from the edge and four years later he's still getting sacks for them.
But I wouldn't be too harsh on Lewis and Guenther. Harrison helped them have a terrific year in '13, when they won 11 games and the defense had its highest ranking in three decades. And it was Johnson's second year he tried some linebacker and they called it off pretty much in training camp. Brooks was a project no matter where they put him. Remember, the 49ers cut him, too, before bringing him back again
I don't think they're being insistent on Lawson. He lined up a lot of times as a pass rusher as well as a linebacker in the rookie minicamp and I think that's where you'll see him this season. A situational pass rusher from the edge. They're just going to see what they've got, but he clearly makes the team and I would think they count him as a down lineman instead of a linebacker. There's some great competition among the backers for the last two spots behind Vontaze Burfict, Kevin Minter, Nick Vigil, and Vincent Rey. Of course, they could always keep nine DL, seven backers, and nine DBs, and you could count him as a backer. But I see him getting about 15-20 snaps a game off the edge as a rookie.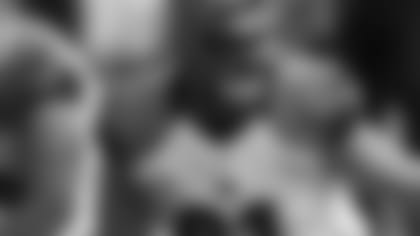 Russell Bodine is entrenched at center.
What are your thoughts about former Buckeye Nick Mangold & the Bengals? Is there a match there? Would he be a significant upgrade over Bodine? Are they even looking at any bigger name free agents if so who or are they pretty much done? Jon Davis, Brandon, FL
JON: The Bengals have had great respect for Mangold down through the years, but it's not a fit when it comes to them because of age. Bengals offensive line coach Paul Alexander is all in on Bodine and his backups, who could replace him if doesn't re-sign after this season, are their own young guys. They're developing guys like T.J. Johnson, whom they just gave a two-year extension, 2016 fifth-rounder Christian Westerman, promising second-year college free agent Alex Redmond, and injury-plagued Trey Hopkins. And, well, if Bodine doesn't re-sign, overthecap.com says they'll get a third-round compensatory pick for losing right guard Kevin Zeitler.
Who is the most likely UDFA to make the 53 man roster? I believe given the depth at the Safety position and his unique skill set Demetrious Cox has the best chance. Damon B, Cincinnati, OH
DAMON: You're right. Interesting guy, Cox, but the competition at safety is just brutal.
They think last year's seventh-round pick, Clayton Fejedelem, may have a shot at getting on the field in some packages, as well as being an emerging star on special teams. With starters Shawn William and George Iloka, that would indicate there's a battle royal for the fourth and last spot. They traded up to get Houston safety Brandon Wilson in the sixth round because the guy has marvelous tools that include breaking a 4.4 40. But because he came to defense a bit late, he'll need to develop safety. But with his speed and offensive background as a running back, Wilson has all the earmarks of a core special teamer. Third-year man Derron Smith is an alert safety who is also a solid core teams player, so this is going to come down to pre-season games, where Cox will have a shot to get that roster spot.
But my pick is Illinois middle linebacker Hardy Nickerson.  The word from last weekend's rookie minicamp is that Nickerson's command of the huddle was staggeringly good and had long time Bengalites trying to remember the last time somebody did it like that so decisively with so little fanfare. He apparently stepped in there like a 10-year vet and smoothly ran the defense. The problem is he's 5-11 and he'll need to show that's not a problem in the preseason.
And don't sleep on Colorado nose tackle Josh Tupou. The man is 6-3, 350, and hard to move. He's a pure run-stuffer. He's not going to be on the field on passing downs, but he'll tie up blockers for your linebackers.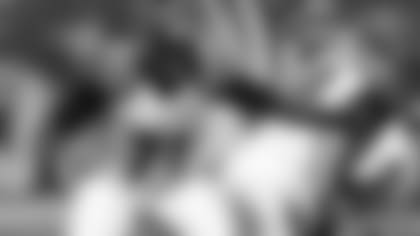 Andre Smith is huge off-season get-back.
Hi hobs. Life time Bengals fan, but first time asking you a question. Is their a chance the Bengals starting right or left tackle isn't on the roster yet? I really like the weapons they got in the draft. Think it could be explosive but still unsure about our young tackles. Steve Smith, Lima, OH
STEVE:  Thank you very much for taking the time to write in and I hope it's the first of many. I think the guys who are starting are already here. They drafted Ogbuehi and Fisher high and they've got to play. Fisher can play both sides. Andre Smith is going to start out playing right guard, but we know he can play winning right tackle and can back up left. Eric Winston has stepped in and played right tackle in the last three years. I think the guys are here.
Hey Geoff, I hope you are well. Well, just like Christmas, the Draft has been and gone in the blink of an eye. Now comes the long wait to see these guys in action. Just a couple of questions regarding the picks.
Most people, myself included, were a little surprised with us taking Ross. Do you think he was their best player on the board at that time? Or did they reach a little to give the offence an injection of talent? Also with us taking Mixon in the 2nd do you think this pretty much guarantees we won't be offering Hill a new contract?
Overall I think it was a great draft. From what I've heard we've added difference makers on all 3 phases and you can't ask much more than that. I think getting Mixon where we did was a steal. Yes what he did was a terrible thing, but he's apologised and he seems to be determined to put things right. Looking forward to the new season. Wayne Maguire, Castleford, UK
WAYNE: Thank you for firing in one over the pond. Count me in as one of those surprised with the Ross pick. I know in this space a few weeks before the draft I counted out the 5-10, 190-pound Ross because of his height (the Bengals have now drafted just three receivers under six feet in the Marvin Lewis Era) and because they just don't draft receivers inside the top 10 (now three times in 50 drafts).
But I think they were true to their draft board. I think Ross was their top-rated receiver  and I think they figured adding a tight end just didn't provide the impact they were seeking at that point in the draft, given they've got two more years of Tyler Eifert if they put the franchise tag on him. And the defensive players available at No. 9 were a bit of a reach, which was reflected where they eventually ended up in the middle and end of the first round.
I think you have to see how this year plays out when it comes to Mixon and Hill. Both guys have a lot to prove. Let's see how they play.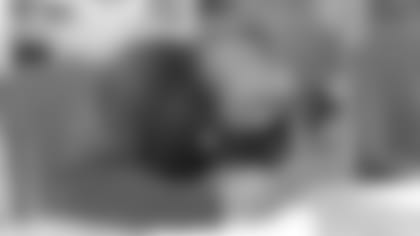 John Ross: think Will Fuller and Ted Ginn.
Hello Mr. Hobson. It was no secret that the Bengals wanted one of the top rated wide receivers in last year's draft, but were unable to come away with one due to all three being off the board when it was their turn. How do you think John Ross compares to the top wideouts from last year? I feel he is far superior to Will Fuller. How do you rate him compared to the other three? John Allen, Lebanon, OH
JOHN: I guess we can safely say Ross is faster than all three but he's not as big as Corey Coleman, Will Fuller, or Josh Doctson.
I think the Bengals compared Ross favorably to the 6-0, 186-pound Fuller because of his route running and hands.   Ross can be an equivalent to Coleman in Cleveland (who is not that much bigger at 5-11, 194 pounds) and it sounds like Ross may have the edge on him on routes but Coleman may be able to go up and get it a bit better but they sound like a wash  to me.
The recent comparison is Fuller, but the big-picture comparison is Ted Ginn and I think they'd take that. He was the ninth pick in 2007, is still playing with more than 300 catches for about 14 yards per catch to go along with seven return touchdowns, four on punts and three on kicks.
 Time will tell, but I definitely think we got one of the top 5 drafts this year. I think we nailed it. If the O-line can keep Dalton clean, look out everyone, this is a new Bengals team.
My question is, do you foresee the same issue we have had with drafting so well that we lose them to bigger pay days down the road or, in the case of Marvin Jones, wanting to be the number one guy? If Mixon can produce, I think we keep him over Hill but Ross and perhaps Malone if he develops well, not to mention route technician Boyd, we can't keep them and stay under cap. That may be thinking too far ahead, but this draft and this new look excites the bageezus out of me and could be the new monster in the NFL. Thank you for all that you do Cristofer Arthur, Dallas, TX
CRISTOFER: Thank you for checking in. It's a good thought, but think it's a little early to start thinking about second contracts. What's interesting is it sounds like these guys are going to play rather quickly and that always hasn't been the case recently with the top picks.
Geoff, Hello again, hope all is well. The recent draft has re-energized me. I think they really refreshed the roster. Could you possibly see another vet offensive lineman being signed? Still concerned about the tackle situation. All FA signing after 5/9 won't count against future comp picks. Maan Aboulhosn, Titusville, FL
MAAN: Good to hear from you again and glad to hear you enjoyed it. I just don't see them adding anybody if everybody stays healthy. I think the thinking is that's why they signed Andre. And even though he's at guard, he can obviously play right tackle and could play left tackle in a pinch.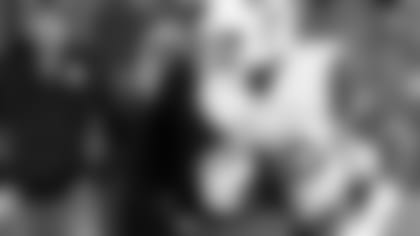 Houston safety Brandon Wilson has the versatility that makes rosters.
Geoff - keep up the good work. More politcal analogies in the "captain" story. Glad to see the ever-underrated Clint Boling getting some airtime. Post draft questions and more:
1) Clear to see the draft was about speed and weapons to prop up the offense and the wait to R3-4 for pass rush paid off. As a result, I think DT is a logjam now with 8 guys vying for 4-5 spots. I am worried about my guy Pat Sims. DE I think Clarke/Gilberry will be fighting for one spot. LB I think Flowers/Dawson are in for a fight against Evans and I guess Lawson. And with Wilson added plus Bene in FA guys like K. Russ, Shaw and both backup safeties (who I think have big potential) seem to be in tight spots. Not that offense won't have some battles but wow.
2) I am worried about putting Lawson at LB when he never covered in college. We've seen this before with certain guys being asked to do stuff they aren't good at and it hasn't worked out. How many TEs did we ask to block instead of just go be an extra WR? Or how many DEs have we put at LB?
3) Who is the backup LT? Is it Jake Fisher? Trey Hopkins who they like each year but injuries have derailed? I don't think Winston can play LT anymore.
4) Just a random thought after seeing different things. Why have the Bengals under Marvin done a poor job of using ex-Bengals as coaches/scouts? I mean, Brian Simmons is a good scout with Jacksonville. Marquand Manuel is now the Falcons DC. You mentioned Glenn Holt and Mike Goff coaching some lower levels and looking for a break. I'm probably missing a lot more. Just seems like a missed opportunity. Thanks! Who-Dey! Matt Kramer, West Chester, OH
MATT: Thank you for reading so closely and I have to agree with you. The defensive side of the ball has some mammoth battles for those back-up spots.  You make a good point about the speed and I think that could alter the way the roster numbers usually pan out.
You want to keep speed, so do you keep 10 DBs instead of nine DBs? Seven backers or six backers? That's going to be the question in my mind because I think they really have a chance to improve the special teams with all this speed with rookies like linebacker Jordan Evans and safety Brandon Wilson.
Even on offense. I think there is going to be a real push to keep seven wide receivers and it won't come from whacking a tight end. Those four guys are here.
Like I say, I don't think you have to worry about Lawson getting buried. He's going to rush the passer. It's just a matter of how they count him. Maybe he's the seventh backer/ninth lineman. They always talk about versatility when it comes to the roster so I think a guy like a finally healthy Marcus Hardison gets some run on the defensive line as a pass-rushing tackle that can potentially play end. They've got to balance the tackles with run-stuffers and pass-rushers. You're right. After the starting four of Michael Johnson, Carlos Dunlap, Geno Atkins, Andrew Billings up front, it's a scramble. Count Lawson and that's just four more spots.
Fisher can back up left tackle, Andre Smith can back it up in a pinch, and left guard Clint Boling can get you through a game.
Lewis and the Bengals have always opened up their camps to any former player that has been toying about getting into coaching. Guys like T.J. Houshmandzadeh and Chris Crocker come to mind. Just this past weekend at rookie minicamp former kicker Shayne Graham, just signed as a special teams/quality control coach at Central Michigan, attended all three workouts working with special teams coordinator Darrin Simmons.
Marvin is terrific with those guys and under his watch the club is a big supporter of the Bill Walsh Minority Coaching Internship Program every year and several players have come through that.
The Bengals don't have a lot of turnover in personnel or coaching and those hires just don't come along all that often and Lewis has tended to go with veterans that have been coaching longer than former players.  When they added to their scouting staff a few years ago, Brian Simmons was already entrenched in Jacksonville. He's now out of the game at his own choosing, but he's a guy to keep in mind for down the road. I think in Manuel's case he only played one year under Lewis and got into coaching on his next stops.
Hey Geoff, Quick question with the Bengals basically not addressing the offensive line in the draft, do you see them signing a veteran guy at tackle before camp starts? I feel a guy like Austin Pasztor would fit nicely, he shouldn't be too expensive he plays guard and tackle has 43 career starts and is still only 26 yrs old. Any chance of a move like this happening, thanks Brian Lofland, Cincinnati, OH
BRIAN: I just don't see them adding a vet tackle. That was the thinking of the signing with Andre Smith. But things would change with an injury, you would think.