How are you Hobson, your articles are the highlights of my week since its the summer. Question 1. How do you feel about Bengals wide receiver group? 2. I really don't hear people talk about this but for the first couple of quarters the Bengals defense would look great and then the other team would make adjustments and make our defense look bad. Was it time for Paul to leave? 3. What are you expecting from Andy this year 2015 Andy or last year Andy? Greg C., Miami, FL
GREG: Thank you. I'll take a highlight any time of year. Here we go:
It's time. They need a major portion of that young-gun trio of John Ross, Josh Malone and Cody Core to have break-out years. A.J. Green can't be the only outside guy with dangerous speed to make plays. There were times during his first two seasons Tyler Boyd got on the wrong side of coaches but after he came back from an MCL sprain that wiped a month last season he showed his growing maturity down the stretch. He'll benefit from a new offensive regime and I'd expect him to not only have a solid year in the slot but to also get some looks on the outside.
I don't buy it was time for defensive coordinator Paul Guenther to take off. This is the same guy that led them to the team scoring record in 2015 and helped fuel a 2014 post-season run when the offense was limping without Marvin Jones and Tyler Eifert. I think it was very difficult to play defense the last two seasons given how bad the offense was, particularly last year.
 Look at how many snaps they were on the field for one thing, a league-leading 1,091 on top of 1,038 in 2016. I mean, remember that ridiculous stretch in October and November when teams were routinely running twice as many plays as the Bengals? Those numbers had never been seen in franchise history. Sure, the defense looked bad late. It was awful against Minnesota and Chicago, but they were also cleaned out at linebacker and any DC would have had trouble stopping the bleeding.
No, it wasn't time for Paulie to leave, but he felt it was. I will say this, though. The Bengals couldn't have done any better signing Teryl Austin to replace him. The guy is proven, respected, charismatic and on the way up. He has to improve in two critical categories where you could find criticism with the defense last year and he's talked about one continually in turnovers. The other is their horrendous performance in the last two minutes of halves and games. They gave up more points at the gun than the British at Lexington and Concord. But that also has a tie to lack of offense with the inability to run out the clock and get points of your own.
I think Andy Dalton is going to be closer to '15 than '17 simply because of two things: Cordy Glenn and offensive coordinator Bill Lazor realizes that Dalton is at his best when the offense is running at a quick tempo getting the ball out of his hand quickly. We saw a lot of that last season when Andy played well despite the chaos around him. Give him a full season in Lazor's scheme and I think you can get him back. Remember, before Nick Foles was Nick Foles in 2013 he put up one of the top passer ratings of all-time when Lazor was his quarterbacks coach. Andy and Foles are similar guys when it comes to tempo and making quick, good decisions. And he'll be better not getting chased to the river every other snap.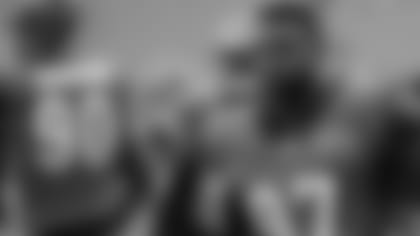 Geno Atkins: future Hall-of-Famer.
Geoff, It has now been 10,000 days since the Bengals won a playoff game. Vegas predicts they will win seven games this season. When you look at the team, what gives you hope that they can leave the land of mediocrity? David Frey, West Chester, OH
DAVID:  Start with a quarterback that averages nine wins a year and has led his team to the playoffs five times.  Add a top five receiver and a Le'Veon Bell-like force at running back. Take a defense that has arguably the best inside rusher in the game, two linebackers that have led the NFL in tackles and three first-round cornerbacks in the nickel package.
If that paragraph were labelled "Patriots," or "Steelers," or "Broncos," my bet is Vegas would be higher on them. But, look, it's the same reason they are ranked as one of the bottom five teams in some of these power polls. What have done for me lately? When you win 13 games in the last two years, what do you expect?
But the pundits and numbers guys have to be careful about wandering too far away from 2015. A lot of those key guys are still around. The one thing they don't have from that 8-0, 10-2, 12-4 team is a proven offensive line.
Yet the guy reconstructing it, new line coach Frank Pollack, is a proven NFL guy that has changed the culture up front and will be giving foes a different look. Seven wins? This team won seven games with the worst running game in franchise history and the last-ranked offense in the league. I don't think nine or ten wins would be outrageous.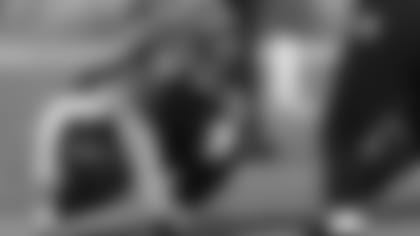 Ryan Hewitt has his fans.
The Fullback? I fear that our OC will take us back to the days of Bratkowski that appeared to ignore the value of running the ball? Run first and use the pass in element of surprise, long yardage (the screen more than the bomb) and mostly to maintain balance! What to do with the FB? Short yardage to blast open holes and goal line,. Hewitt hasn't been used enough because the O line just didn't create enough short yardage opportunities. What do you think? Lynn S. Marshall, Cincinnati, OH
LYNN: I completely agree. Next to any running back and Boyd, Hewitt has been the most underused guy on offense. Love Hewitt. He's a throw-back, team-first, all-out guy that blows you up and can catch a TD pass at the same time.
But just look at the snap counts. Hewitt may be the only guy in history who played less after he signed a second contract. While Jeremy Hill got 1,000 yards in 2014, Hewitt, his fellow rookie, took 44 percent of the snaps. The next year he played 36 percent of the time, they were in the top ten in offense, he got the contract and then promptly played 20 percent of the snaps in 2016 before hitting just 11 percent last year.
But Hewitt was hurt last season when he missed three games with a knee injury and he never seemed to get back in the flow. I think Hewitt gets more of a shot under Lazor since he can play a variety of spots. Given that one of Lazor's experiences comes out of Mike Holmgren's old school West Coast offense, he'll like how Hewitt catches the ball.
Hello Geoff, I love the consistent Bengals content that you put out, even if Cincinnati does not get any national media coverage. My question is, how do you think 2nd round pick Jessie Bates will be implemented into Teryl Austin's new defense? I could see the Bengals running 3-safety sets with Shawn Williams, and George Iloka playing like a linebacker-safety hybrid. What do you think? Thanks again for the time. Kyle Gearding, Cincinnati, OH
KYLE: Thank you very much for reading and I really appreciate you sending a question. They may go with three safeties in a package for a few snaps in certain games or situations. At times they've been comfortable putting Williams on a tight end as the little backer, but I just don't see three safeties becoming a staple with the way teams throw the ball around. You need those three corners much of the time.
But it's a good question because you've got some good players at safety and you wonder how Austin is going to parcel out those snaps. The theme of the OTAs seems to be a clean slate, which is about right given there are basically two new coordinators. So I think that means Bates gets a chance to win the job in the pre-season games.
Michael Johnson, already a team leader, can be effective in Wallace Gilberry's role.
I am a huge fan of your work. I would like to ask you some questions. 1. Should the Bengals cut Micheal Johnson? I mean really we have Hubbard and Willis I don't think we need Johnson. 2. Do you think these guys could be steals Darius Phillips, Logan Woodside, Javon Rolland-Jones, and Tyrice Beverette? 3. Finally, do you think it was smart that the Bengals drafted Walton out of the U? Jackson Huxel, Cincinnati, OH
JACKSON: Thank you very much for your support and even more for taking the time to write.
I'm a Jordan Willis guy, too, but I think he makes Michael Johnson better. Willis figures to be the every-down right end, but Johnson revived his career last season when he moved inside on passing downs. Johnson should be even better playing fewer snaps. He can give you six to seven to eight sacks in that role a la Wallace Gilberry. Plus, Mike's leadership and what he means to the group and team is huge. This is a developmental year for Sam Hubbard, although he'll help as a rusher on passing downs.
A little early to be talking about steals, but one guy that has looked intriguing is one of the three fifth-round picks, Western Michigan cornerback Darius Phillips. He seems to be around the ball a lot and in the first voluntary practice he jumped a route for an interception.
When the Bengals took Miami running back Mark Walton in the fourth round, you could make the argument it was the only pick they made that didn't attack a need. They've already got two terrific lead backs in Mixon and Giovani Bernard and had two promising kids in reserve with Brian Hill and Tra Carson.
So it was purely a best player available pick and I like it because it was at a position where you may not have a need now but may suddenly have a need down three in the third quarter against Pittsburgh. You can always use a good back because you never know. Plus, he can be an impact player on special teams like he was at Miami.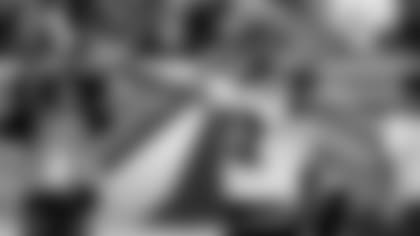 Alex Erickson has been solid in the return game.
Hello sir. Thanks for keeping us all interested during the dead time. Quick question about the WRs. I'd really love to see the Bengals finally jump in head first with the younger WRs..namely Core and Malone. Alex Erickson's importance in the return game just got wiped out with 2 draft picks from Wake Forest and Western Michigan. I just don't see them keeping 7 with all of the pass catching options at RB and TE. Please convince me that the final roster shouldn't be Green, LaFell, Boyd, Malone, Core and Ross. Take care. Troy Roach, Fishers, IN
TROY: Thanks for the note. I think Erickson is very much in the mix. He's the only returner that is proven. Sure, if one of the kids goes absolutely nuts in the preseason returning the ball like Erickson did in 2016, maybe there is something to talk about. But the only way to take down Brandon Tate was for Erickson to knock him out and Tate is still in the league. So I think Erickson stays. If they don't keep seven receivers, that's interesting, isn't it? There's going to be a cut that's not obvious now but will be after the four pre-season games. Or at least they hope it will be obvious. Just go by who plays best. So it's a little early for all that but never too early to wonder.