Andy Dalton's first four years flirt with the best when it comes to numbers.
I have been a Bengal fan since the beginning in Nippert stadium. Been with them during the highs and the lows, and been with you and the web site since the beginning, and enjoying your input. My question has to do with Andy Dalton and the bashing that he's been taking for the 5 years he's been our quarter back. I do not have the ability to research the archives and find out what the stats are on any of the top 5 QBs as to how long it was for them to win their first playoff game and whether they had the winning record that Andy's got in regular season games. Yes andy has his weaknesses but so do the others, and after seeing him play his college ball down here in Fort Worth I think he will be with us for a long while. John Wassman, Fort Worth, TX
JOHN: Thanks for the note. How about taking a look at the top six passers from this past season, a pack led by Tony Romo of Dallas? The next five were Aaron Rodgers, Ben Roethlisberger, Peyton Manning, Tom Brady, and Drew Brees. That ought to cover it.
In his first four seasons, Dalton has a record of 40-23-1 and only two of the above, Brady (48-14) and Rodgers (41-21) had more wins in their first four seasons as a starter. Roethlisberger (39-16) didn't get the nod until early in his rookie season and had 55 starts in his first four seasons. Romo (39-22) matched Roethlisberger in his first five seasons as a starter, one of which was cut short by injury. Manning (32-32) and Brees (30-28) didn't have it easy in their first four seasons as starters.
Manning didn't get his first playoff victory until his fourth post-season start in his sixth season. Brees lost his first playoff start before winning his second in his fifth season. Romo lost his first two playoff starts before winning his first one in his fourth season as a starter. Rodgers lost his first one in the post-season the year before leading the Packers to a Super Bowl title in his third season as starter. Roethlisberger led the Steelers to a Super Bowl title in his second year as a starter after he split his first two post-season starts as a rookie in 2004. Brady won his first nine playoff starts while leading the Patriots to three Super Bowl titles in his first four seasons as a starter.
With a 0-4 record in the playoffs, Dalton doesn't come close to being a winner like Brady and Roethlisberger, or to being a statistical machine like Manning, Rodgers, and Brees.  But, your point is well taken. Dalton isn't as incompetent as some of the critics suggest. In fact, he's downright done some impressive things when compared to some of those guys.
Dalton is the only one of them who opened his career with four straight playoff appearances and in his first four seasons he threw 99 touchdown passes, which is better than Brady (97), Roethlisberger (84), and Brees (79) in their first four years as starters. The 40 regular-season wins are competitive with the iron and he's not the only guy to wait for play-off gold.
But, as former Bengals wide receiver T.J. Houshmandzadeh said about Dalton last week as he finished up his coaching internship, "I like Andy, but it's like anything else. People are only going to judge you by what you do in the playoffs."
That's where it all stands for Dalton right now. He's got to get that post-season albatross off his back. But it's not like the guy is a bust.
And a word about Ken Zampese, the Bengals quarterbacks coach since Lewis became head coach in 2003.
Under Zampese, well-traveled NFL veterans Jon Kitna and Carson Palmer had their best seasons, and Dalton has thrown the fourth most touchdowns ever by a quarterback in his first four seasons with 99. Palmer, under Zampese, is just ahead of him with 104. Only Dan Marino (142) and Manning (111) are ahead of them.
In the context of a league where consistent quarterbacking is becoming a vanishing luxury, the Bengals have more than held their own since Zampese arrived.
Thank you for the entire good thing that you do. Mr. Hobson I must be on another planet because the way the other newscasters online tell it, it's going to be a rocky road for the Bengals. I know we have a tough schedule but somehow some way we seem to prevail. Four playoffs in a roll and our team was so beat up last year I could have sworn I saw an undrafted ambulance attendant at linebacker. Tell me what they are seeing that I'm not! I think we have Godzilla on a lease this year and wait until he goes tearing through the NFL. Who Dey!!!! Daniel Burke, Columbus, OH
DANIEL:  Thank you for coming to the site. They, and I'm guessing you're talking about the pundits, see Dalton's 0-4 post-season record and head coach Marvin Lewis' 0-6 mark. Plus, they're not an attentive bunch. The Steelers are overhauling their defense with the departure of long-time coordinator Dick LeBeau, the Ravens' off-field problems have merged with free-agent defections that are going to test Joe Flacco's inconsistent passing game, and the Browns take two steps back for every step forward.
But, the pundits tend to rely on the last thing they saw and they saw the Steelers win the AFC North with two December victories over the sloppy Bengals and then the Ravens upset the Steelers on the road in the Wild Card Game. So for them it's easy to write down what they've written down since the AFC North was born in 2002. Pittsburgh and Baltimore.
But with Cincinnati's injured leaders all potentially back this season and the team looking more and more like the 2013 AFC North champs backed up by the last two draft classes, it's up to the Bengals to make the paper stand up on the field.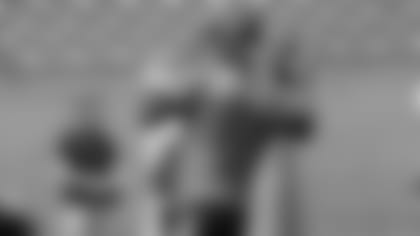 AJ McCarron showed this spring his arm has bounced back from rehab.
Mr Hobson -- thanks for all hard work to keep us Bengal fans informed with inside information -- I sure hope you got at least a10% raise this year because you deserve it! My Question -- The Bengal coaches are really talking up AJ McCarron - but doesn't he have the same noodle arm that Andy Dalton has and is just a clone -- or am I wrong? George Hiotis, Zanesville, OH
GEORGE: Thank you. But I'll decline. Don't want to be a salary cap casualty.
McCarron had a good spring, but from what I'm hearing no one has anointed the guy anything. They're certainly encouraged and they think he can be a competent NFL backup, but they won't know until he plays in the preseason. Like I say, the arrow is pointing up. Great competitor, smart guy, oodles of intangibles. But he's not on the verge of replacing Dalton right now.
I disagree with you on the noodle arm thing. I think you're being unfair to both.
Dalton's problems don't stem from lack of arm strength, although decision making and mechanics have certainly been concerns at times. But just in 2013 profootballfocus.com had him rated as the eighth best deep passer in the league. Plus, offensive coordinator Hue Jackson and receivers coach James Urban are hammering into the receivers to contest for the ball more aggressively on down-field throws.
I hear you when you talk about clones from the standpoint that the strengths of both are brains, feel and anticipation. Neither guy has a rocket arm, but Dalton has a stronger arm and McCarron, while it's not his meal ticket, has a strong enough arm. They're far from clones in the sense that Dalton is much further along because of his experience and the fact Dalton was taken in the second round and McCarron in the fifth.
Certainly we have to see McCarron in training camp and in pre-season games to make any kind of judgment on him. Anything else is pure speculation. But I think you'll see he's got more than a noodle. You don't win two national titles with spaghetti and meatballs up your sleeve.
And I think McCarron's competitiveness has pushed Dalton a bit. If both guys play, they'll be the ones that get 10 percent raises. But thanks again.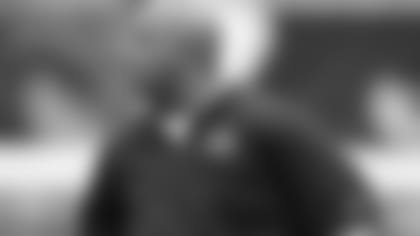 Offensive coordinator Hue Jackson has challenged Andy Dalton and the offense to be better in all phases.
As a huge Bengal's fan I'm thoroughly impressed with what the Bengals have put together this offseason. With the exceptional talent and experience thrown together this year, does that put even greater pressure on Andy Dalton? And if so, is that a greater concern for the sporadic "high passes" that has plagued him at times? Is this something that's being addressed by either himself, or the organization? I am truly an Andy Dalton fan, but I can't deny there are some concerns that I would like to see be both publicly acknowledged, and addressed. Thank you for your time and I look forward to the 2015 season. Joshua Pearson, Franklin, OH
JOSHUA:  I think you've got it and so does he. Never mind his weapons returning. With a 0-4 record in the postseason and some big contract numbers beginning to slide in for 2016, there's more than enough heat on Dalton.
But the club has been encouraged by how he has embraced this offseason.  Dalton took it upon himself to improve everything about his game from the high throws to conditioning and everything else in between with two different weekly stints at Dr. Tom House's football camp at USC before the spring workouts after just one visit last year.  And, he's going back for another week before training camp. So you'd have to say he gets it.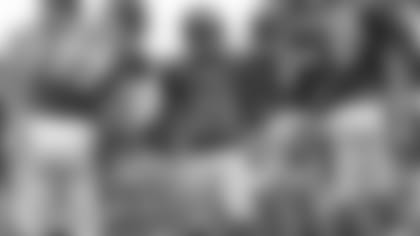 Giovani Bernard figures to get some run with Jeremy Hill.
Your work is always enjoyable Mr. Hobson. I have a couple of questions. I've read that Tyler Eifert looks great, but has he gained back the 15 pounds of muscle he claimed to lose? I'm just worried if he lost too much strength he could get re-injured easier or not be able to execute plays as well due to a lack of strength. My favorite draft pick was Paul Dawson, and I haven't heard anything about him at OTAs. How well is Dawson performing at OTAs? Lastly, is there any possible chance we see Giovani and Hill on the field at the same time this year? Thanks. Garrett Hundley, Burlington, KY
GARRETT: Thanks for the kind words and dropping a line. Eifert has re-captured his 15 pounds and is back to 250.  I told him he looked bigger through the neck and shoulders this spring and he said, no, it's just that he hasn't looked like this in a year. He says he's been back to normal in the weight room but, yeah, that's the concern. Durability. But they think he can hold up like he did his rookie year, when he missed only one game.
Yeah, I like the Dawson pick, too, but that's a tough position to evaluate in the spring because so much of it is based on tackling and filling the holes. I didn't notice Dawson much, but I don't think that's his fault. He's getting acclimated to the scheme as well as what kind of shape he has to be in. I think the kind of player Dawson was at Texas Christian, a prolific, instinctive player voted Big 12 Defensive Player of the Year is going to emerge when the pads come on. I bet he catches eyes in the pre-season games. Still, I think they work him in behind Vontaze Burfict and/or A.J. Hawk at WILL backer.
There'll be times Hue is going to tinker with Hill and Bernard in the same backfield, particularly in an effort to throw the ball to Bernard. But I don't think there is going to be a steady diet of it. Maybe for a series or two depending on the game's situation. But, remember, the majority of their longest runs last year came with fullback Ryan Hewitt as the lead blocker.
Glad to hear that AJ McCarron is really impressing coaches. What is is that made them so impressed? And also out of the 2 rookie Tight Ends they drafted who has impressed them the most? Greg Luther, Cincinnati, OH
In the last part of the spring, fifth-round C.J. Uzomah lit it up a bit with some catches down field and that looked impressive because he's a very large man (6-5, 265 pounds) who can really get down field (4.6 seconds in the 40-yard dash). Third-rounder Tyler Kroft still has the edge going into training camp because he's the most experienced blocker, a skill not on display in the shorts and helmets of the spring. But both guys ought to make the final 53-man roster.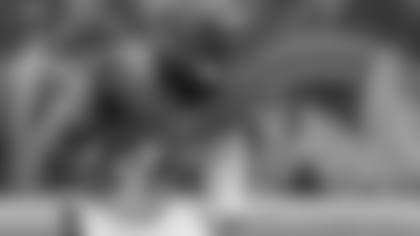 The Bengals and George Iloka may be seeking an extension.
With the break upon us now till end of July, what is the likelihood we get a few contracts re upped before the season starts. Notably Green, and Iloka would be the ones I would like seen done. Looking forward to a great season. David Stewart, Oakville, Ontario
DAVID: Just going off the Bengals' track record, they'll try to extend Green before the season, much the way they did Dalton and Burfict before 2014 season and Carlos Dunlap and Geno Atkins before the '13 season. With about a dozen starters up after this season, look for it to be multiple guys with the emphasis on the younger regulars without second deals, such as Green and Iloka.
Hey Hobbs, love the site! Just wondering if you think Bengals try to sign Illoka to an extension? He's been great and so unheralded in my opinion! Thanks again, keep up the good work! Will Koshover, Independence, KY
WILL: Thanks for reading and sending the note. Iloka would seem to be the guy that makes the most sense. He's been a productive two-year starter playing a playing a position that doesn't exactly chew up a lot of cash as Reggie Nelson, the other staring safety, heads into the last year of his deal turning 32 the day after the second game of the season.
Geoff, what are some of the differences/similarities between NFL training camps? I'm asking from the standpoint of tempo, physicality, competitiveness, etc. And how do the Bengals compare? John Belanger, Fairfield, OH
JOHN: Hard to compare since I've only seen the Bengals work in recent years, although they did train a few days with the Saints in 2007, the Falcons in 2013, and they'll work with the Giants here a few days before the Aug. 14 pre-season opener. My sense was the Bengals were more used to the physical side of practice than the Falcons, but that's probably an unfair observation since you can't judge anything off two practices.
Since the advent of the 2011 collective bargaining agreement, I would imagine all camps look pretty much the same, given the restrictions to one practice per day and the restricted number of days wearing pads. Before then, Lewis had a pretty good rep for driving his guys harder than a lot of clubs with two-a-days, and wearing pads deep into camp. Even post-2011 CBA the Bengals have a rep for being more physical and practicing harder than most. But the more the new CBA becomes embedded in the league, the more every team is going to look the same.
Hi Geoff, The depth of the d-line seems the strongest and most competitive situation of the roster. Having the record setting D-line back in tact is great, but the team has added Margus Hunt, Will Clarke, and this year's fourth round pick, Marcus Hardison since then. That's six tackles and five ends and Wallace Gilberry plays both. How many can they keep and what do you expect the cut down criteria to be? Steve Applebaum, Montgomery, OH
STEVE: I think you're right. It should be quite a battle up front.
First we have to figure out how many spots they'll keep at each position. Usually they keep 25 on offense, 25 on defense, and three specialists. So two QBs, six WRs, four RBs, four TEs and nine OL give you 25 offense. Ten DL, six LBs, and nine DBs give you 25 on defense. Or would it be nine DL and 10 DBs? It depends on a combination of who plays best in the pre-season games and who practices best in training camp. That's the first requirement. The other is versatility. The more you can do…
There's the starting four (Johnson, Dunlap, Atkins, Peko) with the most versatile (Gilberry) the No. 5. They like how tackle Brandon Thompson plays the run and pass, so he's in, along with last year's third-rounder Will Clarke, backing up Johnson at right end. That's seven. They need a fourth tackle and that's where your man Hardiston comes in competing with Pat Sims and Devon Still. From that scrum comes the eighth guy. If they keep 10, you have to feel the ninth would be Hunt. Hunt, a second-rounder from 2013, hasn't had enough snaps (352) in two years to decide what he can do at end. A back injury sidelined him during the spring, but he says he'll be ready for the first day of camp.
That fourth tackle is the one to watch. Hardiston's youth, draft round, and upside make him the leader in the clubhouse. But Sims is a savvy war horse who stops the run no matter what and Still is in the best shape of his life, so let's see.