Vontaze Burfict is on PUP, but he's trying to get on the field by mid to late August.
Hey Geoff, happy Tuesday. Can you provide some insight into all these PUP designations? And why did Bengals waive Wright and risk losing him instead of just putting him on IR? Has to be some kind of NFL bylaw I am not aware of. No surprise there. Mike Pantano, Cincinnati, OH
MIKE: Tuesday was so good it turned into Wednesday. The PUP designations heading into training camp get people jacked up every year and they should really change the name to avoid the confusion.
The active/PUP list heading into camp is a lot different than the PUP list that appears at the final roster cut down. That final PUP list (physically unable to perform) is the one where the player doesn't count on the final 53-man roster, but is ineligible to practice for the first six weeks of the season. The only way he can be eligible for that list is if he doesn't practice at all in the preseason. Even if he takes one snap or one drill, he can't go on regular-season PUP.
Going on PUP before camp, as linebacker Vontaze Burfict, right end Margus Hunt, and linebacker Sean Porter did on Tuesday, simply means they can't practice until they pass a physical. Most teams start camp with a group of rehabbing players on PUP that will end up practicing at some point in camp. Last season Bengals defensive tackle Geno Atkins was on PUP all of three days before he started practicing.
The sense is that Hunt (back) and Porter (knee) are going to be back sooner rather than later. The plan with Burfict is a bit more nebulous, as is the micro fracture knee surgery he had in January. The Bengals hope he shows enough progress to get him on the practice field in time to get him ready for the third preseason game on Aug. 29 against the Bears at Paul Brown Stadium in the hopes of getting him ready for the Sept. 13 opener in Oakland.  They have to pretty much be sure Burfict is going to be ready for Oakland when they let him loose because if not, they'll have to carry him on the 53-man roster until he is ready to play.
They had to waive Wright because at this point in the season only vested veterans can go right to season-ending injured reserve. Wright, a second-year player, would count on the Bengals' 90-man training camp roster if they put him on injured reserve without exposing him to waivers and they need the spot to see if they can find his replacement. Given that Wright is looking at season-ending knee surgery, the Bengals have to figure the odds are pretty good he doesn't get claimed. He wasn't invited to last year's NFL scouting combine and he was a seventh-round pick who caught just five balls as a rookie.
Geoff, as you know from last week's question and James Wrights current status. I'm even more concerned about our WR depth. The top three guys are solid and currently healthy, but I'm worried about the grind of 16 game season taking its toll. Will they get aggressive and make a trade? How can they not. Can't have another line up like the playoff game. Maan Aboulhosn, Titusville, FL
MAAN: What they're looking for is a No. 4 wide receiver that can run and play on the outside, as well as help on special teams. They'll check out a raft of veterans before camp starts Friday, but there's a good shot that guy is going to come from another club  after he gets released during final cuts. And that's probably the way to go. The guy will be in shape and ready to go.
The problem is they'll have to claim the guy and they're where they were in the draft order back in April, deep down at No. 21, where it may be tough to claim some guys. So if they've got a guy targeted, they could very well trade for him. They've certainly done it in recent preseasons, starting in 2010 when they dealt for safety Reggie Nelson on cut down day. The next year they picked up cornerback Kelly Jennings for Clinton McDonald, whom had a very active August as a defensive tackle, and safety Taylor Mays for a late pick. They're deep at several spots and they could go either way in making a trade for a receiver with a player or a pick.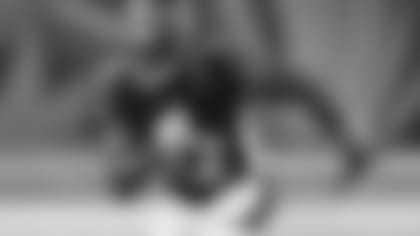 Mohamed Sanu is back in his comfort zone as Hue Jackson's secret weapon.
Hey Hobson, exciting times are upon us again and my withdrawals can start to dissipate from the lack of football. I'm writing from over here in Afghanistan currently. My main question is will they go after a guy like Reggie Wayne now is free agency now that James Wright is done for the year? It'd be great to have a proven guy like him to come off the bench at any point. What other receivers, if not Wayne, will they target in free agency do you think? Jacob Knapp, Virginia Beach, VA
JACOB: I don't think they go for Wayne since he turns 37 late this season. They're looking for a younger guy that can also help them on special teams and I think they thought when they played Indy last year that Wayne had lost some speed. That's the problem at this point in the summer. The pickings are pretty thin. Like I say, about 70 or 80 receivers are going to get cut and the guess is it will be one of them. Do you think Marvin Jones regains his spot as the #2 guy after Mo Sanu was so impressive last season? If so, how does Sanu fit into the offense? Lewie Hughes, Columbus, OH
LEWIE: As long as Jones is healthy, he's the No. 2 guy and Sanu goes back to being offensive coordinator Hue Jackson's secret weapon, his best position. Sanu is primarily a slot guy in a three-receiver set, but he can also line up, occasionally, on the outside. In fact, he can line up anywhere. Jackson can put him in the backfield and at quarterback, where he's completed all five of his NFL passes. Because of the injuries to Jones and A.J. Green last season, Sanu played nearly 1,100 snaps, unthinkable for even a Pro Bowl receiver. Sanu is the Wallace Gilberry of the offense. He'll have a much better season playing a lesser role, but one that accentuates his strengths.
From 15,811km away (not sure what that is in miles but it's a lot) I'm getting excited about another new year. Well sort of. What I'm hearing from the other side of the planet is a little Groundhog day-ish to give me anything other than the same feeling I had last year, and the year before that and that year prior to that one. Is this team mentally strong enough? Does it have enough mongrel, ruthlessness and darn right nastiness to get it done. Over here in the Aussie Rules game we call it unsociable football. I like Andy Dalton. I like AJ Green, I like Giovani Bernard. I Like Tyler Eifert. I could go on. But it seems the rest of the league likes them as well because they don't see them as a genuine late January early February threat. The very best teams in any sport play on the edge and with a swagger that intimidates. Can this be the year the Bengals can shed their niceness and exude a streak like one the franchise has never seen before? Until it does I fear in 12 months time we'll be enduring another chapter in the Groundhog story. Notwithstanding I will be rising at 3am to watch the games streamed live. Go Bengals. Ben Casanelia, Geelong, Victoria, Australia
BEN: Thanks for the line from so far away, where the groundhog has gone under. Even Bill Murray wouldn't mind going to four straight playoffs.  And I think the Bengals play pretty unsociable in the toughest division in this hemisphere. To win 40 games during the last four seasons playing Pittsburgh and Baltimore twice a year isn't for the faint of heart.
But, I hear you. Something is missing come playoff time. Whether it is passion, or an edge or just being plain mean, I'm not sure exactly what. But I think they're headed in that direction. That's why I love Burfict. He may play on the edge, but you have to. And his edginess is you-won't-screw-with-us contagious. That's what Jackson's running game is all about, too.
They can pound it and with Jeremy Hill and Giovani Bernard, they'll continue to pound it and that sends a message as well. They really didn't get the running game going until December last season and that kept them in both games against Pittsburgh and will be tough for a defense to contend with when Green, Jones, and Eifert are on the field. They finished ranked sixth in rushing last season, their highest under Marvin Lewis. That should improve and help them cultivate that edge you're talking about. Hopefully, you can see that edge glinting through the stream at 3 a.m.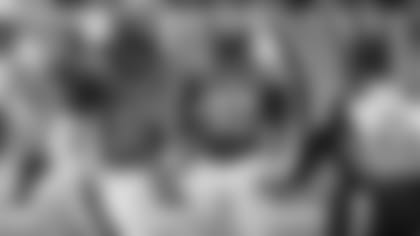 Emmanuel Lamur is a five-tool player learning the linebacker trade on the job.
Geoff, I'm in the middle of reading your latest and greatest "Bubbling Up" and a couple of questions struck me. 1st question: If Burfict is ready for week one, is Emmanul Lamur or AJ. Hawks spot really that safe? Would they cut Flowers for Lamur who was rated one of the worst 4-3 linebackers last year? 2nd question: I was looking at the tight end position a little harder and after watching and reading more about Jake Murphy, Geoff, I think he makes it. If nothing else because he is the only guy out of Uzomah, Peters, and even Eifert that had his hand in the dirt during college. So who has the best chance, Uzomah, Murphy, or a unsigned vet? Thanks Geoff Dustin Meritt. Manhattan, KS
DUSTIN: Thanks for reading. I don't see Hawk and Lamur going anywhere. Sure, Lamur had a tough year last season, his first as an every down player. But they like his ability to cover in nickel and what he brings to special teams. The guy is 240 pounds and flies and those guys just aren't hanging around. Maybe they reduce his role a little bit and don't put as much on his plate (like Sanu and Gilberry) and he'll be better. Plus, he's got another year under his belt. You can't pull the plug too soon on a guy oozing with athleticism like Lamur, an undrafted guy who switched from safety to linebacker out your way in college. Plus, don't ask defensive coordinator Paul Guenther about those independent rankings.
I hear you on Murphy, so let's see what he does in pads. The fact is the two Tylers (Eifert and Kroft) are locks at tight end and Uzomah is that rare big guy that can run. They can use Jake Fisher some at tight end and Hue loves the unbalanced line stuff. I'm also interested in seeing Murphy block, but I think he's got a long way to go when pitted against Uzomah's upside. If Uzomah blocks even just a little bit, I think he sticks. But, hey, Murphy may be this training camp's Ryan Hewitt. I don't see a vet coming in here at blocking tight end unless all these guys, including Kroft, show they can't do it. It looks to me like they'll stick with the kids and develop them.