LSU running back Leonard Fournette: will he be there at No. 9 and would the Bengals take him?
Hey there Mr. Hobson. Thanks for the coverage. I'm obviously just a fan and no scout by any means. I've watched as many highlight videos I could find on the top receivers in this draft.
In my opinion, based on what I've seen, Corey Davis seems to be the top guy. I just wasn't super impressed with Mike Williams tape. However I also wonder if that's because Clemson plus in a tougher conference. I'd also like to see them take Davis if there's no clear cut impact defensive player. Thoughts? Ken Keller, Bremen, IN
KEN: Thanks for reading. I can only find a couple of mocks out there that have Davis ranked ahead of Williams and even though it is CBS.com's estimable pair of Pete Prisco and Will Brinson (who has Davis going to the Bengals), so it's a great question. Is Davis getting penalized for burning less-than-elite DBs?
Of course, the only thing that matters is how the Bengals rank them and who knows? But we do know they like that big-school, big-game pedigree and that would make you think Williams.
But it looks like both guys are hanging out of the top ten and I don't think the Bengals go receiver at No. 9, anyway. You said the key word. "Impact," and I don't think either of these guys are A.J. Green and that's the only way they'd take a receiver that high. If there were a choice my hunch is they'd take a running back over a receiver at that point.
Go back to "impact," though. There look to be a lot of impactful – and even more importantly fast - defensive players for the pickings at No. 9.  We keep hearing how old and slow they look on defense. Well, whether it's a safety, backer, or edge rusher, there is going to be a guy there that makes them young and fast in a hurry.
Geoff! Hope all is well! With all this trade talk involving Andy Dalton, I must say that I do understand it if the deal is right, but more and more I am hearing about Hue Jackson and The Browns.
Do you really think that Mike Brown would trade to not only the Browns, but a division rival their possible QB of the future or even their Franchise QB? I know the jury is still out on AJ about how good he is or can be...but unless the deal is out of this world, that just does not make sense to make a division rival a much better team and giving them a piece that they have been searching for since 1999.. Your thoughts?? Thank you for your time! Mike Trivisonno, Willowick, OH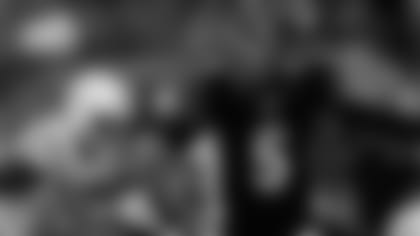 No question teams covet backup quarterback AJ McCarron. But is it like or love?
MIKE: All good. I think if he could do anything to help his team, Mike Brown would do a deal with the devil and you've got to believe in his heart of hearts, the Browns are pretty close. But, you're right, it would have to be a blockbuster and I love AJ and believe he has a bright future, yet I don't see a stop-the-presses deal.
Plus, Hue's an extremely smart guy. Mike already fleeced him pretty good for a Bengals quarterback when he traded Carson Palmer for a one and a two in 2011. But Mike had him right where he wanted him. Hue was then in the middle of a play-off chase with his shocking-the-world Raiders. He's not as desperate now and the Browns have the first and 12th picks. They'll get their own quarterback somewhere in there.   
Since 2008 the Patriots have had only 7 1st round draft picks with an average position of 23. The Bengals have had 10 1st round picks with an average position of 17.4. What are the Patriots doing that we and other teams are not doing? Glenn Groh, Cincinnati, OH
GLENN: Extending the contracts of Bill Belichick and Tom Brady. (Good to hear from you again. I don't mean to be flip, but that's the difference.)
With the browns, bears, and 49ers all needing a QB and a whole lot else, is there any likelihood that instead of giving up a 2nd or 3rd round pick for McCarron that they would switch their 1st with the Bengals' 9th and AJ? Those teams get a QB and a high pick in the first round and the Bengals can get up into that "elite guy" range that Duke mentioned they don't have available at 9. Rusty Shackleford, Las Vegas, NV
RUSTY: I think you're right in the sense the action has to be at the top of the draft. The Bengals don't have a chance to trade down to a club that could use a QB in the first round (Denver at 20 and Houston at 25), because they're too far down to get anything worthy.
 Maybe the Bengals would do your deal in the time it took to say "Ricky Williams," but I just don't see it. They'd have to decide there's that much of a gap between the guys at No. 2 and No. 9 and I'm not sure there is. And, look, I like McCarron as much as the next guy and I think he'll be an excellent starting QB in the NFL once he leaves Cincy. But he's a fifth-round pick with four NFL starts. I don't think that gets them a first-round pick, never mind a top ten pick.  I hope I'm wrong because I think you've got a heck of a plan.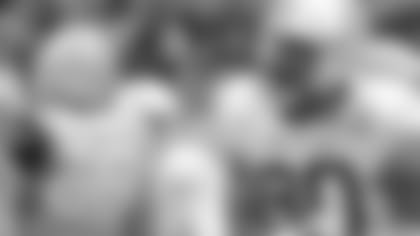 Stanford's Solomon Thomas even wears Justin Smith's Bengals No. 90.
Hey Geoff love reading your work now just one statement I think it would be a huge mistake to draft the kid out of Stanford seeing how he played 3-4 defense to me it just reminds me of when they drafted Reinard Wilson out of Florida state and tried moving him to linebacker but I could be wrong.  Sean Slaughter, Cincinnati, OH
SEAN: Thanks for the kind words. And nice local knowledge. But I don't think you can compare Wilson to Thomas.
The problem with Reinard is he was moving to 3-4 linebacker after a college career of basically just rushing the passer and he had never really covered before. They violated their No. 1 draft canon: don't draft a projection in the first round.
The Bengals wouldn't be switching Thomas so dramatically to a new position. The debate with him appears to be tackle or end. Is Thomas big enough to play inside at 4-3 tackle on some snaps? While at 6-3, 272 pounds he might not be as angular as you'd like on the edge, there seems to be no question he can be a 4-3 end and that's where they'd put him. He had 8.5 sacks this past season and this breakdown from NFLDraftscout.com should ease your mind:
"Powerful for his size. Shows ability to win with power or quickness. Outstanding athleticism. Fluid in his play. Transitions from move to move. Unpredictable pass rush. Attacks both the edges and can crank up a bull rush. Uses swipes, rips and arm-over to unlock his rush."
I think they'd take that. But it looks like Thomas will be long gone before No. 9.
Geoff, Take me through the thinking at running back as we approach free agency. You've written several times that the coaches are still very high on Jeremy Hill, with the implication that that may color the team's approach to getting a deal done for Rex Burkhead (since he'll likely need some sort of playing time guarantee).
Hill's outstanding rookie season notwithstanding, the guy has really struggled to put up decent numbers in yards per carry over the past three years. He doesn't seem to hit the hole with the same kind of acceleration as other backs on the team, he doesn't appear to have the same open-field speed as the other guys, and he has arguably the most devastating fumble in franchise history on his resume. He's been great in short yardage situations, and he finds the end zone really well from inside the 10.
But is that enough to make him a feature back? Meanwhile, Rex was doing great things with the football after Gio's injury last season, his yards-per was much higher than Hill's, and he's demonstrated flexibility to do anything the coaches need him to. Why doesn't that translate to focusing on making him Gio's running mate instead of a special-teamer and situational guy? It seems to me you make Rex and Gio your main tandem and use Hill in short yardage situations like the Steelers used to do with Jerome Bettis.
Am I crazy here? Am I missing something? I understand the Bengals want to re-sign Rex, but I don't get the impression from your reports that they think it's a priority. If you're right that what we desperately need is a running game with a 4.5 to 5.0 average, why isn't it? Thanks as always for keeping us informed! John Phythyon, Columbus, OH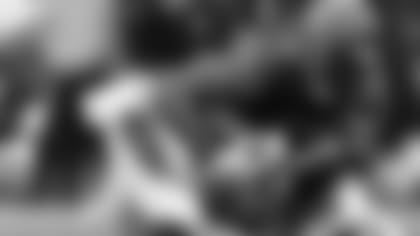 Marvin Lewis endorses Jeremy Hill all the way.
JOHN: I tried to flesh out some of that in my pre-combine interview with Marvin on Friday. He left no doubt that he feels Hill is a big part of this team and basically challenged his coaches and offensive line to get it out of him. He played hurt and didn't get a hell of a lot of help at times. In Marv's view they've got a guy who could have been Rookie of the Year three years ago and that guy can't be very far away. Lewis says that has nothing to do with how they feel about Rex. They want Burkhead back. And who wouldn't?
Here is all I'm saying: Rex is a priority to sign. They're going to try and get him back. They know he's a good player. My only question has been with Hill getting the internal support is there room for three guys back there? And what about when they draft a back, which seems a certainty with 11 picks? Free agency is about opportunity as much as money.
Hey Geoff, I wrote to you at the start of the season about our free agents this year. If you recall, I suggested that we resign Whit and Kirkpatrick, and let Zeitler walk. I still stand by what I said. If they do, would Boling be willing to slide to right guard? If so, could you see them letting CED take over left tackle and let big whit slide in to left guard? That would allow Fisher to start the season as the right tackle. Not to mention allow some help on the left side for CED as well as some OJT whit could provide.
On the subject of Hill, I think we give him one more year. I think the line play did play a factor in his production however, he has been miserable the last 2 seasons. I think we have a good shot at taking one of the two better backs in the draft but I think that RB is the easiest position in the NFL and that a serviceable one can be found in later rounds of the draft.
My hopes are that the Bengals stick to their draft board like they normally do and take the best available player. I believe in our people. I love Duke Tobin and hope he stays forever. Tell the guys they have plenty of support from here in Sicily, Italy! Can't wait to be home! ET2 (SW) Kairn Naval station sigonella Sicily Italy.
P.s. I went to the game in London.... Not worth losing a home game for.... Nowhere near an advantage for the home team. Daniel Kairn, Hamilton, OH
DANIEL: Thank you for your service.  It should be the other way around. The guys and everyone else at The Paul support everything you do for us. I have to agree with you. I loved the trip to London and the people are great. But the Bengals win by 10 if they play Washington at The Paul, right?
You were all over free agency. That seems to be the way they're leaning. I think they're bringing back Whit to play left tackle. He certainly thinks so and it's the right move with Ogbuehi yet to prove he can protect Dalton's blindside.
I think they'll keep Boling at left guard and let guys like Christian Westerman, T.J. Johnson, and Trey Hopkins fight it out for right guard and the spot next to Jake Fisher at right tackle. That would make the right side extremely inexperienced which is why you have to feel they'll re-sign Whit.
It sure sounds like they'll take the best player no matter what he plays. But, like I say, if it's a defender they get young and fast quite quickly.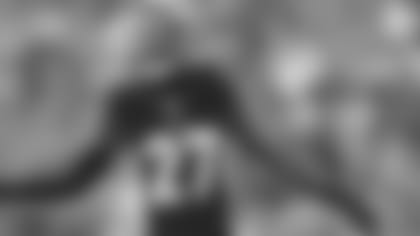 Bringing back cornerback Dre Kirkpatrick is high on the Bengals' to-do list.
Geoff I'm sure like some Bengals fans I can't help but have an uneasy feeling about the team. I feel like they are on the verge to backslide and fall into a rut. I guess part of my reason for feeling this way is there just doesn't seem to be a sense of urgency/disappointment within management and coaches.
It's just the same old same old "we have to coach better players have to play better". I guess this happens when nobody feels threatened in their job. You clearly underperforming/outdated coaching (Oline being one) and some players that have been Grosley overpaid or are telling police they hope they die. The team's strategy of comp picks just blew up in their face after losing their #2-3 WRs, starting RT, and pro bowl safety. Please tell me that someone in that building realizes that the backslide is a very real possibility and it's time to light some fires in peoples behinds. Thank you as always. Dustin Meritt, Manhattan, KS
DUSTIN: Good to hear from you again out in Darrin Simmons Territory.
I understand the unease. It was there even before A.J. Green and Giovani Bernard got hurt. But what I have a hard time getting my hands around is the sense that they're on cruise control down here. Just because no one got fired nobody cares?
These are proud people.  Owners, scouts, coaches, and players that are trying to figure out how to get back to the postseason after a run of five straight years the pundits declared they had one of the most talented rosters in the game. I mean, yeah, there are a lot of people down here working a lot of hours that get it. I think we can start the debate beyond that.
((In the How Soon They Forget Dept., before this season Sports Illustrated named Paul Alexander as its offensive line coach on its all-NFL team.)
Listen, I'm as worried as anybody. I get kidded down here for being nervous all the time. I mean, when you give up 41 sacks you wince into the offseason.
But I also think there has to be some patience here to see if last season was an aberration or if an offense with a healthy Eifert, Green, and Gio can get them back. See what impact two injured draft picks have on defense in William Jackson and Andrew Billings. And see how much younger and faster they can get on defense in the draft.
Aberration or back slide? It's a club one year removed from winning 12 games and had play-off game won with a backup QB. I guess this year tells us. But I think you need more than a season to judge that and I don't think you can use a season that had Green and Eifert together for two full games as a measuring stick. We're in the "You're fired!" era, but stability isn't a code word for sloth. Just ask Hue and your obligatory Bills fan.
I wouldn't say their comp pick strategy blew up in their faces. I think they thought they'd get two fourth-round picks and two fifths instead of just one each.  That would suggest they lost out to decimal points and not planning. They did get the maximum four picks and do get the first comp picks in the fourth and fifth rounds. Not as good as they hoped, but not enough to call FEMA.
They lost some very productive players on both sides of the ball. But the one that bit them was the one they didn't expect when they traded Andre Smith for Cedric Ogbuehi.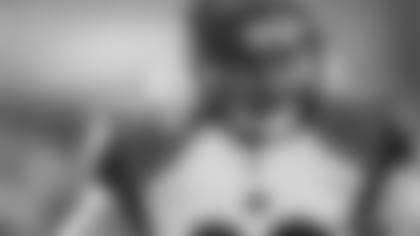 This year's Ryan Hewitt probably comes via that seventh-round compensatory pick.
Hi Geoff, Nice that the Bengals got four compensatory picks, though not near the value for which I had hoped. In any case, since the Bengals give undrafted college free agents a fair shake and have that general reputation with many agents, do you think they would get more value trading the 7th round comp pick to a team without that advantage or with fewer picks to move up a spot or two somewhere else on the board? Thanks, Peter Neefus, Virginia Beach, VA
PETER: It's an interesting question now that these picks can be traded. But I tend to doubt it. They've only traded up three times in their history. I think what will happen is they'll keep that comp seventh-round pick and use it on what would have been their first pick in free agency after the draft.  So this year they'll draft Ryan Hewitt or Trey Hopkins with that last pick because they won't have to wait. And, like T.J. Johnson in 2013, he'll probably stick.
Hey Geoff! Love the coverage, great job keeping us all up to date. Stay with me here, but I think the Bengals are this year's Dallas Cowboys: a good team that had some bad luck in terms of record, and because of that finds itself with a much higher draft choice than normal.
As we all know, Dallas used that pick to select RB Elliott, and I have to believe that the same mindset is going to drift through the Executive offices. You said yourself in a recent "Hobson's Choice" that the best was to protect Andy Dalton is with a solid running game. Hopefully the Bengals won't be picking this high for quite some time, but I have to believe that the #9 pick is going to be Fournette or Cook. We may never get this chance again, and I think Mike Brown is going to see that. He traded up once for Ki-Jana Carter, if one of those two backs is there at #9, we're getting a new running game in the Jungle. Your thoughts? Landon Patrick, Madison, IN
LANDON: Thank you for reading. I think Fournette is going to be very much in their discussion. And maybe even Florida State's Dalvin Cook. If they're healthy, it could very well happen although it's going to take Mike another 22 years to trade up for a back.
Who would you like to see on the Bengals in free agency? Brandon Seamon, Hornell, NY
BRANDON: Let's get Whit and cornerback Dre Kirkpatrick done and go from there. We know they're not going to drop big money early on an unrestricted free agent because A) the odds are 50-50 at best it pans out and B) it eats away at their comp picks for next year.
But they showed last year they could get a nice, impact bargain pickup from the non-unrestricteds when they signed wider receiver Brandon LaFell. Obviously they need pass rushers (Jared Odrick just released from the Jags)), but that's going to be a bit pricey if they re-ink Whit, Dre, and run at running back Rex Burkhead.
I'd like to see a young veteran linebacker or two that can run and a seasoned backup cornerback (take your pick), but something like that isn't going to happen until closer to the April 27-29 draft. They're operating with the philosophy that when it comes to value, their own roster is stronger than anything on the street. If that feeling begins to erode, then I'd think you'd see them get active in free agency but all signs are they're still confident in their homegrown talent.
I also wouldn't mind them feeling out right tackle Andre Smith for a return. He had an underrated career here and they won a lot of games with him.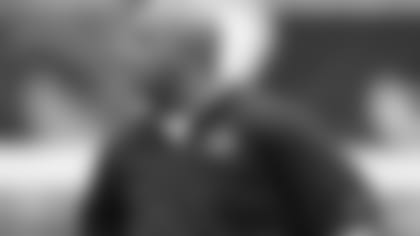 Would Mike Brown do a deal with this man? Browns head coach Hue Jackson, here as the Bengals offensive coordinator, is on the lookout for a QB.
Geoff, it's always great to read your posts this time of the year. My thought/question is: Why not take our first round pick (12th overall) plus A.J. McCarron and trade them to the Browns for the first pick in the draft and get Myles Garrett? We would get the best player in the draft (not to mention an edge rusher) and the Browns would get A.J. and still have the 9th and 12th picks in the draft. Seems like a win-win for both teams. We are only a couple of players away from being where we need to be and Myles Garrett fills a big need. What do you think? Robert Greenwood, Kettering, TN
ROBERT: Thank you for reading. Nice thought. It takes two to tango, though. If you're the Browns, you can get both Garrett at one and a top QB at 12 without giving up a thing. But, yeah, it may take the top pick in the draft for Mike to make a trade with Cleveland.
First off thanks for taking the time to answer questions for us fans. With the cap and the way other teams spend so freely I am one who loves Mr. Browns method of in house first, but other than Whit, Zietler and Dre we still seem to lack that piece to get us over the hump. With dansby and LaFell last season I thought we had a solid team but is there any names out there that could actually be in the picture to come to Cincinnati? I personally would love Brandon M and a cb or even jpp but that seems far fetched right? Michael Rushlow, Toledo, OH
MICHAEL: Thank you writing in and hope you do again. Yes, far-fetched. They hope their headline-making free agents are going to be Whit and Dre with a hope for Rex and Zeitler.  My sense is until they think their roster has dropped off they won't raid unrestricted free agents. They just don't like the 50-50 nature of these big free-agent deals that blow up and leave more dead money than talent. In the Green-Dalton Era the pundits would tell you that strategy has built one of the more talented rosters in the league. The challenge is if that strategy allows them to bounce back from a 6-9-1 season.