Hey Geoff, Hoping you can share some defensive insight from week one. I couldn't help but notice Leon Hall blitzing from an inside nickel corner position vs the Ravens. Do they tend to shift Leon inside for matchup reasons (ie- putting Jones on Torrey) or more to confuse the quarterback? Something we should expect this season or unique to this scouting report? Max Comisar, Cincinnati, OH
MAX: For the last few years Hall has always their slot guy no matter who goes in there, just like the right and left cornerbacks basically stay on their side no matter who lines up where.
Hall has everything you need in the slot. Toughness against the run. Ability to run. Savvy. It's why they've made Young Leon Hall (first-rounder Darqueze Dennard) the backup in the slot and why they figure to no longer need to go get Chris Crocker.
Things got dicey Sunday when Hall needed a blow with Dennard (hip) already inactive in the face of the Ravens' second-half no huddle. They put Dre Kirkpatrick in the slot for those plays and he's probably more comfortable on the outside. The hope is Dennard is back this week.
We'll see if Hall blitzes more from the slot than he did under Mike Zimmer. New defensive coordinator Paul Guenther is already showing he seems to have more taste for the blitz.   
Hello again Geoff. I have two questions this week. One, I know I can't be the only Bengals fan with this on his mind. Our QB situation. Say Dalton goes down and Campbell comes to fill in. But what do we do if Campbell goes down, too, before McCarron can even think about coming back? Do the Bengals have a plan for something like that happening? And my second question, how long is Tyler Eifert going to be out for?  Collin Cleveland, Canon City, CO
COLLIN: It would be the same plan if McCarron had been healthy. It seemed like they felt all along that McCarron wasn't ready to play in Year One, so the option would be to go get another veteran as the No. 2, if God forbid, something like that would happen.
And, by the way, just talking to some people around here, they love McCarron's work ethic and the amount of time he spends in the building. But he's still a developmental guy.
The guess here is Eifert is out at least four to six weeks and is a candidate for injured reserve-recall. If he went on it this week, he'd be eligible to return for the tenth game.
Iam a long time Bengal Fan dating back to 1974. I am very concerned about the running game. It seems the Bengals will not have Bernard or Hill in at the same time? Why? I believe if they would utilize a two back formation with Hill in and Bernard in at the same the offense would be more productive especially in the running game. I am very disappointed that Hill was not effectively utilized in the last game versus the Ravens. If they keep sending Bernard up the middle and letting Bernard do the pounding Bernard is going to get injured. What is your views on my comments? Kenneth Dippel, Loris, S.C.
KENNETH:  You've seen some good running games over the last 40 years. Nobody ever likes the Bengals running game after they play Baltimore and Pittsburgh. But that's just the way it is. Nobody runs on the Ravens and Steelers. Traditionally they're in the top five or ten against the rush. If the Bengals go for three yards per rush this week against a Falcons team that finished 31st against the rush last year, then you have to start being concerned.
Just because the Bengals didn't put Bernard and Hill in the backfield at the same time on Sunday doesn't mean they won't at some point. That's a nice little wrinkle, but you can't show everything in the opener and you can't put too much on the plate of Hill so early in his rookie year.
Jackson said he didn't play Hill a lot Sunday because he didn't want to throw a rookie in there in a hostile environment on the road against a good defense.  The No. 1 thing you have to do to beat Baltimore at home is not turn it over and stay away from mistakes and so it was a veteran's game. But don't worry. Hue knows Hill is around. My guess is he'll end up with more carries than the rookie Bernard got with 170 last year. And he'll get more when the Ravens are at Paul Brown Stadium Oct. 26.
Do you know the Bengals' defensive statistics from yesterday's game, before and after Burfict's injury? Was the D completely lost without him, did they just get complacent, or did the Ravens make great adjustments to their gameplan? Or a combination? Thanks. Blake Ayers, West Carrollton, OH
BLAKE: The Ravens had just 97 yards on 33 plays in the first half and 323 yards on 52 plays in the second half for a variety of reasons.
Certainly the loss of Burfict is a big reason, but there are others. As defensive tackle Domata Peko said, the Ravens ran on the Bengals nickel package out of pass formations and Burfict is a big part of that package.
But they also ran so many plays in the second half because the Bengals offense couldn't convert third downs and the Ravens went hurry up and did what the Cincinnati offense did to their defense in the first half and tired them. Plus, the Bengals were playing a little soft with a lead late and gave up some yards trying not give up the big play, although they did give up one.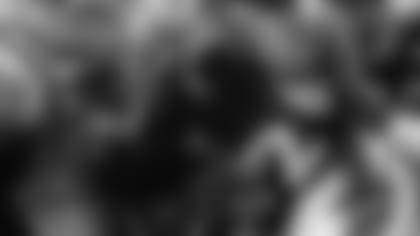 Jeremy Hill is going to get his carries.
For someone who declared that the Bengals needed to run more, and faced with a number of 3rd and short situations, why did Jackson abandon the run and/or not use Hill? Harold Moskowitz, Chicago, ILL
HAROLD: Jackson said Monday he didn't use Hill because he thought it was a tough venue for him to play in his first NFL game and he knew what he was going to get out of Bernard. It's a tough spot the opener in a building where the host almost never loses to use a guy who is still an unknown. I'm not sure Jackson abandoned the run. That was his game plan going in because the Ravens are so tough to run on.
As Hue said Monday, "I've told you guys before (we would run it), I didn't say when we would run it. ""
Geoff, I read from you that Hue stated in the preseason that they just ran plays during preseason games and they didn't execute the offense at all. I understand that you don't want to tip your hand but you can't be good at something unless you practice it.
Am I the only one that thinks that Hue is crazy in not practicing the offense in game situations? Do you think that is why we struggled getting in the endzone on Sunday and also why we saw zero increase in the run game plan as Hue promised? I think Paul's unit did wonderful but could have benefited from a little better time of possesion as Hue's "run first offense" could have delivered. Jeffrey Kulovitz, San Antonio, TX
JEFFREY: The plays they ran in the opener they've been running since the spring, just not for public consumption. So they've had plenty of practice with them.
The reasons they didn't score TDs in the end zone aren't because of a lack of practice. When Dalton got stuffed on third-and-goal from the 4, rookie center Russell Bodine just needed to hold on to his block a little longer. Dalton had a wide-open TD on the other red-zone trip, but he clearly expected tight end Jermaine Gresham to keep running his route instead of cutting it off.  Those two plays aren't because of a lack of reps, but plays that are fixable.
You can chalk up the zero increase in the run game more to the effectiveness of Baltimore's defense and the loss of Eifert rather than the Bengals preparation. The Bengals game plan that revolved around two tight ends got ripped up with 3:19 left in the first quarter when Eifert got hurt. With him in there with his blocking to go along with the specter of his pass catching, the Bengals had 27 yards on their first seven rushes for nearly four yards per rush instead of three.
At least they're not saying the offensive coordinator is predictable.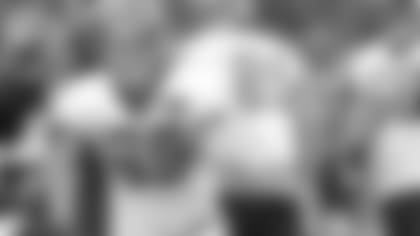 Ryan Hewitt has to step up at tight end this week.
With the injury to Eifert couldn't someone like hewitt step in so they can run the same offensive scheme? Or is Eifert just that good it won't be effective? Doug Pritchard, Huber Heights, OH
DOUG: Sure, Hewitt can play tight end and he probably will since it doesn't look like they're going to go get a tight end to replace Eifert. They may at some point if they put him on IR-Recall, but right now it looks like they'll stick with Gresham, Hewitt, and Alex Smith.  Just don't expect Hewitt to be able to do the things Eifert can do.  Eifert was the 21st player taken in his draft. Hewitt is undrafted. He's not going to be able to split out or go in the slot like a third receiver and be a nightmare matchup for backers and safeties like Eifert and Gresham.  
I thought that the focus of the Bengals offensive attack was to get a strong run game. Was the absence of Ladarius Webb the factor in more pass attempts then rush attempts? Or was it just mostly to find the tempo early in the season? Thanks for your time!  Paul Ewing, Xenia, OH
PAUL: Hard to have a strong run game against Baltimore in Baltimore, although, you're right, the Ravens not having Webb, their best cornerback, opened up things. But Jackson said he felt their best chance at winning the game was not going "downhill,' at them  and keeping them off balance by doing so many different things so the Ravens couldn't focus on what they do best. Which is coming right downhill at you stopping the run game and sacking your passer.
why is Nugent not on the list for player of the game? he was by far. Randy Ramsey, Loveland, OH
RANDY: He was one of them, that's for sure, although he'd get a big run from Dalton, Green, defensive lineman Wallace Gilberry, and linebacker Emmanuel Lamur.  But I think our poll question revolved around Play of the Game. Although all five field goals were needed, the Dalton-Green bomb, the Gilberry 1.5 sacks, and Mohamed Sanu's two-point conversion were quite specific. Hard to pick put a field goal.
In Sunday's game, on the touchdown by Steve Smith, Sr. Grasping and twisting of the head gear by an offensive or defensive player is a penalty, is it not? Lecester Lowery Jr., Cincinnati, OH
Lecester: It sure looked like Smith grabbed Adam Jones' facemask with a not so stiff arm, didn't it? As Solomon Wilcots said on TV, it looked like the ref was shielded from the play.