Since Marvin Lewis is making out this roster and not profootballfocus.com, Domata Peko is here to stay.
Geoff I know you have written on it before but why does it seem like the Bengals keep some guys a season or two too long and some guys are released (Mike Pollak) or are never given a fair shot (Boom Herron) over what are perceived as "Coaches Favs"? It's clear to most outsiders and many fans that Peko and Geathers are ineffective, but we continue to hold back younger players to "develop". I think back to John Thorton having to bench himself to get Geno on the field and Brandon Tate finally getting replaced by Jones who goes on to become an all pro. No more developing and no more scholarships, we watched an UDFA win the Super Bowl this year playing nickle coner while out first round pick was a gunner. As always Geoff thanks for all you do to keep us fans in the loop. Dustin Merrit, Manhattan, KS
DUSTIN: Thanks for the note.
I hear where you're coming from because I thought for a long time the coaches were too hesitant to play young guys, but I think since the advent of the 2011 Green-Dalton Bengals they've done a good job of that.
I mean, Boom Herron still wouldn't get on the field here. He couldn't get ahead of Rex Burkhead, never mind Jeremy Hill and Giovani Bernard. And I like Herron, but the only reason he played in Indy is because Ahmad Bradshaw got hurt and Trent Richardson went nuts.
I was also sorry to see Pollak go as a backup guard. He played well when they needed him to come off the bench. But he just turned 30, he's got a balky knee, he wasn't going to beat out Kevin Zeitler or Clint Boling, and the Bengals have an undrafted 23-year-old free agent from 2014 from Texas in Trey Hopkins that they like.
No one gets grilled more by the fans than Peko and Geathers and yet no one gets praised more by the coaches than those two guys. Yes, I would like to have seen Margus Hunt and Will Clarke play more in place of Geathers and you'll get your wish next year. But be careful what you wish for. They are coaches' favorites for a reason. They do it the right way. Can we all just agree that Peko is a guy they want and like and value and move on and that profootballfocus.com isn't setting the roster? Peko is a linchpin both on and off the field.
(And Peko isn't stunting anyone's growth because everyone has been getting their shots in there at D-tackle and they keep turning back to him.)
They were always trying to get Adam Jones on the field as a returner, but either he was hurt or the other corners were hurt and he was starting at corner and couldn't return. Last year, everyone was healthy and look what happened. Believe me, Darrin Simmons knows Jones is a better returner than Tate.
It wasn't Atkins that Thornton was trying to get into the games, it was rookie Pat Sims in Thornton's last season of 2008. They figured out pretty quickly that Geno could play, although I wouldn't mind having Sims now backing up Geno, Peko, and Brandon Thompson.
The Bengals are a team that agents love to send their undrafted rookies. The Bengals give them chances. Just look at Stanford tight end Ryan Hewitt this past season, everyone's All-Rookie team fullback. Burfict went to a Pro Bowl, Lamur got a starting job even though he had to make it through a rookie minicamp to get a contract, and Hopkins would have made the team last year if he didn't break his leg in a pre-season game.  They've received Butler-like production out of their CFAs down through the years. Certainly not as dramatic, but very, very productive,
I think you were right a few years ago but, lately, there aren't too many scholarships now.
All indications are Gresham is gone. Eifert is expected to be back and will hopefully return without side effects from his long recovery. With the lack of TE depth in the draft and the abundance of tackles and the Bengals need for a good blocking TE to compliment Eifert. I would like to see the Bengals sign a tall, athletic, tackle out of college that already possesses the ability to block and see if he can develop into a short range receiver. Not saying I would waste a draft pick on it but I like the potential upside of having another quality blocker in their when Gio and Jeremy are running the ball. Opinion? Greg Haigis, Independence, KY
GREG: Sure, I'd love that and they need it if Gresham is gone. I keep saying it. You're going to miss this guy's blocking when he's gone. The problem is, the guy you describe is rare and if he's that big and athletic, he's gone in the first three rounds, whether he can catch or not. I doubt you find a guy like that in college free agency.
It's compounded by the fact this isn't a good year for tight ends in the draft, so they may have to till veteran free agency. But, you're right. They need to find a blocking tight end and it won't be early in the draft, if it all.
Hello again sir! I am wondering, what is the plan this year behind Dalton? Will McCarron have a shot at number 2? Will Campbell re-sign and if not will another QB join the frey? Also just curious, if I were to send a gift, like a CD of my band Letters To The Blind to PBS with a player's name on it, would that player receive my gift? Thanks again Mr. Hobson! Chaz Bond, Columbus, OH
CHAZ: He most certainly would get it in his mailbox.
McCarron is a blank slate. They like him, that's why they drafted him, but he's still developing. If he proves himself in the spring and training camp, he'll have a shot at No. 2. But until then it is Campbell or another veteran backing up Dalton.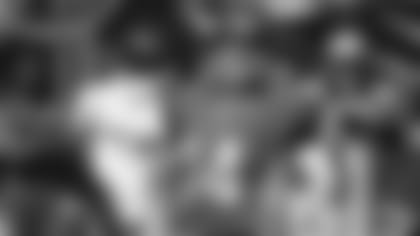 Give Andy Dalton and Hue Jackson some weapons and then let's see what happens.
Great column thanks for all the insight!!! This maybe not a question so much as your musing on the Bengal Nation!!! I am really questioning Mr. Jackson as our OC considering that Dalton was third only to the great Dan Marino and Peyton Manning in both yards and touchdowns in the first 3 years. Everyone seems to dislike Dalton but he IMHO has done great if you look that the first year he entered the league the Bengals were supposed to win 2 games. Yes I love the run game we're generating but we are built like a score happy offense. So do you think that Hue's scheme of take the ball out of Andy's hand has hurt our offense? I personally think and it's my own personal opinion think that a hybred od of Jay Gruden's and and Hue Jackson's offense would be unbeatable!! Thank you oh p.s, Go Rex (Husker born and bred after all) Barry McDonald, Alliance, NE
BARRY: Thanks for the kind note and a tip of the hat to the Team Jack Foundation out your way.
Jackson's offense, I believe, accentuates what Dalton does best. Quicker drops, faster throws, more play-action. The problem wasn't the TDs under Gruden, it was the turnovers (36 picks in 2012 and 2013), low-completion percentage (61 percent in first three years) coming out of the bottom of the seven-step barrel)  and lack of big throws (less than seven yards per attempt in first three years) as defenses sat on the one dimension.
While Dalton is a good quarterback, he's not the kind of guy that can throw it 500 times in a season, and there aren't many that can. You can count them on your fingers and stop with Tom Brady, Peyton Manning, and Drew Brees.
Actually, heading into the last three games of the past season, many of Dalton's key numbers were better with a 63.7 completion percentage, 13 picks, and a 7.3 yards per attempt. He did finish at 64.1 and 7.05, respectively, but the 19 TDs and 17 picks were disappointments.
Yet I point to the injuries to Marvin Jones and Tyler Eifert rather than Jackson. Dalton had 14 fewer TD passes this season, and 12 of them in 2013 belonged to Jones and Eifert. And throw in the fact that A.J. Green didn't have catches in six games, including the Wild Card Game, Dalton's numbers were going to be down no matter who was calling the shots.
And I don't think they were looking for 33 TDs again, either. I think they figure 25 TDs and 10 picks is just fine and damn near elite. Give Jackson and Dalton all their weapons and if the completion percentage and yards per keep going up and the picks keep dropping, the trend is the right one.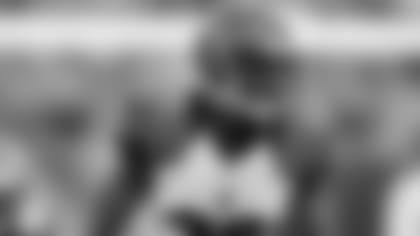 Leon Hall is one of the guys the Bengals made sure wouldn't get away.
Hi Geoff, Big Bengals fan after growing up and first getting into football in the early-mid 80's. I was only a kid then but in SC we had no local team at that point. Im a big fan of the site and follow as much as I can while not living in a locally Bengal friendly sports market. One bonus to living in North Jersey is at least I get to listen to Boomer in the AM with even if it isn't usually about "my" team. My question is this: Am I alone in feeling like many of our best and often times most productive players come to Cincinnati play the rookie contract out, develop and maybe even sign an extension, but inevitably once they really seem poised to take off or at least when their stats and production seem to be at their pinnacle we always trade them or seem unconcerned with pursuing them.
I know each situation is a little different and what not but the common theme seems to be our front office either not seeing the talent they already have eagerly willing to represent the Bengals or really I don't know what...maybe you can explain it. I mean to me examples of this are a long list of guys, A. Hawkins, J. Joseph, Justin Smith, Amhad Brooks, really the list goes on and on. Everyone says its money, but I don't buy it. I understand that Brooks for instance had an injury and was waived, but really???? We didn't see what San Fran did and he was already on our roster???? I just sometimes feel like our team, while inspired and I love to be a Bengals fan, is often times a player development mill....we bring them in , cut their teeth get them some self-confidence and know-how and then let the rest of the league come in like so many vultures and pick from our plate, or even worse do we actively try and trim off some of our best and brightest? Any thoughts???? Rob Malinoski, Bayonne, NJ
ROB: Boomer's the best, isn't he?  I'm very jealous that guys like you and my son can listen to him on the way to work, although I probably could hook something up but I'm still trying to figure out Pandora and Bluetooth. Anyway, thanks for taking the time to write.
There have been guys that have gotten away for a variety of reasons, no question about it, and you still have to explain Andrew Hawkins to me. You can never have enough of those guys but, to be fair to them, who would have thought someone would give him more than $5 million in that first year?
But for the most part in the Marvin Era I think they've done a good job identifying their guys and keeping them around. I think they have kept the best and the brightest, starting with the extensions for Carson Palmer, Chad Johnson, Willie Anderson (who got three contracts) and T.J. Houshmandazdeh, and going all the way through Andrew Whitworth (who has also had three), Geno Atkins, Carlos Dunlap, and Vontaze Burfict.
When you draft good players, and I think we can agree they've done that the last five or six years, you can't keep them all because of the salary cap.
I mean, they were concerned enough about Johnathan Joseph in 2011 that it came down to the wire with Houston and I still wonder if they had a normal free-agency period instead of a truncated one because of the lockout if that may have gone differently.
Was that money? Sure. They also wanted to re-sign the other cornerback, Leon Hall, and could you keep two $30-40 million corners? Plus, Hall looked like a surer bet. He had yet to miss a game and Joseph had spent his career dealing with nagging injuries. They wanted both, but they also didn't want to break up the team. Hall got the extension a month after Joseph left and now he's slated to count $9.6 million against this year's cap while Joseph costs Houston more than $12 million. It's doubtful they both would still be here if they both re-signed.
But sometimes it's not money. It was pretty clear the coaching staff didn't exactly love Brooks and at that point in his development, or lack of it, you couldn't blame them.  When Justin Smith was in his final couple of years here, the Bengals were toying with going to a 3-4 defense but they didn't see Smith like San Francisco saw him. But they were certainly interested enough because they franchised him for that last season.
And I thought Hue Jackson was very open and honest about Hawkins last week at the combine. When they looked at a loaded wide receiver corps a year ago at this time, they underestimated what Hawkins brought to the table.
So there are a variety of reasons. It's not always money.
And there are times the players wish they hadn't had left via free agency because, in the end, the money simply wasn't that much different. Ask Houshmandzadeh and Michael Johnson, who left established spots on playoff teams and went to losing teams where they weren't nearly as productive. And, like Houshmandzadeh, Johnson may get cut.
Like all teams, they've lost some and won some, but I think for the most part the proof is there. They've kept a contender together.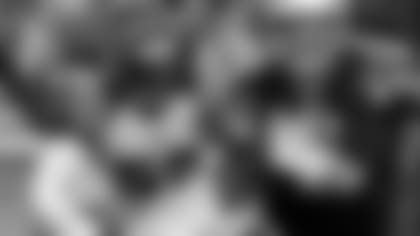 The Bengals need more depth at linebacker so guys like Emmanuel Lamur can do what they do best.
Mr. Hobson, First, I must say that your Hobson's Choice pieces are one of the main things keeping me sane after the loss of real football and you are an ever resent inspiration to us minor league writers down at CincySportsScene. My question revolves around the LB situation for 2015. With not a major supply of talent at the MLB position both in the draft or FA, is it possible the Bengals find help at outside backer and move Burfict to the middle spot. I don't ask this question to dog on Maualuga or his return, I ask it more based off the hype that surrounded Sean Porter before his injury last season. The coaches seemed really high on him to the point that they wanted to test him with the starters the day he got hurt. And with Vinny Rey, Flowers, and Lamur being better at the outside spots; is it possible that the Bengals draft another OLB (Shaq Thompson maybe?) and move 55 to MLB so they have their best 3 backers on the field? Again, thanks for giving Bengal fans a glimmer of football in this brutally cold time. Ryan Drewry, Williamsburg, OH
RYAN: Thanks for the kind note and there are no such thing as minor-league writers.
You guys obviously have it pretty well scoped out. There isn't much help out there in free agency or the draft. But they need a bunch of backers because they have to assume Tez (knee) and Maualuga (free agency) won't be back. They think Tez will be and they want to re-sign Maualuga, but they have to go with the worst-case scenario.
They need a guy like Tez that can play all three downs. Lamur, Vinny, and Flowers are all 20-snap-a-game guys at most. They thought Lamur may have been a faster Tez, but right now, until he develops more, he's merely a nickel backer. And Vinny is, too, although he can also play the middle, but you can't overwork him. Thompson is interesting, but I'm not sure the priority is high enough that you could get him. If they're truly going to take a tackle and edge rusher, they have to do that before they take a linebacker.
Hopefully the picture is a lot clearer when the draft starts April 30. At that point they've either got Maualuga or they don't and they've made moves in free agency if they don't. Plus, they should have a better grip on Burfict's rehab.
Hello Mr Hobbs, I enjoy reading your thoughtful well written articles. Tampa released Darrelle Revis after agreeing to a huge contract. I get the impression that they are not happy with Michael Johnson. What are the chances they release Michael and we get him or Anthony Collins back?  John Light, Kill Devil Hills, N.C.
JOHN: What an address. It sounds beautiful down there.
As for free agency with any name, never say never.
Do you think the Bengals will draft a quarterback this year? Mike Jones, Cincinnati, OH
MIKE: I doubt it. Weak draft class and they don't know anything about the guy they drafted last year. Hobson, Thank you for your excellent articles and detailed responses! What do you think is the greatest threat to the Bengals success? I know we're going to lose a few role players this offseason, and possibly more next offseason. Will this impact the moral of the locker room or the development of young talent? How does the team respond when we lose a Michael Johnson contributor to free agency? Looking forward to your insight! Trevor Lowe, Maysfield, KY
TREVOR:  Thanks for the kind words
It is the reason the Bengals have been to the playoffs five times in the last six years with two different quarterbacks and an offensive ranking averaging 19th. After falling from third to 22nd in the league rankings overnight, it is time to make sure it doesn't slip any more. That means they've got to beef up their front seven. That's how they rung up top ten rankings under Mike Zimmer. A relentless rotation up front and smart, physical play from their linebackers. And they need depth, depth, depth. Another pass rusher, another tackle, another three-down backer, preferably one with experience.
Losing a Michael Johnson is tough, obviously, because he's such a great guy and hard worker. But when you've got a room full of those guys, it's easier to absorb a loss like that and guys like Andrew Whitworth, Domata Peko, Leon Hall, Robert Geathers, and Vincent Rey have lead the way and kept the good vibes in the room going.
Now there could be another blow to the locker room because there is a buzz about Geathers not coming back. Again, other people have to assert themselves because Geathers is such a tremendous leader. That's where the emerging line vets like Atkins and Carlos Dunlap come into play and I think they'll be fine with it because they've grown up in the league hearing it from Peko and Geathers.