Center Russell Bodine has had some big blocks this season at key moments.
Nice story on Hewitt and his development, blocking etc. But the block of the year has got to be Bodine's destruction of Michael Bennett on Dalton's TD run in the Seattle game. Bodine has been up and down a little, but that was a work of art! Love to see a breakdown of his season so far. Dave Groenke, Cincinnati, OH
DAVE: Thank you. Yes, a great block and superb recognition by Dalton.  How about Bodine's block on Marvin Jones' cart-wheel TD in Buffalo? Just drilled Bills cornerback Stephon Gilmore.
I think he's having a pretty good year, but not ProFootballFocus.com. They had him ranked as the league's No. 1 center early on, but now he's ranked 31 out of 34. I know he had a bad game against the Ravens' Brandon Williams, but I don't know how you can have an offensive line playing so well and have the center ranked so low. He's got to become more consistent, yes, but he's playing better than that.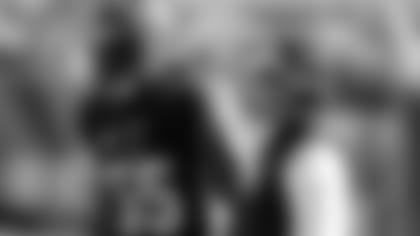 Defensive coordinator Paul Guenther would love to have Vontaze Burfict out there rounding out his defense.
Hi Geoff - Let me start off by saying that Vontez is my favorite player on the squad. He plays with a passion and fire you don't really see often. With that said, he often allows his emotions take over and will make a stupid penalty in a crucial situation. Never in a million years did I think I would say this, but do you think the D is better off with the cooler, field general in Vinny out there? He not only leads the team in tackles, but per previous articles, he is making outstanding audibles. It seems like he has Been the "glue" out there on D. Just not sure if the staff would want to trade the raw emotion and talent of Tez for the 6-0 start of Rey. Do you think this factors at all into the lack of return from PUP for Tez during the bye week ? Or is Marv playing chess with Tomlin ? Or is he just not ready to go yet? Thanks, Matt Steinau, Laguna Niguel, CA
MATT: First things first. I imagine Marvin is playing some type of game with Tomlin. Has to. But I think Lewis really doesn't know when Burfict can come back and he certainly doesn't know how much Burfict can give him once he comes back. No one does.
And they weren't going to waste Burfict's first practice on the only workout of the bye week because once he practices with the team, the 21-day clock until they have to make a decision on him starts to click
Talking on Sirius NFL Radio with Alex Marvez Thursday morning, Lewis sounded a lot more optimistic than he has been about Burfict. Just reading between the lines, it sounds like to me he'll practice Monday barring a setback. But that is just pure, unadulterated speculation and they may want to take it slower.
But not because they don't want him out there.
Vontaze Burfict is Vontaze Burfict. When healthy he's one of the best defensive players in the NFL. And, like Vinny, his football IQ is through the roof. Remember the fourth-and-five on the last play in the win over Green Bay in 2013? The way defensive coordinator Mike Zimmer said it, he was in the process of making a call on the sidelines during a timeout when Burfict cut in with, 'No, coach. Run this.' I said 'All right. You've got it.'" And Michael Johnson tipped a pass to end it.
Yes, Burfict hurt them when he lost his cool at times during games last season. It was really strange because he worked so hard to stay away from that stuff his first two years in the league. But, like you say, we all love his fire and his tough mentality, and he knows he has to walk a line and I think after he's been away from it for a year he'll probably have a better understanding of it.
Believe me. They want this guy back. He can make all the difference because he puts this defense over the top. They're dominant up front and in the back and with Tez they would be dominant again in the middle. Remember how they got to be the No. 3 defense with virtually the same cast up front and in the back in 2013. Tez played about 95 percent of the snaps with Rey and James Harrison playing about 35 percent in niche roles. Vinny has shown he can obviously handle more snaps, but they're at their best when everything revolves around Tez and Vinny, Emmanuel Lamur, and A.J. Hawk are complementary players.
The Bengals seem to have a bad time coming off of a bye week. How can Marvin keep his team focused on the road ahead. O.J.  Dziatkowicz, St. Clairsville, OH
O.J.: He really can't do anything because they're not here during the bye, which is the accepted norm throughout the league.
I think you have to look at each individual game for reasons and not so much the bye. For instance, last year the 3-0 Bengals got pummeled by the Patriots coming out of their bye. Clearly they were hurt by the loss of momentum they built up in the first three games, but going against a New England team on the road in a lather over a big loss in Kansas City six days earlier didn't help.
But have they been that bad lately? In 2013 they won the AFC North finishing 4-1 coming out of the bye and in 2012, after losing their first game out of the bye, they went 7-2 to finish the season.
I love your column Geoff and read it religiously. Do you think A.J Hawk will have an expanded role? His talent and experience show with the way he is in position and how he hits the gaps. I know he's older now but he has been a good coverage linebacker in college and the pros. I think having him in some nickel formations would make our defense better. Do you agree? Thanks Randy Hagan, Sidney, OH
RANDY:  Just by his percentage of snaps, the Bengals coaches seem to think at this stage of his career Hawk, 31 and off bone spurs surgery this offseason, is a better run player than nickel player.  He played a combined 20 snaps against the passing sets of the Chiefs and Bills, but played 27 when Seattle tried to pound it. I don't see that changing, particularly with the three-down Burfict coming back at some point.
Many thanks for your excellent work. Your articles are always a good read and help keep Bengaldom informed. I've been a fan of the Bengals since the NFL came to the UK screens in the early 80s. I remember stopping up through the night to watch the 88 Superbowl. In this modern age its easier to watch all the games screened live which is great. I plan to visit to watch my first game live next season if possible. As the NFL tries to spread its influence further afield with the International series a number of organisations have been very proactive in growing foreign support in this country.
The Jags are committed to annual games min London and their support base has increased. Successful franchises like Seattle and the Patriots have growing support. My question therefore is whether the Bengals have any plans to follow suit. With public profile at an all-time high, even Andy Dalton is getting plaudits which is saying something, and with increasing success, can we see the Bengals increasing their presence in foreign markets and (hopefully) playing a game in the UK any time soon? Keep up the good work.  Peter Dadswell, Sheffield, England
PETER: Thank you for the very kind words from the ancestral home of Hobson's Choice. I wouldn't be surprised to see the Bengals out your way at some point.
 The recent agreement with Hamilton County that gave rise to bigger scoreboards and the expansion of team spaced at Paul Brown Stadium opened up the possibility of an overseas trip. The league looks like it wants as many of its teams to participate as possible in the London venture and the Bengals have always had a dedicated group of English fans.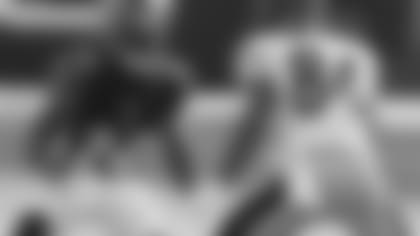 Cover corners like Adam Jones (matched up here on Steelers Pro Bowl wide receiver Antonio Brown last season), make the Bengals Super Bowl contenders.
The bengals are doing great this year, but it seems to me that the defense isn't good enough to make it to the super bowl. If they're giving up 20 or so to mediocre offenses what's going to happen when they face a good offense? What can they do to make the defense better? Are they happy with the DB's? Jay Stenger, Cincinnati, OH
JAY: I don't agree with you there. I think any team that has the pass rushers and the cover corners this team has can win the Super Bowl.
And if  you look at half of the six games (Oakland, Kansas City, Buffalo), the Bengals gave up some garbage points when they had more than two-touchdown leads and they didn't give up a TD against the Chiefs. For a quarter-and-a-half they shut out Super Bowl QB Russell Wilson on one first down and holding Philip Rivers under 20 (19) is always solid work.
That said, they haven't done a great job stopping the run and the secondary has struggled giving up the big play. I think, for the most part, they're pleased with the DBs. Adam Jones (No. 4), Darqueze Dennard, and Leon Hall are all ranked in the top 31 of corners by PFF and while safeties George Iloka and Reggie Nelson are ranked lower than that, (they rank in the top 32 for missed tackles for safeties), history shows they'll play better down the stretch. Iloka and Nelson have played well in stretches this season, certainly against tight ends. And when Iloka went down early in Baltimore, Shawn Williams came off the bench to play well when the Bengals held the Ravens to two yards per rush.
It would be nice if they could get a little more depth and speed at backer because (Vincent) Rey and Rey (Maualuga) are running on fumes, but that's where Burfict comes in. If you get back one of the best linebackers in the league, he makes you quicker and deeper.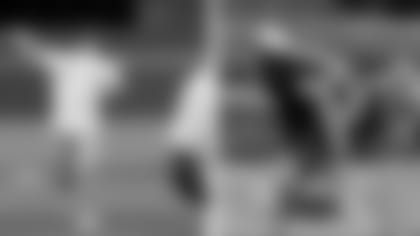 Andy Dalton let the All-Star boos roll off him into a 116 passer rating before the bye.
I figured I would tap the wise grey beard Hobs and ask your thoughts on this..... The last two weeks we have faced off against two defensive schemes that never change what they do no matter who they play and both times they switched their schemes.
I know you have seen it all but how impressive is this from your end? Also for the Dalton haters still out there ponder this... When we booed Carson and people dumped trash at his house he quit and demanded a trade, yet when we booed Dalton at the MLB all star game and figuratively dumped trash on him he just put his head down and worked harder and reponded with the best 6 games of his career.... Talk about intangibles #Respect Anthony  Douglass, Hamilton, OH
ANTHONY: Take it easy there. No beard. And maybe a little white, but no gray. But I like the wise part.
Love the question, but you're not going to hear me ever trash (sorry for the pun) Carson. He put this place on the map with an absolute howitzer, pulled a division title out of thin air in '09 with unbelievable clutch play, and played the position as well as anybody in 05-06 before his weapons started to go off the rails, and he won more tilts around here than anybody did for 20 years. I never put much stock in the trash-on-the-lawn story. I don't doubt it happened, but there were a lot more important factors at play than Rumpke.
I saw where Dalton downplayed the original story about how he used the booing at the All-Star game to fuel this season, which is why I love Andy. The guy reacts to everything the same way. A pick-six. A fourth quarter comeback. A grilled cheese. The kid never changes.
Now, granted, that can be a little galling when things aren't going well. But I think Hue Jackson has done a great job encouraging Andy to show his emotions. I tell you, you just can't underestimate the kid's even temperament.
I hear you, Anthony. What this offense has done to two coaches ballyhooed as defensive gurus in Pete Carroll and Rex Ryan the past two weeks is well, what's that make Hue Jackson? I'm sure Bills owner Terry Pegula took note.
The thing that is fascinating to me about this offense is how well director of player personnel Duke Tobin put it together and how well Mike Brown and Katie and Troy Blackburn kept it together . I mean, look at all these guys. Anybody that touches the ball can make something happen. You simply can't cover them all. As Carroll and Ryan discovered, they just didn't have enough Xs to match Hue's Os.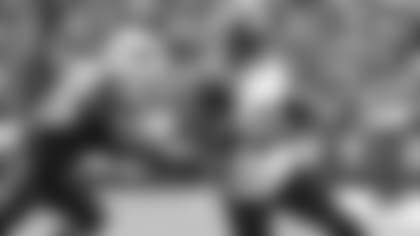 The Bengals hope running back Jeremy Hill can light up some Cover 2s.
hey Geoff, big win on Sunday I thought. the running lanes seemed to open up a lot better for jeremy hill than they had prior to that game and they were still there for gio which is good news. as a fan, watching the games I'd like to see them ground and pound it more. i feel like the balanced run and pass play is kind of throwing off the rhythm of the run game.
I'm just surprised that with the big offensive lineman, the two pass catching tight ends, and a.j. green, that they wouldn't want to set the play action up more often. but maybe they're saving it for the end of the year when it's cold....Andrew Todd, Medford, OR
ANDREW:  I think you're right about that. This team runs the ball much better later in the year and, yes, I thought there would be more play-action.
But I think Hue has done a great job still trying to run the ball against teams that don't like you to run. If you look at the last four defenses they've played, none are ranked lower than 13 against the run and the Bills are No. 4 and the Ravens are No. 9, and those ar hard crews to play-action.
I mean, Baltimore dared Dalton to beat them and put eight in the box. Seattle always stuffs the box and Rex has that ridiculous front four that is in the top five vs. the run. The one thing Hue wants to do more than run the ball is win and it's about take what they give you. The reason those running lanes opened is that Rex went a little Cover Two to stop the down-field bleeding.
Believe me. There is a team out there soon (Romeo Crennel of Houston for sure) that is going to drop deep, take the long ball away and force them to go down field on 12 plays. Which is when they re-introduce Jeremy Hill.