When the Bengals signed Geno Atkins to a $55M extension in 2013, that was a major move in free agency.
Each year, Bengal fans read that the Bengals have set aside a certain amount of the salary cap for injury contingency. In part, this is the justification for not pursuing Tier A free agents. In 2014, the Bengals lost Marvin Jones (16 games), Tyler Eifert (15.5 games), Andre Smith (7 games), Vontaze Burfict (11+ games), and AJ Green for 3 games. Despite all of these injuries to starters and skill positions, the Bengals still had over $9.6 million in salary cap space at the end of 2014. What is the value of an injury contingency when the replacement players (Greg Little, Nico Johnson, & Eric Winston) receive essentially league minimum salaries of which only 50% counts against the salary cap?
In 2015, the Bengals' needs are clear (SAM, DE, DT, Slot WR, Oline depth). After securing the core of the team, doesn't it make sense for the Bengals to utilize their $30+ million in salary cap space to complement their draft strategy and push towards a Super Bowl appearance and/or victory? PS If Peko is cut in 2015, there is $0 negative salary cap impact. Geathers' contract was structured identically. PSS An AJ Green extension will most likely result in a reduction to the 2015 salary cap impact, based on the ability to pro rate a signing bonus. Stephen M. Vovak, Sharonville, OH
STEPHEN: A major reason the Bengals are gunning for five straight postseasons is they've done an excellent job keeping a talented roster within the constraints of the salary cap.  
The Bengals, as they have been for the last several years except for 2011, were at right about the $133 million salary cap limit last year. They didn't finish 2014 with $9.6 million in cap space. Teams are allowed to roll over unused cap dollars, but over a four-year period each team must spend 89 percent of its total cap space.
The Bengals kept a bunch of cap room available in 2011 for the Carson Palmer trade and have been rolling it over ever since, chipping away at it with long-term extensions for the core of their team (Geno Atkins, Carlos Dunlap, Andy Dalton, Vontaze Burfict) and the number is currently at $8.6 million, according to spotrac.com.
The injury contingency pool is a very small number of the cap, probably about three percent, but it is always used and has to be accounted. It's not a justification for not going after top free agents. They had injury contingency pools when they signed Antwan Odom and Antonio Bryant. But it is a real number.
Spotrac.com has projected the Bengals $31 million under the 2015 cap, but we know that goes quickly and they'll hit the cap. For instance, you can take off about $10 million already with the draft choices, tenders to restricted free agents, and the injury cushion. The debate isn't if they'll spend it, but it is how they'll spend it.
Their justification for not going after big-money free agents is the high failure rate, here and elsewhere around the league, and the fact they have drafted excellent players over the last five years that have become the core of a perennial playoff team and have to be kept.
The counter argument is that the Bengals need a tier A free agent to get over the top, but every year that's a 50-50 gamble. Last year the Pats won with Darrelle Revis, the Lions won with Golden Tait, and the Packers won with Julius Peppers. But the Bengals will point to Ben Tate getting cut in Cleveland in the middle of the year, Michael Johnson and Anthony Collins struggling in Tampa and maybe getting cut now, and Donte Whitner not giving the Browns what T.J. Ward gave them.
The Bengals prefer to work quietly on Draft Day, extensions, and deals with their own players. They've committed about half a billion dollars in the last few years to keep the core together and it won't stop when they get A.J. Green in the fold.
Even with the possibility of a Green extension that would cut into his $10.4 million cap hit, they'd still like to re-sign three starters in left guard Clint Boling, middle linebacker Rey Maualuga, and kicker Mike Nugent. Plus, here comes that 2012 draft class coming up next year. Cornerback Dre Kirkpatrick and right guard Kevin Zeitler have fifth-year options as first-round picks, but wide receiver Mohamed Sanu, defensive tackle Brandon Thompson, and safety George Iloka are all heading into the last year of their deals and are in line for extensions. And what if wider receiver Marvin Jones has a 1,000-yard season? Also looming, both starting tackles are up after this season.
All of this doesn't preclude a Tier B guy or a couple of smart, lower-level free-agent deals in the mold of BenJarvus Green-Ellis and Terence Newman. They need tight ends and linebackers and they'll be looking for them in free agency.  But they're not going to sign a Suh so they have to cut three other guys, or a wide receiver like Torrey Smith when they've got their own guy in Jones in the wings.
As for cutting Peko, it's not going to happen. The coaches love their nose tackle and while he just turned 30 and may not be what he was, he still does all the invisible things needed to allow other guys to do their jobs. He's too important on and off the field. You'll have to have this discussion with defensive coordinator Paul Guenther, who last season called him the best 4-3 nose tackle in the league.  Hi Geoff, Mike from the snowy Erie region again. My question is in regards to free agency at the DL positions. We all know the Bengals won't break the bank on a guy like Suh. But what about some of the next level guys like Jerry Hughes of Buffalo, Paea from Chicago or even Pierre-Paul from the NYG? Are they off the radar as well, or is there a possibility of getting one of these guys? I think Hughes would be a perfect fit in the 4-3 defense the Bengals run and could be that nice compliment to Dunlap as we develop guys from the draft this year. What are your thoughts? Mike Satterthwaite, North East, PA
MIKE: The way Marvin Lewis talked last month, it sounds like the Bengals are going to be pretty aggressive with the lower tier free agents. You can thank the Odom and Bryant disasters for souring both Mike Brown and Lewis on the top free agents and that seems to be a good thing. Since then, they've gone to four straight playoffs and built one of the best rosters in the NFL without relying on the big free agent.
But, yeah, if one of those guys you talk about slips through the first couple of days of free agency, I think they're in play if they're at the right price. But, again, they've got a structure built around their own guys and it has worked for them and they're not going to blow it up.
Hey Geoff, I really enjoy your insight and I've been reading pretty much all your posts for some time now, so thank you! That said, now that Greg Hardy has had his charges dismissed (assuming Carolina doesn't resign him in March), do you think there is any chance of Cincinnati going after him? He would fill a huge void and save an early draft pick on a DE. Is there a chance, or will we stick to getting B listers? Thank you so much, Travis Owens, Hazard, KY
TRAVIS: Thanks so much for reading. I think Hardy is a guy on the radar but they won't break the bank on him. If he's getting a big deal that first day, they won't be in that mix. With big money on the defensive line already ticketed to tackles Geno Atkins and Domata Peko, and left end Carlos Dunlap, they're not going to add another big number at that spot.
But Hardy does fit the mold of second-chance guys that have helped them in the past several years, such as Adam Jones, Vontaze Burfict, Tank Johnson and Cedric Benson.  If he's there after the first day, I think he's talked about internally.
The return of Marvin Jones should boost Andy Dalton's confidence.
Thanks for doing the blog I follow and read it every week. I'm a huge fan of the Bengals I'm like a super fan. So this year the team overcame injuries I could only imagine if we had Marvin Jones and T.Eifert how much better of a season Andy would have had he's a great QB. I for one don't believe we should move on from him. What do u think the Bengals need to improve on the most this year to get over the hump other than the pass rush? We have so many good pieces. And do u think Gresham will be gone he could take less money to stay a part of our team. Who wouldn't wanna be a Bengal we just made the playoffs 4 straight years.  James Butler, Cincinnati, OH
JAMES: Thanks for reading. Any relation to Malcolm?
You hit it on the head. The big thing they need on offense is the return of the big pass and hopefully the comebacks of Jones and Eifert make all the difference and give Dalton some confidence. Because at the end of last year it didn't look like Dalton had any kind of feel back there whenever he dropped back to throw something deep.
As for Gresham, I don't see him coming back. I know there is some buzz out there that the Bengals would take him back at the right price. But I think he'll get a deal somewhere else and it's going to be a number they won't want to touch. Say what you will about the penalties and drops, but this guy is a talent and someone will pay him. I'm not saying the Bengals should pay him or that he even wants to return. I'm just saying there's a team out there that is going to pay for the upside that the Bengals couldn't get on a consistent basis.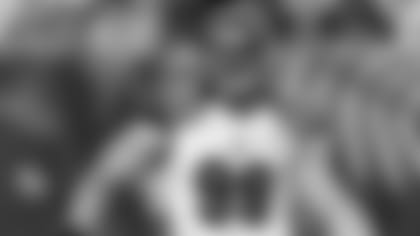 The Bengals hope to get more snaps out of Margus Hunt (99) and Will Clarke this year at defensive end.
Mr. Hobson Hello from the cold and snowy NE. I'm hearing a lot regarding the woes of the D-line this past year and the options the Bengals may have in either free agency or the draft to address this. What I'm not hearing is anything about how they might be able to utilize better what they already have. Specifically, how is the development of either Margus Hunt or Will Clarke coming along? I'm thinking (or at least hoping) they could become major contributors, but they haven't had much playing time and I don't hear much of their progress behind the scenes. Thanks in advance for your input. Mike D'Amico, Burlington, VT
MIKE: I've got to believe the driving from Burlington to the Ben and Jerry's Factory is treacherous these days. But you can always get to Waterbury.
I hear you on Hunt, a second-rounder, and Clarke, a third-rounder. It's a bit frustrating to hear about needing a 4-3 right end in the free agency or draft when they've taken one high in each of the last two drafts and they are still high on both of these guys.
To me, both of these guys could be hidden gems by the time training camp rolls along. Both are long, uniquely athletic, and have great work ethics. But they were both playing behind veterans and there wasn't much of a rotation on the defensive front this past season.
Look for that to change this year. They may be ready to move on from Robert Geathers, turning 32 in August, and they found out that Wallace Gilberry is more effective rushing the passer when he plays fewer snaps. So Hunt and Collins should get their chances, but they are basically unknowns.  
 They think Clarke will be a lot more effective when he comes back in the spring with about 15 extra pounds to get him to 290 or so. But if they want him to be the next Michael Johnson, he's behind the curve. Johnson played 365 snaps as a rookie and Clarke took only 64.
Hunt played only 187 snaps in his second year after an ankle injury in mid-November kind of took him out of rhythm and slowed his development. That means he's played only 352 downs in his career, 13 fewer than Johnson took as a rookie.
So both guys could be big pieces. The problem is they don't know for sure until they see more. But part of the pass-rushing solution may be already here.
I think we aggressively need to go after another big time receiver in Free Agency to play opposite of Green! What are your thoughts? Mike Bolton, Edmeston, NY
MIKE: They've already got him. Marvin Lewis Jones. Won't cost a dime.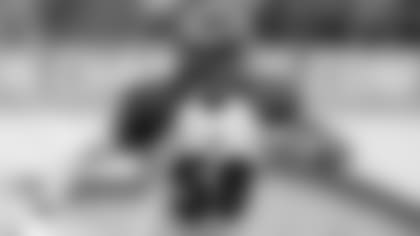 The Bengals are hoping to re-sign Rey Maualuga.
Hello Geoff, love this part of the week because we get to hear your opinion on things. My question is do you think that Rey Maualuga will be back this year and do the Bengals have a shot at Devin Smith from OSU? Thanks Stephen Penny, Cincinnati, OH
STEPHEN: Thank you for listening. If Maualuga isn't back here, he could always end up in Minnesota with Mike Zimmer. But I think he'll be back. They want him back. They covet his physicality and if there is one thing this team needs to do it is keep cultivating its physicality, so they need him. And I think it cuts both ways. He's extremely comfortable in this defense and with the guys around him and it would be a plus for him to be back.
As for Smith, I like him, too, and would love to have him in stripes. But I think it's a long shot. I don't see them going for a wide receiver before the third round and I can't see a guy that can run like that lasting until the late third.
I read in a recent article that the Bengals are approximately $25 million below salary cap. Why? I'd like to see some money spent in free agency for a change Ron Smith, Hamilton, OH
RON: That's not the number from 2014, when they were about right at the $133 million cap. That's the number for 2015 because they haven't spent anything yet this year. And they've spent loads of money on free agents in the last four years or so. But it's been for their free agents. The July-August extensions for Atkins, Dunlap, Dalton, and Burfict have been akin to the March blockbusters elsewhere.  
Hobson, in terms of sports business, do you think the Bengals' lack of effective marketing and lack of revenue are partially to blame for the team's inability to get it done in "crunch time"? Auburn Rose, Athens, OH
AUBURN: I can't see how one possibly impacts the other, unless you've got the marketing department dropping into a Cover Three against Andrew Luck. Absolutely zero impact.
As for the lack of revenue, you can devote a three-day symposium to that question and you can start with the size of the market.  From what I understand, if you look at the Bengals' sponsorships and revenue-producing arms, they hold their own when you factor in the market size and stack it up against others in the NFL.
The Bengals certainly haven't been shy about getting the brand out there. Their players are always out and about at appearances every week during the season, a staple under head coach Marvin Lewis. And in the last year the club has stepped up its presence on social media and Paul Brown Stadium continues to be open for more than 150 community events per year. Plus, they've got 40 wins in four years, which is a pretty nice sales pitch.
Maybe I'm wrong and I'm sorry if it sounds flip because I don't mean to be. But I just don't see how a marketing campaign has anything to do with a fourth-quarter fumble against Pittsburgh.        
Hey Hobson. Long time Bengals fan here. My question is that do you think Eifert and Marvin Jones will be full go next season. It seems without them Dalton was "almost" helpless. Drew Zimmerer, Middletown, OH
DREW: If you saw Jones' video here last week, then you would think so. I think they'll be full go, but no one knows for sure. I'd love to pencil in Jones for 903 yards, 50 catches and 10 TDs while Eifert grabs eight more TDs, but we're all guessing when it comes to health. I do know this. Eifert's durability worries me and his talent wows me.
Is there a wide receiver eligible to be drafted, that could be comparable to A J Green if Marvin Jones isn't the player he once was after injury John Crout, Hamilton, OH
JOHN: If there is, the Bengals would have no chance to get him at No. 21. A.J. Greens go in the top five. Plus, they won't know before the draft how Jones is going to bounce back.
With this being the final year of Marvin Lewis's contract, will there be a potential change at the top if the results are the same or worse? I'm not clamoring for a change just wondering how they will approach that scenario if it were to play out. Thanks for answering! Chaz Bond, Columbus, OH
CHAZ: There is always a potential for change. But you have to tell me how it plays out. Is it 12-4 for a first-round bye? Is it 9-7 on a missed field goal in the finale after fighting through injuries? Or is it 5-11 with a 0-4 December? Until we know, it's all guessing.
Do you see the Bengals looking for a fourth receiver in the draft or free agency and does the team perceive receiver as a key need for next season? Would they want more of a tall target that they haven't really had since Chris Henry on the outside or a speed guy to compensate for the loss of Hawkins last year? Rich Hidy, Cincinnati, OH
RICH: Absolutely. One thing the stretch showed them last year is how thin they were at receiver. They know it and like I said earlier, I think they go for a receiver as high as the third and they may draft another later. You know the Bengals. They want both size and speed. In this century they've drafted two wide receivers shorter than 6-0, Peter Warrick and Jordan Shipley. They want the height.
Any idea what was going on with Andre Smith last year? After a rough start with the Bengals Big Dre developed into one of the better right tackles in the league in '12 and '13. But last year he was mysteriously absent from many offseason team activities and when the season arrived his level of play had dropped. I understand that fans are not entitled to know all the personal issues of players, but if you can't supply details can you at least give us an idea how they might affect his play going forward and our draft strategy this year? Fred Toast , New Market, TN
FRED:  Like you said. They call it personal reasons for a reason. I don't think anything changes. Smith's contract is up after this season. So is the deal for left tackle Andrew Whitworth. So no matter what is up, it sounds like they have to draft a tackle early. Here's my question. Do the Bengals try to re-sign Anthony Collins if Tampa cuts him?
What do you think about the Bengals adding Justin Houston and Jason Pierre Paul? With this line up that would put the pass rushing skills in there and help out with the secondary due to the pressure given on the quarter back. Also with those that would improve the play of Geno Atkins tremendously and Dunlap Dustin Morrow, Lebanon, OH
DUSTIN:  They'll be looking for a pass rusher, but they won't sign two and they won't break the bank. If they could get one of those guys later, sure they might. But I wouldn't count on it. I think the pass rusher comes in the draft. But they'll look.