Giovani Bernard figures to be stretching his role in Hue Jackson's second year as offensive coordinator.
I am a big fan, I read everything I can about the Bengals and everything that you tend to write. My question, Next year will Hue Jackson use Gio and Hill in the backfield together? I think that if both were in the backfield at the same time that could be a huge problem for the defenses. Both are good at receiving the football and both are excellent runners. Alex Gue, Huntington, W. VA.
ALEX: Thanks for reading.
Ah, the old Jet package that goes all the way back to running backs coach Jim Anderson and the golden year of 1988 with James Brooks and Ickey Woods. With Hue in his second season, I say, yes, we will see more of that. Of course, he won't tell you that. A good poker player never tells you he's got a flush.
But I think it's just a natural progression with another year in the system that we'll see a lot more different things. I don't think it would be an every-down thing. Not with how well fullback Ryan Hewitt opened up runs for both Bernard and Hill with his lead blocking. But I bet we'll see them in the backfield together more than we did last year.
Despite not playing a heavy roll in the 1st half of the season, running back Jeremy Hill was in the top 10 in rushing in the NFL. How was he not a Pro-Bowl alternate ahead of Denver Running Back C.J Anderson? Hill had more yards by almost 500 & higher yards per carry 4.7 vs. 5.1? Hill has to feel snubbed!!! No comment on Andy Dalton making it to the pro-bowl. Hopefully there isn't an incentive kicker in contract that's gets him more money. Beau Christopher, Los Angeles, CA
BEAU: I think we can all agree the Pro Bowl selection is terribly flawed. Just look at the Bengals leading candidates for team MVP: Hill, left tackle Andrew Whitworth, and cornerback Adam Jones. None made the Pro Bowl. Awful. Heck, don't blame Dalton. He's not an elite quarterback, but if this is how they're going to do it, then he deserves to go if none of the upper crust guys are going. I mean, he's in the next tier or two. He's not Geno Smith or anything like that.
Given the number in the draft will the Bengals look for a specific position in the first round or will they take the "Best Player" on the board? Paul Digby, London, WY
PAUL: They're always looking for a position in the first round. They have to. Unless it's been a cornerback lately, you're talking about an immediate starter. But the key to their recent draft success is not forcing it. They haven't reached in the first round in a long time. That is, taking a guy for a position they know they can't get in the second round.
For instance, in 2013 they didn't go into the draft looking for a pass-receiving tight end. But they had no idea Tyler Eifert would still be on the board, where he was clearly the best guy. The more "best guys," you get, the better you'll be even if you're stacked at one position, the thinking goes.
 And they really didn't reach much the last time they took a first-rounder that didn't give them much. You think they got cleaned out at linebacker in '14? Remember how they got decimated at backer in 2007 (defensive end Robert Geathers started at backer against the Patriots) and Dhani Jones came off the street in the middle of the year and revived them?
They really needed backers in '08 and they ended up with Keith Rivers at No. 9. But, actually, they wanted defensive linemen and both were gone when Sedrick Ellis went No. 7 and Derrick Harvey went No. 8. They detest taking a linebacker in the first round, but Rivers was the next guy on the board. It   would be interesting to see how they handle something like that now. Unless you've got a rare guy like a Vontaze Burfict, that position just doesn't give you first-round impact.  In Rivers' defense, the guy was never healthy.
Hey Geoff, love your work! I have a 2 parter, 1 Why do I see so much hate for Andy Dalton? It's sad, he's been here 4 years & been to 4 playoffs. Dalton is a big part of turning this franchise around. Next time you see him let him know that most Bengals fans appreciate him & are glad he is a Bengal. Question 2 is, what do you think will be the Bengals 1st 2 picks in the draft, I think DT & OT. Would like to know what you think. Thanks, & keep up the good work! Chase Sallee, Louisville, KY
CHASE: Thank you to the former Triple A home of the Red Sox. I'll let Dalton know this week at the Pro Bowl. I think you hit it right on the head. Tackle and defensive line early. It will just come down to how they rate them.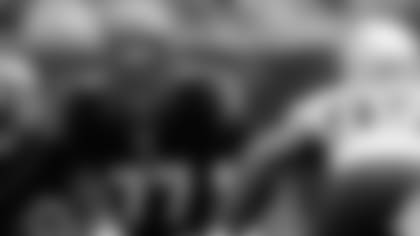 Give the vote to the scouts and deserving guys like Andrew Whitworth would go to the Pro Bowl.
A couple things Geoff. First, knowing Bengals are never big shoppers when it comes to free agency and being a supporter of that strategy as building through the draft is, to me obviously how you have consistent success in the NFL. That said, could this be a year where it might be good for the Bengals to grab a big time player off the market? This is a team right on the brink (assuming they can get to January healthy for once) of greatness IMO. This window could close quickly so maybe grabbing up a premier pass rusher to team with Dunlap and Atkins would put them over the top, right? Then they will head into the Draft without the need for another pass rusher hanging over their head and they can really stick to the board 100%.  Just think of the possibilities! When you think about the guys coming back it makes sense to go for it right now and grab that premier pass rusher doesn't it?
Secondly, I know this game is here for the fans but at this point I think I would rather the fans didn't vote on the Pro Bowl players at all. The fact that Atkins and Dalton are playing and Whitworth and Jones are not is an obvious cry for help for the selection process! As always, thanks for taking the time to read our thoughts and questions. Love reading your opinion. Jonathan Lee, New York, NY
JONATHAN: If you saw the stuff coming out of here Wednesday, you know Mike and Marvin are taking a little bit more of an aggressive approach to free agency. But I think the way they're structured with their core coming out of the draft, it's hard to take on a mega contract for that big pass rusher. I mean, you could sign Suh, but it would probably be an in and out
with Atkins and I don't see that happening. They think Atkins is going to come back big now that it's been more than a year off the ACL tear and he'll be basically in the weight room all offseason for the first time since he got hurt.
And Marvin said it Wednesday. He's not a big free-agent guy himself. He's looking for guys that fit them, not the other way around.
That said, it sounds like they know that in the past they've knock off some mid-range, serviceable guys in free agency in the BenJarvus Green-Ellis mold (a blocking tight end, one or two SAM backers) and finished off their needs in the draft.   
I hear you on the Pro Bowl. But don't blame just the fans. The players also play favorites and vote for guys that don't belong for whatever the reasons. Friendships. Reputation. Same as the fans. Take the vote away from everybody and give it to the personnel directors. That's the one group in the league you know is always watching tape.
Mr Hobson I enjoy reading your choice reports I for one am not giving up on Dalton to me there is only five or six QBs in the league I'd call elite. That being said in this draft if Petty the QB from Baylor is still there when it's our pick would you consider picking him? I think he"s the best QB comming out this year from what I've seen so far. I know we need off Tackle and hopefully Line backer's maybe a DE or DT. I would like to hear you'r thoughts on this Thanks for your time Steve Bowlin, Galion, OH
STEVE: Thank you for reading the column. I tell you a guy I like after seeing him throw a little bit down here. Oregon State quarterback Sean Mannion. Last year he was coached by old Bengals assistant John Garrett and he thinks he's an NFL guy who can play. But from listening to Marvin yesterday, I just don't think they're going to take a QB anywhere.
Do you think the Bengals will receive compensatory picks from losing Michael Johnson & Anthony Collins. If so what rounds. Jim Betz, Milan, IN
JIM: Yes. They'll get a third-rounder for Johnson and either a fourth or fifth for Collins.
Long time Bengals fan. Long time Wildcats fan too. What do you think the prospects are of us going after a first round pass rusher? It would be great for Bud Dupree, my bleed blue brother, to be draped in Jungle Orange. Rob Laurenson, Lexington, KY
ROB: They are looking for pass rushers and everyone is well aware of Mr. Dupree. But it doesn't look like a fit. He looks like a pass rusher in a 3-4 as an outside backer. Now his teammate, Za'Darius Smith, is a better fit as a 6-6, 263-pound 4-3 end. He's not a first-rounder, but he's a very good player who was the Defensive MVP at last week's Shrine Game.
Do you think the Bengals bring in a veteran backup QB that could potentially compete with Andy Dalton? Aaron James, Baltimore, MD
AARON: No. Here is Marvin from Wednesday:
"Fortunately, somehow I've got the right little thing on my shoulder that says, 'Don't get into a quarterback controversy. That's worked from Jon to Carson to Andy. It's helped us have the success we've had and those guys have been good players, productive players. Even when they've left out of here they've been productive. It works.
"We have no problem with Andy Dalton as our quarterback. We don't have time to waste time with another QB. To not continue to press forward and get Andy better and to get whoever the backup quarterbacks are better.  The quarterback competition. Where has it worked? It doesn't get you wins."
The hunch is they re-sign Jason Campbell to No. 2.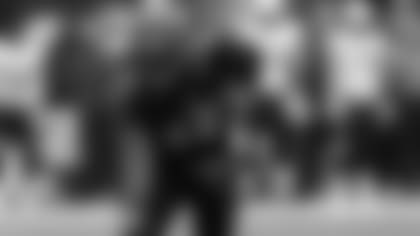 Pro Bowl WILL backer Vontaze Burfict can also play the middle.
Do you think there is any chance Vontaze gets moved to MLB if the Bengals can't re-sign Maualuga? If that's the case, what is the situation at WLB and SLB? Re-sign Lamur and move him to WLB? Draft someone early to play SLB? I would think LB has to be a top 3 priority in either FA or the draft. Sean Walls, Buckeye, AZ
SEAN: Certainly if Maualuga leaves, putting Tez in the middle is the first move. But he's a question mark, too, with his knee. They think he'll be back in time and they think they can re-sign Rey, but to cover themselves they've got to go about business like they have to replace both. You're right. There will be linebackers flying through here in both free agency and the draft. I would think the priority is a SAM and a middle backer.