Can Cedric Ogbuehi protect Andy Dalton's blindside?
Hi Geoff, In looking through our stacked roster along with the easier schedule coming from an "off" year, I can't help but feel the Bengals will get back to the playoffs and win at least one game this year. Yet, when I see power rankings and most talented roster rankings, etc., the Bengals seem to be flying under the radar, which may actually be a good thing. Still, I think they have a decent shot at beating the Patriots or anyone else in the AFC.
You've said a number of times that how well the season turns out will come down to how well the offensive line plays. On that, I trust Paul Alexander based on his 20 years of success in developing O-Line talent. Also the Bengals' top 50 team selections seems to show that the O-Line has been an historical strength. Am I missing something?
Also, when it gets closer to the cut down, the Bengals will unfortunately have to part ways with some very talented players. Is there much precedent where teams will trade a future (low) draft pick for a player on the bubble, e.g., to cover for an injury during training camp or preseason? Peter Neefus, Virginia Beach, VA
PETER: No question the offensive line play, particularly at tackle, has been a strength in the last 22 years, stretching back to the move of Alexander from tight ends to the offensive line and the drafting of Willie Anderson a year later. In the 15 previous seasons, Jim McNally set the standard for coaching NFL offensive lines but the only tackle the Bengals drafted in the first round in his tenure arrived in his first draft, 1980 and it was Hall-of Famer Anthony Munoz. Anderson marked the first of four first-round tackles and Alexander does a hell of a job getting that talent out of them,
Which is why the struggles of Cedric Ogbuehi last season along with the slow emergence of Jake Fisher were glaring. Plus, the inability to get anything going in the running game is a concern. Compound that with allowing 41 sacks and that's just stuff you don't see around here. So it's an uneasy offseason up front. The kids have to play and, you're right, history says they will but history only does so much on third-and-nine in the fourth quarter at Heinz with Bud Dupree pawing at the grass on the other side.
You won't be able to tell a thing until training camp when the pads come on, but they are cautiously encouraged by what they've seen so far. Both Ogbuehi and Fisher look stronger and more comfortable, as they should since when they were drafted the plan was to put Ogbuehi at left and Fisher at right and two years later that's where they are.  These guys are just so athletic it's hard to see them not succeeding. It has been a matter of how quickly they'll adjust to the power game and that looks to be happening but let's see it in games.
You don't see a lot of trades late in training camp because everyone is watching tape and if you approach a club about unloading a guy, they can figure out you're going to cut him and try to get him for free.
It has happened for the Bengals the other way. That's how they ended up with safety Reggie Nelson in 2010. They sent a bubble guy to Jacksonville on Cutdown Day, cornerback David Jones, and a conditional pick because they weren't sure they could get Nelson when he got cut. They also traded a bubble guy in 2011 that turned into a solid pro in defensive tackle Clinton McDonald for Seattle cornerback Kelly Jennings when they hit some injuries in camp.  But you can't expect it. It's rare.
Agreed on under-the-radar. Just another reason this year has the whiff of 2009, when they re-shuffled the offensive line after a losing season. That would be nice. They shocked everybody by winning the division.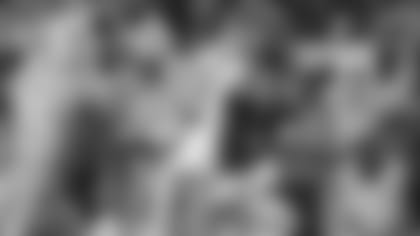 A.J. Green's rush uni (right) was a hit.
Hello Mr. Hobson, my brother and i read your column all the time. My question: What are the chances the Bengals update their uniforms? The helmet is classic and needs to be untouched. But they've wore the "updated stripes" since '04. I know Mike Brown doesn't like change but I'd love to see them go back to the 80's style uniforms or use the color rush as their away uniforms. Anything on that front? Thank you! J. J. Tabor, Beckley, WVA
J.J.: Thank you for reading and for checking in. Hope you write in again from Richie Brahamland. I just don't see any changes. It's a multi-year process and it just seems like they're happy with the current combinations.
You are right on, though. They got terrific feedback about the color rush unis they wore in the win over Miami last season and have been told they were among the most popular league-wide. And, yeah, the helmet is as classic as it gets. Growing up in the Paleozoic era of the '60s and '70s the Rams had the most unique and memorable helmet, but the Bengals are right there for this time period.
Hello, I did not like what Bengals did in free agency. Loved what they did in the draft. Worried that talks haven't started for Eifert and Burfict. The rest of the league has shown how they cover the Bengals talent. Any insight? Jeremy Lopez, Eastvale, CA
JEREMY:  They almost never do big extensions like that until training camp, so there is nothing different here. Burfict signed his first extension in the first week of August, as did Andy Dalton.  Carlos Dunlap extended just before camp, Geno Atkins at the end of camp just before the regular season, and A.J. Green two hours before they jumped on the charter for the 2015 regular-season opener in Oakland. So Happy Fourth and we'll see you on Labor Day.
What is the major key in winning football games this upcoming season? Andrew Long, Dallas, GA
ANDREW: Protecting Andrew. As in Dalton, who lives in the other Dallas.
Mr. Hobson......I enjoyed listening to you on XM Sirus Radio on the NFL network. Must be tough to constantly have to defend our team when reporters are continuously under siege.....lol. Anyway, my question is one that's a little different. We always hear about the 53 man roster fight and that there's competition for spots, but realistically, maybe there's 10 extra spots fighting to get to the 53 man roster with the extra 10 aiming for practice squad assignments.
My question is who are players (that we never hear about) from 63-90? It's pretty much a given they won't make the team in any variety and even less, we never much mention these players in columns or anywhere else. Who are these players and what percentage find another team to practice with? Harold Mintz, Las Vegas, NV
HAROLD:  Thanks for listening. So you're the guy. Love Sirius. Where else can you hear the Red Sox, Alex Marvez and Marvin Lewis, and the Eagles (not the Carson Wentz kind but the Take it to the Limit kind) in a span of five minutes?
I was just trying to outline what I think they're approach is to this offseason and what they're banking on, so I didn't really feel like I was defending anything.  Offensive line, right?
It's an interesting question about those last 27 guys. You'd probably classify them as "camp guys," players good enough to be in a camp and practice but not good enough to hang around on the practice squad. They come from the same place as the first 63. Big schools. Small schools. I think they typically bounce around for a year or two and if they can't hook on they move on to their life's work because there's another cycle coming fast and furious out of the undrafted pool.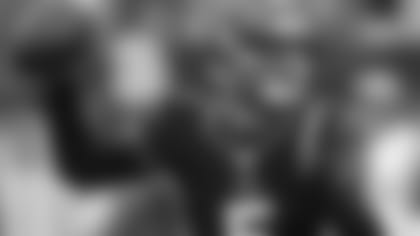 Andy Dalton: both he and Dalton have great futures.
Do you believe AJ McCarron could be a better starting QB option in the future than Dalton? He's 3 years younger and seems to have better size, poise and accuracy. Jeff Trosper, Centerville, OH
JEFF: The 6-2, 220-pound Dalton has set a high bar for the 6-3, 220-pound McCarron. If you protect Dalton and his weapons stay healthy, as in 2015, he's proven he can be an MVP candidate.
One of McCarron's strengths is that marvelous two-time national champion poise he showed in the fourth quarter of his one post-season appearance. Yes, Dalton is 0-4 in the postseason. But he's also won plenty of big games to get there. Two AFC North titles, a .565 winning percentage on the road, and six games over .500 in December reflect big-time poise.
And with a completion percentage of 65 for Dalton the past two years on more than 900 passes, McCarron's 66.4 percent is nice but it's on just 119 passes. Tough to say McCarron has better poise, accuracy, and size when Dalton has done it for 93 games to McCarron's three. McCarron has a bright future and i think he'll be a winner in this league. But it's a leap to say he's a better option than Dalton.
My question is with the drafting of John Ross and knowing his forty time, will Alex Erickson have some competition for being the number one return guy for the team? Shawna Oglesby, Auburn, WA
SHAWNA: Intriguing question. You've also got Joe Mixon on kickoffs. We'll have to wait and see but my sense is starting out Erickson is going to remain the No. 1 punt return guy and that Ross is going to be used in situations. At 5-11, 190 pounds with some college nicks, they're not looking to beat up Ross and they really want to get him up to speed (pardon the pun) from scrimmage.
Remember, he's going to be a little behind because he hasn't been able to practice with a shoulder injury and while he should be ready for most of training camp, I would think they're going to ease him in. Plus, I think they're going to do everything they can to keep seven wide receivers, in part, because of what Erickson gives them in the return game.
Let's see. A year ago no one had any idea Erickson was going to pop a slew of huge returns in preseason and make the roster. I think Erickson starts out No. 1 with that in mind for the season, but let's see what everybody's got.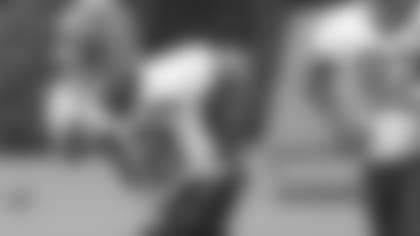 Alex Erickson: you have to knock out the (AFC kick return) champ.
Hi Geoff, Thanks for all the off season work that you do in keeping the faithful informed, great stuff and we appreciate it! Now I have a burning question that I need to ask. It would seem that, at least since the 2011 draft class, that the Bengals have consistently been one of the most talented and deep rosters in the NFL, I say that from observation that is regularly confirmed by the media (yourself included) and other NFL people.
This last draft class seemed to have one overall purpose and that was to add speed to the team on both sides of the ball and that was sorely needed. Okay, the question, with all of the talent that the coaching staff has had to work with since 2011 and given the new infusion of talent from this year's draft, is this a make or break season for Marvin Lewis and his staff?
I'm not bashing Marvin but the lack of a contract and the lack of a playoff victory would suggest that maybe there is some thought of possibly making a change in the back of Mike Brown's mind if this season goes south. Your thoughts? Thanks for all you do, Jeep Wilson, Loveland, OH
JEEP: Thanks for the kind words.  Mike just doesn't work in make-or-break absolutes like that. My sense for the last couple of years is that Mike and Marvin are more partners than anything else. I think whatever is next is going to be something crafted between the two of them and not dictated. Having a contract or not having a contract doesn't seem to be as glaring of an issue for a guy that's been here 15 years as opposed to something like five.
Obviously, results are all a part of it. It's a results business. This is a huge year. But, look, here are two guys that, according to published reports, put together a succession plan two years ago that got scuttled only when Hue Jackson went to Cleveland as the head coach.  To me there is just a lot more to it with these guys. Here's my take: it's not just how Mike reacts, but Marvin, too.
Cincinnati Bengals host OTAs at Paul Brown Stadium Practice Fields.