*                                          All eyes on Tyler Eifert.*
I am sure I won't be the only one to ask this question, but why in the name of Bob Trumpy did the Bengals wait so long to operate on Eifert? If the surgery had been performed back in March or April he would have had plenty of time to heal, thus not placing the season opener in jeopardy. Is there a good reason for this, or did they drop the ball? John Allen, Lebanon, OH
If Eifert's ankle was injured in the Pro Bowl, why was the surgery not performed sooner? Seems like the surgery could have been scheduled sooner which would have been a greater benefit to the team. He now loses reps and ultimately affects the team negatively with his absence and potential of missing games. Frustrated with this one up here in Brown's country. Jim Perry, Berlin Heights, OH
JOHN AND JIM: From what I can gather, it sounds to me like one of those medical events out of their control where the medical people made a decision based on what they saw, but months later it didn't work out the way they thought. Many of us have been down that road, I suspect.
I think it's hard to say they dropped the ball when on the day Eifert got back from Hawaii, Feb. 2, he began to undergo a battery of diagnostic tests and one of the men in on the consult was Dr. Robert Anderson, the NFL's nationally-known–go-to-guy on foot and ankle problems.
Surgery is always the last option in most cases and it appears here that a conservative call was made when they looked at the tests. Rest and rehab would get it done. And it will be recalled the initial reports were positive. Even as late as the first day of off-season workouts back on April 21 Eifert reported the ankle was fine and not preventing him from doing much.
Then, obviously, they began to run out of time when it didn't bounce back. So I guess you can wonder why they didn't pull the knife earlier, but it seems like they let it go as long as they could without surgery because of what they saw on the tests. They were apparently surprised when it didn't pan out the way the tests said it would and then went for the last-option scenario as late as they could without it gobbling up as huge amount of the regular season.
Not great, but no serious injury ever has a straight timeline. Take a look in Seattle, where they're still trying to get a handle on Thomas Rawls' knee and Jimmy Graham's patella tendon. In Baltimore, one of the reasons The Wizard tried to trade up for Jalen Ramsey is cornerback Jimmy Smith underwent a second surgery on his foot to remove the screws from the first procedure and they hope he's ready for training camp. In Buffalo, wide receiver Sammy Watkins surfaced with a broken foot, had surgery back in April and one seems to know if he'll be ready for the start of camp. Injuries are simply not black-and-white.
It certainly is frustrating, but it seems like they exhausted all their options to prevent the surgery.
The Bengals are saying nothing about the injury, so to guess when Eifert is coming back, good luck. But the fact he doesn't appear to be a PUP candidate, which would take him out of the first six weeks of the regular season, indicates to me they hope he'll be back sometime in September.
Mr. Hobson, Thank you for considering my question/comment. I have been a fan since 1978. My question/comment is this...Isn't it time to cut ties with Tyler Eifert while we can get value from him? No doubt he is a weapon WHEN healthy and on the field but there in lies the problem, rarely is he healthy and on the field. First day of OTA's and already lost for the 1st game. We need reliability in my opinion. Thank you! Bobby Snyder, Harrod, OH
BOBBY:  Thanks for the note, but I vehemently (and politely) refute your premise. You certainly don't cut ties now with a guy who had the kind of year that Eifert had in 2015. He absolutely wrecked the league coming back from two injuries, so why can't he do it now coming off one? And he did all that damage in 12 games because of injuries and that's about what he may end up playing this year, so he will be a very huge factor.
Yeah, they probably have to think long and hard about how much they want to give him over the long term in that second contract because of the injury factor.  This is going to be a big year for that and they'll be watching closely how he comes off this surgery.   
No, you have to hang with a guy like this for a long as you can. He's a difference maker.  But I hear what you're saying and the next question touches on the same theme.
Mr. Hobson You definitely have a Yankee accent, but I won't hold that against you. Do you think with all of Tyler's injuries he will get a big contract? I believe he's the proverbial "one hit away" guy. If he does and then gets hurt what percentage would da Bengals be responsible for? John McIntosh, Rome, GA
JOHN: I would hope not, since I'm not going to hold your accent against you. I think a lot depends on how he comes back. The Bengals have exercised their 2017 option on him in the $6 million area and I would expect he'll see that. But beyond that, it's a hell of a question.
 As I told Bobby, you've got to keep him. But, yeah. How much are you willing to put on the table and roll the dice?  And, let's face it. He'll get a big number from somebody no matter the injury history because someone saw what he did this year and they'll put all their chips on the table. It's not like baseball where the contracts are guaranteed and the Bengals would have to pay the entire second contract. But they would have to pay enough in guaranteed money (probably close to half), that it makes you think it through. But, gee, the guy is a hell of a player. Let's face it. That deal is going to be like a night at Belterra. Still, if he comes back like they think from the injury, he's worth every dime.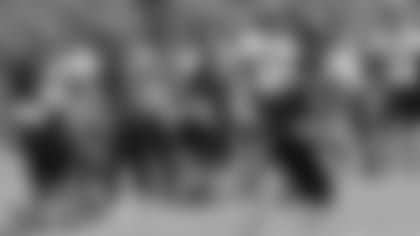 Why not sign Anquan Boldin? They'd prefer to give snaps and money to younger guys like Tyler Boyd.
Having trouble understanding why the Bengals have not at least kicked the tires on Anquan Boldin. Still has gas in the tank, & it's probably a low risk deal. Especially with the news on Eifert now, I believe the WR corps being deep is even more important.....thoughts? Josh Cavalcante, Crown Point, IN
JOSH: I got into the Boldin thing last week and after they watched their rookie wide receivers play in the OTAs against the vets this week, I have to believe they're more adamant than ever about not signing a 35-year-old receiver.
The guy was once a very good player and he remains a good one. But I think they see a guy that no longer has rare skills and if you give him snaps in the slot and take away snaps from the very promising Tyler Boyd, how have you helped yourself?
OK, maybe he gives you a lift early in the season, but Boyd is younger and faster and would be more dangerous down the stretch if he gets some skins on the wall early. I think they feel the money they would spend on a minimum-incentive deal for Boldin would be better spent in extensions and take your pick: running back Giovani Bernard, cornerback Dre Kirkpatrick, right guard Kevin Zeitler and fullback Ryan Hewitt. My sense is that is also why they haven't jumped on a deal for 31-year-old cornerback Leon Hall. They can use the money elsewhere and Darqueze Dennard and Josh Shaw have to play at some point.
Hi Geoff, from rainy Yorkshire, England! Simple question, how good would you say our defense is? The D line looks fairly solid, the secondary looks okay, but without Burfict the linebackers don't look too good on paper to me. Thoughts? Billy Gerrard, Wakefield, England
BILLY: Hope the rain stays away from Wembley Oct. 30. Considering the only starter the defense lost is Pro Bowl safety Reggie Nelson, I'd say it looks pretty good for a unit that set the club record for scoring. Reggie is a tough loss and I love the guy, but I think Shawn Williams is going to grow into that role. And that's a hell of a defensive line that got better with the drafting of Baylor tackle Andrew Billings.
OK, linebackers without Tez for those first three games. The big question is if they can stop the run without him. When he missed the first six games last season they allowed 100 yards rushing four times and two the rest of the way with him in there.
I think they'll be OK. They've added Karlos Dansby at SAM, an upgrade with 13 years of experience, and middle backer Rey Maualuga and Vincent Rey in Tez's spot at WILL have played a lot of winning football together.
Then you've got some nice young players that run behind them in third-round pick Nick Vigil, 2015 third-round pick P.J. Dawson, and 2014 sixth-rounder Marquis Flowers. Flowers is a guy to watch. He's the most athletic of them at all. But do they have enough oomph in the run game?
So the Steelers in the second week are a test. The Tez missed both of those Pittsburgh games in 2014 and in the one at Paul Brown Stadium when Steelers running back Le'Veon Bell was healthy, they allowed 193 yards rushing. The Jets in the opener were 10th in rushing last year and Denver in the PBS opener with a new QB was 17th in rushing last year and figures to be running plenty.
But this defense has enough people back to finish in the top ten or five after finishing 11th last year.
Hey Geoff, Love the column, first thing I look for each morning. Day one Bengals fan but my question today is about the NFL in general. I am still seething over our playoff loss to the Steelers. Unlike most I am not putting the blame for the 2 last minute calls on the players but on the officials. Looking back at the game it appeared apparent when it came to roughness or unsportsmanlike calls the officials were much harder on the Bengals. So now the question. Do you think the NFL will make moves like full time officials or expanded reviews to remove the officials from deciding who wins a game? Lou Petrofes, Jupiter, FL
LOU: I don't see either happening in the near future. The consensus seems to be whether these guys are full-time or not that's still not going to stop the onslaught of close calls.  They've actually put more on the officials. There is now a one-year experiment that would automatically eject a player who gets two types of unsportsmanlike conduct penalties in the same game.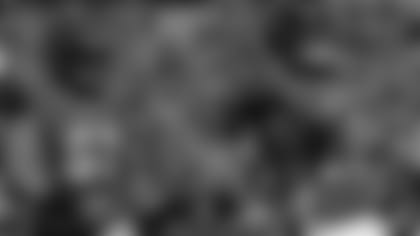 Giovani Bernard and the rest of his Bengals backs may have the deepest position on the team.
Mr. Hobson, I have an idea...we give players 2nd chances like Adam Jones, and it has worked out great.. Let's not announce it, let's not make a big deal about it...but bring in Ray Rice and his wife for an interview...have Ray meet Adam Jones...give him a physical and check out his acceleration time...40 yd and 20 yd times...and if he looks good, sign him to a NFL minimum salary with stipulation/accelerators...thanks Steven Tickel Burlington,NC
STEVEN:  Four reasons not to do that. Giovani Bernard, Jeremy Hill, Rex Burkhead, Cedric Peerman.  Their running backs. Rice slid down hill in his last season of 2013 to 3.1 yards per carry and now that he's 29, well, what's the point? They simply don't need him.  And I'm not saying he doesn't deserve a second chance or that the Bengals shouldn't give second chances. Who knows, he may have been the running back version of Adam Jones. But there is simply no need here for a running back, arguably the team's deepest position. Thanks for the note.
Hey Geoff. Thanks for all your updates on the Bengals, where news (and fans) are few in VA. My question is regarding Dalton. I've always been a fan, and believed in him. One of my favorite things about him is his fearlessness. Getting that one yard for the conversion, making a tackle, blocking for anyone. But after his injury, do you think he will change? I don't want him hurt, but I love his do-all, no fear attitude. It makes him a special QB. Thanks. AJ Long, Chesapeake, VA
AJ: Thanks for the kind words and you've got a great name for a Dalton question. That's a good point about Andy and he doesn't get credit for it. He's made some great, physical QB sneaks (fourth down with season on line vs. Baltimore in the end zone here in '14) and his TD catch earlier that year came in space when he was very nearly blown up by a defender. I don't think a guy ever loses that.
But I do hope he eases up a bit. If Dalton went after his interception the way Cam, Newton went after his fumble in the Super Bowl, the Bengals might have been the one that recovered the fumble.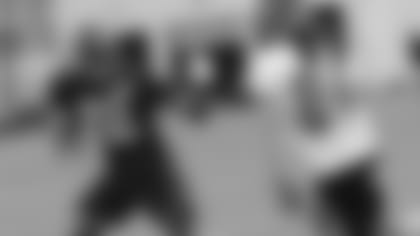 Four reasons the Bengals toook cornerback William Jackson (22) in the first round? The four previous corners they've taken in the first round since 2006.
Geoff, why did the Bengals pass on Reggie Ragland and go with Jackson? And, starters from this year's draft - Boyd, Vigil, Billings and Westerman. Could any of them win a starting job? I think Boyd will. And as for the other three I think they have a decent chance. Thanks. Phil Kundrat, Palm Bay, FL
PHIL: Very, very rarely in the first round will this Bengals draft room take an inside player over a perimeter player.  And Ragland's an inside thumper at linebacker. You can always get those guys later and this was a draft that had some good ones and the Bengals were delighted with the inside guy they got in Nick Vigil in the third round.
In the first round, they've been going for premium positions lately. Usually on the edge. Corner.  Pass rusher.  Offensive tackles. Wide receivers. They couldn't get the wide out, so they got the next best perimeter player and just barely.  Jackson was the last corner on the board they felt was first-round worthy.
I guess you're talking about this year because they're all projected starters are some point in the future. Yes, Boyd has the best shot of them as the starting slot receiver on Opening Day.
How much of an opportunity will the rookie RB's Tra Carson and DyShawn Mobley get to possibly take reps from Jeremy Hill, and is replacing Jeremy Hill this season even on the coaching staffs mind? Thank you. Jason McCullough, Greenville, S.C.
JASON:  Virtually none. They're trying to make the practice squad and fill the spots vacated by James Wilder Jr., and Terrell Watson.  Hill and Giovani Bernard are their guys. Nothing has changed from last year. Hill was already a big part of what they do and with Eifert being out and the departures of wide receivers Marvin Jones and Mohamed Sanu, they need him to get back to that rookie form. And that's what they're thinking. The guy is one year removed from being a 5.1 yard-per-MVP beast. They're not going to kick him to the curb now.