Brandon Tate is back for more.
Who was the last real threat the Bengals had for kickoff and punt returns. This has been missing for quite some time. Robert Wilisch, Tallahassee, Fla.
ROBERT: Cornerback Adam Jones is still here, second on the active list behind Devin Hester with five career punt return TDs. He hasn't done it much here because he's played so well from scrimmage that he's usually tied up on third down and they've been so beat up at corner the past two years they haven't been able to risk him.
But this is where the Darqueze Dennard pick may really help them. It can free up Jones to do more punt returns, which is how they originally envisioned his role.
I guess you'd have to go back to go Pro Bowler Tremain Mack just before the turn of the century to find a kickoff threat, but I don't get the Hate for Tate. Brandon Tate doesn't go to Pro Bowls, but he's a big reason special teams has been in the top 12 the past three years when it comes to the NFL's 10 major categories. He doesn't lose games, but he'll win some for you. Until they find The Next Big Thing, The Same Thing that has helped you isn't so bad. Yes, they'd love to find a threat and know they need more pop. But Tate is another one of those guys you don't miss until he's gone.
We all know undrafted players can turn into great players, Bengals own Burfict for example. With that in mind, what's your thoughts on the players the Bengals picked up through free agents from college? Luke Gardner, Beccles, United Kingdom
LUKE: Without seeing these guys on the field yet and just looking at what the Bengals need and these guys' college careers, I think four undrafted guys have a shot to make it. All of them won't make it out of training camp, but one or two of them might with Texas guard Trey Hopkins, Stanford tight end/ fullback/H-Back Ryan Hewitt, and Wake Forest fullback Nikita Whitlock leading the way. Keep an eye, too, on Dennard's safety mate at Michigan State, Isaiah Lewis.
But it's a lot tougher to make this roster as a CFA now because the Burficts and DiManches and Vinny Reys are already here. Hopkins is going to get some snaps in the spring and summer as Clint Boling rehabs from an ACL. But it is coming along so well there's a belief Boling will be ready for the start of the regular season if not as the starter, as a backup.
Hewitt needs to put on some muscle and Whitlock, an all-league nose tackle, has to learn a new position. But if they play well in the preseason in battles with veteran fullback/tight end Orson Charles, you could see one or both making it.
Lewis has a long road ahead of him with guys like veteran Danieal Manning and special teams ace Shawn Williams already here. But his thing is contact and he's a versatile guy, so a practice squad spot could lead to something.
I haven't heard a word lately about signing Burfict to a long term deal. What's up? Dick Feldon, Palm Beach Gardens, Fla.
DICK: I'd like to know, too. A few weeks ago a Fox report surfaced that said they had made progress, but that was directly opposite from what I was hearing. Not an easy deal to do. He's put up great numbers in his first two years, but theoretically they have him for two more years because they can tender him at the highest restricted free agent number after this season. So there's got to be a middle way in there. The team has to recognize he's put up elite numbers and his people have to realize it's early to do a deal. In the end, it sounds like they'll find some common ground if that report came from his side.
Will McCarron get a fair shot at starting QB? Although I keep hearing how much Dalton has improved, I think he will always be an inconsistent passer. Greg Williams, Amelia, OH
GREG: McCarron gets a shot to show he has the potential to be a competent NFL backup quarterback, but he won't get many snaps this year with Andy Dalton and Jason Campbell ahead of him. His big year will be the next preseason as he tries to earn that No. 2 job.  Fair or not, that's what happens when you're a fifth-round pick and you've got two guys in front of you that have combined for more than 120 NFL starts. Right now, it's up to McCarron and fate.
Geoff, do you think the bengals will regret not signing Johnson? Seems like pressuring the qb is more important than ever in the nfl! Although; the sacks totals were not high, he was able to disrupt a lot of passes! Not sold on Hunt or Clark! Andy B, Cincinnati, OH
ANDY: I'm sure they regretted it the minute they did it.  Great character, never came off the field, got those 6-7 hands on a lot of passes.  But what they regret is they had to make a choice out of the trio of Johnson, Geno Atkins, and Carlos Dunlap.
They had a price where they felt they could have kept all three, but Tampa was able to beat that in free agency. Hard to rip them for keeping Atkins and Dunlap, their two best pass rushers. But their blueprint seems to be: this is why you draft both Hunt and Clark early in back-to-back drafts. Replace a key position lost in free agency when you have a deep position. Tough call. Tough loss. But there were people not sold on Johnson after his rookie year, too.
Geoff, the only thing that you did not address is Andy's arm strength and accuracy going long. I am sure this frustrates Green. With that limitation, Jackson chose to use his strengths with a run game and short play action. Sad, because we don't have the complete package, and opposing defenses will pack the box.  Glenn Groh, Cincinnati, OH
GLENN: It sure seems like I've addressed his arm strength and accuracy going long for years. Well, at least three.  I mean, what more can be said? That was the idea behind his trip to see Tom House back in March. He and his coaches believe it's not arm strength. It's accuracy and that stems, in large part, from his lower body mechanics.
Jackson isn't running the ball because Dalton can't throw deep. Hue has said he doesn't have a problem with his arm strength, but he is trying to improve his accuracy. When you have safeties biting on a play fake instead of coming over the top, the accuracy is suddenly accurate.
I think people have taken Hue's commitment to the running game way out of the realm. This is a guy who comes out of a myriad of college and pro systems.  He is going to throw deep and often as only a guy that got hired by Al Davis to be his head coach can. He's not emphasizing the running game to hide Dalton's weaknesses but to enhance his strengths. He's smart; he gets it out fast and usually in a pretty good rhythm if people aren't mauling him.
Jackson is running the ball because that's how you win in the postseason. It's how you win with a No. 3 defense. And it's how you win with a QB who isn't a pure passer but has found ways to win some big games.
As for Green, I'm not sure what frustrates him because he never says. But what frustrates me is they don't go to him deep enough. Certainly not like his rookie year, when he won a bunch of jump balls (and games), just going up and tearing it away from people. But in the last two years, not so much. You only have to look at the yards per:  16.3 as a rookie, 14.2 since.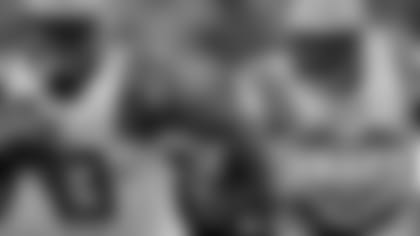 Since the drafting of Jeremy hill (who I believe is a better back than Hyde) Green-Ellis only has so many days left in the Queen City. With this in mind where does BJGE fit into the Jackson offense? I personally see him as a mentor to Hill for a year or two and then being traded away. Your thoughts on this scenario?  Ryan Weissinger, Hamilton, OH
RYAN: I just don't know if they've got room to keep him around as a mentor, which is too bad because there is none better. But they're probably only going to keep four and Cedric Peerman has proven to be so valuable on special teams. That would indicate a roster battle with BJGE and Rex Burkhead, a guy that Jackson likes a lot. It gets tough for running backs when they turn 29, which Benny does on July 2. We've just come through a draft where the running back position is at an all-time low as far as value, a tough environment to pull a trade for a 29-year-old back with one year left on his deal.
Please explain the league"s rationale for only allowing 46 players to be active on Sunday's instead of the full 53 man roster. This has never made sense to me. Having all players available would give teams much more flexibility and also reduce the risk of injury to frontline players forced to play special teams because of fewer players available. William Evans, Ft. Myers, Fla.
WILLIAM: It comes down to leveling the playing field on Sunday. If one team has everyone healthy and dresses all 53 guys, they have the distinct advantage over a team that goes into the game with just 48 available because of injuries. It's a rule that speaks to competitive balance, more than anything.
Are Dontay Moch's headaches a thing of the past? I like the guy and not too many possess his speed and power for a man his size. I could see him being a quality edge rusher and a special teams phenom. Is he being looked at this time around as a DL or LBer. What do you think of his chances? Rick Scott, Cincinnati, OH
RICK: My man Dan Hoard wrote an excellent blog on Moch a few weeks back. Moch found a way to treat his chronic migraines before last season, when he found a way to defend his preseason sacks title while also sharing the team lead in special teams tackles. Defensive coordinator Paul Guenther has indicated he's purely a defensive end, which is where he played at Nevada and where he's racked up his 6.5 sacks in the last eight preseason games.
But with the drafting of Will Clarke this year and Margus Hunt last year and the production of Carlos Dunlap, Wallace Gilberry, and Robert Geathers, it just doesn't look to be in the cards here.   It will be extremely hard to get the coaches off those five, as it was last year. If anything, they may decide to keep only four ends instead of five.
GEOFF: I THINK ANDY DALTON HAS BEEN A GREAT QB FOR US. BUT I'M NOT SURE IF HE IS THE ONE WHO IS GOING TO TAKE US WHERE WE NEED TO GO. I'M WORRIED THAT AJ MIGHT BE THE ANSWER WE HAVE BEEN LOOKING FOR AND WE MIGHT SIT ON HIM RATHER THAN GIVE HIM AN OPPORTUNITY TO SHOW WHAT HE HAS GOT. HE COULD BE A STAR WAITING TO SHINE, AND HE COULD END UP GOING SOME WHERE ELSE TO SHINE. I KNOW I AM JUMPING THE GUN, BUT IT COULD VERY WELL BE. I MEAN AJ TOOK ALABAMA TO 2 STRAIGHT TITLES AND ALMOST A THIRD. I BELIEVE THIS KID HAS GOT IT. I DON'T WANT TO SEE MY BENGALS LET SOMEONE LIKE THIS SLIP AWAY. WHAT ARE YOUR THOUGHTS? KEVIN GATRELL , Cincinnati, OH
KEVIN: McCarron may have it, but he doesn't have it now. At least if you trust the NFL evaluators. But if he does have it and he is that kind of guy, eventually, how do you know?
It's a hell of a question. He'll be sitting this year, but he'll have a shot next year to win the backup job.
Is he better than that? If he is, you'd figure you'd see it in practice or preseason games. But maybe not. It took fate to get Tom Brady off the bench after two preseasons.
Sometimes there are no answers. It all gets back to how you feel about Dalton, which has joined religion, politics, and The View as subjects that are certainties to cause ill will. Here's a look at the other side:
Mr. Hobson, I would like to first say your articles are always a pleasure to read. So, thank you for that.
I was doing some statistical comparisons between Drew Brees and Andy Dalton in their first three years in the league. Drew Brees didn't start but 1 game his rookie season. The first three seasons he played in 42 games to Andy's 48 games. Dalton has thrown 348 more passes than Brees did in those three seasons. Dalton's completion percentage is 60.8 in those three seasons, to Brees' 61.4. Andy has thrown the ball an average of 33.9 times per game to Brees' 30.5. Dalton has thrown for 2,809 more yards than Brees. His avg per attempt is 6.9 to Brees' 6.7. Andy has thrown for 80 TD for a TD% of 4.9 to Brees' 55 for a TD% of 4.4. Dalton has thrown 49 INTs with an INT% of 2.9 to Brees' 38 INTs with an INT% of 3.0. The last 2 stats I would like to mention are the fact that Andy has been sacked 99 times to Brees' 63. Through this all, Dalton has a passer rating of 85.4 to Brees' 83.1.
These stats are very telling to me. If you look at them without knowing who these two players are, you would without a doubt say that Dalton's numbers overall are better. The most important stats for the argument of Andy Dalton remaining the Bengals starting QB are the fact that he has thrown more passes and been sacked a heck of a lot more than Drew Brees and still has very similar to much better numbers. I am definitely one of those fans that supports Andy Dalton. I would hope that other fans would take the initiative to look into the numbers themselves to see how good of a QB Dalton truly is.
If his first three seasons in the NFL are any indication, and he continues on a path similar to Drew Brees..... Bengals fans, we are in good hands. Sean Walls, Huber Heights, OH
SEAN: Thank you for your kind words and great research. It not only shows the passion on both side of the aisle, it also probably gives us an insight into the contract negotiations as both sides search for comparisons.
I think my favorite Andy stat is he's one of three players to throw 80 TD passes in his first three seasons with the other two being Peyton Manning and Dan Marino.
Look, he's not Manning or Marino. But I'm just surprised that there are so many people out there that have had Akili Smith and Gus Frerotte as their starting quarterbacks in this century who are so quick to kick Dalton to the curb.
I am still concerned about the safety position and curious to know the progress of Shawn Williams, I liked that pick last year and is hoping that he is the answer at safety, also curious about Sean Porter's progress.  Greg Slonaker, Groveport, OH
GREG:  We won't know his progress until training camp. We might see a little bit in the spring as he gets more comfortable with the system.
But what we do know is that after Williams struggled mightily early as a rookie last season, he improved so dramatically over the second half of the season that he led the Bengals in special teams tackles. The biggest jump is supposed to be between the rookie year and the second season, much like George Iloka won the safety job opposite Reggie Nelson last season.
Both Iloka and Williams are never going to be gazelles in pass coverage. But they're tough guys that are going to get lined up right and belt you. If Williams continues his comfort level with the system and gets his hands on some balls, he can give Iloka a run.
As for Porter, no idea. You never know about backers until training camp. He'll have to be better than last year because the competition is.
Do you have questions for Geoff Hobson? Submit your questions here!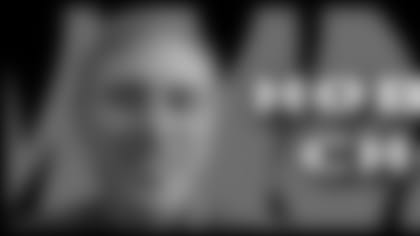 ](http://www.bengals.com/fanzone/hobsons-choice.html)