Giovani Bernard has the team-first attitude that young Bengals like Clint Boling have displayed as emerging team leaders.
Geoff, With some of the veteran guys getting up there in age, who do you see being the next in line to become locker room leaders? If we're staying on the offensive line, I would think Clint Boling would be one. I wonder who, if any young guys could become one also? What are your thoughts? Sean Walls, Buckeye, AZ
SEAN: First of all, there are no changes yet. The spine of the locker room runs through Andrew Whitworth and Domata Peko. But yes, there are some young guys who look to be emerging as potential leaders.
I think that's a great observation. Clint isn't the most loquacious guy, but he's got a lot of respect on that line heading into his fifth season for how quickly he came back from his ACL last season to play in every game and he's played in a lot of winning games. Stacy Searels, the college line coach he and left tackle Andrew Whitworth shared, told me that Boling has similar leadership traits as Whit. Andre Smith has some follow-me-guys quietness. Both guys have played in a lot of winning games. 
As for other guys coming up, WILL backer Vontaze Burfict has to be in the conversation with his 2013 Pro Bowl berth. When he was healthy he willed that defense to No. 3 in the NFL with his sheer competitiveness and sideline-to-sideline play. Cornerback Darqueze Dennard looks to be a carbon copy of cornerback Leon Hall, smart, physical, and willing to talk to his mates. Both running backs, Giovani Bernard and Jeremy Hill, as well as safety George Iloka, aren't afraid to say what they feel.
And I think Hill took a telling step toward that leadership role this past Monday when he was willing to tell a group of reporters that this may be this particular group's last shot to go deep into the playoffs. Even though Hill has been here a year, it sounded like he has been here for all of head coach Marvin Lewis' six post-season losses.
"It's just a burden that we really need to get lifted from this city, from this team, from this ownership, from the coaching staff, from Coach Lewis," Hill said. "It's just something that everyone in this locker room wants to do. It's about us going out and doing it. We can talk about doing it. Say this and say that. But at the end of the day we just have to get it done. I think for us the sense of urgency has picked up a lot with tempo. Guys' mentality in this locker room has shown up a lot. I think that definitely is going to show.
"I think you can feel it with the fans. We have, in my opinion, one of the best fan bases in the league. To get that win for them I think would be huge."
Bernard, Hill's backfield mate, is also talking about a playoff win. While Hill talked about windows closing, Bernard talked about how he's ready to do whatever they want him to do. He expects a combination of running it and catching it just like the previous two seasons. He agreed with the observation that he's a lot like blue-collar fullback Ryan Hewitt. They'll do what is asked of their versatile wares.
"We just want to play, have fun, and win a playoff game," Bernard said.
It looks like the locker room is in good hands.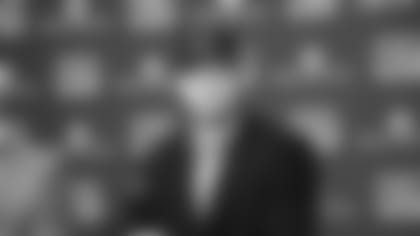 The Bengals thought Jake Fisher and the rest of the best tackle prospects would be gone by the time they picked at No. 53.
Hello Geoff, I love your Bengals updates and look forward to them every week! I am a lifelong fan that was there rooting from day one of the franchise. My Frustration this year's draft was the first round. Anyone that follows the Bengals knows that we had only 20 sacks last year, and the primary reason was it started without a healthy Geno pushing up the middle as he did in 2013. He drew extra blockers and our boys off the edge, with good secondary play, cleaned up. How you pass on a Malcolm Brown, can you imagine the two of them pushing the middle together! Now your defense gets off the field in three downs, you control the clock and maybe win a playoff game or two this year, Fischer wasn't the only decent o-line prospect left when they picked in the second we could have gotten had he not been there. Whitworth will sign and we can keep him two years more at top play level, Trey Hopkins I believe will come along, So what my question is, I have been reading up on Hardisons lack of experience. Do you think he is more of a Margus Hunt project, or do you think he can make a real first year impact? Unless he can I fear we missed the boat. John Smith, Kissimmee, FL
JOHN: Thanks for the note. You've got Brown rated higher than they did (he didn't go until the last pick of the first round) and from what I can  gather they targeted offensive tackle as a bigger priority than defensive tackle.
I think their thinking was, beyond that there wasn't a D-tackle worthy of the pick because Danny Shelton was gone, is that the cupboard isn't bare at D-Tackle. They're banking on Atkins to be closer to the Atkins before he got hurt, they think Domata Peko is one of the best 4-3 nose tackles in the game, and Brandon Thompson is productive.
Here's the other thing. They felt like they attacked the 20-sack question first in free agency when they re-signed right end Michael Johnson to a deal that can be as much as $24 million. While Atkins bolted to the Pro Bowl in 2012 with a career-high1 12.5 sacks, Johnson had a career-high 11.5 sacks. They don't have to repeat those career numbers, but it certainly should be an upgrade over last season.  
And the cupboard is bare at offensive tackle after this season. They don't know they can sign Whitworth to two years since they've got some young skill players they also have to re-up and they would disagree with you and say they never thought they could have got a starting-type tackle like Jake Fisher in the second. I think they felt it was first round or bust on the tackle and the stakes were higher since they thought Ogbuehi would have been a top 10 guy if he hadn't been hurt. They felt he hit them perfectly because he didn't have to play right away.
I wouldn't say Hardison is a project, but I would say he's a guy that probably won't be active early in the season. But, again, they've got some time there because they've got people in front of him that can play (Pat Sims is a solid run stopper as the fourth guy) and Hardison's upside is intriguing because of his size and speed. So, really, I think they'd tell you that's a perfect spot for a fourth-rounder, a spot that is projected for backups but he's a guy that could be more than that. They need to get something more out of Hunt at end because a second-rounder projects to a starter.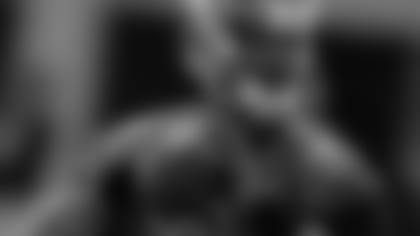 Terrelle Pryor (above) and AJ McCarron lost a combined seven starts on two of the college game's biggest stages.
Hey Geoff its Mark from Cincinnati I have a couple questions to ask. First question is now everybody know if you don't have a good quarterback in the NFL you have a slim chance of winning. Now, I love Andy Dalton, I am a big fan, I am a big fan of the Bengal's but I have herd that he put in a lot of work this offseason but do you think it's a lot of pressure on Andy? And not to mentioned he got that guy from bama that's just waiting to get on field. I know Andy is no doubt the starter to start the season but anything can happen when the season. Is there a chance that AJ might take his spot. And my next question is do you think Jeremy hill have a big season I say he rush for over 2,000 yards this season what about you? Mark Bingham, Cincinnati, OH
MARK: I don't think there is the pressure of him getting benched, but I think the competitive edge has been amped up with AJ McCarron and Terrelle Pryor joining Josh Johnson behind Andy Dalton.
While McCarron has talent and a good future, let's put on the brakes. He was a fifth-rounder, is seen as a developmental guy, and has yet to have a true rookie season. Pryor is three years into his career and has 10 more NFL starts than McCarron, but he's also looking to develop his game. Just from an experience standpoint, I would think Pryor is the guy, on paper, that would go into the game now if you needed to win it.
But that's so speculative. Let them practice and play in the preseason games and see who is better. What I don't see is Dalton getting benched if he hits a rough stretch. Not this year. These are developmental guys. What I do see is Pryor and McCarron adding some juice to the room.
It may only be college football skins on the wall, but they're pretty hairy under the biggest of microscopes.
McCarron quarterbacked two national titles at Alabama while winning all but three of his starts. Pryor got ripped for not leading Ohio State to a national title, but he went 31-4 as the starter in Columbus while quarterbacking the Buckeyes to wins in the Sugar Bowl and Rose Bowl. For three years both of them produced in college football's hottest crucibles, so they bring some attitude to the table. They're unproven in the NFL, but they know their way around competition.
Geoff, Do you think Dalton has it in him to be a quarterback who at least plays with confidence and gives us a good shot at a Super Bowl run? He obviously lacks confidence. At times he looks like a true pro quarterback, but as soon as pressure comes into play, BAM! He falls apart, turns the ball over, and makes stupid decisions... I have always stuck up for him and supported him but I'm done. He can show me this year and prove I was right all along, or he can go be mediocre elsewhere. There is way too much talent on this ball club to lose 4 playoff games in a row, not to mention all the prime time games. What's your take on it? Make or break year? Back-up options in place? Can he step up? Thanks -Loyal Bengals fan who has about had enough of Dalton as our QB. Cam Smith, Shelbyville, IN
CAM:  Be careful what you wish for. Say what you want about Dalton, he has quarterbacked the most successful four-season stretch in Bengals history. Those don't grow on trees. You know how hard it is to find a quarterback that can help get you to the playoffs? The Dolphins just dropped $21 million guaranteed on Ryan Tannehill, who is two games under .500, never been to the postseason, and threw 18 fewer TD passes in his first three seasons than Dalton. The best way to become irrelevant in this league is to get into a QB quagmire. I give you the Bengals of the '90s and the Raiders and the Browns of the 21st century.
All that said, there's no question that Dalton has to play much better than he did in the last month of '14 when, oddly, the better they ran the ball, the less effective he got. I can understand the frustration, but the man has put together Pro Bowl stretches (AFC Offensive Player of the Month in October of '13, 3-0 road trip in November of '14) and done enough (40 wins in four years) to prove he is not a stiff and shouldn't be bounced just yet. They came within four minutes left in the season and an A.J. Green fumble in Pittsburgh of changing the narrative. Then what would it be? So, yeah, I do think he has it in him.
Plus, how do you replace him? McCarron and Pryor aren't ready, they aren't going to lose enough games to draft a franchise QB, and any QB worth a damn doesn't make it to free agency. So you do what they do. Keep protecting him and surrounding him and, yes, at some point they'll have to cut bait if it keeps coming up empty in January. But not now
Tough to put all the blame on him for the post-season zeros and the prime-time implosions. Like I say, he's on the doorstep of driving them to a win and the division title in Pittsburgh and there's a fumble. What if they complete that drive? I'll give you this. If they can't advance with a healthy offense, that would make you wonder. But I also say four straight postseasons isn't bad.
The problem here there is just no cut-and-dried answer in a 140-character-win-or-else world.
Geoff, Has anything stood out during the limited voluntary workouts? Maan Aboulhosn, Titusville, FL
MAAN:  The media doesn't see anything until we get to watch one practice a week during the three weeks of on-field activities and that starts a week from Tuesday on May 26. Then the June 16-18 minicamp is open to the media all three days. So the only thing that stands out now is what dribbles out about injuries. Wide receiver Marvin Jones and tight end Tyler Eifert say they feel good coming off injury and expect to be ready for the first day of training camp. Same with right tackle Andre Smith. The status of WILL backer Vontaze Burfict seems to be up in the air and if you read the tea leaves it's a tight call whether he's ready for the season or starts it on PUP. Except for Jones, I doubt we'll see any of those guys in the May and June stuff. 
Hello Hobson, Since Burfict is playing golf that must mean that his knee is in good shape, correct? You can't play golf on a bad knee right or wrong? If so shoot the doctor! Our defense is going to be a monster! Daniel Burke, Columbus, OH
DANIEL:  I have yet to see a WILL Backer go in the A gap with a lofted club. Hopefully it's a good sign, but I don't think it translates directly into an Opening Day start. Two different deals. They're keeping their fingers crossed and I think it's going to be close for the opener.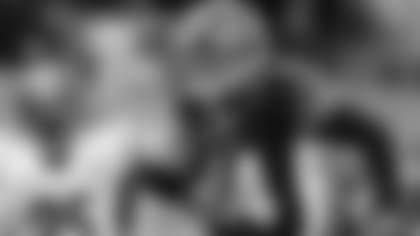 One thing the Bengals have been under Dalton during the regular season is resilient.
Geoff - I am interested in your thoughts on what the team needs to do during the week to get over the playoff hump. Everyone talks about putting together enough drives or finishing plays or the oft used term 'execute well' but most of them refer to what they need to do during the game. My question is what does the team need to be doing everyday other than game-day for all of that talk to materialize during the games consistently? How does this team get that edge over the 31 other teams in that department? We obviously have one of the most talented roster. Is it just a matter of each of the 53 players working extra hard, working a little bit more than the other teams, getting more reps etc.? How much of it is a mental and emotional framework (winner's attitude, team chemistry etc. which will enable them to be resilient when their back is against the wall) and do the players and coaches have any programs to tweak that side of things? Guha Srivatsa, Leesburg, VA
GUHA: Like I've said for much of the offseason, when it comes to getting over the hump, it comes down to their best players playing best in the postseason. Andy Dalton has to throw three TD passes and not one in four post-season games. A.J. Green has to have 13 catches for 161 yards in a post-season game, instead of that being his line for three playoff games. And they have to have some help. In one of those Wild Card Games in Houston, Green didn't get targeted until five minutes into the second half, which is ridiculous. Against San Diego they made Dalton throw it 51 times, madness at home in a playoff game. As crazy as Jon Kitna throwing 40 in relief of Carson Palmer in the '05 Wild Card. At home.
But to be 40-23-1 in the last four years means they seem to be doing things mostly right during the week. Certainly better than most teams. I mean, they've won a lot of big games just to get back to the playoffs (7-1 in the second half of the '12 season, 8-0 at home in '13, 3-0 on the road in November of '14). I mean, the resiliency is there. They've rebounded from terrible first rounds three times to get back there. They survived a 3-5 start in '12, back-to-back OT road losses in '13, and devastating injuries on offense and defense in '14. I don't think you change what you do during the week. Isolate the problems in the individual playoff games (stopping the run, bad on third down) and fix them.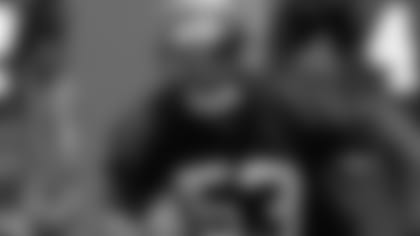 Marquis Flowers is a speedy, talented linebacker in a suddenly deep pool.
I would first like to say that even with the uncertainty of our linebacking corps, (Burfict,Dawson) if both start the year next to Maualuga, I can't think of another group I would rather head into a dark alley at night with. That is three real tough dudes right there!
Anyways..... Who do you think will be the biggest surprise to make the 53 and who will be the toughest cut? Also does the coaching staff tell AJ not to high ball the football anymore? It seems as if when he went over Polamalu in the endzone and tweaked his knee a few years back that he just doesn't do it nearly as often as he did before. And finally do you think the give Ogbuehi a "redshirt" IR year like with Mccarron last year? I hope so because it gives him time to learn and not rush anything and your always better year two from the ACL. Not worth putting him out there and losing much needed confidence, right? Thank you for taking the time to read all this! Anthony Douglass, Hamilton, OH
ANTHONY:   If Burfict can start the season, I think the linebacker picture is really squeezed. Marquis Flowers can run and is a talent, but they don't usually keep seven linebackers. Maybe he'll make them. On offense I think running back James Wilder, a college free agent last year who spent all year on the practice squad, gets serious run and that would make things tight over there behind Hill and Bernard. Wilder or Oregon cornerback Troy Hill, a CFA this year, could be the biggest surprises to roster, but it's just too soon to be throwing around names seriously.
No, the coaches haven't told Green that. In fact, offensive coordinator Hue Jackson indicated this offseason that going up for the ball is going to be a point of emphasis this season for all the receivers because except for Marvin Jones, it doesn't seem to be happening with any regularity with anyone.  You remember how Polamalu knocked out Green for a game as a rookie in the end zone when he went up and made a TD catch vs. the Steelers before coming down and spraining his knee. But he's made plenty of tough catches since. He climbed the ladder and snatched a huge TD in Tampa last season from 13 yards out in traffic to give them the lead for good with 2:04 left in the third at 14-10.
You're right on Ogbuehi. That's the plan. Bring him along slowly. You won't see him in pads until most likely the seventh week of the regular season. But it seems that they think he's rehabbed well enough that he should be able to contribute in a limited role after that point.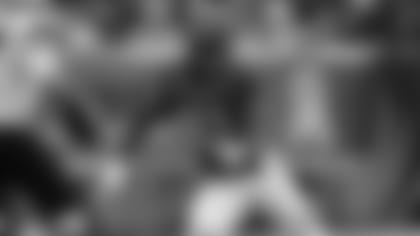 The last time Michael Johnson lined up at right end, the Bengals had 43 sacks.
Geoff, let's talk about some forgotten assets that should be better for the Bengals in 2015 than they were in 2014. Emanuel Lamur didn't grade well on PFF, but he's still their most athletic LB, their only valuable Nickel LB and should be better in his second full season at LB. Some have forgotten that Lamur was a college safety and has needed to gain nearly 30 lbs since then. I'm excited to see Lamur in 2015. Secondly, we're so happy with Jeremy Hill, that we've already started to forget about Gio Bernard. He got banged around a bunch last year and it slowed him down, but he's much better in a relief and passing game role and we should see Bernard look closer to his rookie form. I expect him to be a central part of this offense and a safety outlet for Andy Dalton. Marvin Jones may have been the Bengals biggest loss of 2014. The coverage will always slant towards AJ Green, so you need somebody that can get open against man or zone. Jones has the speed to get deep, ball skills to make plays even when covered and his YAC ability makes him a threat on the short stuff. Oh and I think he's their best blocking WR. That was a hidden loss also. If healthy, all three can be the ingredients to get this team to another level. Who else am I forgetting? Joe Goodberry, Niagara Falls, NY
JOE: Good to hear from Jerry Sullivan country again, Joe. You've got it all covered as usual. As much as PFF was down on E-Man, the site loved Marvin as much in 2013. PFF rated him fifth overall among receivers with least 25 percent of the snaps and fifth in deep passing. With 10 TDs and A.J. Green's 11, they were the first Bengals duo ever to catch at least 10 TDs in a season.
I like the fact that Hill has never taken a snap with Jones and Tyler Eifert at tight end, so that should be quite interesting. Remember those first few drives against Baltimore last Opening Day when Hue had the Ravens befuddled with Eifert's three catches for 37 yards? Granted, they don't have a threat like Gresham teamed with Eifert, but, as you point out, Jones and Bernard are effective enough in the passing game to give defenses fits. Throw in a No. 6 running game with Hill, Gio, and fullback Ryan Hewitt all with a year under their belt together and Eifert makes them different.
Don't forget Michael Johnson at right end. Huge. You're now looking at the same defensive line that generated 51 sacks in 2012 and 43 sacks in 2013 even though Atkins missed half the season, a sight better last year's 20. We know the return of Johnson should revive Wallace Gilberry and get him back inside at tackle more in nickel, but Johnson should also get a pick me up from either Margus Hunt or Will Clarke. Johnson won't have to play 90 percent of the time like he did in '12 and '13 and that ought to make him better.
Geoff, do you believe the drafting of the two OTs precludes the Bengals from resigning Whit and Andre? I'd like to see them resign both, Smith is only 28 so 3-4 years, Whit 2 years. I see these picks as adding great depth and eventual starters, think of our CBs. Groom and replace, I think Andre could be coming into his own and we might regret letting him walk. Mike Pantano, Cincinnati, OH
MIKE: I don't know how they can re-sign both of them when consistent starters or regulars like wide receivers A.J. Green, Marvin Jones, and Mohamed Sanu, right guard Kevin Zeitler, and safety George Iloka don't have a second contract yet. They love both Whit and Andre and I imagine one of them will get re-upped and they would love to extend both, but they've got to get some other things done first.
Big fan of yours. I've been a Bengals fan since 75'. My question is about the 2015 team? I've read the preseason rankings, Baltimore and Pittsburgh rated higher, was our draft this year that bad that other sites are picking us to not even make the playoffs? Pittsburgh lost their defensive identity with Lebeau leaving and Baltimore lost twice to us last year. Do we not have a top ten roster because I thought we improved greatly through the draft?  S Byers, Columbus, OH
S: Thank you and I'm with you all the way. The pundits tend to go with the last thing they saw and that was Pittsburgh beating the Bengals twice in December to win the AFC North and the Ravens winning at Pittsburgh in the Wild Card Game. Never mind that the Bengals have beaten the Ravens three straight and they were driving for the winning TD in  Pittsburgh with less than four minutes left and Green got concussed and fumbled  at the Steelers 30.
Plus, people on the outside forget about injured guys. They forget that Marvin Jones had 10 TDs in 2013 or that Tyler Eifert is just two years removed from being a first-round pick. Or they see Michael Johnson as a free agent who struggled in Tampa instead of a guy that excelled when he was with this same line in Cincinnati.
You're absolutely right. While the Steelers have beefed up their defense in the draft, I think it takes a step back with the loss of Dick LeBeau. You don't lose your coach of 12 seasons without an impact. And while Ravens general manager Ozzie Newsome has made some adroit free-agent moves, it may take some time for Baltimore to get used to a lot of new players. They've got a new starter at wide receiver and at cornerback and they're crossing their fingers injured tight end Dennis Pitta comes back to replace the departed Owen Daniels.
So, yeah. I don't know how the Bengals get overlooked even though they have everybody back from a 10-win team that was devastated by injury, have a draft most of the pundits give an A or B, and play in a division with a Pittsburgh team re-configuring its defense and a Baltimore team smarting from free-agent losses. At the very least they should be mentioned in the same breath.