The Bengals are banking on the return of middle backer Rey Maualuga to shore up the run.
There is no shortage of questions in a short week.
I really appreciate these articles because usually somebody asks a question I'm interested in, but I figured I should throw my own out: 1) What's the status of Eifert and when will we see him on the field? 2) What do you think are the challenges we face in the second half of the season? And for this question, I'm not really concerned with who are opponents are, because we all know we have a tough schedule. I'm more interested in what problem areas you have identified that we need to assess, and overcome. Thanks again! Jake Schuler, Seattle, WA
JAKE: Thank you to the land of Jack Thompson and Jon Kitna, two throwback Bengals QBs.
I'm guessing we won't see Eifert on the field until December. Although he's eligible to play, there's been no consistent sign of him on the rehab field and it was a pretty significant injury. They were talking about doing a procedure that would help him bend the elbow, but that remains to be seen. At any rate, it sounds like it's going to be awhile.
There's no question the No. 1 challenge down the stretch is going to be stopping the run. If they don't improve, they're not going to make the playoffs. It's as simple as that. They can't keep allowing 139 yards per game on the ground. I mean, that's 7-9 stuff. Or, in this case, 6-9-1.
The quarterbacks they're going to face (Drew Brees, Peyton Manning and Ben Roethlisberger twice) are just too good to survive that. And heady guys like Brian Hoyer, Ryan Fitzpatrick and Mike Glennon aren't Pro Bowlers, but they're not stiffs, either. They can beat you if they get that much play-action.
The hope is with the return of their two best run backers, Vontaze Burfict and Rey Maualuga at some point in late November, and the continuing progress of defensive tackle Geno Atkins, it is going to look a lot better.
The other challenge is also driven by the opposing quarterbacks. Roethlisberger, Manning, and Brees are throwing so effortlessly that no matter how good your defense is playing, they're going to score. The Bengals have to be efficient enough in their running game that they control the ball against these passing juggernauts. They have to be able to keep the ball at least 35 minutes to give even a top five defense a shot.
And they are certainly built that way. New offensive coordinator Hue Jackson has been brilliant at guiding this team to the side of possession and time management and this is the stretch they really need it. But they need more of it. Their current average time of possession of 28:11 is too much time for the QBs lying in wait.
Hi, Geoff: Always enjoy reading your insights. I'm a ground-floor Bengals fan since their founding in 1968 when Paul Brown drafted Center Bob Johnson with first pick because "we need someone to hike the ball". My question isn't restricted to Bengals, but all NFL teams. Why do you rarely see second string QB's doing mop-up duty anymore? It used to be the back-up would play most of the 4th quarter in blowouts, but now the starter is usually still in there with two minutes left and a four score lead. With the high salaries and significant drop-off in ability, you'd think teams wouldn't want to risk injuries. Thanks. Daniel Crawford, Corry, PA
DANIEL: Thank you and I agree. I was stunned that Dalton played all the way against Indy, but they did take him out against Tennessee and New England. So it depends on the situation. I'm not sure Marvin had to worry about him being on the field too much over in Indy since they only had the ball for 20 minutes.
But I hear you, though. A lot of teams don't even have three QBs active and yet they keep rolling the guy out there. The one thing, though, these days is you've got to be down by a lot to get benched because it's such a strange league. Look at how many teams do come back late when you thought all was lost. A coach gets caught in the no-man's land of 14-17 points.
We've seen the defense struggle this season and I have to ask why Taylor Mays is on the bench? He was a big part of the success last season and it seems he could do a better job than Rey or Lamur in nickel. Thank you. Jerry Webster, Brookville, OH
JERRY:  I don't think the problem is in nickel. They lead the league in defensive passer rating. The problem is the base defense against the run and last year before he got hurt in the eighth game, Mays played 70 percent of his snaps on passes. Mays is a nice role/special teams player who replaced the injured Lamur. Lamur is now back and the coaches like his athleticism and Rey's reliability. The answer seems to be to get Burfict and Maualuga back to stop the run.
Hi Geoff, I'm concerned about the conservative nature of this coaching staff. Against Jacksonville, Hill was having a great game. At least twice he gained 9 yards on first down. Couldn't the Bengals on at least one of those occasions have run play-action on second down and unleashed one deep instead of immediately handing off to pick up only the first down yardage? And defensively, the stats for Bortles when under pressure should have dictated more blitzing, but the Bengals rushed 4 for most of the game, giving the kid more confidence as the game wore on. Championships don't happen when always playing so close to the vest. Tracy Treneff, Westerville, OH
TRACY: Here's why football is such a fan's game. You can debate it forever. It's just not cut and dried like baseball, basketball, and everything else. I don't think they're conservative enough yet. They had second-half leads of 19-3 and 26-10 last Sunday and still finished with only three more runs (34) than passes (31). A lot of it, too, is situational and the look they get on second-and-short. The defense is also thinking play-action bomb on second-and-one. With the way the defense went into Sunday's game after so many snaps and injuries in October, first downs were good. And will be Thursday night.
I hear you on the blitz. ProFootballFocus.com had the Bengals blitzing rookie Jags QB Blake Bortles once, which is a little low, but they didn't do it as much as I thought they would. Especially with the lead. It seems the plan was to confuse Bortles with blitz looks and then back out of them. It worked enough (he whiffed on eight of his first nine third downs), but he also hit 10 of 11 passes at one point.
(It should also be noted that PFF has Bortles in the middle of the pack under pressure at No. 19, so he's not Geno Smith. And it will be interesting to see what they do Thursday with Cleveland's Brian Hoyer, third from the bottom under pressure.
But you also have to look at it from defensive coordinator Paul Guenther's perspective. He was missing his two most experienced linebackers and his best blitzing cornerback (Leon Hall) has been battling a back issue and he missed the last a couple of series Sunday with what is believed to be a concussion. There can be an argument made for being vanilla with the quarterback (Burfict) and the others out.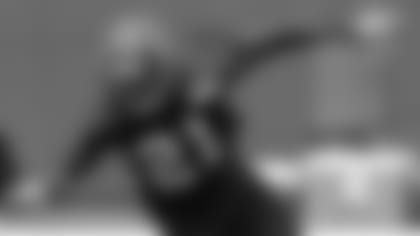 First-round pick Darqueze Dennard may get his first significant playing time in prime time.
Watch every game from of all places a Browns Backer bar in Denver. When does Lewis start trusting the younger guys? Kirkpatrick, Dennard etc. Will Gresham be resigned, all seem like wasted picks If I remember we could have drafted Gronk, instead of Gresham 2015 draft needs, nose tackle a middle linebacker that can cover a tight end and an offensive tackle. Steve Wainz, Denver, CO
STEVE:  I think the narrative that Kirkpatrick and Dennard are wasted picks is inaccurate at worst and premature at best. We should be happy these guys aren't getting rushed and force fed at the NFL's second toughest position like Artrell Hawkins, Mark Roman, Keiwan Ratliff and even Leon Hall and Johnathan Joseph. Hall and Terence Newman gave up TDs last Sunday, but they're certainly not playing like they should be pulled. The Bengals do lead the NFL in defensive passer rating.   
And Kirkpatrick and Dennard have played at key moments this season. Dre was on the field for the last 10 snaps or so on Sunday when Hall went down with the concussion and Dennard replaced Hall in the slot when he went out with a back issue in Indy in a 3-0 game. (Against Baltimore two weeks ago, Kirkpatrick gave Newman a breather for a few snaps in the third quarter and knocked away a pass on tight coverage.)
I know they didn't draft Kirkpatrick and Dennard in the first round to play special teams, but don't tell coordinator Darrin Simmons they're wasted picks. Their work at gunner is a major reason Kevin Huber leads the NFL in net punt average and, yeah, that means something. Kirkpatrick's tackle late in the third quarter on the Jags 10 was huge. That set up Adam Jones' 31-yard punt return and that set up A.J. Green's TD to make it 26-10.
It looks like you'll get your shot Thursday with Dennard replacing Hall in the slot vs. the Browns if the concussion lingers.  How's that for trust in prime time? You can never have enough young corners. They'll get their snaps.
As for Gronkowski, the rest of the league can join the club since Gresham is one of 41 players selected before Gronk in 2010. Gronk was a medical mess coming out and they went with the safe pick, wise at No. 21 if you don't have a time machine.
Yeah, Gresham has had his struggles the past two seasons and it would be going against conventional wisdom to say that they'll re-sign him. But I'm a Gresham guy. He's more valuable than people think as one of those few tight ends that can block and catch.  He made some big catch-and-run plays in the pass game last week while also contributing some key blocks that sprung Jeremy Hill.  There's a big difference between being a wasted pick and what you think his potential is as a No. 1 pick. Potential you can debate. But he's done enough to be far from a waste.
You read my mind on the draft. No. 1 O-tackle. No. 2 D-tackle.  But at No. 3, if you can't beat them, join them and look for a tight end or maybe even another tackle or guard. On paper, they've got the guys that can cover tight ends, but it sure hasn't happened yet.
And you'll see in this draft how valuable Gresham is. If you wait until the third round, you virtually can't find a guy that can both block and catch. They're all gone. If they don't re-sign Gresham, you may have to wade into the second round.