Hello Mr. Hobson, thanks for providing us fans from abroad some useful inside Information of our beloved team. Here is my question: After the latest injuries to TE and CB, do you have the impression that the Bengals will go to sign some veteran help? CB Hall will be in the mix? Fear that the injury bug hit us way too early. Hope that our season will not be derailed before we can start our run to Houston. A BIG Who Dey from a diehard Bengals fan from Germany. Michael Sobczak, Oberhausen, Germany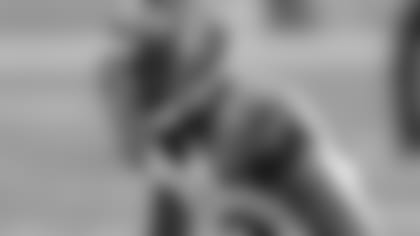 Darqueze Dennard is nicked again.
MICHAEL: Thanks for reading so far away from Paul Brown Stadium. The support is much appreciated.
The Bengals seem to have weathered the early spate of injuries without a devastating loss, but, you're right. It is such a stark contrast to last year's ultra-healthy run that was almost unworldly. Now they're like every other team, it seems, dealing with something or other.
It hurts to lose first-rounder William Jackson (torn pectoral) for what looks to be the entire season, but he wasn't going to play more than 50 snaps from scrimmage at cornerback  in his rookie year, like Dre Kirkpatrick and Darqueze Dennard before him.
But with Dennard, the No. 1 slot corner, spraining his ankle according to Marvin Lewis, an injury that traditionally takes anywhere from two to six weeks to heal, Lewis sounds like the Bengals would like to add old friend Leon Hall to beef up the slot, where Josh Shaw is the primary backup and little-used Chris Lewis-Harris is going to suddenly have his role expanded. In order to get more bodies in they signed undrafted Marshall corner Corey Tindal on Tuesday, a rookie cut two weeks ago.  Indications are the Bengals may have an idea on where they stand with Hall heading into Thursday's 3 p.m. practice. Reports have him in New York visiting the Giants Wednesday after he was so close to re-signing with the Bengals six weeks ago that coaches and players talked about how good it was to have him back.
Then suddenly it didn't happen. Hall is 31 and coming off back surgery, but he's highly regarded by management and the coaches and while he wouldn't be paid near the $9.5 million he counted on the salary cap last year or probably take the number of snaps he took in '15 (more than 600), he would figure to be a nice spot player in wake of the nicks and nacks. As one of the franchise greats, there would be no better veteran presence.
But don't look for the Bengals to add a tight end. They may or may not have Tyler Kroft (jammed knee) for the rest of the preseason, but either way he looks to have plenty of time to get back for an opener in which Pro Bowl tight end Tyler Eifert (ankle) is iffy. They've still got four tight ends. So get ready for double  doses of fullback Ryan Hewitt,  C.J. Uzomah, Matt Lengel and John Peters in the Aug. 12 pre-season opener at PBS (7:30 p.m.-Cincinnati's Local 12) against the Vikings.
 This is a tough year to take some shots early with two straight road games to open the season, followed by a PBS opener against the Super Bowl champs, and then three October road games that include a back-to-back in Dallas and Foxboro and their first trip ever to London to play Washington. So maybe Lewis, the master of getting his team to the gate (25-18 in September), pulls them back even more.
But injuries have always been a part of it. Even last year. Remember when right end Michael Johnson sprained his knee in the first hour of camp last year and didn't appear until the week before the opener? It remains to be seen with Dennard and Kroft, but they're in good company.
Hobby! Big fan always enjoy the interviews, and by watching the interviews the players respect and enjoy you too, extended family in Cincinnati! Question is, it's that time of the year where predictions are coming out and majority of sports writers have the Bengals not even making the playoffs, for now reasons that Hue Jackson is gone, before that reasons for losing were Gruden left, it's been 5 years 5 playoffs, why do the Bengals seem so disliked and rooted against for WINNING, and any positivity you can add to cancel all the negativity heading into what should be a promising season! Thanks! Kellen Rickterbaum, Genesee, WI
KELLEN: Thanks for keeping up with the site and your good wishes. I wish I had an easy answer on this one, but, you're right. It seems like for the last two years they got no off-season love after losing at home to the Chargers in the 2013 playoffs, a game that still seems to hurt them in the eyes of the national media.
But, we say that after reading all this stuff, and you forget there are pundits all over the place that continually rave about this team's talent and have for years. Pete Prisco of CBS Sports.com, Alex Marvez of NFL Sirius Radio, Bill Polian of ESPN, Solomon Wilcots of CBS and NFL Network have all broken down this team fairly and well.
I think it's like anything else in life. You remember the negative more than the positive, although it is curious that NFL.com always seems to save its sharper shots for the Bengals. But keep looking. There plenty of analysts that like this team.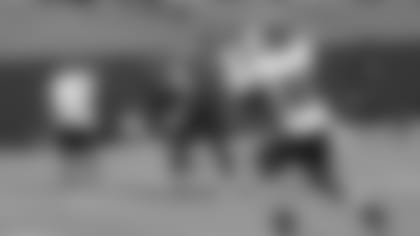 If James Wright's knee holds up, he'll get a lot of snaps at wide receiver.
You written highly of Cody Core and the Erickson kid from WI. But I remember Wright making some big catches before getting injured. With Kumerow now going down indefinitely does Wright make the final six? And which WRs go to the PS? John Belanger, Fairfield, OH JOHN:Depends on how wide receiver James Wright's knee responds. I mean, 20 months out is 20 months out and he's been only back for two workouts. A micro fracture knee surgery is a daunting challenge for that position because of all the cutting and running. But if Wright is close to his rookie form of 2014, he'll challenge to play at No. 2 and No. 3 receiver, which is what he was doing when he got hurt. If his knee holds up this month, I would think he's one of the five that are going to be active game day.
Tell me how these guys play in the pre-season games and I'll tell you which two make the practice squad. At the moment, a pair of undrafted rookies, the aforementioned Alex Erickson out of Wisconsin and Alonzo Russell out of Toledo, are having intriguing camps.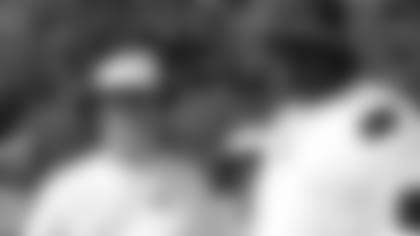 Willie Anderson (with Mike Brown) figures to be one of the players honored as part of the 50th year celebration in 2017.
Hello Sir! Thank you for the great work you do in keeping this Diehard Bengal fan up to speed. My Question is if you have heard what Mr. Brown might do in the future to honor all the great Bengals in franchise history? Like a Hall of Fame, Ring of Honor, etc. I think it'd be a great thing for the team to celebrate the past and give even some current stars something to strive for. Chris Percell, Portsmouth, OH
CHRIS: Thank you for the kind note. Last week before training camp opened, Bengals president Mike Brown indicated there is going to be some type of celebration honoring the greats of the past next year in conjunction with the 50th season of the franchise. He didn't elaborate on what that may look like, but more details are likely to emerge once the 2016 season is completed. My guess is they'll start with the all-time Pro Bowlers and go from there.