Other rookie running backs are running wild. Will Bill Lazor unleash Joe Mixon?
Dear Geoff, tough start. Still, I'm often amazed at how fickle NFL fans can be. I think many fans have forgotten what it was like before Lewis got here. He's a solid coach. Same with Dalton. There are not 10 QBs in the NFL better than Andy. He turned in. Terrible performance week one. Week two he did much better. It's hard to be great when JJ watt spends the whole game in your backfield.
Everyone thinks that a "great" QB finds ways, regardless. That's not true though. Tom Brady is great. He turned in a passer rating of 70 last week. That's 6 points lower than Dalton's rating against Houston. Pressure the quarterback and they all struggle. We've seen the Bengals defense take apart a number of top QBs. We're all disappointed in the slow start, including Coach Lewis. It cost Zampese his job and he's been a great asset to this team for years. Now we all have to get behind Lazor and hope he brings a spark. Don't you think, though, that the answer can only come when the o line protects Andy? Do you think experience will solidify the line? They seemed some better week two. One last question. If Brown gave in to the cries of the what-have-you-done-for-me-lately fans and replaced Lewis and Dalton, don't you think it would be way more likely that their replacements would have us picking in the top five for the next half decade than returning to the contender status they enjoyed over the last few years??? If I get a flat tire, pulling the engine won't fix it. Thanks as always for the great work, Joey Pownall, Winchester, OH
JOEY: Thanks for the note and giving a lot to chew on.  Yes, I do think the O-line is going to get better but I think they can help them get better with some adjustments. More max protection, more plays that fit their athleticism (screens, traps, draws), and more runs by the same backs. In fact, less churning of personnel may help everyone. The best thing I heard Sunday is the great Steelers analyst Tunch Ilkin talking about Pittsburgh running back Le'Veon Bell during the win over Minnesota. (By the way the AFC North is blessed to be loaded with smart ex-offensive linemen analyzing games with Lap, Tunch, and Doug Dieken in Cleveland.)
When Bell had his 13th carry (for 49 yards), Ilkin said it looked like Bell was starting to roll, just starting to get into the pace. Heck, 13 carries is two games for Joe Mixon or Jeremy Hill. Those big backs can't split carries. Not only do they need to get into a rhythm, so does the offensive line. I mean, all these great rookie backs like Hunt in KC and Cook in Minny and Fournette in Jacksonville are making an impact and the Bengals may have the best one in Mixon and they've got him getting two yards a carry. They have to get him going.
I agree with you about Lewis and Dalton and you know Mike does, too. He lived the 90s harder than any of us. He knows how far you are away without a coach and QB. Talk to all the franchises that are having their '90s now and beyond. Cleveland. Buffalo. Jacksonville. The Jets.  Repeat after me. Dalton is a year removed from being an MVP candidate and Lewis is a year removed from nearly winning a post-season game with a QB in his fourth NFL start.
Right, not an ideal beginning. But do you want to start from scratch?
My question is: Many other NFL teams use the screen play to offset a team that blitzes heavily, yet I don't see Cincinnati use that play much in their offense and I just wonder why? Another question: Why don't the Bengals use the tight end more in their passing attack? I see other NFL teams do a lot of damage down the middle of the field with their tight end especially against the Bengals, so why don't they make turnabout fair play? John Jones III, Dayton, OH
JOHN: I think the Bengals try to screen, but not enough. Somebody screws up and they back off. It's kind of like running the ball. You've got to keep doing it. And I think the screens fit this line's skill set. But I will say this. They have been trying to dent the perimeter with jet sweeps and reverses. Former offensive coordinator Ken Zampese came under fire for going horizontal and not vertical, but I think he had the right idea there because they are fast and athletic in a lot of spots. Certainly, though, screens are vertical and, the best part about them is they are an extension of the running game. Did I say they have to run the ball?
The Bengals were the envy of tight ends everywhere when Tyler Eifert went to the Pro Bowl in 2015 with 13 TDs. They'd love to do it again, but he and Green have been the biggest casualties of the horizontal stuff. Eifert has been targeted just a handful of times in two games and that's almost as tough as Green having one target in the fourth quarter of a one-score game like Thursday night.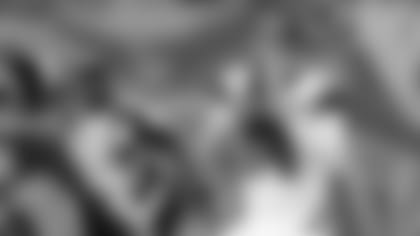 With Ken Zampese as his QBs coach, Andy Dalton improved under two coordinators. It didn't translate to the rest of the offense.
Geoff, Zampese had to go, but his promotion is so typical in every profession. I have been guilty as well, that is, promoting a close friend, who you simply hoped could do the job. Even, Paul Brown, who promoted Tiger over Walsh. I think it is human nature, but you will pay the price, and it always set you back. Glen Groh, Cincinnati, OH
GLEN: Good to hear from you again. I don't know how close Zampese and Lewis are, but I don't think that had anything to do with it. Maybe it was loyalty because Kenny had been with him for all 13 years as QBs coach when Marvin made him the OC, but the promotion was all about continuity of the system and the comfort of a franchise QB. Dalton had progressed with Zampese as his position coach so that, along with continuity and comfort made it a sane, rational move and not one of cronyism.  It also made sense to give him another shot with all the weapons when healthy. But it also was a reasonable move to let him go when the offense looked shell-shocked in the first two games. Give Marv credit there. If it was a loyalty thing he didn't get strangled by it for the whole season.
I hear you, Glen, but I take issue with the Tiger-Walsh allusion. From the guys I've talked to about the move on Jan. 1, 1976, the offensive guys wanted Walsh as the head man.  But they also liked and respected Tiger and he had a lot to do with the rise of the Bengals up front. A good coach. My sense of it is that it wasn't a hey-you're-crazy-what-are-you-doing reaction. Obviously hindsight says they hired the wrong guy, but it was a sound call at the time.
It very easily could have been a Tiger-Walsh Super Bowl XVI. Johnson is still the second winningest coach in Bengals history (.545) and that's still with the 0-5 start in '78 that claimed his job when Ken Anderson broke his hand a week before the opener. Maybe the question should be not why did they hire Tiger over Walsh, but did they get rid of Tiger too quickly and delay the '81 Super Bowl by a couple of years?
Given the woes at offensive line around the league (Bengals, Giants, Texans, Colts, etc.), why are more teams not simply utilizing an additional blocker (substitute TE for O-lineman)? Louis Miller, New York, NY
LOUIS: Since the Bengals were one of the first, if not the first team to make it a staple several years ago, it's a good question why they don't do it anymore. It might be that they have only one backup tackle in Andre Smith, but if I'm not mistaken he's one of the reasons they started to do it more. In his rookie year of 2009 he broke his foot a week before the opener and when he came back as an extra tight end or tackle was a way of easing him. Maybe it's time for déjà vu.
Why don't the Bengals give A.J McCarron a try since Dalton isn't getting the job done? Zach Holtkamp, Mr. Orab, OH
ZACH: I'm repeating myself, but here it goes. McCarron is a nice player. He's going to be a good starting QB someday. Look, I know Andy's been bad. But I also know he had years in 2015 and 2016 that teams would kill to have. He's highly regarded around the league and, more importantly in his building.
There's some stuff swirling around out there that some Bengals players think Dalton has a short lease and that the QB is the next change after QBs coach Bill Lazor replaced Zampese on Friday. Maybe I'm wrong but it doesn't strike me as wide-spread. Lewis said his job is secure and I think that's a reflection of the general feeling down here.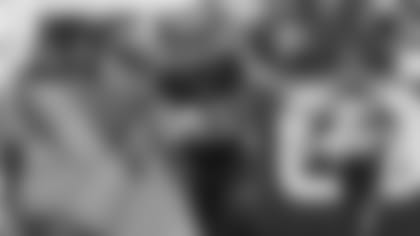 Even when the Bengals didn't have Tyler Eifert in 2014, they made the postseason.
Mr. Hobson, Coming from a very frustrated fan my question is "what are they going to do about our OC Ken Zampese"? I've watched the Bengals for over 35 years and this is the most talented roster to date and we can't score a TD!!! When Hue or Jay were on the staff the Bengals offense had NO problems in the red zone but since ken z. has taken over they have had major problems. Is there any chance they will bring in a new OC or will they just waste one more year of our talented player's time? If they bring one in now by the middle of the season they should be better plus they'd be ahead for next year!  Craig Ray, Piqua, OH
CRAIG: Obviously you hit send before the Bengals did. They struggled scoring anywhere last season without Eifert for eight games and Green for seven but, yeah, you're right. They still averaged 20 points per game last season. And in 2014 they didn't have Eifert or Marvin Jones for all but nine snaps in the opener and they didn't have Eifert, Jones and Green for all but the first few snaps in Week 2 and they still went 2-0 scoring 23.5 points per game. Which would have made them 2-0 this trip.
As good as a quarterbacks coach Zampese has been and as fine as football mind he has and as good as a man he is, it was way off.
With o-line obviously being the weakest part of the team is there not a free agent out there that can step in and make an upgrade? Greg Linn, Ironton, OH
GREG: That ship sailed in June when the Bengals made the call that the veteran tackles still out there unsigned weren't better than what they had here. And after watching Aaron Rodgers run for his life Sunday night in Atlanta behind two young backup tackles (one was a rookie up from the practice squad this week), they must have come to the same determination. But, I hear you, they're one injury or one disaster away from having nothing in the cupboard at tackle.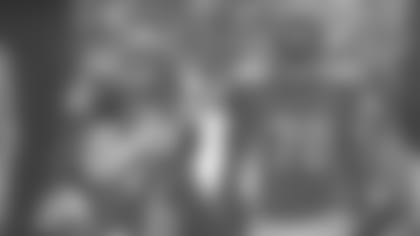 When the Bengals drafted Cedric Ogbuehi in 2015, he was a top ten pick who fell because of an ACL injury.
Given the fact that the offensive line was slightly above average last year, lost two starters, and the position was ignored in the draft- what does that say about the scouting department, those in charge of the draft, and the internal evaluator's knowledge of personnel as we watch one of the worst offensive lines in the NFL. Regardless of his talent, the drafting of John Ross was a waste! Jim Buttelwerth, Cincinnati, OH
JIM: It's a good question since the central figure in the drafting the Andrew Whitworth-Andre Smith-Clint Boling post-season offensive lines, not to mention the Willie Anderson-Levi Jones group that had them rolling in the oughts, is the same central figure in this one: offensive line coach Paul Alexander.
The man has a good track record and you can't say the personnel department has ignored the position in consultation with Alexander. Very few O-lines have a first-rounder (left tackle Cedric Ogbuehi), a second-rounder (Jake Fisher), and two fourth-rounders (left guard Clint Boling and center Russell Bodine) starting. And they traded up to get Bodine. Are they playing like it? No. Have the same characters put together offensive lines good enough to win the division and therefore have a shot at the Super Bowl? Yes.
If there had been a tackle worthy at No. 9, I think they would have drafted him. But that's how they used to get in trouble years ago, draft for need instead of taking a player worthy of the pick. (Reinard Wilson, Akili Smith, Peter Warrick, need to go on?) This is where director of player personnel Duke Tobin has done a terrific job.
If it was me, this was the draft to trade down. But to stay there and get a wide receiver that runs like Ross is far from a waste. You can't say that. Certainly not yet. It shows me Mike thinks they can win now with A.J. Green and Tyler Eifert getting that one final boost over the top with Ross' speed.  It was such a niche pick for the top ten. But you can't deny what his speed could do for Green and Eifert. I think the O-line story has yet to play out. No question they're underachieving and if it ends like this there have to be hard questions. But let's see what it looks like in a few weeks now that there has been a change.
Cincinnati Bengals host Houston Texans in week 2 of the regular season at Paul Brown Stadium 9/14/2017