Andy Dalton's protection a big topic this week.
Are you going to defend the team somehow after this loss to the Giants? Two weeks to prepare and this is what the Bengals were able to do? Are you going to find some arcane statistics that make it seem like the Bengals didn't stink tonight? That the offense isn't anemic this year. That the coaching and play calling and clock management again are not a problem?
Spare us the drivel The Bengals played poorly, and coaching staff needs to go...finally. All aspects of coaching are a problem. Let's run it on first and 10 every time --every time. And let's run it over left tackle or left guard. Stop trying to make it seem like the Bengals are a good team this year. Keith Edwards, New York, N.Y.
KEITH:  Just in case you haven't read some of the stories I wrote from Jersey, here is a paragraph that sums up my take on what happened Monday night and this season.  If you think it's a defense for what happened at MetLife, well, you're certainly entitled to your opinion:
"If you've seen one Bengals' loss in 2016, you've seen them all. This one had all the elements. The inability to protect Dalton at key moments and the failure to run the ball when they really needed to on offense. Like in the red zone. On defense there was the inability to stop the touchdown pass in the red zone and stop the run when they really had to. And penalties. Nine on Monday to the Giants' two with two holds wiping out third-down conversions."
Of course you're right. The Bengals played poorly and except for a few isolated moments, so I would call them a good team that has underachieved.  Where I disagree with you is putting the entire blame on the coaching staff. If there's one thing about the NFL, there is never one reason for a team's struggles. The coaches have some culpability here, of course, but there are other issues that have contributed to the record.
Among them are: assimilating new position coaches at each position on defense; a schedule that has featured two sets of back-to-back road games, a trip to London, and a Monday Night road game all in the first nine games; and some new players at key spots, such as wide receiver on offense, the nickel package on defense, and returner on special teams. Plus, the loss of tight end Tyler Eifert can't be underestimated if you're comparing last year's 8-1 start to this one.
Not excuses. Just one person's reasons.
True, the Bengals were adamant in the second half Monday night running the ball on first-and-10. They did it on seven of their first nine first downs in the second half and it probably saved Andy Dalton's life.
In the first half they threw it five times and ran it three (excluding the last drive of the first half) on first down. And all it got them was 163 yards in the half, 103 of them coming on the 72-yard bomb to tight end Tyler Eifert and a 31-yard flurry in the last minute. Plus, it was clear they were having a tough time with the Giants pass rush no matter the down-and-distance, so I won't quibble with the heavy diet of runs. (Although I'll quibble about three straight incomplete passes from the Giants 7 in a 7-7 game.)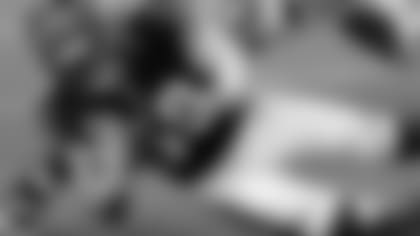 The fans want Nick Vigil.
Hey Hob! Greetings from Pittsburgh (yes Bengals fans exist in Steelers country). For me, the common theme in the loss to New York has been the same it's been all season: coaching, coaching, coaching (btw no Vigil and Dawson out there? So much for infusing new talent like Guenther wanted to).
So a few questions: (1) What on God's green is up with Lewis's indecisiveness and hesitancy as a head coach. The lack of urgency on the final drive before half that led to just basically throwing up a prayer to AJ green was inexcusable. The Cincinnati Enquirer's Paul Dehner, Jr. noted: "the dichotomy of throwing the ball with a lack of a hurried pace showed a total miscommunication from head coach to coordinator and coordinator to his players."
(2) I just don't understand the O--line woes. Is Cedric Obquehi really that bad? Or was Andre Smith really that good? We've only lost one player on the line, they shouldn't be giving up two sacks in a row in crunch time.
(3) Why, just why, have the Bengals all season just collapsed in the 3rd and 4th quarter (especially the 4th). With leads against Denver, the Pats, the Steelers, Redskins, and now Giants, they have totally imploded on all levels and from a fans standpoint, it is completely disgraceful. I really hope this is Marvin's final year because fans are sick and tired of it. Help my anger Hob! I need a doctor! Jake Evans, Pittsburgh, PA
JAKE: Thanks for checking in from behind enemy lines. Sorry, I can't help the anger issues. I don't even play a doctor on TV. But I'm going to hold off on calling things disgraceful. Disappointing, sure. But disgraceful?
They are conceivably two plays away (Andy's fumble in Wembley and Tyler Boyd's drop at the goal line Monday) from 5-4 and a tie for first. But, of course, that describes most of the league in what is always a slew of one-play games. Coaching accounts for a good deal, but not everything.
May I offer you Pro Bowl left tackle Andrew Whitworth's views after Monday's game?
"I could go back over the last five or six years and as good as people think we have been there have been a lot of games that we eked out at the end, another team made a mistake and we got a lucky break that went our way, that's NFL football. I still feel that way about 2010. I thought that team was a much better team than the 10 game losing streak we had. It was the same kind of situation, it just never seemed to go our way. I think with this team though, the character we have, we can keep our heads down and keep working and turn this thing around."
Vigil is an interesting case because the coaches (all the coaches and that includes Marvin) raved about him in the spring and summer and the fact he hasn't played more yet is a surprise. Marvin, I'm sure, would tell you he's won a lot of games with veterans down the stretch but I think the indication during the bye was always there would be tweaks but not wholesale changes on defenses.
There's not enough time for anything else and there's not exactly a lot of youth waiting in line besides Vigil. Like Dehner told me for my Bengals.com Media Roundtable last week, Johnathan Joseph and Leon Hall circa 2009 aren't walking through that door.
The two changes that were advertised, cornerback Darqueze Dennard and defensive lineman Wallace Gilberry, came off Monday. Dennard played 27 snaps rotating in the slot for his most play time in more than a month and Gilberry played 30 snaps in place of Margus Hunt.
The ESPN crew of Sean McDonough and Jon Gruden weighed in with some criticism of how the Bengals handled that last drive, as well as Dehner and many others. In a one-point game, all moves are up for grabs.
It's a legit question and my only thought is it wasn't exactly a clear-cut call with lousy field position (their own 20) and only one timeout left, so I don't think you can make such a blanket indictment about communication. I can think of plenty of times Lewis has done decisively and well with the challenge flag so I'm not going with the broad brush. But, yeah, they moved it so well so deliberately it makes you wonder.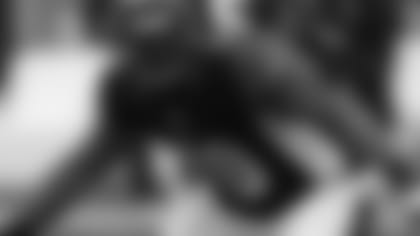 Andre Smith is a solid player and Cedric Ogbuehi is a good prospect who is struggling in his first year as a starter and I think that's about all you can say at this point. I also think it's unfair to think Ogbuehi can come close to matching the play of a veteran like Smith in his first nine starts.
Ogbuehi didn't get on the field as a rookie until the second half of last season and then he lost the spring with a muscle issue and most of training camp with a toe problem.  Plus, Smith came out of a pro-style offense at Alabama while Ogbuehi hardly ever got in a stance in Texas A&M's spread. It's going to take longer for the new generation of tackles to adjust to the pro game and it's the first time the Bengals have had to live that after 20 years of drafting top flight tackles. They still think Ogbuehi can be one of those guys.  The question is, I guess, did they jump the gun thinking they'd be OK at right tackle despite Ced's lack of practice time in a pro scheme.
Line play is such group-oriented exercise that a change in a key position like right tackle impacts the right guard and center, but you wouldn't think it would be to such an extreme that Dalton would be sacked 28 times already. That's more times than he went down in three entire seasons, including his rookie year. And the last two seasons with four of the same five guys, so it makes you wonder if it's a scheme issue more than personnel. One personnel item, though: left guard Clint Boling, who was playing really well before he injured his shoulder last month, is gutting through playing hurt.
They never had the lead against Pittsburgh, but they blew fourth-quarter leads against Denver, Washington, and the Giants, although I'm not sure you can say everything imploded when you tie a game and lose by a point.
That said, their inability to consistently run the ball when they have to (i.e. when they have the lead or in short-yardage or goal line) really hurts them in protecting leads. Plus, the one difference on defense seems to be they've moved from what used to be their signature press, in-your-face man-to-man coverage to a more zone look that has given up some big yards in the passing game.
I know you're not supposed to say such things but seeing how this team and season are going nowhere fast would you consider that the team should take the remaining games and use them to develop our younger talent and see how high of a draft pick we can get?
I am shocked by how our Offensive and Defensive lineman have performed. I think Paul Alexander's blocking scheme is outdated and hurting our lineman's ability to dominate the line of scrimmage. You can see when our lineman go to other teams how they are unable to perform because the Bengals blocking schemes are so different from the rest of the NFL. See Andre Smith and Anthony Collins. Marshall Newhouse was horrible with the Bengals but is a starter for the Giants.
I still can't figure out why other teams in the NFL can have an effective short passing game except for the Bengals. I see teams dink and dunk on teams all day but we can't run a simple slant for a five yard gain. Maybe work on simple play action plays instead of all the wacky formations Ken keeps dialing up.
It seems like we surprise teams on the first drive and go right down their throat and then they figure us out and then we have trouble scoring the rest of the game because we can't make any in game adjustments. The Bengals really need to look at changing the way we run plays to match the personnel instead of trying to make the personnel work with our system. Michael O'Brien, La Verne, CA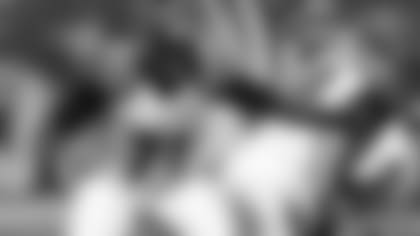 MICHAEL: Go back and read the Bengals.com archives from April, 2000 and think you'll conclude I can say what I want. But I also think I can do my job without hanging coaches in effigy.
Two games out with seven games left and two of them, against the first-place team and you want to play for a draft pick already? Cue the John Belushi pep talk from Animal House. Did we quit when the Germans bombed Pearl Harbor? How many times have we seen a team start out roughly and end up winning the whole thing? Geesh. Do you want them to coach the Senior Bowl, too?
I'm getting mixed signals on your take on former Bengals offensive linemen. Smith was starting for an undefeated Minnesota team before he suffered a season-ending injury. Newhouse started 31 games in Green Bay before he came to the Bengals as a backup for one season and started five games when Smith got hurt. Then he went to the Giants and started 14 games last year and the first two this year before he got hurt. And he bailed out the Giants Monday night when the backup left guard got hurt.
So there has been life for linemen before and after the Bengals. How about right tackle Eric Winston, an 11-year vet who came here two years ago and is helping them get through the Ogbuehi situation? Questioning the scheme is legitimate when the line is playing like it is, but I don't think that's the line of questioning. Guys have gone and been elsewhere. You don't think Whit could play for 31 other teams?
I think A.J. Green does pretty well on the slant. That's all they gave him Monday night and he caught seven balls.  Those funky formations have been good to the Bengals. One of them gave them their biggest play of Monday night and no one said anything about them last year when they were going 12-4.
They have had trouble scoring in the fourth quarter. Whether that's a lack of execution or not making adjustments is open to question. But the fact is in the last four games they've scored one touchdown in the fourth quarter and that includes getting blanked in overtime.
Great job on Hobson's Choice! I have two observations: 1. Every shotgun snap is at, or below Dalton's knees. With the line woes, that second is crucial. If it's at his chest, he sees the field the whole time, and is in sync w the receivers. When he has to go down to get it, it seems to take him more time to get to where he needs to be. That can be worked on, but not sure if they even talk about it. This has been every week.
2. Probably not as important, but Zampese never covers his moth when chirping out plays. In the age of breaking down clip by clip footage, it would seem easy to tell what's being called if the other team is watching, which I'm sure they are. Something has to be giving this stuff away, the O-line can't be THAT horrible all of a sudden. Thanks for your input, and keep up the good work! Chris Maushart, Cincinnati, OH
CHRIS: Thanks for your interest and input. It did look like some of the snaps were a little low Monday night and, you're right, that can be a problem. I'm not sure that's a major reason for the struggles of the line but it couldn't have helped Dalton as he ran for his life.
I'm going to give offensive coordinator Ken Zampese the benefit of a doubt on not covering his mouth. I understand it's the video age, but I also get a kick out of guys who shield themselves so much you think they're talking about nuclear codes. It's a game of blocking and tackling, right?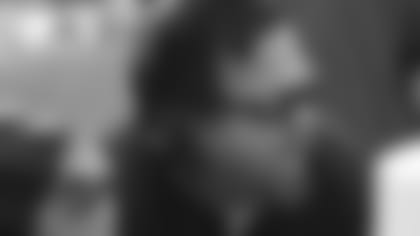 I am a Tru Dey Bengals fan, but watching that game last night against a mediocre Giants team was excruciating. Lewis coaches to not lose a game rather than coaches to win. He has nothing but tired old cliches after we lose. Guenther promised a shakeup in the defense, but all we got was Lewis forbidding his defensive coordinator to make the changes to faster, younger players.
We have more holes in our defense than Bonnie and Clyde's car. Our offensive front line is more than offensive. They are so bad that Lewis will not go for a 4th down and inches because he is coaching to not lose. I have been backing Lewis, but I am done with his coaching decisions and his lack of coaching to win rather than his coaching not to lose. When will you get on board and stop protecting Marvin Lewis? Lenny Cox, Palmyra, VA
LENNY: I may steal that Bonnie and Clyde line, but I'll give you credit as a foot-noted source. I think I can cover issues without eviscerating coaches and players. I'm on board with that. If protecting him means I don't call for his head on a platter, OK.
If you're going to rip Lewis for what he says after a loss, he's got a lot of company. What NFL coach offers anything more after a loss? After a win for that matter? A NFL head coach's post-game press conference is not exactly America's Got Talent.
I'm not sure where you're coming from on the coaching-not-to-lose angle. I think it's pretty fair to conclude in the NFL it's not who wins games, it's who doesn't lose them and I give you the New England Patriots front and center.
OK, Lewis wasn't aggressive at the end of the first half Monday night and Gruden ripped him. What about last month when he went for the TD on fourth down in New England early in the game and they got stuffed? Me? In New England? I'd always take the points. I also think your willingness to gamble is tied directly to your defense and things are a bit different this year.
When all is said and done, I don't think Lewis is that much different than most of these guys when it comes to aggressiveness and decision-making. He makes calls and some work and some don't. If they work, he's Belichick. If they don't, he's a combination of Homer Rice and Dave Shula. To me, it's hard to rip a guy's mentality when he's averaged 10 wins a year for the last five years. Question him for clock management or the penalties, but not on his approach. Is that protecting the guy? Sorry.
Here's my take on the personnel thing. The Bengals have been universally praised for the last five years or so for  their long-range views and execution of drafting and developing players and Marvin has obviously been a big part of that. He's done a real nice job mixing kids with veterans. After the worst nine games in that stretch, do you suddenly make a judgment on his judgment or do you look at the big picture?
I don't think he's cast an edict to Guenther that he can't use young players. My sense is personnel is always a work in progress with Lewis and his coordinators working hand in hand.
I don't think Marv is a dictator when it comes to that stuff. He's played plenty of kids when he's had to. Besides first-rounders like Green,  Dalton, Zeitler, and Tyler Eifert, in the last few years he's played rookies and sophomores like Boling, Boyd, Vontaze Burfict, Jeremy Hill, Giovani Bernard, Geno Atkins and George Iloka, just to name a few that were and have been productive  
I suspect we'll see Vigil soon. Second-year linebacker P.J. Dawson has yet to prove to the coaches he's worthy of a promotion from the practice squad and after that on defense where are the young guys that should play? Remember, first-rounder William Jackson, the Houston cornerback, and fourth-rounder Andrew Billings, the Baylor nose tackle, are hurt.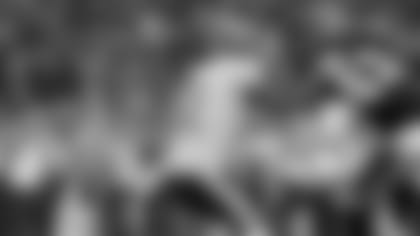 Safety George Iloka had an interception in Wembley covering DeSean Jackson
Butch, I am so irritated. I am convinced that Marvin's refusal to bring rookies along has left this team old and slow and in some cases just lacking real talent. Aside from Whit and Zeitler, the O-line is very average. Playing Peko and MJ all the time with Pat Sims as the main backup leaves us old and slow there too.
Why wasn't Nick Vigil in on passing downs as I watched Vinnie Rey get beat by an undrafted rookie TE? The amount of time that this team has to spend on these utterly ridiculous formations leaves me to wonder just how good could we be if we actually practiced football? I think I'm ready to say adios to ML and his staff and bring in new blood that will make the hard decisions to let guys go that are not solid contributors and not just send them out there again every week. Thanks for putting up with me. Rick Scott, Cincinnati, OH
RICK:  My pleasure and thanks for writing in again. That means you're putting up with me and I know that's a chore.
It's funny. When you use a lot of different formations and you win with them, they call you "creative," and they make you a head coach as we found out with Hue Jackson and Jay Gruden. When you use a lot of different formations and you lose, suddenly it's not football.
I'd go a little easy on Vinny there when looking at the Giants first touchdown, a 10-yard TD pass to the tight end. To me, this is the problem with playing zones. Who's responsible for what? It looked like Vinny ended up trying to defend half the field and that's a tough assignment for anyone. It's the same thing on the winning TD. It was a zone and if linebacker Vontaze Burfict was asked to cover a rookie wide receiver that runs a 4.4 40-yard dash, well, that's tough duty.
I thought Boling was playing really well before he hurt his shoulder and I really admire his toughness and professionalism. I think the most underrated injury of the season is the loss of Billings. He would have played right away spelling Peko and Sims.
Like I say, I'm not here to fire anyone. Not my job. You guys can get that anywhere you want. But I look around the league, I see what Marvin and his guys have done the last five years and I look at it now with 23 teams having at least four losses and, you know what?
Life's tough after Little League.
There's a pretty good story behind that line from the 1987 players' strike, Rick. Ask me about it some time.