Another Marvin Lewis extension is in the news.
Hi Geoff, love your post and information. My question is who determines the season schedule and how? If I'm not mistaken this will be the sixth straight season that the Bengals will start the season on the road and end on the road? Also it seems like the deck is stacked against them looking at the last four games against Pittsburgh, San Francisco ( in SF), in Denver, and finishing  (with) Baltimore! Thanks! Greg Burns, Connersville, IN
GREG: Thanks for the nice note. The schedule comes out of a rotation. Only two foes are determined by the records of the previous season. For instance, the Bengals finished second in the AFC North in 2014, so this year they host Houston (second place in the AFC South) and go to Buffalo (second place in AFC East). The days and times come straight out of New York with the first rule you can't please everybody. The first corollary is you can't please anybody.
This is the sixth straight year they've opened on the road, but the fourth time in five years they've finished at home. All against Baltimore.
The Bengals get the short end of the opener because the NFL adheres to the age-old ritual of usually not scheduling baseball and football games in the same city on the same day if the venues are close. By the quirk of the schedule the Reds have been home when the Bengals have opened the last six years. Complicating matters is the Reds are usually scheduled out of town during Labor Day Weekend with Riverfest in place, impacting the options when the Bengals open in that next week or two.
No question the Bengals have a brutal last five games. Three on the road, two out west and the home games are the biggest division rivals, Pittsburgh and Baltimore.  Meanwhile, the Ravens are home three straight times before they close out the season at Paul Brown Stadium against the Bengals Jan. 3.
I guess the Bengals get a little bit of a bad break, but everyone does somewhere. The Ravens have to hope they make it to December after the first four weeks they open out west with back-to-back games, come back to play the Bengals at home in an AFC North game that is usually a slugfest and then have just three days off before going to Pittsburgh.
The Steelers? Yes, they only have two games on the coast, but they play three of their last four games on the road, all against the division. And while the Bengals have the NFL's second toughest schedule by way of the foes' 2014 won-loss percentage, the Steelers have the toughest.
It's not perfect, but I'm not sure any schedule is.
Mr. Hobson, My question is very simple. What is Mike Brown thinking? Marvin Lewis has never won a playoff game and quite frankly the city is getting fed up. There are going to be a lot of empty seats in PBS this year just because of this. He can't hide the fact that he's a cheap owner/GM. It's ridiculous that he would do this. Shouldn't we be focused on resigning Green? Please let me know your thoughts about this. Thank you for your time.  Nick Kremchek, Toledo, OH
NICK:  Actually, their focus right now is trying to get extensions with both cornerback Dre Kirkpatrick and right guard Kevin Zeitler before May 4. That's when they have to decide if they place a fifth-year option on them. That would cost them $8 million for Kirkpatrick and $6 million for Zeitler next year, so they have to get those cap numbers down and that's a big priority at the moment.
The decision to extend Lewis didn't take any focus, time, or funds away from them or A.J. Green. If you want to rip Mike on this one, rip him for being too worried about instability or being too loyal, or both. But you can't rip him for being cheap because he's sticking with the coach.
Just the opposite. Lewis, according to coacheshotseat.com, makes $4.5 million per year, 19th among NFL coaches. Brown could have been paying Nos. 30-32 money for a long time now if he wanted to blow this thing up after the 2010 season. And the same thing with a coaching staff that has a lot of NFL experience. He's not paying a lot of first-timers.
(The cheap argument I don't get after the last five years where the Bengals have dropped millions upon millions to keep a playoff contender together. It would have been cheap to lose guys like Geno Atkins, Carlos Dunlap, Vontaze Burfict, Rey Maualuga, Andre Smith, Reggie Nelson, and Wallace Gilberry to free agency, and it would have been cheap to let Andy Dalton go and start over with a bargain rookie QB and it would have been even cheaper to let Michael Johnson go to Minnesota last month and it would have been cheap to keep the same facilities and it  would have been really easy not to spend about $2 to 3 million to upgrade them this offseason. So, the cheap argument, I don't get. Especially in a salary cap league where the Bengals have been at or near the cap for the last several years.
Like I said, you can rip him for being too concerned about stability, but not for being cheap.
I think this is what Mike is thinking:
You're talking about a guy who has been around the NFL since the '50s and was raised on the notion of stability. Until Marvin, the only head coach they hired from the outside was Forrest Gregg. He looks around the league and sees the whirlwind shuffle of coaches and quarterbacks and shakes his head. There have been 111 head coaching changes since Lewis got hired in '03. Since then the Raiders have gone through eight, Cleveland and Buffalo six each, the Dolphins, Falcons, 49ers, and Washington five each. Not the style for a franchise that was basically founded the day Art Modell fired Paul Brown.
Mike Brown looks at his team and sees it is in the best stretch in its history.  He's got a coach that can recruit free agents, that gets his team ready to contend in the toughest division in football year after year, and has a locker room virtually free of the perpetual 10-minute news cycle buzz that haunts so many teams. I mean, it hasn't been Cleveland around here.
Brown feels the playoff failure, of course.  But he also knows how far Lewis has brought the franchise and, let's face it, he's one of the most loyal people the NFL has ever seen. Nowadays, loyalty and fifty cents don't even get a newspaper. Especially when it comes to head coaches. Maybe we're just so numb with the next headline, the next rant, the next tweet that stuff like loyalty and commitment get reduced to snark.
I understand the frustration. But I think it's a mistake to interpret Brown's loyalty to stability as a lack of commitment to winning a Super Bowl.
All that said, it's not like the guy gave Lewis a four-year deal. It's basically a one-year contract and plenty can happen. Things change. Just like it did here. Last month Brown indicated he wouldn't consider giving Lewis an extension until after the season, but he must like the way things are rolling. Things change.
To me, it seems like a very, tidy quick transaction. Brown has kept his options open while giving Lewis the courtesy of not being a lame duck, a right, you'd have to say, he's earned with 40 wins the last four years. Other than that, 2015 continues to be a huge year for everyone involved with and on a roster that will undergo changes in 2016 no matter how you look at it. Just how major, you get the sense, will be dictated by what happens in 2015.
Hey Geoff, Here's my 35th annual draft list (since 1979!). I was really torn between a dominating big (300lb ) DT or an elite LOT. Went with LOT because I think they are just so hard to find. If Peat or the other OTs are gone, look for them to grab the best DT available (Marcus Brown, Eddie Goldman). No QB pick no camp distractions. Should be crazy-fun! Thanks for all you do, man!
1. Andrus Peat, OT Stanford- Exceptional size and agility package. Alternate: La'el Collins, OT, LSU 2. Grady Jarrett, DT - Clemson Rumbling 300lb. Ball of Razor Blades Alt.: Xavier Cooper, DT, Wash. St. 3a.  Lorenzo Mauldin, OLB Louisville Big character, team leader. Alt: Kwan Alexander, OLB, LSU 3b.  Chris Conley WR, Georgia Lit up the combine. Alt.: Sammie Coates, WR, Auburn 4a.  Adrian Amos, FS  Penn State  Need depth at Free Safety. Alt.: James Sample SS Louisville 4b.  Steve Nelson CB, Oregon State Small-ish, but fearless and talented. Alt.: Doran Grant, CB, OSU 5.  TE: Nick Boyle, Delaware Needs a bit of coaching up, but the pieces are there. 6.  ILB: Jeff Luc, Cincinnati Hulk Smash! Draft him and turn him loose. 7. OG/OT: Donnie Gambrell, Notre Dame (Ohio) How good can he be if he wasn't working nights? Kirk Homrighouse, Newark, OH
KIRK: Love it. You've clearly done your homework once again. Thanks for the list. You've got to love Gambrell, just on character alone. Mike Brown, a Cleveland schoolboy himself, loves Ohio guys. So let's see.
I think that's a pretty good call at the top. The big question to me is how many of those tackles do they think are worthy at No. 21?  But I'm with you. It probably is going to be a big guy on either side of the ball, unless they're all gone and safety Landon Collins is sitting there.
Thanks for such an exhaustive list. This is a great draft to have extra picks in the third and fourth rounds because while it might be a little thin up top, there are supposedly a lot of solid mid-round guys.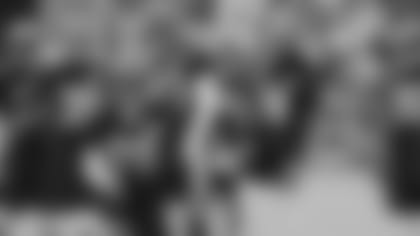 Leon Hall has come back from two torn Achilles. The new indoor turf field should help future rehabs.
Long time reader and first time writer. Love reading about whats going on around the Bengals facility since I live in Texas. My question is, with the new weight room having a 50-yard field, do you think that this helps the QB's and Wr's get more chemistry going on running routes and things like that. I think it would because if they get to talking about those things they can kind of just go to working on something instead of having to go all the way down to the practice field. Thanks again on keep the fans posted on what's happening with the Bengals. Joseph Kirby, Temple, TX
JOSEPH: Thanks for reading. The field is more like about 35 yards long but, yes, those guys can get some work done in there on certain routes, but it is kind of close quarters so I don't think they'll be working against DBs.  But there is room to go from the film room to the turf to try some things.
What the turf field does for them the most is help them with their winter rehab program, as well as intensify the offseason conditioning. For instance, they can incorporate sled work and more speed/strength drills with other elements of the lifting program.
Geoff, as always, thanks for your fantastic coverage of the ins and outs of Bengaldom. Your article on the 2005 draft perfectly crystallized much of what I'd been thinking about the recent past. My question is this: The Bengals are roundly praised for how well they've drafted. Yet virtually every mock has us taking a tackle in the first round. Now, don't get me wrong, I see great value in getting a guy who can succeed Whit or Smith down the road. But do you really see the Bengals taking a tackle if someone like S Landon Collins is on the board? All these mocks seem to think we'll happily take the fourth or fifth tackle off the board. I don't get it. If four tackles are gone, an impact guy at another position has to be available, right? How can the pundits praise us for drafting well, and then pick a guy based solely on perceived need (Rob Rang calls us the "notoriously frugal Bengals") instead of mocking us the BPA who fits our system? Thanks for your insight. Who Dey! John Phythyon, Columbus, OH
JOHN: Thank you for the kind words. I think the problem in doing a mock draft is that we don't know how they have graded the players. Do they have two tackles with a first-round grade? Or six? So all a mock can do is match a player you think is a first-round pick with a team that has a need.
One of the many reasons mocks are screwed up from the get go (along with trades) is, as far as the Bengals are concerned, there are never 32 first-round players. I talked to an NFC scout Wednesday who thinks there are maybe 15 this year. So then what happens at No. 21? I think you have to assume the guy they're going to take that low is going to have the combination of the highest grade and biggest need.
Problem is, what is the Bengals' biggest need? It's not tackle yet. What about a big wideout that can run or a wide body inside the defense? That guy is going to win more games this year than the tackle. In defense of the draft gurus, they don't know what the Bengals' board looks like. And, in the end, the only way they'll rip the Bengals or any other team is if they think they took a guy too high. They'll rip them for reaching rather than not meeting a need. And, for the Bengals, as you point out, a lot of picks would make sense.
If the Bengals are taking a receiver high in this draft, he has to separate from DBs like Marvin Jones.
Greetings Geoff, Thanks for your time and consideration. I have two questions for you sir. First, do you believe that Nelson Algholor would spark interest from the Bengals at 21? He seems to be exactly what they are looking for in a receiver. Second, with the emphasis of defensive line being so heavy in free agency do you believe that they draft a DT or DE and if so who would that completion be between? - Thanks, Ahmad Muhammad, Tallahassee, FL
AHMAD:  Thank you for your time and consideration. Algholor has really bolted out of the late second round and been flying up the boards. But I'm not sure he's got first-round separation and if he's more than a slot receiver. I love the fact he can return, but it doesn't sound like he's a clear-cut first-rounder, but it's now doubtful he'll be around at No. 53.
I could see them taking a defensive linemen at No. 21 and if they took a tackle, you'd have to figure they'd be set for Opening Day with the rookie, Domata Peko, Geno Atkins, and Brandon Thompson. And if it was an end, you'd team him with starters Michael Johnson and Carlos Dunlap and regular end/tackle Wallace Gilberry. You'd want to keep five ends, so Will Clarke and Margus Hunt would be fighting for a job, but that's why I don't think they take an end. Unless a surprise guy like Kentucky's Bud Dupree fell, I think they stay away from ends, but they'd take a tackle.
In your opinion, what is the single most important factor that has kept this team from advancing in the playoffs the last four years? Robert Rosing, Louisville, KY
ROBERT:  Their best players haven't played their best. Andy Dalton has just one TD pass in four playoff games. Four-time Pro Bowl wide receiver A.J. Green averages 54 yards and four catches in the postseason, and has yet to score. In the 2011-2013 games, a top ten defense allowed an average of 181 yards rushing. Quite simple. They need more from their best in crunch time.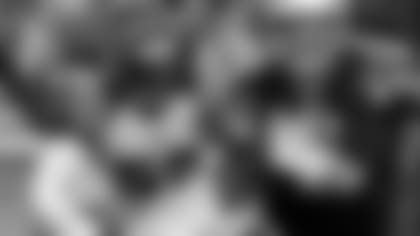 Emmanuel Lamur struggled vs. Tom Brady and his tight ends early in the season, but he helped the Bengals rebound against some top tight ends later in the year.
The Bengals for the past few years have had trouble against Tight Ends is this something you think will be addressed in the Draft? Kevin Daubert, Reading, PA
KEVIN: They are looking for a linebacker that can run and cover as well as play the run so, yes, I think backer coverage is going to get addressed in some fashion. Plus, they no longer have big safety Taylor Mays after he defected to the Vikings. He was an option on tight ends, although he only played 61 snaps.
But I'd also say after nickel backer Emmanuel Lamur got his feet wet following his return from not playing all of 2013 with a shoulder injury, the Bengals played tight ends much better in the second half of the season. They held the Saints' Jimmy Graham to three catches for 29 yards, the Browns' Jordan Cameron to one catch for four yards, and the Broncos' Julius Thomas to two catches for 33 yards and none scored TDs. Against the Steelers, Heath Miller had one one-yard catch and it went for a TD. In the finale he did have a 20-yard catch, but finished with just 41 yards on three catches.
They appear to like the potential rookie Marquis Flowers flashed last year in coverage. Flowers, a sixth-rounder, is a former college safety.
Hi Geoff, Love the updates, keep them coming! Couple of quick questions, I'm still not hearing much about Eifert's health, what's the latest? Also, has Marvin ever thought about making his yearly "theme" shirts available to the fans, I for one would purchase them? Thanks in advance! Jeep Wilson, 20 Mile Stand, OH
JEEP: Thank you, sir. Tight end Tyler Eifert, who missed all but the first quarter last year with a dislocated elbow, expects to be ready the first day of training camp. It remains to be seen if he'll get any snaps next month when they practice. I think Marv's T-Shirts have occasionally made it to the Pro Shop, but I'll remind him.
Did the NFL Competition Committee increase the roster size to 55? And/or did they do away with the inactive list on game day? Tom Kitts, Fairfield, OH
TOM:  No and no. The 55 proposal still has some legs, but abolishing the inactive list doesn't get much traction. It is simply a matter of competitive balance. A team like the Bengals that had a lot of injuries last year would be at such a disadvantage against a healthier team.
The return of old No. 93, Michael Johnson (above), should help the new No. 93, Will Clarke.
Hi Geoff, long time fan of both the Bengals and your work. Non- draft question from here Chicago. Who is your opinion might have a breakout year from the defensive cast waiting in the wings. I think it's Williams or Clark's turn, but can't count out Hunt, Porter, or Thompson. Would like to learn your thouughts. Thanks Ron Marksberry, Chicago, IL
RON:  It could be any of the guys you mentioned, but I'm going to go with right end Will Clarke, the third-rounder from West Virginia. He looks bigger (they wanted him to get to about 290 pounds from about 275) and even though he played just 64 snaps as a rookie, he looked to be very active. I think he gets more work this year because it sounds like with the addition of Michael Johnson they're going to work extremely hard to get that seven, eight-man rotation going again. And the fact he gets to watch Johnson work every day, the guy they think he can emulate, should help him.
Geoff, with the Bengals having a total of nine draft picks, and it being an almost certainty that not all nine would make the team due to the current roster depth, what do you think of the Bengals trading some of those picks (other than the compensatory picks, of course) to maneuver within the draft to select some specific players, much like they did last year trading a sixth rounder to move up in the (fourth) round to select C Russell Bodine? I think using this strategy could net them impact players like S Landon Collins in the first, WR Phillip Dorsett and LB Paul Dawson in the second, and TE Clive Walford in the third. David Lalley, Independence, KY
DAVID:   They're treating their third- and fourth-round picks like gold because that is where the strength of this draft seems to be and that's what you need to deal to move up into the first or second.  If anything they'd trade back from the first and second round to get more mid-level picks. I compare it to 2010, when they tried to trade up in the second round to get safety Taylor Mays.
At any point they could have lost second-round pick Carlos Dunlap or fourth-round pick Geno Atkins to get that done, so they made a good call deciding it was too expensive to get up there. They won't give up those mid-level picks this year to make a move. Now, maybe they could repeat history with that sixth rounder to get three picks in the fourth round. But we know how rare that is. Getting Bodine higher in the fourth round marked only the third time in their history they traded up in the draft.