Cedric Ogbuehi (left) and offensive line coach Paul Alexander: banking on the left side.
What is the likelihood of the Bengals pursuing veteran offensive linemen? And if they pursue them what is the chance of trying to shore up the tight end position with men who are more likely to stay on the field...... Thanks! Joe G. Cincinnati, OH
JOE: After agreeing with old friend Andre Smith and re-upping Eric Winston, I would say that's it. For now. What would make sense to me is finding a vet that can back up left tackle Cedric Ogbuehi. But apparently they don't think there's anyone out there.
What they may be thinking with the Smith deal is that if Ogbuehi gets hurt (they don't think he'll struggle), they could shift right tackle Jake Fisher to left, move Smith from right guard to right tackle, and go with Christian Westerman or T.J. Johnson at right guard. Trey Hopkins continues to be an intriguing guy. Hopkins, the college free agent from Texas whose promising career got derailed with a broken leg in his rookie preseason of 2014, is a guy they believe can play all five spots and he may see them all this spring.
 They're pretty happy with their four tight ends so I don't see them pursuing one. The only guy who has had trouble staying on the field is Tyler Eifert but he looks to be coming off his back surgery fine. Now, what they're going to do with Eifert long-term after this, his contract season, is another matter. And is there a right answer?
Hi Geoff, Thanks for continuing to share your gift of the written word and weaving any number of unrelated interviews and fun facts into engaging stories! Now that we pretty much know who the Bengals have lost in free agency, I wonder if you would comment on what the Bengals shopping list might look like for the 11 picks, realizing plenty could change with the addition of key free agents such as Andre Smith. Here's what I have: DE, OT, LB, C, DE (2), RB, WR, FS, DT, OG, K Thanks Peter Neefus, Virginia Beach, VA
PETER: Thanks for the note. You're right. They're probably looking for a vet linebacker and then it is all about the draft in no particular order: two DEs, two LBs, a DT, a WR, a RB, a G, a K.
Hi Great articles. My question is can Jeremy Hill be as good as he was 2 years ago. I know defenses catch up with certain type quarterbacks is this true with running backs also. I myself believe so. I would really like to hear your insight on this. Thanks John Mitchel tree, Cape Coral, FL
JOHN: Thanks for the kind note. You can out scheme a QB. Take away what he does best and if he's got nothing else, he's done. But I think the only way you can catch up with a running back is if you let them.
Somehow, some way, Hill got away from what made him their MVP as a rookie in 2014. You hear head coach Marvin Lewis talk about it all the time. Hill is at his best when he gets his shoulders decisively turned north and south. For some reason, Hill has got away from that and tries to shake-and-bake instead of frying straight ahead. Obviously they've got a lot of faith in him because they let a good and versatile player walk in Rex Burkhead.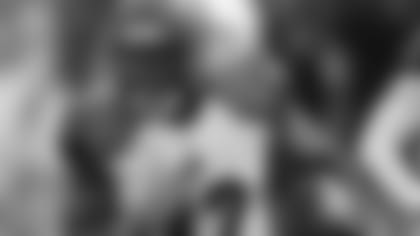 Jeremy Hill fights the battle of north and south.
Andy Dalton was sacked 41 times last year with Whit and Zeitler. How many times do you think Dalton will get sacked in 2017? Gary Pignone, Mason, OH
GARY: You hit it. It's the biggest question of the offseason. If it's the same or more, they'll win six games again. I think it's going to be fewer than 41 because it's going to be emphasized. I would imagine they'll have to adjust their philosophy of keeping the tackles one-on-one in pass pro, which is great when you've got proven tackles. But they'll have to give Ogbuehi and right tackle Jake Fisher help with backs and tight ends, not to mention a serious running game that's more than decorative. You should certainly be able to run the ball with Andre Smith at right guard.
Do the Bengals really expect to win a Super Bowl with his little as they do in the off-season? Our position every offseason is let the players go that want to go and pick up low name players to replace them. And then say that we do not have any more money under the limits under the cap. Why you look at the team that just won the Superbowl going crazy in the offseason no one will beat them again this year. I am a next season think it over I have supported this team since the day it started and nothing is ever changed. Brad Sandlin, Maineville, OH
BRAD: Certainly your long-time support is appreciated. That's a way back.
I just don't think you can judge the offseason in the first week of free agency. I'm going to say that a lot today. This is how they've done it for the last eight years or so and they've assembled a good enough roster to win what is routinely considered to be the most competitive division in the NFL three times. A good enough roster that even the guys that can't get off the bench get deals in the first week of free agency. So, yeah, my sense is they do expect to win a Super Bowl doing that. Just like Green Bay and Pittsburgh have won one with pretty much the same philosophy.  
Geoff, Thank you for taking my question. I understand that the Bengals are looking at taking another running back. Would they not be better served at taking a safety like Jabril Peppers? I think this guy could possibly play both a fast linebacker position or the safety position. His ball handling skills are really good and may be used as a possible kick returner making his value in my opinion really high! Your thoughts? Michael Neeley, Cuyahoga Falls, OH
MICHAEL:  I'm right with you and I think Peppers will probably be in the discussion at No. 9. The way it's shaping up is you can get the same kind of guy at No. 8 as you can at No. 18, so at that point why not get a versatile guy that can help you right away? Who cares if he's not the ninth best player and is actually the 14th or something? Here's a guy that you know would fit what defensive coordinator Paul Guenther is trying to do match-up wise in nickel and he'd be hell-on-wheels for special teams coordinator Darrin Simmons. After a rookie year Peppers plays about half the snaps on defense and is a core guy on teams, no one is going to say ,'Hey, you reached to get him about five spots.' They'll just say, 'He was a good first-round pick."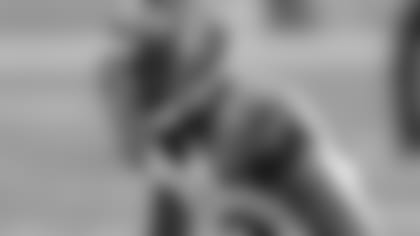 Darqueze Dennard tries to get on the field at a crowded corner.
Greetings from Natick, Ma!!! I think I'm in the minority when I say it is time to move on from Whit and Peko. Love them for everything they have done, but it's time for the young guns to step up. With that being said, is it safe to say this is a very important draft, ie '09, for the future of the Bengals. With 11 picks this year it feels like we can really get some serious depth, with one or two game changers. Also what are your thoughts concerning Dennard's future? It seems like he is the odd man out in the DB pool. Love your work and thank you for answering my question. Curtis Baldwin, Natick, MA
CURTIS:  As a Framingham South grad, I bid welcome to a Thanksgiving Day rival. I've never heard such kind words from the folks in red and I thank you. A nod to the home of Charlie Christie's backcourt of Rich Zacchili and Paul Leon that nearly pulled off an upset in the South gym on the last night of the 1975-76 Bay State League season, only to see David Blatt and the Flyers prevail and share the title with Braintree.   I'm pretty sure I'm the only reporter to cover Doug Flutie in a Natick High basketball game, a Boston College football game, and in some of his NFL games for the Patriots, Bills, and Chargers.
If anyone cares and no one does.
As far as game-changers in this draft, I'm not so sure. But game-influencers, yes. You're exactly right. This is a deep draft for defensive ends, running backs, and cornerbacks. It's also an abnormally lucrative draft for wide receivers. So while there is no A.J. Green out there and they have virtually no shot to get one of the top pass rushers, they will get some players that can help them right away and they should get several that contribute at some point in their careers.
How the Bengals do from 2018-2020 is directly connected to the drafts of 2016 and 2017. It will be easy to grade those drafts. Just go by the win-loss records in the last three years of the decade.
The play time of cornerback Darqueze Dennard, their first-round pick in 2014, is a bit of a mystery to me. Yes, he has struggled with injuries but how they perceive him doesn't seem match his play time. They think he has enormous potential, but he's on and off the field. I'd like to see them exercise his fifth-year option because I fear he could be the defensive equivalent of Rex Burkhead. When he leaves the question is, why didn't he play more?
None of the F/A who have left could be good. Age and/or poor execution led to a dismal season. The offensive line caused Dalton to have way too many sacks. All the new bodies could be a great answer for all. Overall do you agree that poor execution is the biggest issue? Steve Guenther, Saint Paris, OH
STEVE:  Sure, execution is a factor. But it's the same scheme (and personnel) that kept Dalton clean in '15, right? The biggest thing to me is that they switched Ogbuehi from left tackle to right tackle and it blew up. That impacted everyone down the line. There were other issues, particularly early in the season when they got behind early in games (Denver, Pittsburgh, Dallas), and pass rushers were able to tee them up. But, yes, lack of execution was clearly there.  That's what they said about the inconsistent running game.
 After having some, if not the best talent in the previous seven seasons, why do the Bengals continue to keep Lewis as the head coach after he has lost in the first round by an average of two or more scores with a 0-7 record? Austin Krol, Hood River, OR
AUSTIN:  I think they look at it like this. Before Lewis arrived, they went to the playoffs seven times in the 35 years of the franchise. And since 2005, only five teams have been to the postseason more than seven times.
According to Elias, they are the Patriots (11), Seahawks, Packers, Colts (9), and Steelers (8). The Bengals and Ravens are next with seven. An interesting thing there is the AFC North is the only division on that list twice, never mind three times.
Yeah, all of those teams have won at least one Super Bowl since' 05. But I think it says something about Lewis getting the Bengals on that list at all.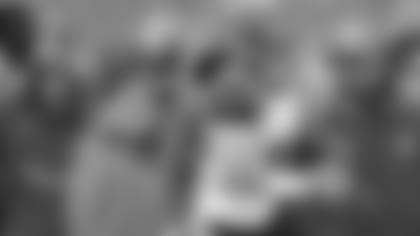 Did anyone doubt Rex Burkhead would end up with Bill Belichick?
Why haven't the Bengals gone out of their way to sign Burkhead? The Bengals have two running backs that are either returning from injury or has gone downhill. Bill Farro, Edgewood, KY
BILL: From what I understand, they did try to sign Burkhead but they didn't get a lot of engagement before he signed in New England. It's hard to blame Rex. The only way I could have seen him coming back is if they moved on from Jeremy Hill. But Marvin has been pretty clear the last month that he thinks Hill can get back to being the Hill of 2014 and I don't think he sees Rex in the same every-down  back category as Hill
 And with Giovani Bernard coming back early in the season and this a deep draft of running backs, where was there room for Burkhead? Before Gio got hurt, Rex had only 38 touches in three and a half years. So the question may not be why didn't they go out of their way to sign him, but why didn't they go out of their way to find a way to use him more?
  Do we really need 11 draft picks? Why not use 2-3 of them to enrich the remaining 8-9 by moving up? Yes I know free agency has left holes but we drafted for that already. Dustin Overholser, Myrtle Beach, S.C

DUSTIN: It's the first year compensatory picks can be used to trade and they very well could use them to trade up for someone they target. But I also think they're not looking to trade away a Kevin Huber, a Marvin Jones, a George Iloka, a Rex Burkhead, a Clinton McDonald, an Andy Dalton, a James Wright, a T.J. Johnson, a Cody Core, or a Clayton Fejedelem, starters, regulars, or potentials that have been picked in the fifth round or lower since 2009.

They've only traded up three times in history, so it's not exactly a lock. But they've never been in this position before, either. Throw in last year's first-rounder William Jackson and fourth-rounder Andrew Billings, guys who missed all last season with injuries, and that's 13 picks.

Hi, First timer here...I have been a Bengals fan since their first super bowl. My question is...what is the plan for the Bengals going forward this year and beyond? We have released the best leadership on the team (Whit and Peko) which is a good move. However, who do you believe steps up in their roles? Also, I really like the idea of having Foster play with Burfict and Vigil. Is there a realistic chance of grabbing Foster at number nine? Everyone knows Coach Lewis is always looking for his next Ray Lewis. The way Foster played in the National Championship game, he might be pretty close. Thanks! Aaron Jessey, Jamestown, NY

AARON: Greetings to the hometown of Dan Hoard, the velvet voice of the Bengals, and thanks for checking in. Hope you do it again.

Maybe it's just me, but I think if it's one thing you can says it's that they do have a plan. It's been promulgated over and over.  This has been the plan for basically the last decade: draft, develop, and sign your own, stay away from big free-agent deals, make sure you walk out of March with at least a couple of compensatory picks, and surround your two franchise players (Dalton and Green).

So this last week has been no surprise. They get nervous about paying age and guards and one of their own means always.  As in Andre Smith, who agreed to return this week after he took a free-agent deal in Minnesota for a season. And they're relying on their drafts to fill.

I think you've already got leaders on this club in Dalton, Green, Vincent Rey, Brandon LaFell, Clint Boling, Michael Johnson, Vontaze Burfict, Adam Jones, George Iloka. They lead in different ways. Green with his face-of-the-franchise talent. Dalton by the dint of his mastery of the offense and his position.  Burfict and Jones with their tough, edgy mindsets. Rey, LaFell, Boling, and Iloka with their experience and brains. They'll all have to do more with Whit and Peko gone and it will be different. But the cupboard's not bare.

They'll have to do some due diligence on Foster. I hear you, though. Team him with Vigil, Burfict, Vinnie Rey, and you won't hear people griping about them being old and slow on defense. But drafting a 228-pound linebacker No. 1 in this division makes you a little queasy. Then again, it is the division of C.J. Mosley and Ryan Shazier and this kid is supposedly right there or better.

After Foster's combine dustup with hospital personnel, there are character concerns so they'll be vetting him on that front. No question he's in the mix, though.

 *Vinnie Rey: valued leader.      *

Hello! I like very many Bengals fans, have major concerns for this year and the years to come. Too many key players lost in free agency. I understand that they want to develop some of the younger guys, but this is the case every year. It seems like they are always looking to the future and never living for the moment. It's not working now and probably won't work a few years from now. Why don't they sign veterans? Do the fans have legitimate concerns? Andrea Wheeler, Cleves, OH ANDREA:

There is one school of thought that says they rely too much on veterans and don't develop their young players enough. Last year in free agency with a stable of young cornerbacks they extended 32-year-old Adam Jones for three years along with inking 34-year-old linebacker Karlos Dansby and the 29-year-old LaFell. So I think that says they were all in to try and win the division again. And when they let Andre Smith walk, they replaced him with a first-rounder, but it didn't work.

They got Smith, 30, back this year, a nice veteran get after re-upping 33-year-old back-up tackle Eric Winston.  Two years ago they did the same thing and re-signed right end Michael Johnson heading into his seventh season after he played his first five seasons in Cincy. Also in 2015 they signed long-time Packers linebacker A.J. Hawk, 31, a 10th-year player.  In '13 they signed 35-year-old James Harrison, the same year they extended 34-year-old Terence Newman for two years.

I think what you might be asking is why don't they go get a veteran game-changer. I think the way they see it is that they already have those guys here, but those other signings are designed to get them over the top. So I'm not sure you can say they're perpetually re-building when they sign guys with that much tread. To me, signing vets like Dansby, LaFell and Smith is the mark of a team trying to win now. Or else you'd line up with Fisher and Christian Westerman on the right side.

Geoff - I am a 47 Year old/ Lifelong Bengals fan and I am really frustrated! The start of free agency is looking like a colossal failure for the Bengals. Andy Dalton took too many hits in 2016 and without Whit and Zeitler it looks like he is going to be either spending more time on his back side or rushing his passes again. (= more interceptions again)Is the Bengals front office really this clueless??

There is no way we are going to contend in 2017/18 by resigning Winston and depending on Cedrick Ogbuehi. Winston is on the decline and Ced is just not ready. (and not the talent level of Whit)Not to mention the leadership we lost with Whit, Zeitler, Peko and now a class act in Burkhead leaving. Our plan was to over pay Kirkpatrick?? The guy gets burned 2-3 times every week. He cannot be depended on! I am ok with resigning Lafell but what on earth are they thinking bringing in Mixon? The guy is a head case! We don't need more attitude/discipline problems on this team.**

And why the heck is Adam Jones still around? The Bengals look like they are OK with rebuilding when we should be restocking for a deep play-off run. Is this Marvin Lewis giving himself yet another excuse, or is it that Brown and Blackburn are ok with returning to the AFC North Basement?? This is the worst I have felt about the Bengals in 10 years. I am not sure I have it in me to defend these horrible decisions anymore. The Bengals better wake up fast. Don't let Burkhead get away and start looking at some veteran help or 2017/18 is going to lead to the bungles of old. I can't watch... This is just too painful!!! George Jones, Dallas TX

*At the top of the draft-and-develop philosophy, director of player personnel Duke Tobin has seen a lot of wins. *

GEORGE: Well, you've been here before, then. For the last eight years or so the Bengals have stuck to this philosophy, which never looks pretty during the first couple of days free agency. As you know, one of their favorite mantras is you don't win Super Bowls in March. If you did, Cleveland, Washington and Jacksonville would have ruled the last decade because of their free agent not so riches.

 As it is, the Bengals, Patriots, Packers, and Broncos are the only teams that have been to the postseason six of the last eight years and only Denver has been a huge player in free agency. The Bengals sign their own, pass on the big-ticket money guys from other teams that are 50-50 shots at best, and position themselves for compensatory picks. Not sexy and it gets you ripped for doing nothing early. But it's a philosophy that has built recent rosters deemed excellent by most of the pundits.

In fact, this last roster seemed good enough that even their backups got snatched in the first week of free agency.

My impression is the Bengals don't view it as re-building or re-stocking, but supplementing a core that many NFL teams don't have: a top ten quarterback, a top five receiver, two Pro Bowl pass rushers, and four first-round cornerbacks.

So I'm a bit surprised to hear you ripping Lewis and the front office when they're sticking with the plan that got them out of the basement during the last decade. I wouldn't call it clueless when they've left enough clues from the past.

Certainly it's no surprise they didn't sign Zeitler to a record deal. Just like 10 years ago they didn't sign left guard Eric Steinbach before he signed a record deal in Cleveland. They don't pay guards and while it bloodied them in the days of Max Montoya it hasn't hurt them in the last decade. It also shouldn't be a surprise they kept Kirkpatrick. They always keep their own corners, starting with Leon Hall in 2011 to Terence Newman to Adam Jones and now to Kirkpatrick in 2017.

(And I'll have to disagree with you on Kirkpatrick. He's a good, solid No. 2 corner and they paid him like one. Profootballfocus.com has him giving up three TDs the last two seasons on nearly 2,000 snaps so that's not exactly getting beat like a drum. His new deal gives him a $10.5 million average, 11th among cornerbacks, according to spotrac.com, so that's the going rate.  A.J. Bouie had one good year and got $13.5M. Logan Ryan has played just three years and got $10M. So 10.5 is certainly in the yard. I wonder what you'd be saying if they let Dre go and trotted out William Jackson on Opening Day.)

No question Rex Burkhead is a class act. But I think it takes two to tango and with the Bengals embracing Jeremy Hill, Burkhead looked elsewhere. He sat behind Hill and Giovani Bernard for three and a half years and they're back. Plus, the Bengals are talking about drafting another back, so Rex is going to go where he'll play and you can't blame him.

He looked great in the last six games. Better than Hill. But before last season the coaches gave him only 30 touches while winning 33 games. So I'm not sure it's the fall of the Roman Empire. And I love the guy. I think they should have been playing him for years. But the way Marvin has been talking about Hill for the last month they're clearly put their money on the big back rebounding. And after the draft they're probably thinking they won't be void of talent there.

The big move is obviously not re-signing Andrew Whitworth at left tackle, although I'm never really surprised when they don't sign a guy 32 or older. Still, I thought Whitworth was as valuable this year as Adam Jones was last year when he got a three-year deal at age 32. I thought both Whit and the Bengals would agree to one last year before they found out for sure if Cedric Ogbuehi is ready or not. They've survived losing guards because they've always had top-shelf tackles, so this is a concern. I'd feel better about it if they had a vet behind Ogbuehi and they eventually could.

(And this is where the Andre signing comes in. The backup could very well be Fisher.)

Will they give up 41 sacks again? They better not because they'll go 6-10 again. They gave up 41 sacks with Whit and Zeitler, so they've got to get some things other than personnel ironed out. It's hard to see this locker room without Whit and Peko. But they said the same thing about the leadership of Willie Anderson and John Thornton. Whit and Peko learned well from those guys and now guys like Green, Dalton, Boling, Michael Johnson, Carlos Dunlap, Iloka will find out if they've learned well from Whit and Peko.

As for Joe Mixon, I stopped judging people a long time ago. All I know is the guy made a horrible mistake and that seems to be the only mark against him. Should he keep paying for the mistake? Does he deserve a second chance? How long do you keep paying for a mistake when you're 20? I don't know. I took my one and only philosophy final in 1977 in Syracuse's stately Hall of Languages and haven't touched the stuff since.

I do know this. If any team is thinking about drafting him, they better vet the hell out of him and they better be ready for the avalanche of scrutiny they get and they better make sure Mixon is prepared to withstand the same microscopic lens. It certainly seems like the Bengals are doing due diligence and they should.  It was a terrible incident.

And you'd have to say the same thing about Adam Jones. The case is still in the legal system and the Bengals aren't push-button reactive.  When you've got a guy's career and life in your hands, it's not so easy to judge.

Hey Geoff, I thought we would lose Zeitler and was hoping we'd get back Kirkpatrick (which we did). But losing Whitworth is going to hurt. I wasn't very optimistic about this coming season to begin with, now I'm really worried. What are your thoughts? I'm just hoping for any kind of ray of sunshine! But no matter what I'm still screaming WHO DEY all the way down here in SC!! Joby Clayton, Lyman, S.C.

Dre Kirkpatrick is back for five more years.

JOBY: Yeah, losing Whit is tough loss in the field and in the locker room. But I'll say this. On paper the Bengals have more talent on the offensive line than they did during their last major shakeup on the offensive line.

When Whit moved to left tackle permanently for the 2009 season, they lined up for the first half of that year with two second-rounders, a fourth-rounder, and three college free agents when Dennis Roland rotated at right tackle with Anthony Collins in place of the injured Andre Smith. This year they line up with two first-rounders, a second-rounder, and two fourth-rounders.  And they'd kill to go 10-6 like they did in '09 riding a No. 4 defense and the last 300-carry season by Bengals back with Cedric Benson's 301.    

First question is that the offensive line was bad last year. What do you see happening with it this year?? Games are won in the trenches. I think the defense was pretty good last year considering they were on the field so much. Second question is. Who or what should we draft with our first pick? Unfortunately I don't see any offensive lineman that are worth that pick. I'm think defensive line or linebacker. I would even consider trading down if I were them. Daniel Wells, Middletown, OH

DANIEL:  I'm with you on trading down. I'm starting to think there's not going to be a whole hell of a lot of difference between the ninth pick and the 20th. As for the O-line, it's simple. The kids they drafted have to play and if they don't it's a long year. I think Cedric Ogbuehi ends up saving the day. After getting his first spring camps and training camp under his belt, we'll see why left tackle is his natural position and why he was at sea on the right side.

Hello, hope you had a great vacation! I feel very disappointed this free agency, our team looks weaker. I think we will finish 4th in our division. Sorry for the negative attitude but I feel very frustrated. In your view, what is going on in the front office because no signings are coming , letting a lot of guys with talent walk away! It looks to me, that they don't want to win a super bowl . Please bring some light in end of the tunnel! Who dey! Rodrigo Saavedra, Cincinnati, OH

RODRIGO: Let's see. I think I've got 79 bylines in the 74 days since the season ended. So, how was your vacation?

I'll have to disagree with you. I don't know much, but I do know the Bengals aren't going to finish last in the division. The front office has done the same thing it's done since the Bengals have won three AFC North titles since '09 while going to the postseason six times. If they sign anybody it's their own and they're gun shy about paying age (Andrew Whitworth and Domata Peko), guards (Kevin Zeitler), and 5-10 running backs that have been nicked in the past (Rex Burkhead). So what's going on in the front office is they're adhering to the philosophy that has worked more than it hasn't in the last decade.

Will it get them to the postseason this year? Not if they protect the QB like last season.

 Do you think Rey Maualuga will be cut this year? I kind of feel that because it's the last year on his contract, he's working very hard on training. If he has a great year he may be resigned but if he has a bad year he may have to move on! Thanks Stephen Penny, Cincinnati, OH

STEPHEN: I wouldn't pick on Rey. When you've got a draft of 11 picks staring at you, almost everyone is on the bubble.