QB coach Ken Zampese and the rest of the Bengals are practicing due diligence.
How serious should us the fans take it that the Bengals worked out Brett Hudley? Greg Luther, Cincinnati, OH
GREG: Not very. File it under, "Due Diligence." If they do draft a QB, and that's a very big "If," it won't be until the later rounds. If they do add one, it is more likely through college free agency. Sounds like Hundley is going to be gone by the third round and they've got a lot more fish to fry with those first four picks than an iffy QB prospect.
One side note. Former Bengals wider receiver T.J. Houshmandzadeh was all lined up to be a receiver for Hundley at his pro day at UCLA. But when the workout got moved to later in the day, he couldn't go because he had to pick up his kids from school.
Houshmandzadeh said he ran some routes at UCLA about a year ago and even though he's hardly worked out since he caught 11 balls for Hue Jackson's 2011 Raiders, he says the Bruins coaches were raving about him. When they called him a few weeks ago about wanting a veteran route runner for Hundley's pro day, he told them he hadn't run any routes since that day a year ago but that was good enough for them. Housh can't explain it, but he's still 201 pounds and apparently still looks like the guy that could catch seven balls for 88 yards at the drop of a hat.
Geoff, loved the article about Troy P, Ed Reed and Big Willie, really good stuff. Now let's talk draft. If the let's say La'el Collins or Ereck Flowers are on the board and say Malcom Brown or Goldman are there, which way do you think the Bengals would go? I still think they may surprise and go WR or DB, I don't think anyone knows because their roster is still loaded though beyond the obvious roster challenges of 2016 with FAs this year's holes have to be LB and TE but I don't they will spend 1st pick on either position. Mike Pantano, Cincinnati, OH
MIKE: Thanks for reading and, I agree, I think the linebacker and tight end are coming later. The problem for the Bengals is if they want any of the good tight ends, they'll have to grab him in the second round, and now maybe you've lost a shot at the fast wideout or a heavy duty linebacker.
You've got an interesting first-round scenario there and it could very well come down to that. What we don't know is how they've ranked Collins and Flowers to Brown and Goldman. They've made hay in the first round by not reaching and going by the grade. But this looks like a perfect AFC North first round. It looks like at 21, a good offensive or defensive lineman is going to be there.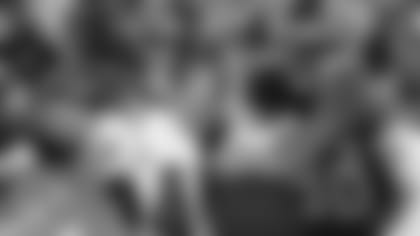 Andy Dalton hopes to transfer camp skills to game action. Hey Geoff, I just want to say what a great job you are doing and to keep up the good work. My question for today is that I read the article about Andy Dalton visiting Dr. Tom House's QB clinic. As I'm reading I'm feeling very confident about his skill next season. What are your thoughts? Drew Zimmerer Middletown, OH
ZIM:  I don't think they have a lot of questions about his mechanics or arm strength. Thanks for reading, by the way, and, I don't know about you, but to me Hue sounded like he's more concerned about the turnovers (i.e. decision making) more than anything, and you never know about that stuff until the start of the regular season.
The big thing Jackson seems to be taking out of the workouts is that Dalton is showing the commitment and passion to get better and that's what he needs from his quarterback. The haters won't like that but, at this point the haters have all the ammunition while Dalton quietly tries to get better. Like Hue asked, what more can he do until, as they say, the bullets fly.
Geoff, love the data, keep it coming. I may be in the minority, but I think the Bengals WRs are overrated. AJ Green is a stud. After that what do we have? Marvin jones has great potential and two ankle/foot issues. Mo Sanu vanished during second half of the season. Could the Bengals go retro and draft WR @1 and 2 like 1981? Maan Aboulhosn, Titusville, FL
MAAN: Not this draft. And maybe not any draft ever as long as we live. Or at least as long as the college passing game keeps churning out countless of NFL receivers every year. We're coming off the most prolific year ever for rookie receivers (from Mike Evans, the seventh pick in the draft, to Jacksonville college free agent Allen Hurns) and the trend doesn't look like it is going to stop any time soon. You can get receivers. It's nice to start looking in the second round, but you don't have to panic.
To say Marvin Jones has merely great potential ignores the fact that he has a 10-touchdown season to his credit. Mohamed Sanu vanished not because of his talent but because he got worn down playing more than 1,000 snaps in the wake of the injuries to Green and Jones on the outside. Sanu is at his best playing about half those snaps and most of them in the slot.
You're right, there has to be concern about Jones' foot, not to mention that all three receivers are heading into contract years. If they're not thinking about taking a wide receiver early, they should, and the way Jackson talked back in February at the NFL scouting combine, they are.
Geoff There was a day that you could pick up a phone and get through to Mr. Paul Brown. You can fix Andy Dalton' s mechanics but you can't fix the thought process when you under siege in the heat of the game. Darryl Porter, Powell, OH
DARRYL: You don't have to get Paul Brown on the phone to know Dalton has to cut down his turnovers. Funny, that's the kind of stuff they were saying about Kenny Anderson in his first years in the NFL. But Paul Brown stuck with him and in the last two years of Brown's coaching career, Anderson won back-to-back NFL passing titles. That's not to say Dalton is Anderson, but Kenny had his share of critics, too, before he won his first post-season game at age 32.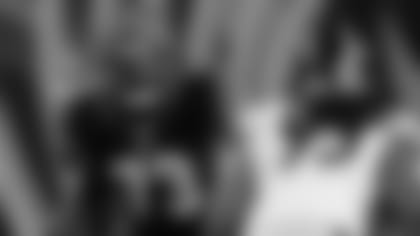 Former Bengal Anthony Collins could be a post-draft option for several teams.
Geoff, I hope that all is well with you, Good Sir! Please know that all of your hard and dedication to keeping us loyal Bengals fans informed is very much appreciated! If you remember me, I became a fan in 2003 because of Marvin Lewis and my Phi Beta Sigma Fraternity brother, Adrian "Maddbacker" Ross. Two questions, if you do not mind me asking:
Has the organization given much thought to possibly signing Anthony Collins (another one of my Phi Beta Sigma Fraternity brothers)? I know he had a tough time in Tampa last year, but he played extremely well for us. Is age a factor? - Also, would you and consider organization consider writing a piece periodically on former Bengals (their past contribution to the team, what are they up to now, etc). I am sure that a lot of younger/newer generation Bengals fans would love to know the stories of Greg Cook, Tim Krumrie, Corey Dillon, Ickey Woods (beyond the Geico commercial), Reggie Williams, etc. Thanks for your time! Your Bengals buddy from Alabama – TKR Terrence Randolph, Huntsville, AL
TERRENCE: Good to hear from you again and hope the Mad Backer is well. I don't think age is a factor here since AC is 29. The fact they wrapped up Eric Winston early as a backup tackle and the glut of tackles in the first two rounds of this draft are bigger factors. Collins is the kind of guy they could re-visit after the draft depending how things unfold.
what the chance of getting Devin smith? Andrew Greer, Lexington, KY
ANDREW: I would think about 50-50 late in the second round. But what we don't know is how they have Smith not only ranked among the receivers, but the rest of the players. Will they mark him down for being a raw route runner? Or will his blazing down-field-speed trump all?
What's the favorite road destination for team staff? The players have all the focus, but where does the crew like to travel to, favorite eateries when on the road in the NFL? Tim Webster, California, KY
TIM: Any place warm or with sea food or both. They may hate the Bengals in Baltimore, but it's one of the favorite spots because of the ton of great restaurants, Phillips Harborplace being one of them. Miami is another town hard not to like because you can get an ocean breeze in your face while tasting the ocean fare, like at Joe's Stone Crab in Miami Beach.
And, anywhere out west, particularly San Diego, a sentimental spot for the Brown family. Bengals founder Paul Brown loved escaping to La Jolla at the end of each season and his home is still in the family. Between the scenery and the coffee and the fish, Seattle is also on the A list. Dan Hoard, the Bengals' golden radio voice, took me to the greatest breakfast place in the history of hash browns at Lola at the Hotel Andra. Ironically, San Diego and Seattle are the two teams that come to Paul Brown Stadium this year while the Bengals go to four Western and Mountain time zone teams in Oakland, Denver, Arizona, and, San Francisco.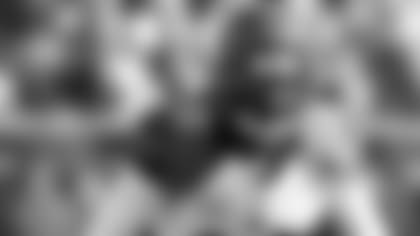 Reggie Nelson, who turns 32 this season, has capably filled the safety void for five seasons since he arrived via trade.
Which is the Bengals biggest need in the draft? Tackle or Safety? Whit is getting older but the defense needs a safety. Would the Bengals draft a safety number 1? S Byers, Columbus, OH
S: I could see the Bengals taking a safety No. 1. They were all set to take LSU's Eric Reid at No. 21 two years ago, but the 49ers took him No. 18, so Alabama's Landon Collins figures to be in play. The biggest need? Both starting tackles and both starting safeties are going into their contract years. Clearly, the premium position and the hardest player to find out of the two is tackle and that usually figures into the grade. It comes down to the grade of the players left.
Mr. Hobson, thanks for the awesome articles. I really enjoy your insight on the team. I have two questions 1. With the signing of Josh Johnson, having AJ McCarron, and with Andy being the obvious starter, do you see the Bengals drafting another late round QB such as Hundley from UCLA? 2. With no huge glaring need what do you suspect is our 1st round draft pick? I feel that maybe a WR such as Funchess from Michigan or possibly Dorial Green Beckam could come in a have an immediate impact, and would be worth the first round pick. What are your thoughts? Aaron Deamron, Fort Benning, GA
AARON: Thank you for dropping the kind words and the note. It's not a great class of QBs and there are just so many more immediate needs they can fill in the first four or five rounds, ranging from wide receiver to tight end to linebacker to safety. McCarron is virtually a draft pick from this year because he hardly practiced at all last season.
Yeah, I could see them taking a wide receiver in the first round, but there would have to be a wild rush on tackles and defensive linemen to get there and push down some of the receivers. If three or four receivers go before 21, now you're looking at the kind of guy you get in the second round. In the first round, you have to get the match of a great talent and a premier position and if there isn't one, you better have a lot of the other.
The Green-Beckham talk scares me. The overall success of the Bengals' drafts in the last few seasons has stemmed from staying away from big character concerns and this guy has the biggest in the draft.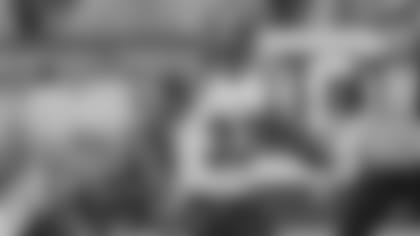 Jeremy Hill forms a potent enough 1-2 punch with Giovani Bernard to make the Bengals pass on a running back in the first round, right?
Geoff, I know the Bengals have two great running backs but if Gurley is available at there pick in round one do you think they would consider it? I compare him to AP, wouldn't that be great value at that spot? You can never have too many good football players! Andy B., Cincinnati, OH
ANDY: I hear you and I second the motion. Don't be afraid of stacking as we learned with LSU left tackle Andrew Whitworth in the second round of 2006. And the Bengals don't need a guy to help them right away.
But, I just think there are too many good players at premium positions that are going to be available at No. 21 and as important as good running backs are, it's not a premium position and if he's that good, he'll be gone by No. 21. So I think they pass on the back, if he's even there. But, I hear you. And maybe if they didn't have Jeremy Hill and Giovani Bernard, I'd be more interested.
Geoff: Is there any chance this late in free agency, that we could pick up preferably, the just 27 year old, Jake Long, bring back Anthony Collins, or what about the 27 year old safety Stevie Brown or the run stuffing LB Brandon Spikes? It's late in free agency, and some of these should be cheap to sign with their lack of offers.
Also, I keep hearing that in the draft we will likely have pretty good options that may fall to us, like the LSU OT Collins, but I doubt it. If Collins isn't there, maybe defensively, Gregory could fall to us due to his off field problems or worst case, Armstead or Dupree. Those would most likely have to be in the 1st round. I think we also need to look at getting a very good receiver. I prefer the big Ohio St receiver, which I think his name is Smith, or should he drop to us due to personal issues, my favorite, the 6'5 Dorial Green-Beckham. I think he has the most upside.
If either Gregory, Amstead or Dupree are there, would you take one of those 2 receivers in the 1st instead or would you hope One of those 2 receivers falls to the 2nd round? If not going in the first, do you see us having a chance at Beckham or the Ohio State WR Smith? I would love to get either of THOSE 2 receivers in the 2nd. If we take a lineman in the 1st, and the Ohio State WR or Green-Beckham are there after our first pick, I would like to see us try to trade up to bottom of 1st or top of 2nd using our extra picks to get Smith or Green-Beckham. If we can't get either of those 2 receivers somehow in the late 1st or somehow in the early second, I think we should try to get a 3.35 or below wr/returner speedster like Dorsett or Crocket in the third or fourth round. Your thoughts? Bill, Pensacola, FL
BILL:  The Bengals aren't going after any unrestricted free agents before the draft. Or any free agent for that matter. About 10 days after the draft all free agents lose their unrestricted status and teams aren't subject to lose free-agent compensation if they sign them. So that opens it up for guys like Spikes and Brown.
If the Bengals miss on some spots in the draft, they may go back into the market but they won't be looking to sign anybody for much more than the minimum. They let a guy like Brown go in Taylor Mays and I would imagine Spikes wants to get paid. A guy like Jake Long, who has ended his last two seasons with torn ACLs, looks to be too much of a risk at virtually any price.
Can we please forget about Gregory and Green-Beckham and just move past the guys who are questionable. Why? Google the 2006-07 Bengals and you see how definitively disappointing the questionable characters helped make those teams.
Yes sir, you're right on about Bud Dupree from Kentucky and he'd be a worthy pick at No. 21 even though it's questionable how he'd play with his hand on the ground. Armstead is more of a 3-4 guy and not a fit. I hear you on the return guy. They need one. But Dorsett is going to be long gone before they pick in the second round.
Never expect the Bengals to trade up and this seems to be one of those drafts where it is strongly discouraged. From what I'm gathering, a lot of third-round guys are going to go in the second and fourth-round guys are going to go in the third. It just doesn't make much sense salary cap wise to give up one of those first four picks, especially for a receiver.
Plus, they can't trade their compensatory picks in the third and fourth. The word is there'll be a good receiver there at No. 53 if everyone is patient. At No. 53 last year, the Packers got Fresno State wide receiver Davante Adams, a guy that had 38 catches, 11 on third down, for a division champion. Don't panic for a receiver. The Steelers got Martavis Bryant and his 21.1 yards per catch (thanks to the 94-yarder vs. the Bengals) in the fourth round. And, don't forget, in 2012 Marvin Jones was a fifth-round pick.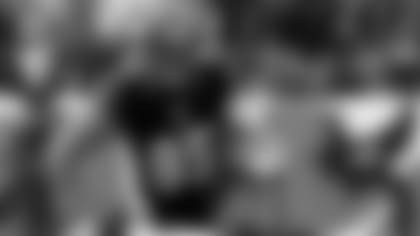 Tyler Eifert figures to be back first day of training camp.
Hi Geoff, Avid Bengals fan from RI. I enjoy your articles and Bengals perspective. 2 questions: what is the latest on injuries to Eifert, Porter, Wright, Andre Smith? We've heard about Burfict and Marvin Jones, but not from these guys. Also, Kwame Geathers is a HUGE guy on the DL. Heard the Chargers liked him before he got hurt. Will he be a factor this year? Thanks. Ed, Providence, RI
ED: Always great to hear from the land of Ernie D., Marvin B, and Dave Gavitt.
It sounds like Eifert (elbow) and Wright (knee) are good to go when the field work begins the last week in May, but they may get held out early for precautionary reasons. Smith (triceps) won't go with the team until training camp. They'll probably also hold out Porter (knee). But all those guys are expected to be ready for training camp.
You're right, Geathers (6-6, 340) is huge and has the pedigree, but he's got a tough assignment to beat out the experienced Pat Sims, the leader for the fourth and final tackle spot. Devon Still is also in that mix, but Geathers is going to make things interesting.
After 4bstrait years in the playoffs and 0 wins. It seems to me that the conditioning of the players is off. The star players are hurt mid or late season and the players in the playoffs are good players but not the "first teamers". I think we need new routines for mid and late season training. Any ideas? Tom Hankle, Columbus, OH
TOM: I have to disagree with you on that one, since the mark of the Green-Dalton era is quick starts (9-5 in September since 2011) and quick finishes (12-6 in December since '11).  So they're obviously getting to the gate in good shape and have enough of a finishing kick to make the playoffs.
If you look at last season's injuries, most of the major ones were caused by trauma and couldn't be controlled by conditioning.
Eifert dislocated his elbow as he went to the ground.  Green was dogged by a nagging toe bruise as well as a bicep bruise and then a concussion. Marvin Jones had a sore ankle he aggravated in the offseason before he broke his foot in training camp. Vontaze Burfict was slowed by concussions before a knee injury ended his season. Andre Smith had a violent play where he tore his triceps. Jayson DiManche fractured his forearm. I don't know how you avoid those.
Middle linebacker Rey Maualuga did lose four games with a hamstring injury, a soft-tissue problem, but he also came back three weeks sooner than people thought. Maybe conditioning is a factor in other areas, but given their monthly records and the type of injuries it doesn't strike me that it's a reason for lack of success in the playoffs.