Michael Johnson: a big part of a No. 3 defense in 2013.
HI Jeff thanks for the work you do to keep us informed. Those of us that read your stuff know that team looks to have a great year if we can stay healthy. One player that I have not read much about is Michael Johnson in OTAs. Since there is not much to read about him he must be still healthy. What are the coaches saying about his progress now that he is back in stripes? Mark Landon, Marengo, OH
MARK: Thanks for reading. No news is good news in the spring, especially for linemen. It's a tough position to judge with no pads on either side of the ball, but after the last of the workouts in mid-June the coaches clearly felt as good about him as they did when Johnson re-signed back here on March 15.
They saw the same guy that played 922 snaps at right end in 2013 and the same guy that played 870 more in 2012. And that, as head coach Marvin Lewis would say, is a good thing. The last time Johnson and defensive tackle Geno Atkins played a full year together, Atkins had a career-high 12.5 sacks while Johnson added a career-high 11.5.
Even though Johnson had just 3.5 sacks in '13 (when Atkins missed eight games with a torn ACL), he had the habit of making big plays. Take the fourth quarter vs. Green Bay that season, when his forced fumbled turned a Packers fourth-and-one into cornerback Terence Newman's fumble return for the winning touchdown. And the game ended when Johnson batted down Aaron Rodgers' fourth down pass from the Bengals 20 with 1:25 left.
But they're not looking for Johnson to play as many snaps as he did in his last two seasons as a Bengal. They're looking for second-year man Will Clarke to spell him at times and Wallace Gilberry can even take some snaps at right end. But Gilberry usually goes inside on passing downs, so if Clarke can give Johnson some breathers on run downs or for an entire series, that figures to makes Johnson more effective rushing the passer.
The 6-7 Johnson may not be known as a sacker (30.5 in six seasons), but his 26 career pass deflections reflect his ability to make things happen in the pocket.
The coaches didn't seem to think they had uncovered a new Mike this past spring and they're glad they didn't. They've got a solid three-down player that works against the run as enthusiastically as he does the pass.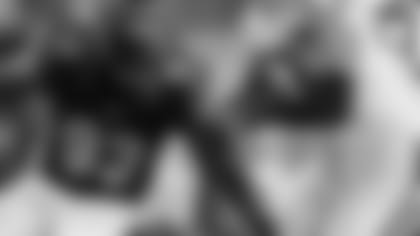 His coaches think Will Clarke is new and improved.   
Hey Geoff, it's the Hoosier kid back to ask you for some more insight! First off, do you see Hardison getting any snaps at all this season? I really don't see him getting any. From what I've seen he is going to take some time. Also, do you see Will Clarke making any impact this year? I've heard quite a bit of praise. Have you seen him perform at OTA's, either way how do you feel about him being a regular man in our D-line rotation? Cale Smith, Shelbyville, IN
CALE: Thanks for coming back. The Bengals took Arizona State defensive tackle Marcus Hardison late in the fourth round with the idea that he's a guy they can develop.  Remember what Bengals defensive line Coach Jay Hayes said about him on draft day:
"He just started playing defensive line his last year of high school, and he played it in (junior college). This is something that's a little new to him, which is great. We'll be able to work with him and get him going. I spoke with his position coach down there (at Arizona State), who I've known for a really long time, and he thinks his upside is really big. So we're looking forward to that."
The big draw is that the 6-3, 311-pound Hardison runs the 40-yard dash in 4.88 seconds and even though he's not real polished yet at the position and had just one full season at a big school, his ten sacks and six turnovers last year reflect a high upside.
So you're probably right. Unless someone gets hurt, it's tough seeing Hardison getting a lot of snaps early. But, if they keep just four defensive tackles (Hardison, Atkins, Peko, Thompson) you've got to figure he'll be active on Sundays. Now, they could keep 10 D-linemen with Hardison as the fifth tackle and then he'd be inactive.
And to me, that's the biggest roster question going into camp. Do they keep 10 D-linemen and nine DBs, or nine D-linemen and 10 DBs? The leader in the clubhouse is always 10 DBs because the thinking is you need six corners. But let's see how everyone plays and what special teams coordinator Darrin Simmons is going to want/need at the cut down.
Clarke is certainly going to be one of the nine or 10 D-linemen backing up Johnson at right end and Hayes and defensive coordinator Paul Guenther sound like they're going to use him a lot more than the 64 snaps he saw as a rookie. They saw two things from Clarke this spring that they really liked. He's put on 20 pounds and at 290 he looks like a different guy. Plus, he's operating more confidently in the scheme in his second season and he simply looks more comfortable. The plan looks like he'll be a regular in that rotation they want to get back to seven or eight men.
When the Bengals stoned the Steelers in Pittsburgh, 13-10, to make the 2012 playoffs, they had seven linemen play at least 36 percent of the snaps. Last year when they beat Denver to make it, five played at least 51 percent and after that no D-lineman played more than 26 percent of the snaps.    Hi Geoff and happy humid summer! We're at the wonderful time of year when every team is undefeated, every kid drafted in April looks like the answer, and Super Bowl's are so close you can taste them. For the Bengals everything looks beautiful UNLESS someone gets injured... which they always do.
If either AJ or Marvin Jones goes down who will fill the void? Last year no one could? If Eifert goes down who will step up? Last year there was no one. If Geno really isn't Geno who will anchor the DL? And finally, if Tez doesn't make it back or comes back only to get injured again (which I think is a real possibility -- in fact, given the rate and severity of concussions I'm not sure he will be in the league next year) who fill the massive hole? Last year there was no answer for the injuries. Do you think it will be an improved situation when injuries hit this year? Not wanting to be a downer but last season taught me a lot about real depth and perceived depth. I'd really appreciate hearing your take on our injury preparedness. Jim Spann, New Harmony, IN
JIM: Hope your keeping cool as I file this under Worst Case Scenario.
I'm sure they're fretting like that all over the league. The Bengals aren't alone. If Antonio Brown or Le'Veon Bell goes down, how do the Steelers score? If Heath Miler is out, who steps up at tight end in Pittsburgh? In Baltimore, what if Dennis Pitta isn't Dennis Pitta? Who is Joe Flacco's go-to-guy?
I think you're jumping the gun on Burfict and concussions. No question it's a big-time safety issue and is cause for concern. But Guenther has said he addressed Burfict's head-first tackling style with him and there have been no signs that it is a career-threatening problem. If it keeps up, thing change, but let's see how he responds this year. At the moment, how he comes off his micro fracture knee surgery is the biggest challenge, but no one has counted him out yet, either.
If Burfict isn't back in time to start the season (and he thinks he can), they're much better prepared to play without him than they were last year with the addition of A.J. Hawk and the drafting of P.J. Dawson. That said, Burfict is one of the most dynamic players on either side of the ball in the league when healthy and if he's anywhere near where he was in '13 that puts this defense over the top for as much his attitude as his playmaking.
But, look, if the Bengals in 2013 could lose two of their three best defensive players in Leon Hall for 11 games and Geno Atkins for eight and still win the division and be favored in a playoff game, proof is you can overcome some injuries.
All signs point to Geno being Geno. But if he's not, the Bengals are better off than most with Carlos Dunlap and Michael Johnson at the ends and an emerging seven-man rotation. That's the style that bailed them out when they didn't have their biggest sacker in Atkins for half the 2013 season and they still finished No. 3 on defense in the NFL with 43 sacks, third most under Lewis. They've got everybody back on that line but Robert Geathers, replaced by Clarke, the second-year end, and may have the addition of veteran tackle Pat Sims.
I hear you on the wide receivers. It's a little thinner than I'd like. Their top three (A.J. Marv, Mo) are as good as any in the game and they think the No. 4, James Wright, is going to be a solid contributor but he's only shown flashes and didn't go through most the team stuff in the spring. If one of those top three go down, yeah, it's tough. We saw that last year and losing Eifert was devastating, too, even though they still had a veteran pass-catching tight end available in Jermaine Gresham. I still think they could use a veteran receiver in a trade or as an add at the cut down.
But there's a difference between having depth and getting devastated. There's no answer to what happened to them on offense last season and no one in the league would have had an answer. It would have been like taking Rob Gronkowski and Julian Edelman away from Tom Brady, the guys Brady hit for 15 of his 37 completions in the Super Bowl victory. If Brady doesn't have those guys like the Bengals didn't have Green, Eifert, and Jones, the Dolphins win the AFC East.
You can survive Jones getting hurt if A.J. and Eifert stay healthy. You can survive Eifert getting hurt if Green and Jones are healthy.
But, still, you find a way. Even without Green, Eifert, and Jones not making a catch, they won must games against Baltimore and Denver. So, since this team is deeper than last season (except at receiver) and they've got a track record of winning without some of their best guys, I'd say the preparedness is good.
Still, you can't prepare for a football version of Armageddon and that's what happened to the passing game last year.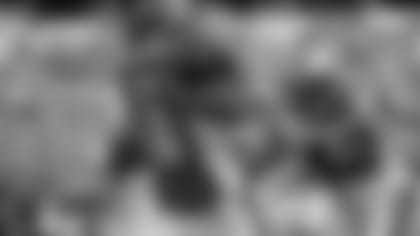 Is Adam Jones the next Darrell Green?
I thought Whit had his best season last year and he is a great leader and role model. My thought is to re-sign him and move Zeitler or another existing starter to center next year to make room for Whit and play the new tackles for a year or two on the same line to (1) mentor the young guys and (2) to create an awesome line for a couple of years.. Also, as much as I like Leon Hall, I don't know how you keep him and his salary. Pac Man is better and I think he ends up playing for several more years - like a Darrell Green. I could see Leon moving to safety - but I'd hate to see them loose Reggie who is underrated. Bob McDermott, West Chester, OH
BOB: No one is moving to center. They traded up to get Russell Bodine last year and they like what they've got. They're paying left guard Clint Boling $5 million per for the next five years and they've put down a bigger option on Zeitler, so I think they've got their guards of the future. I like the idea of re-signing Whit for a variety of reasons. Leadership. Mentorship. Flat-out talent. It would be nice to bring the kid tackles along and not rush them over the next couple of years.
I'm dissenting on Leon. He's the kind of guy you're going to be glad you have when it is December and every game is a must. If they need him at safety, he can do that, too, in a pinch. I think they're paying him for respect and that sends a solid message to the locker room. Plus, they know they need more than three cornerbacks and Dre Kirkpatrick and Darqueze Dennard have yet to do it over a full season.
 No question that Adam Jones was their best corner last season and is playing the best ball of his life. Jones turns 32 in September and Green retired at 42, so that's something to ponder. No question that Nelson has been a solid player for them. He also turns 32 this season. So you've read it right. That's their challenge for next year. Balancing youth, experience, and money.