Some of Hue Jackson's deep well of shifts allow Bengals rookie tackle Jake Fisher to get on the field.
Hi Mr. Hobson I have been reading your reports for some time now love your insight. What I want to ask you about is you'r thought on all the crazy shifts on offence. I think we would be better off running normal stuff. Get the running game going and play action passing. Pretty soon we're going to have to run the ball better if we want to win the AFC north. I know if you count both backs yards we are doing alright but I just think we need to impose our will a little more. Our Defense is outstanding. Andy is playing great just need to get back to the basics. Love to hear your thoughts thanks for reading my question Steve Bowlin, Galion, OH
STEVE: Thank you for the kind note. I love the shifts. For one, it gives the defense so much more to prepare for during the week. And it also allows Bengals offensive coordinator Hue Jackson to use his versatile depth chart.  Not only can all their linemen play, they can run. Their backs can catch, their receivers can block, so why not use all you've got? I think it's really creative, smart and, most importantly, productive. After all, they are 8-1, ranked seventh in NFL offense, and their QB is battling for the NFL passing title.
I hear you on the run game. But it's not like they've spread it out. They have the sixth most rushing attempts in the league and that's amazing when they are 22nd in yards per. I think Hue is showing plenty of patience with the run game.
Hey Hob, I know this question has been asked a thousand different ways, but I'm going to attempt to make it different. The Texans seemed to be daring us to run and taking away the deep ball. We chose to sling the ball 40 times. Hue loves unbalanced lines and strange formations, and that's great. How about we bring that extra Tackle in and run some pulling plays where Hill is following some blockers north and south? Hue seems to brush this off, but that Monday night game epitomized what happens in our playoff games. Our coaches fail to adapt to the situation of the game. Would you care to give your thoughts? Nathan Adkins, Hudson, OH
NATHAN: I can't agree with you there and you know I'll be the first to gripe about not running the ball enough. I didn't see much difference in the plays they ran vs. Cleveland and the plays they ran against Houston. They tried unbalanced stuff and pulled against both clubs. The difference is they ran it for 4.1 yards per vs. Cleveland, so Hue ran it a season-high 37 times. But against Houston they went for 3.4 as the Texans' defensive line pushed them around. So he ran it 21 times. If they can run it, he will run it. But you need first downs.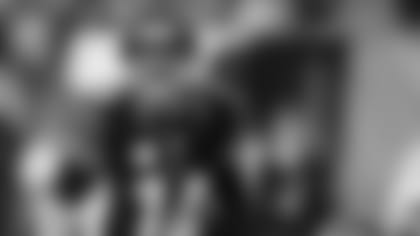 Andy Dalton always keeps it even keel in the face of the critics.
Doesn't it seem like the media has been dying to rip on Dalton and the Bengals this year, but haven't had the chance until now? It's like the one loss has taken social media and other reporters to come out and make it look like the Bengals are destined to lose the rest of the way. Why are so many people Dalton or Bengal haters? It bewilders me. Dalton seems like the nicest guy on the planet, but still he takes abuse worse than Hardy or R. Rice. I will admit that the Bengals HAVE to win a playoff game this year otherwise I won't be able to go on the internet or walk out in public for the rest of my life. You're a sensible person.......what is it with all the Bengal Bashing???? Harold Mintz, Las Vegas, NV
HAROLD: I have to disagree with you on one point. Andy Dalton gets better press than those two guys, but then so does Alec Baldwin. But, to your point . . . Don't you think it is simply the world we live in nowadays?
This isn't the same universe it was seven years ago. Bengal Bashing is Reds ripping is Buckeye Baiting. Ohio State coach Urban Meyer is coming off a national title, hasn't lost in two years, and after getting beat at the gun Saturday he's getting hammered on all fronts. When our government and presidential campaigns have devolved into playground insults and paint-by-the-numbers ideology on both sides, what chance does an athlete or coach have in this 140-character I-Rip-Therefore-I-Am culture?
Hey Geoff, we had a small letdown this week under the lights of Paul Brown on a Monday night. Now, we get to hear how Dalton is a choke artist and the teams a fluke even though we are sitting at a pretty 8-1. I have had a very easy time laughing the haters off considering I knew it would happen after our first loss. My cause for concern was how flat our offensive unit was as a whole. I know teams are going to have bad/off games, but that offense could not get anything working in their way. Do you think good defenses will be able to repeat the Texan's D performance? That is a scary thought. What's your input on the offense we saw Monday night? Always enjoy your input Hobson. Who Dey!!! Cale Smith, Shelbyville, IN
CALE: Thank you for checking in.  They do seem to throw in these offensive clunkers, don't they?
Monday night. Last year against Cleveland and the shutout in Indy. In 2013 when they got two field goals in Cleveland.  I'd like to think this one was because they had an 11-day layoff and have had their momentum slowed a bit. Since they put up 34 on the Bills on Oct. 18, they've played just three times in 34 days and have been out of that weekly groove. I think I'm with you. Until the Bengals can rip off some big runs, teams are going to sag on the receivers. And you have to believe Hill is going to win one of these games with one of those 140-yard days when they do it.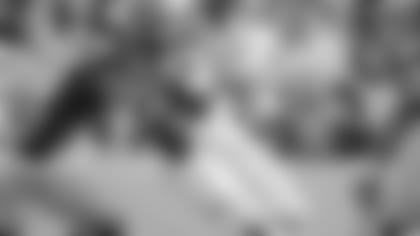 Wide receiver Mohamed Sanu is a clutch third-down performer.
Geoff-look forward to this feature to keep me up to date on all things Bengals. Originally from Middletown and have been a fan since the Nippert Stadium Days and Greg Cook. My observation is the lack of targets for Mo Sanu. He is a clutch player in my opinion and other than 1 or 2 catches and the occasional "trick play" he seems to be the forgotten weapon and more of a decoy in this 3 wide out set. With AJ getting doubled, he has to be open more times than not. Just wondered if others think as I do. Thanks again for your columns, it helps us out-of-towners. Jerry Risner, Rockford, IL JERRY:Long live Greg Cook and thank you for the kind words. The lot of a No. 3 receiver is a tough one.
According to profootballfocus.com, Sanu has 31 targets which is more than Markus Wheaton in Pittsburgh and Brandon Lafell in New England. He's not always on the field and he's hardly ever the first option. And if Green is doubled, there are two pretty good options in Marvin Jones and Tyler Eifert.
 But you get the sense when Andy needs him, he finds him. According to PFF, he's 21st in the league in the percentage of targets caught.  You're right, Sanu is a terrific player, extremely tough on third down and he's having a nice year. But he's getting about the same number of targets as most No. 3s. James Jones has 35 in Green Bay, Tyler Lockett 28 in Seattle, and Wheaton 30 in Pittsburgh.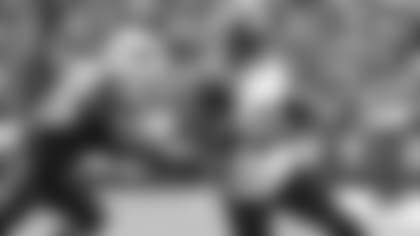 Running back Jeremy Hill has been tough in goal-line situations.
Love your insights and updates. I am a day one Bengals fan coming from Cleveland to Florida so you keep me connected. Why no run!!! Is Hill less effective this year because he is not being given the ball or is there another reason? With Hill and GB we have two of the best in the league but it seems like we want to pass first rather than establish the run? Lastly, why in the world do we come out flat when we are on national TV? Your thoughts? A frustrated but avid fan, Lou Petrofes, Jupiter, FL
LOU: Thanks, Lou. It is the question of the week. But I would repeat this. They are tied for sixth in the league with most rush attempts, so I don't think they've given up on it. It's the old chicken and the egg thing. Do they not run it well enough because they don't run it? Or do they not run it because they don't run it well at times?   I think Hue is getting to the point where he'll do what Cards head coach Bruce Arians did last week in Seattle. Even though running back Chris Johnson had just 58 yards, he gave it to him 25 times.
Geoff, what is wrong with the run game? Maan Aboulhosn, Titusville, FL
MAAN: See some the tries for an answer above.
Greetings Geoff, First off thanks for all that you do as the Bengals reporter. We as fans truly enjoy your insight and material. My question is aimed at my fellow fans. I grew up in Cincinnati, I witnessed the very first win in PBS in 2000 (Corey Dillon's record day). Why are the majority of Bengals fans so cynical about our team? Why are some fans so quick to turn on them when the chips are down? I'm pretty sure this has a negative impact on our players. As a player, I would want our fans to show their support no matter what. It is truly sad that I am in the minority in this fan base that supports them no matter what.  This team is special, and I hope we start to treat them with the respect they deserve. Thanks for your time. Ahmad Muhammad, Tallahassee, FL
AHMAD: Thank you for taking the time to write. I'm surprised to hear you think you are in the minority. I've always thought most Bengals fans are with them all the way. I think it's the same with anything. Politics. Sports. Education. Music. The unhappy are the ones that make themselves heard. But you raise an interesting issue and we'll put it on the record, notarized by your Oct. 22, 2000 ticket stub.
I've got a couple questions for you. The Bengals offensive line has had bad games when facing a good D-Line that has at least one really good player. We now have to face an extremely good D-Line and overall defense. Will the return of Smith help the line? How will the coaches fix the line? Why has Jeremy Hill had a down year so far and will he ever get going like he did last year? Paul Roe, Cincinnati, OH
PAUL: I've got to disagree with you. Yeah, it didn't play well vs. Houston, but this offensive line has played extremely well against some very good defensive lines this season.  They put up 419 yards on Seattle, didn't allow a sack to the Bills Quarter Billion Dollar D-line, and allowed Dalton to throw for 321 yards against the Chiefs while shutting out sack artists Tamba Hali and Justin Houston. And when Eric Winston replaced Andre Smith at right tackle, they rushed for 152 yards vs. Cleveland. Getting Smith back helps, but Winston gave good effort in holding J.J. Watt to one sack. Watt played OK, but he didn't wreck the game. I don't think they have to fix much. I mean, they are No. 7 in the NFL in allowing fewest sacks per pass.
 As for Hill, no one has a good answer for his numbers. But I also can't see him going the rest of the year without one or two 100-yard games.