Giovani Bernard is having a great ACL rehab.
With Gio rehabbing I believe we will draft a RB I think at least by the 4th round we need a RB that can play now just in case Gio goes on the PUP. What you think about Joe Mixon becoming a Bengal? Aaron Owens, Cincinnati, OH
AARON: Giovani Bernard (ACL) is having maybe the greatest rehab offseason since Leon Hall's first Achilles' reconstruction. If not, then since Leon Hall's second Achilles' reconstruction, so I'm willing to wager that barring a setback he won't go on PUP. Maybe he'll miss the first one or two games of the regular season, but I think that's it. That's merely a gut call, so we'll see. After what happened with Tyler Eifert's ankle I'll leave medical speculation to the journals.
Still, you're right. With Cedric Peerman and Rex Burkhead headed to free agency, I would think they'll draft a back fairly early. But they also seem committed to get Jeremy Hill back in gear before he hits free agency next year.
Mixon, the Oklahoma running back, has baggage with two off-field incidents for which he was suspended. An assault charge when he punched a woman that got him suspended for the entire 2014 season has put him under an intense microscope.
For the most part in the last 10 years or so the Bengals have stayed away from prospects with checkered pasts after getting burned repeatedly early in in head coach Marvin Lewis' tenure. But they'll do their due diligence and put Mixon in the vetting machine before making a call.
I do think the NFL is making a mistake by barring Mixon and other prospects with baggage from next month's NFL Scouting Combine. The combine is supposed to be the ultimate evaluating tool where all the teams are on an even playing field when it comes to giving players, physicals, psychological tests, and interviews.
There's more than a bit of hypocrisy at play here. There's no question Joe Mixon and most of the other guys banned from the combine are going to be in the league the next year. But these are the kinds of guys that really need the combine stage to show teams they're capable of moving past their transgressions.  To have the NFL ban from the combine the players that need it the most and shield teams from the prospects they need to study the most doesn't seem to make sense for the league.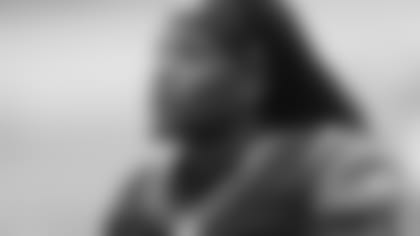 Dre Kirkpatrick is one of the Bengals' top targets in free agency.
Hey Geoff, Greetings from the rainy UK. As much as it pains me to say it looks like Zeitler is heading for pastures new. Personally I would pay him the money, his consistency is 2nd to none and I think it sends the right message to others on the roster. You play well you get paid!
Throw in to the mix Adam Jones. I appreciate you won't be able to comment on the specifics. However, let's assume both are no longer with the Bengals come draft. Which position becomes a priority? I know we have a history of going 'BPA' but if Mike Williams (WR), Solomon Thomas (DE), Sidney Jones (CB) and Ryan Ramczyk (T) were all still on the board, who could you see us taking and why? Cheers Wayne Maguire, Castleford, United Kingdom.
WAYNE: I hope it clears in time for some golf over there. I hear you on Zeitler, but the Bengals have shown the ability to survive not paying guards top-of-the-market money. And there are ample guys on the roster that they've paid hefty  second contracts for performing, starting at the top with A.J. Green and Andy Dalton all the way through to an undrafted free agent like Ryan Hewitt. So that's a pretty good message to the group.
I don't think Jones' status is going to impact that first pick. In fact, I don't think the status of the other starting cornerback, Dre Kirkpatrick, is going to impact that pick. My sense is if they stay at No. 9 that will be a selection in a vacuum, a pure value pick no matter what happens in free agency. Which means, I think, that they'll lean to either the premium position (pass rusher, cornerback, tackle) or the unique player, say a Mike Williams or running Leonard Fournette.
When we did the Bengals.com Media Mock Draft last week, Williams and Thomas were gone, as was  the top cornerback and there appears to be no tackle ranked high enough to be taken at No. 9. That's why I went with Tennessee defensive end Derek Barnett. According to the ESPN.com big board, he wasn't a reach as the 11th rated player and unlike Fournette or Ohio State safety Malik Hooker, he plays on the perimeter.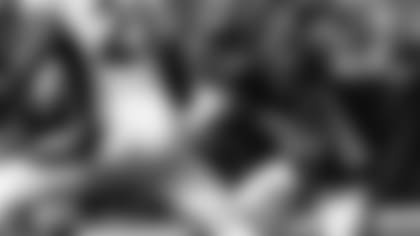 A.J. Green should be back for the opener. It's nice that I can come to this Bengal's site and know that I can get the most updated news. Geoff you provide us with this info on an almost daily basis and I appreciate it. The Bengals have a lot of questions that need answered during this off season.
They need a pass rushing DE. I see in the mock draft that they would possibly take the DE out of Tennessee. That's because the top two may have been drafted already. With the ninth pick, is it worth taking the third best DE?
I also feel that the team needs to resign Andrew Whitworth. It may cost them some dollars, but it would be worth it in the short term. I would hate to see Kevin Zeitler go, but Mr. Brown has never given big bucks to OT's.
The even bigger question must be the health of this team. Can Eifert play all 16 games without back problems? Will the hamstring on Green be fully recovered? Will Bernard be able to return to full action by week one after his knee injury? If not, do the Bengals give Burkhead what he wants in free agency? There is plenty to digest. I'd like your opinion on these topics. Thanks. Gil Voigt, Cincinnati, OH
GIL: Thanks for reading so closely and for returning throughout the year.
As I said up top, I took Barnett because he was a need and he wasn't a reach, according to the ESPN.com big board. I don't think you can say the same at cornerback or offensive tackle. But, you're right. You can't reach at No. 9 because of need and I don't think they will.
No question. The biggest priority of the offseason is re-signing left tackle Andrew Whitworth. The next biggest is re-signing cornerback Dre Kirkpatrick. The Bengals have made some pretty good hay pouring money into their tackles and corners rather than guards.
If I could predict health, I'd just be getting out of Syracuse's med school. So you've got me on Eifert, but since he hasn't played 16 games yet in his four seasons, probably not.
 Like I said up top, Bernard has looked terrific and all indications are he'll be back a few weeks into training camp, which would mean he would maybe miss only one or two games. That's all very tentative, but Gio seems healthy enough that his status won't impact their pursuit of Rex Burkhead. They still want Burkhead back. But they also seem intent on fixing Jeremy Hill and Rex is looking at playing a lot more than he did his first four seasons here.
As for Green, that's why he sat out the last two games and the Pro Bowl. To be back for the opener. He should be fine.
Geoff, Hope all is well. Real concerned about the offensive line and the coaching staff. Was the depth that bad that a one armed injured LG is our only option? It took them 10 weeks to figure the RT wasn't ready. With Kevin Zietler potentially walking, how is this unit getting better? Remember Andy Dalton was sacked over 40 times and easily hit another 25 to 30.We can't have this. Maan Aboulhosn, Titusville, FL
MAAN: All well and good to hear from you again.
It's a hard thing to criticize. Clint Boling is their guy. He's tough, good, proud, and you have to admire what he gave the club playing hurt. That's a true football player.  It does seem like they had options there with T.J. Johnson or Trey Hopkins. Certainly they feel good enough about Johnson, Hopkins, and Christian Westerman to be potentials at right guard in '17 so what the difference is now I don't know.
It's no secret. The only way this line gets better is if they play better at right tackle. I'm not sure the question is why did it take them ten games to figure out Cedric Ogbuehi isn't a right tackle. The question may be why they put him there in the first place when the plan was when they drafted them in 2015 to put Ogbuehi at left tackle and Jake Fisher at right tackle.
Apparently they didn't think Fisher was ready, but he looked a lot more comfortable over there in the last three games there then Ogbuehi did. He'll have to play a lot better over there to get them where they want to be, but he looks to be in the right spot.
I don't think you can doom these two kids yet.  They both need a full spring and summer healthy with plenty of reps. Let Ogbuehi practice at just one spot this year at left tackle while watching Whitworth, and let Fisher get comfortable enough to develop an anchor to go with the athleticism, and they ought to be OK. I'm interested to see if they'll re-sign Eric Winston, who was their best right tackle when they still needed to win games.
But I'll keep saying it. The best way not to get Dalton sacked 40 times in a season is to have a consistent, effective, dangerous running game. Except for 2009 and pockets of 2012 and 2014, they just haven't been able to hang their hat on it. That makes an offensive line look pretty good in pass protection.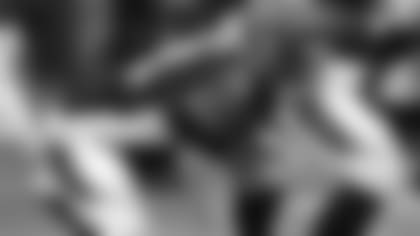 Jake Fisher is looking to get a grip on the right tackle job.
Hey Geoff, As always thanks for the continuous content even through the slow times of the NFL calendar year. I have a two part question. One, Duke Tobin mentioned that it would be real tough for an elite prospect to fall to them at 9. Who do you think he considers elite in this class?
Two, if a player like Malik Hooker fell to them at 9 do the pick him up? Seems like it would be tough to pass up what scouts are calling the next Ed Reed. I think Shawn Williams could slide down to linebacker and provide that hybrid LB that the Bengals have been desperately needing. Would give us a ball hawk at safety and at the same time provide speed in the front 7 they've been needing for quite some time. Thoughts? Chris B. Kettering, OH
CHRIS: Thank you for checking in no matter the date. I wish Duke would tell me who his elite guys are. But maybe not because then he'd probably have to get rid of me. I think we have to use positions as guides for the elite in this draft, like pass rushers, explosive receivers, big corners, unique backs.
Hooker is an interesting guy. It's too bad he's missing the combine because of surgeries repairing a shoulder and hernia because he would have dominated with what they call his freakish athleticism.
Sure, you can't pass up Ed Reed if you think he's Ed Reed.  But Hooker played basically only one year in Columbus and the Bengals' M.O. the last several years is to stay away from one-year wonders. Reed played four years at Miami before the Ravens took him with the 24th pick in 2002. So Hooker may be Reed, but let's let them check out the shoulder and see what's there at defensive end.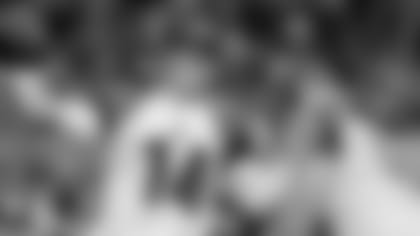 Andy Dalton, one of those free-agent signings the Bengals prefer from their own roster.
Mr. Hobson, this year seems to be a very pivotal year for the Bengals to get back on track with signing our own free agents. Do you see the organization prioritizing drafting a replacement for one of this years free agents? Secondly you have to think the Brown family will eventually spend something in free agency to bring some pieces in to help the team. Do you see him finally opening the wallet and making some moves in the WR market which is the best it's been in years? Ralph Fortmann, Delta, OH
RALPH: I think what you're asking is are the Bengals going to come out early in free agency and land a couple of big ones. That's not their philosophy.
They reserve the big money for their own big money guys. They see their big free-agent signings as re-signing A.J. Green, Andy Dalton, Geno Atkins, Carlos Dunlap, and Vontaze Burfict. So instead of signing a couple of highly paid free agents from other teams, they're probably focusing on re-signing left tackle Andrew Whitworth and cornerback Dre Kirkpatrick, two of the bigger items on the market.
The debate isn't one about willing to pay. They've opened their wallets plenty enough in free agency to keep their own guys so that they've been in the top tiers in spending the last couple of years. The debate is who to sign in free agency. They feel like the failure rate with rich free agents from other teams is so high that they're better off developing their own. That's why they value the compensatory picks more than guys on the market.
And if they need to fill a spot with a veteran role player in free agency (like Brandon LaFell and Karlos Dansby) they'll do it. So given that philosophy, they'll probably prefer to get that wide receiver in the draft.
With all the good WR in the draft do you think they may take one in the 1st round? If they do my top one is Corey Davis out of Western Michigan. He would be a great compliment to AJ. Greg Luther, Cincinnati, OH
GREG: I think anything is possible at No. 9. Anything but a quarterback, guard, or tight end. We know Mike Williams of Clemson is the draft's top wide receiver, but after that there is a pretty good debate if there is another guy worthy of a top ten pick. Your guy Davis is ranked 14th on the ESPN.com big board and that would seem to be a reach at that point but let's see how it plays out.
If he is still on the board when the Bengals pick at 9, do we go with Solomon Thomas? I have been told that he lived in the Cincy area previously and has a tremendous the work ethic, intelligence, size and skill set to excel at DE. Seen him off the board as high as 4th pick, but here is to hoping he drops down into the Bengals lap! Ted Palace, Cleveland, OH
TED: Thomas seems to be a very nice fit, but it sure seems like he's not going to be there. He was gone by No. 4 in the Bengals Media Mock. Everybody is looking for a pass rusher. The hope is three quarterbacks crawl into the top ten and knock some pass rushers down stairs. The Bengals will be rooting for those guys to throw lasers at the combine.
Bengals.com early Mock Draft. We couldn't wait. Neither could you.